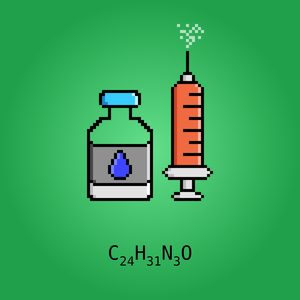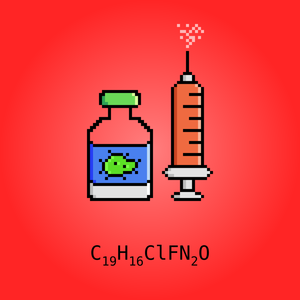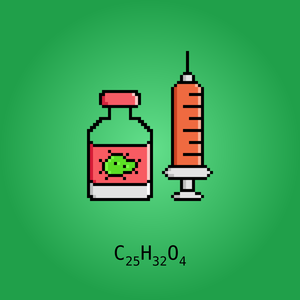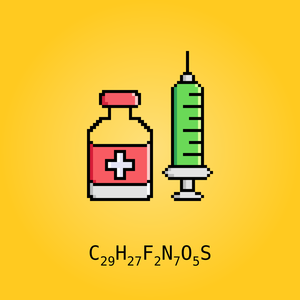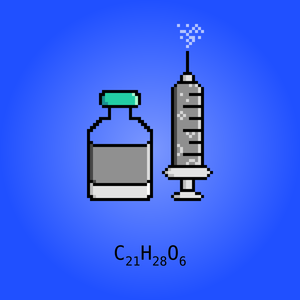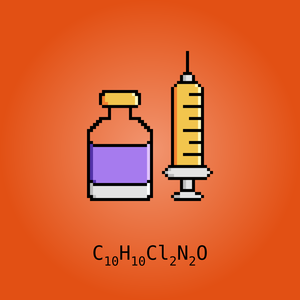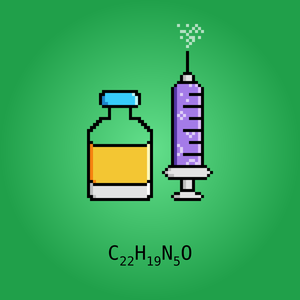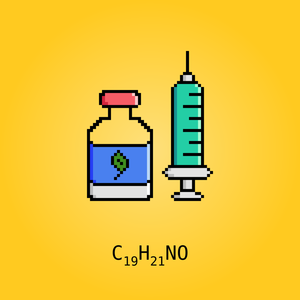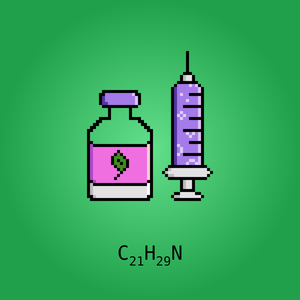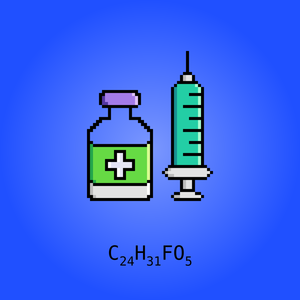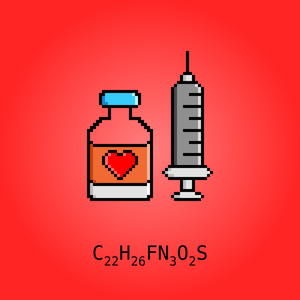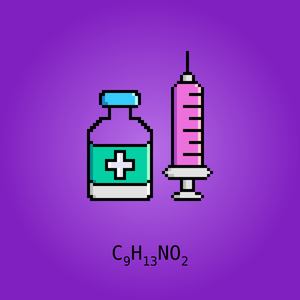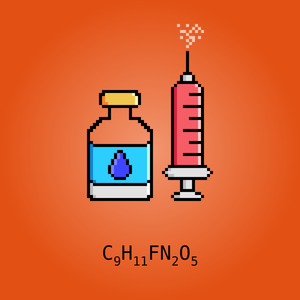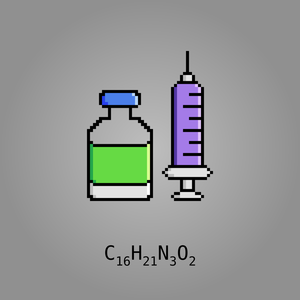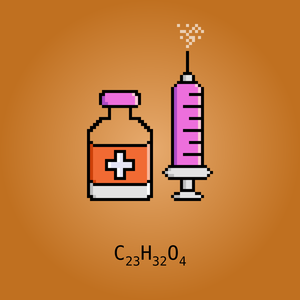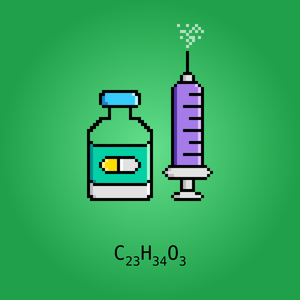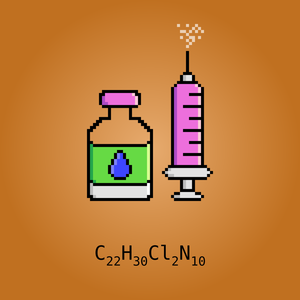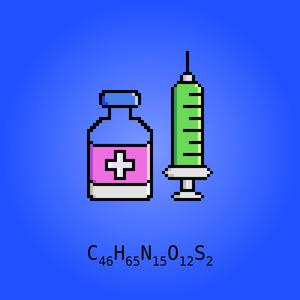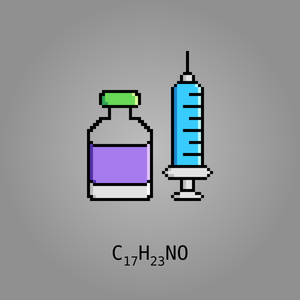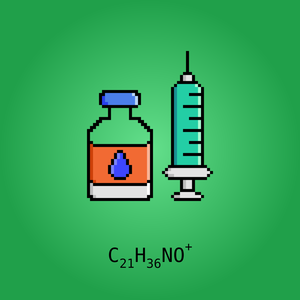 Own a piece of medical history
Miraculous Medicines is an NFT collection celebrating medical research.
4995 unique computer generated art pieces and 5 hand crafted images have been dedicated to 5000 different drugs.
Check out our donations page, and the story that got us here.
Helping Medical Research charities donating most of minting proceeds.
5 hand crafted unique pieces.
Secure, public contract with embedded provenance record.
Minters get their NFT framed in the real world, for free.
Can't wait?
Find the first non-minted token.
Provenance
Final hash: adee7ad7a16a9b0f67a749dd1a6438243c4cde854e9172b5d5136e720ddf49fc
3726c93c0cede974bf0e9cfc2f9d3a5b7dc5a647965c199abb872661164fcf0863dc247bc443ce3c006763bbf14db41ec8a4bb0c517319993c1dab12fee5d9ea7e96a9fca4748b6cb287b8e2f2060cc12853943b179008f65598c407db6b142c6b4c2a03bcd494b407b45267b3a4257d05b78dcf1316ca4a55d076ba54a386a8f28cea3bc03d6bec7dde26e3677207857c032a51ac0ea2f2442526f3a3ee4a25caa5eeb6e5585f11cbafec5ca6a4e3c9c1176fd6261f0366b74cb9da57b3ddd8faccd23f7c25d5b5af835df5a52b22e845d2644db27a578fb7552972e1724d401f3eb8005e2e0f31bec6763ef583c0d65a7fd6d1325a0ad3a598bea334eeb89cbd8d27cd63f797dc19eaf668218b6139c855c41b292082c1c3fe971020445a25e3b7591a216965bc6d56439133effda1fc718f114e61f312ebfa36b2e06dd1a825684f92130dfebd6624f434f630c771c5cfd00e63b247d3ed94953441eb2c9c9e845f00a4924d1ab443706583b92f840aa0ac301632fcbbec28ee220f83fa5c172c88cd5d8aa207aafb4e353a5d961ad40e376a2ea64c4b60d4830900ddc5cd0c0946882f970ab584ea86c2bed34fed9e4c598ab6c1ff17b3ab3e3fb32f1375b896c4b0ac613df0aae9f75b40ae5964e629fae93de663b2c87350732ca2706d6714bfd71fdcc2ddef213b3ba4c30127b882484f9b653e5fd022c790b3af7eeb665b63bcc1400e9c24fcc442f7439586e19b2d10d385bd0c75aa376d7a7a2fa936935da92dfcc0ebcd38029c665a4a748bcfb9c10e5baafd3da988fb8fce490a571ff3d283d5fb6829f493025c05ad9e79b060dda2551343eece7fb1277c583b3be76d8cafb4ac0b6b8b09cf132121b7ca1be59149fcd8ae999b5dc3c497a8f85c8e8c0b14cb32349afeb87323e04fc33e75cdd3b1fa81d48ef7788129556e862eabd7e1cb662776876dccbf3fb9dffabfc241ecb411933164e11688ce04004354bd9e26a74c5a36f1764b9a31903282b892625a4ea6d0d448971458a07c493c6b4531fa146e6830a37705250d5031036ad0374b57ae08174362be3d5b9f4cf1e7f279134e873b168330d0d937916ce6be28b204d8076d59e373fad5a3d956b037b0f6a8e152cfa2d5cb7597d543f8a70d3cbe389916213cdbafcca5bbaf00def056f89a5aa8029927f471c23a83d7cd41560234259d29021967607f3da2fe640ccafa50f2d9445b675c46b559a00564c7384fb55b1daeb89630ec1258e34c641a9ecd93bcf77a45efeac45417e36b8ce33a4da78a02f33cdc32dd72bcbdabde4d030e474f90ed9094261660a1fc2cd3cee8fedf3511730575681049cb22e8ad53ca463a412d3807c89e2470454534b402404fe6e104480a75d33033a9e519be74e64cd94722e640e193664b45b7e744e7130b8d5b8cd955bdd220ec71cd9bfc0846f2e29e03899f923df2fc62cbc0a7ad3d76b71a31e07b9cceac1ed5f5436a8c1ed3cc8b5f0c8d05d67dc8e18717ac1b6928e8e45c46aa823942f3d5884d8129c313be95fab704cde55c8a4eb590be35ff9ea1da4ac1894cf40d7ea0ac42750050c8326090c0989577e09e6359c8810cf22faf07eeda27bc2ed470ce92531d4b0e9709afbd8ebee2fecef8c1066f8caf093f67f9e72878f102214623b3d29e143028a01c57f25ba0e5e5090723d57a33760c4af1cff44f3c09d592304125b9586f4f868293c5502f9aacbd1b1c0afc384a1ceb4f370ba83323c5a5ebf96eb9f5c29b6138e5e055efdda7266697c92ece4d247b44549b64fdbcd19ebfcba2593d16d26c3e7d04e78333f1f8681ad77da4a2be9c398b99a0a4c6f1e7cc03405d0a9b9c8d4a1d0290165cc069f9ef04d894c68b80793be5ce261d002f6fe37b5026af9471eba6c70e89b1195b53c32fa5cb8837a262566e258a6164a830c89081737de5d7ce3b73a48eec8e14f86db93f36dcdc51863acd68d8aaf58f127e0cc1755de4414d89c3e1ff107dbc61942845f64861b094a822457735a4f98871cdb049530bf3bc2cc40c9c67c612a633931572ff693c2ec760e794d5d5f5ca97cfa73c2ecaf1d489f0b77d2aee838050aa96fd434377ece5f327b217a8621acb48f984e1dc70b13c640ea8ac50c573fcdc9521067c5cf7032dd7c7c27696755f2ddde0cae03b81f84f07bb9c4cd26d46192bbcd78dcb4919433f4eaeb3fa6f87b4af46824c2f27abcfbc33e309deadf845e375b605ee56cdeb92f29667cf6cdc4f74e7e95aadf76617aeb87246016c1595730ca99b769773fc31a6fcacbef1ea5d39ab206077025dc196c391142ea3dd102f2677aada9b9829638d5df59252a5c7f8d8cc9e7b5b50cc65127556f58382ec41ee980e5f13e9f78388d4ee00ddb68823a226e908fd0a079be48b2db5dec8f2f21b1ae030f31a8b5ca859ecc8d025127540cc5bbc471d9f32e645194d35e05ab8e2cf2858d44ee026db63165b00baca924d760c7963abbf92472c23f4d954ae146f983d10bff1d0a949dec79c08000452df34b5d2d2ac67e0d6ad1ee1a6d5f51352328c5ef6c44775f984d383ade209a07b92494cd76e066e61909e3afbd6d6565b40fe1a2a272ea4ad610a876313866168451a89ab9befb474b989421fddad72a96f5d0f3929af80b34db613ed46d9b24566c66361970c340db19dcd2860a414ae6488aeb96eb9cb71061e3afc5c70b1784cc72e82cca741cd7fdda05305dca0d5a0a4180193eb2dad7c16f9b8ea2fc1236fb5aa4948c3e07de2f11e3b1d8b6a8e7ab49d9a1b3ddcbb3611868225c5080e09caeeb2fa9f87a98373d52c30323ce4705978928fc4d50cb04568839c0582435b2cff7b80694f131f44eda8720b5df171062e779ef7b9172a9327d8e6f8df97e8f007a09772b46b32c26e9d94d228d7c6def373815c688a6758fd31eb7aa31fa1ddedf44de0b3a10a35db541575849aa3f10eda4094565d4ec379922f420653daa81a981b8ac9dc116a544a9d21e098e2c1083d1d0afcf0783725e561f43dd8ca2bb7fff69de5894cd61d9b9da846dd2488cab2a5e3fb0f575cdf6eb6f5ea6b3a4162ae7d8619a94cdfed7e48fd41a1ff587434ebb2aae94417800a97be84682c5a92d262d6d01c71ada84b86eb068ce5e4f7dc91d6028ebfd7ba7cd3ac2c4aff2c35ec1626a3256239b64ab1e61375dabe87a8da28c5bfbdce56053e5c721e5bbb4971395b356ba925cb6c6eda89fc8acc9afff717df0379ee367c08f60dad3427d94ad53608ea981c755cbb1bb3ea47812e566dff026e639c0cc71cb7ed133ab34e2d4fe25ec54bd2c6ec5142fc17952fe74a54a333786e20a6a791e2aa1b95ef737462f156bf3f6d76892ed4f2a79a4b908266724f551250dcec6c0fa88e11931a0cd9943afec81a27ecf9e53c93cef98039ef8b57300ac1018d65c866e221ef51a70e9df8e57f3b1d557492f42638000023e244b63bf8a6771ab303121b097f5d6ca64d0c9b2bf2dcdadeb76f5cee6f6415cc5b21f8ff1fba21a170c132e9cba59ade1990b1378b1c662c9b23aca5e6e41a6e78eb148d6faa645f3ff8812a5806ee71a192e28f668e76095b9e53e3c496e1b377a316588ac1bd05e0d5f791c38dc2479c8caad8451bcc99e2ded90445f8d14100a38e6216aab29203c69036f154dd0be1acceb87deff27f172852bb2ebf3cc5a9be8e4c60b42528a80d0926cdbbe30b24a62100f162f48e1b0d331b949c0e6ef30cbfca85ca9711f5f3e83f7bbad0652ab17c5cf5ab0e20443b115ab1a564f0dcd966fd5b764014312d9262f908919b79825118d212e17117c21b1b9f2b41cb06e1aaf94dfed86dbda9d1caaeabd334dd20d2a56d6cc80180576944e9b75bbc9a0ecf726894f2835131924987147ae8192dcc04aaa1db4c2b022b32fe64fc49ad8fc1f344fe31f3bd92739d2e7012dc717f610b5a89f7de10c1ef768e6430f900bf2f079165ce61a6b812e76172b2945368c8d77e669772c573e477eca06109d1bb8509ae79aba0147e0dece35a96d196f9fdf29ed57350b12e723b395d8555af0b264740de8c070750adbc724d334511a8e03790c65ad2640010af0e2a8fc9b6101be5f698b54ee08634f89d1f30c8c9e651629771e39eec6d6192e71a23240853870a5322d703608f0fca1af5dcaa55e0763353343f7eefafdbe6b475eaa92d1691818ff30eccef69e1bca26861afc09fbed7d889c246a4302a67c15f36a77743a5c784c2c04aeb7f98d8089cdbbbe4b19be90bfded03c342166b493d2f50a8b2721585c943e0fa8fed1dbf5c1848f5798a28e2f0552e1a81d8321085847cf20094e3c06bfe66dd75d7baa07698e8b3da2317149ffe6767c907ca97f8a93c5446903d4d050626d534224aa751c7014e4d63aa3a82845bbe3e8f230edd9999fc5475b12c4778176bf75c29111d42302f23662f1e2169b7780c22525b53c3328639bae2455b59e6471c05d2df4241e579fc7320a8a086a7a5e3e47a231123ebe6898cd4967691ecd5f3139d63ba957c4b2b7b2d30657fb8b81833fdb3f39f19b24a31567f736f329465b54f32a5f617b97c7fdd3cc060ff4f974c9e8061e824cd4a1e3372d99f186aa21dc7aa9c991fe5ce9a0066a65526d481e1a05c02496f691ea24abb33ebf9e5e19cf328308f6664970c952da48b16a4351e559d55b1b6795382b11922e6451eeaf2a7eedbcb213b0eeb251d7f1ee8e8203a53b443486e315b76e17801118485e6847ed05d3e9d36ae84a437e3c3fede9ed395195a598db089c0d82b76f7ffa9c4494825087ad854ad3d1731ded27e3f99278abf9e3a972b62eeccb42c898454bb38b84cf633cd56da643e53519bc45e3d2c7b481f5942fdca78244d3f9566d513833efa1775e9048160c785d364a70d347257862673ca8b05519035aaeb5fa34de603e8d1251e15ff7b5c347db6bb7fc0621d3460ee354cdf7c19c3fb7813920e1f1616b9592a653a0c3cd808c97bb60adb9172388854aea57c6dbb61f83f05439e9733a604712bc0806a513f65ebcd3b4153a4585faeb24ee27e7bb3b7efcb420fc7d34c255040d17410db9f06a15adfaeeccb08d589f696456f371d61679831d1749e49f919a612d9f1da0184025db7877092c46ec896e2a512fbf87aae6ca84007bc21c9a3f4a8e2661ad45d7dcad795cf4f203038e3f0fb1d0ddecd939a975657d7bef5c1406642e84e19000bc81ac7f5bbcc9b42b14c1fdfebd602b1ae968634f23ddef1ca2c6f57f7cc2c33bb1242d986e7b7dc99add3b6f55d4187783745d51126af3c8224830510db2a9badcfbd5ef333e2185371f53f2576aa1aa5b77075fb2310a20ec526decff6780b0246519adb2f38a3ac68ffdb00cd7401154207087e65c36204ba4d1559db04a59ae0c017af724eff3561fc17cf917d9ea5b730f7d4e5fc1288a359b22ad04f57ab23c3ff372054177c4852f14983a30e6d28eef943bbddeb8b20449c3d9eb5040b45263fa125ce2af278fa60b76b481835d00e3eaf4ce032a4b2b82ab6ed4545cd1d8aeac5354cedfa790a2747ca6b11912f6d9b1ee188010595a6fb4137f56cbba150ffb9c388f280fbbeb804dcd109524bf5f874ff3b58004c202eec0bcfca861fd4f9cd8f314f39a7bb052413cd2d800bb478d93b01cb60543405494abd699850d6dd88e478caa53908d09df5b99db87cfb18dc1dd1ecae08505434e1d385833ac57775d46cfe4953485362fd5d1e903da592ea3941be660d36a17a6997b2da1c0302058c8cfc415506b1abd46cac8d4d86a08b3522aecd958cb5e8348dde023094f5c00cf16738b93fc3164ce73ad081fc8326a45a33127efe4ab1e54a0c37d478e7232f014cb1f9754fca8b7842bc0c0672803b6aecf08042c1e767a17f62cebe5108a1c8cfb8e87261d3020edff2f926af819870ec1fff7ddc442d79c4ccdf78e735cee60e703c734dcba30d66cfc64c111c3f8864851caf7109eebfcbeec496944a03938f5ed3673f78ab15df0fe127207f39ab7265e5818df593b4b18bc9c78a3c47ae4a66215d317b0c13bde9bb8d5342a792455825c2de0d4558c969ee9afe1260af3316c8d9c8b5659a250938e3f97c4c0c3e511ec4ddefe6154a13b56be392d3c5dfdad1a0f66d61ea6e6a0f237ab31a4ed37883edd8f6865a2486cb240215bd46a9ecbfcf6b0eba23474c1e01f0f5989cb8b4ec06bf8a7a1062d5db2cb6889025796dbcedaef112461ad218c794ae0081a93b7a413eb6b6d16fb688a84a11b6f263e774662fc2a857b29e134336909a0c56bda8c8cfb3e40e6f9297460d9fbea05c558e64bdc3e25c6427786aa12d84fcc2d9825e7f04f92a5fcffa9c5d8e0038de412b2f6c293ebbaf219a605682467f8d55c2d618d01b7b77088faeaa6170537e0455ce900d14fb5c534e0786aaac12c9ddf7a3b002ed3ab69f2fa44405e9b472efc1ebef30d4de1f4a2a0dafa8e253dabbe1aa9e5ddc06aadca5e00b1c136bb1e348585e79ab43d97cc969387c9e73869ab38d0275123f8acb2446e5be8e4adb1ad369d909b9ed7e967519c4090fe7cb3339c0a7d388b8c6a325550b864ae9c45f50b222919a4050e2d53a0b94c89664e273f5bb98f237cf8520e3826d21c07baa9175110eac602bc4c0e60d52077814c4748e3f12be3ad7d70b3ad2e91351a6ebdea7e7389c8cc8e27f8d29191c980b4e91ff62757582f23c1c033b00d8f867090c3bf1b588d8f621c04705af513257176268870d6acdd35bea7353fe9c0e19dabfe6c6e2b0413190e211cbb123a68a941b3133431f58bba6766d56d21d2157d7f97af5616d4feaca2d28a1d1070b1adbaf55c08139ab1f03ba4088a63d6e125dfea16047321a07b07de76c5f0ca707d2eef8b2163a85ae3d879c40d292ffd1058137d21344f93b23ce38e7922c9a1311c810643538fbacc637330b933e6caa038b2f6e2e16d4d79186eb0b89617fb4c3e25fb44a63fa36a5e7b5d247af76ec1ba7227d7caed8c57eae3c8b1537e0420ad49c8fe729b5ed1b81723a102c1a09fc12ef2848bf904498483a5c2a6f3bfa4567342768bc645697e884a28780bd4da6906be70bac64201537b7dcacad0547835afbd7df4a19bff32136d12a5828e1f8101e3f1647a87dcbe386924737c2ad0695666d3273af16c5b2a5763bd8e27daa36082e88fd334f461b0824380408d6ed4765fc43f50265463cc9fb9b3c34ca30980cda32a4b14dab5b3456e36eefc43607158466cb8a36499866d7d611ab4a647fd12e4b0d2fbaeb292f85fc5393813eba5f93eaddbd214ca8eff761c36423c11313137b23d2d45a047c6c75f0944795b480ce988a3547a8626bcea2e5259df2aa368025b2c4035a708a2a724e6449bac7ea11687cb19f72fb1b9f27128840670f11c9ef34b3a694b5f8953a38802d0fa72a82c0b2daa50dcb0da3d898f4baebd5ff0d73178b1a5027c1d9c7852f07671feb810a50f183951b8a62093c916824522c87eaebe21dfa718a681f7c76dfb8f61507fd9f93f11b8bcdf14fdbdb570826be125e837a14609388a747cc4203e0e92bad8262bbbb7c9e976c462166c255581f7b6be5447a565dcefbd08346457ceadf36f06060e96a2cf43616260e53b9d77e19c78835c043c65e7b85c1a968ee110f7229900c717b36d687afa6f8dc601e7685684b34fb57cf71b076e4c48570bdb31b3ead068fecb801e8d4087c693acc1c5a3024a1ef2dfef33e433a5c911be9b4eadc3830fd629b7f0cf7f5f4fd471bdf755c581f5704ed42456cefc644156a8003d6b42e4a3428b46aa5710fcc6f7e3bba13512bb4b6485ff3a355bf6f99732edf7a437a8c5f090f111e0907f3ce20011eb3396e39599772ba28d377c3083d39dea23aa1efc34d0efd8d9c56db96af2648057b97f24b80683cbc642b871d8abef3c172fd2bf10f709954e48c7cdcede57c2e7abab6e80db681589a3026b3fb014e6f147e8b280dd6bdd1f426d7c0e8ea4fc3c0ac730e0f54228acf51c460c0df9a49528411b5a8fb09ed943aa60fa62c1796742458b55b7947a1416f5bd176a13141801d9bcc72393b2bb823e2abef83bea5ff31e41b98313f0858f07c93c935d2713df517aba33f0af2d0bdb1cf2495f8611737344d07c03d3d363fe7841959c53bdcc9d607a735487095758217d5e7e181cc775c4be5b9b6dd74aa875e72c42396661c0aa156032cb696ecbf3ed3a1675ce7677759d18bc04ff609d402e37c2f8e79f599dface418780e05ee3fad6f31f7f6066025f384043f3bd41ffab8529ec83cf39e1e3d24897990df7c1f3d344df5e60e44f3eb11eb3db0e1fbf74c9547c67e663c6a0eeae6123fc5b31e154da805c5b4e24b814bc59ac2e314f9173f6064b3a4ffa1b6d67714d7760e848c90b607961e9f3c731b4c2c7e03aee7fac286a3988e4534ce6e9edbff39c77f53e42bd3c890307d0da5824c9a586a2816cee619592970a2b6ec6aa01fdbd8f2d3b38b4c6a153aca90cfdab7109dcb5d86ee7baada9fc9d08e0e9e520eb338488342c56d2ccceaf19e173088085b591f875c8a85912d37e7669aac97de61da5aabb851174c83cc9f55c04ca74d521ee92427983f85c238911d525cb8498e5702f93f76fb9f707d43ddf792eb2df19ab5a01c61bf4a22d530349456296f71147e4cb225620e2aecd94199f4abd24a4d5f03720dc23c96b70f77871f9bbda138ebfe3650f7b8d1b5f4e380e9086dc17265bb0ee1423105bf32d0a86773a4df09872e89aba16e09c5c5567737961ab1c9c51513fd30908665b9400aa633503fae9b8506e07807f081f870e772cebd1ea875918433a16fe6592199f28b186315d527564c3f078d05aae2d30c427c9b912d0065086a205026270f962d9dac5de5abb81c0856a6127a06149cdee8e9f439bf28cd83ea84f8fc02eedc12744be2e60245071d84950c17251214b551bf9890a057fa16ea2a485fc49272c31f15cd07e13f1aebafc940217c5f3cf922452de744bfb90e5565e2553ceb605b7c5891ba58c8db491ba87f71e3fed625caf727d179bd857767f5821078f2d5b1f5a96014a955444fb14069d2d49b7decc76f0e33be0ffa931ae68a67218567eb1ce0ddd6cd0487c271f2ecbbd6378f8b9516c27c8d37b158170da79da004fdc23493fabe641441cb6c5d43d60581991757405eba7bae8a8c1e5203cc84ba8fccac0a2244d50707f329e2f2ccea20056145c0bf6897ade9e951a6e9e9cc3e8431c456aa183dad9952892bf898beabedff4c8a22223218fd2252475bd1f493decd7b7f291e20dc17a26356814ac30027bbfbdd751127b4d1319be01523072084be09021c7594a536fb223ad98794cf1de461c6ea79642aa98f0854c6b67cb86db14f382441c2becfe1f8066e64d4d9f58581393ecd4bbd2ccefe1593b7b14b407f1a26bb909bb875c226ba6cdc37d2d426b2de081067168b66aa7f4d5c4503b49da2e1e56162ad98e50a13f624bb1b80d72de2211ec802d587bba727fbd0166f74a94c237243a65fff5008da588bff9e316a8291c0a814c2961c79fe6fc76593a300ce0c6eb892e4e4e49c7a2be75f21f732d60205be98d76b21d3d6d013d62734e819f76d9b5c31f91ecf5a41049066cbc13ecddefd971dd05e41e048a740dd2d22864a40c2fadff1fba5b6ef5c5a81dc5c7b1a1b4cb5cb2be61eaff15266e2c4837eec4da18ca2806a8302815b433f5ba517440df1e49bbd464a3a7feb136c489e9ab3c3807affd7099de530f9b336273b1ffac530f67b1732535c82929dea01fe27f636618bbd4bae7b80ebf1b816da9d47888fcc52d8bdd206aed0e3869541a0040564b429d43e5ddae9dfea2cd9832e01adff37faeb3ee075969ffc947916c723ec4bfab37d05db5a148e40fe9aae036463eacac9a5300fb9a2f34005113c735bae62dd4b3da489600a48e6892ff1168270b8b73da1f393390c4f9c1e8f59d214a7355c56b06feaa65342297dc63e9bf2b58c1ca03a6639db45055128eaa371d078f664248f85fae9a996e8e3a15ae4dbfe5b2ae466eb3ee09fd7735a1fc018be2e260c5ca44bff799e3342b3848ae201ea36d6d18878e43a53f6b778a0bd73d6d45d6c30ecdaf94106a3c1b43ca68f4032d1e9b5798127d6b6cf1691ceda0a2bc1a364b762463fde6a203b988141ba2912aade38c92b031a1e88107e4aa91fc26969b0946b3b754d188ebaea91f9d4a50c892f19881af0328149433e9a434db1e3822b1bc1fd0a0ee01bcd8983ab335a004cd9f6e141cb5407e848d9dc84a4b867f5d153b0c3e3b7e7d46193b45c3a4247da7be136ae45d43c734b7db302e5f40a5ece03f721228ad4bb0b4052f6a104714a67d9fd0e4bd5073888765bed70fb560ac4774061cd850e41a0c5f6b494dbee1a367e636280165431e70bb67ca8254bc247ceeb0c2cb5c8babf8e37b680bcc1be1c00e2bf5604958d09485a6b113699474ec36dc7f4a12acea1379824c34edbfd8ca58f6b290398bbe00d29c16e7bdb0ae9cf5ecc2ea1f8d77d0d25eed40f41eb358a075e9650323e0e9fe085a0ad2dac020b57a854142d035bed9f9c7253bd5264d58c27c4b89e19c0d7cda372fe6ce91626d722f068aa354f969aef894dce2c474c25b87925dda53806b109e48c951aac3edbd7ef2ded1d2af48ce7ab4026dab26978ff414c032765002e77fb3342131a67eafb7a392772f90ce755d8e0f66ba064901ae4607f4196f35c7b87f905012580bb8fed57f131dede17fb755ef70d19a55dd18380d9dc04b819ffcef8da0b7f5005d934e7719b2d55d3f3a9acbdb73a367d436aefac44290accd5bb2656d811e4a4da7e679477ca2c9d3cea837f66d714a833105593d1272139cd2f771ad4ae30457e6f9cfd6adca00ce815e033964770d71319db043a1d9956de430a388ff3c5729407848f83aadc211eb853468796e37bbb0e00fc9782d6014c5e419827ae1329f303e1e0230ec9febac0d7450e6f9dde16f9df50f8c5e1f4c553dd230347c380c68002db9899761b74913172d59bfdd5a7ad3c290b869677b116fce87e6716d7932931a086546803f9d341b92e7f93d318ef5a0afbac68308c826efc0286adc3601d82941a3366b7e4cd49fb54765f2e286c4d8ba46cd5f567e07ed491e3bf32cdaf7c7249debb115645982851b4335e637733b77a0d2865d3aea1f32b286c4a99898bb136ac4f87ed91973e6d2ae7e0663797bf6f341e673821ddaf3edff720e748a4235de25973eb1f0b58fe019c1cf004496894c9d33e940033c475619e998710b08fcdb774fc84b14cabbf3d31d454089f4c6df5ac31f3f0f893605407fdb24a7bb7bc8a683616275e4d9f1715b72e699f6196b1fd9c2b0fddcc9ffdd6d2e0939a1fa75802c30d7a08dcf621e606d69a7cd88bc8e7604c0fd4b7006623973f7aacaafb359805f9b0a75c01fad520da536aef8013b7b0976c41992b6bc3809b830493ca474ec58ed3542bfa90d9a7e12c9cc661fcdd082c04abc72dba0f0e91c72f372d4d84531088b0d8b43ab7967ddc065a09c5c7cceec6ecffe88443b06c463396825c0965826143b2fdce2be3ed1f5610171014f46cdb47bf9ce9a3a256e3b8098ccecbfe8b8b1452adb8ca37cd09c1f99c8030dab4558f15062e63e51c8dd5440b19e20c7cc78c48d45e985e05a4b4f5caecea0d6c8a28c38a055d10dfe223d6c5a14fd3565839e5158dc485b5ca0fb0e6b306c2921d3a75874459b492f1314572f99196e0dbc7ed051d79c8a8f6a6cdfb99e85fb22b1a2000a3737647ca0621341831e1b547a136e14be6d21935e26744a196bfea1817a5b73c6555997ab162018388a79e99fabb3db75796168fcefcebb5ea8a953b84fea377e3d1ddfc9783850ebef255e9018b65396a4564e6d41c87ad689db4836cdcbb427856b726006a900a8238a7795a30cac8469e2084e6b02f663f9b9f54d25bfead16b9b706943319ca68de7db8d7096eda97fcbe5c5808cc16de9804e1bb1052cadc13c990b3ef06c1c73aa6d21740c0e6639ee139b1d315393ba8f028b71ae7223f5b0b5b068ca07e5fbc20f27ba0a45f4ae960a1514eeb1a5e9ae95cc278d93fb35203c405485852ce100e91463c43d9f65c25c66a06d7c3a6b8a4259e3e2d5644fda8830a88c467e041d77c2b0792fd74078242e7399e0fbfc5c508ee8121a16161e5e1b61aa6d8547dd92bfd2f414fbb4825a3d0fcf43ce9b433147812b38b86d7f526f7499ba29c9b8b79f0894caae0bbf09f4fd368bc9cfef487f50f27c255387470ed53f7f7f1a1416bb988dcadd567a1941737949087022c24c006d1f5715a0533cbf05ae38d4cde790e5470d8ce9462e2226db8f0876a6d3d28d9740dd6da84741729fde609155e8b06e0d0ff1439e56d0c58879fdcf952eb9373ba2fadde39039e05569af2ae01e68cdc5d54b2b85dad46c5bbc57c9e54bf61a53694d2c11003329bb51332980d4ee081445d6bcdb3acae905f47b3c31b6b90875082bf555004b2afb5e7a35b13232884a3556900431a9799bf03d8f2413e01a4e219e1d39e7ad72daa3b818474d86e6761fcb50c91b0af8680740cc8eb92286d29c1e2bd41ced54e4ba9095b55b07ebf30bd7ad8a53dc6f542a175f3fd948fbb1235cb58539fae41f3acc87de90e7b3ed277ad7ac0e56e1e57623414f058b1177327c050cdf21600a8c38021985ad3255a72aac9a0451698d4ddf96649470ed29b8982e03d4120d32062dd3b449d19c8840f7ca9a11379ab3ac0148842ce1447709130e3060840a20d072a21998afaf0e68cdfaabbff2d0a3c1108cfac9e7f7e72b16ba3e9e48ba1911ef0947fd1a85fffdcb40a631fed2f8e0d3f43397abce1d7e55df5f9f0a45ddfb4503b9d116acdde2953d769e8a788f3398b4f56a226af239dfd93c5151c0063b4ee7bc6493789fba3923c23e7013f997929d08662d741dc809af88eb8e4412255085d43457fed9ffd931ff36581ead20ac054348ea4933dd9bf0868572801091386dd7877d511c795ea8dfae55d26807bf12897413f3173d58433e6068fcd927d1e830dab50bc887862ebfcb8506e9456cc8df45913ab4772d0b969a155c97e9b6e33e4976c19cab732f2fe821f2d802286ccad8601e8a3a11f8fd003dc06afcacbbf6094babccfa1e2fc3eed845d6f4a3a1081c7812bddf8a7257729c0317ee36ec19f877b1d438774bc25105c3656a300661da93020e6487a1bb7f3a7a669a6a76acdaa64e7c141af65493b0179ff9c8830341184f2125e8aee164bc07551eaf6388f96afe9e1fc1d0920d8098a2bcec3f96823181332d93bc72402bca05b05131bba727581cc6f22ab7c7c61f5d44c62a1a1a231d59201cc2e36e41ea592eb5f2690a66264bd216067aab4b34b1f6ab59e388b79620e3a91cea1fb602cbaa32b15cfeb0af4aadb7aac668f0a0a674453c1d8bd3a0825cb4ecbad32bf863ba9de75812683ec32bef1a4826aa814df9b7a154423b1630092cb6ba730f11c46a5fb7b2397633a6f98d6366c1c7d875a60b897d9662e488428ac6a0596440feabb7ad21da42e6b644fddba46c67cdd1eaa19419102ad9335ddf32ce11be9d8eda706b2080d45dc0cf7842c2fd4b3628ffcd0e84b6cfb1c64f6ec7d314013dbd24cbdb6e0ec505feb4824610212c0268fb6b6ca0db6d883f4bc4e962ac19ae00d76ca0d95d5813e3795e89cac5080cea55c4171d95fc176349ea89a717b1c7ee16f60cd3129f778aee994dce94b3c4ae41e84a1a12680a447b6a081b8b1c2d90acf612f972f00a7a9728d18a6a320ee78d3dc2a258c4167560d9f3721577ed31151983155ebafd5f252bba97c4d5f0a5d251606396839faf14849ef12bdfe4a8c646eb0788b6b663fa026e3059838d7b18290461f822536866dff95bf61b235aab67a98ba542188b290d64b958094966aa91b56be671bde46fedd0e470d36c4d04047807d034cfed85a23a7292572fcfe68ae63e0f160bec4f6bb5b7636d7bec4e4baa54f2b76d8eea2eeefb576a50de9a6bab1d11127cd88aacd918c493a46758b9a2ea64a3f4297dec293952f37ba9c067f12d6aa28ff8fb4303b34dffba0427be1bae5c182dd7a35ad118812472f169e41a75fbc57ae56de7ce2973dc45d33bbebc3d073bd83f4eba0c960406fd3bb10485cb0f4297978317d85c7242f1233796aa41dee015d90c40a1de6ee4a8f85becfef1b4bc90d360093cb30f159a040b3046fdb19edffb14bbbf4b61621ec94aed48957bbe85b3c2640646041e9d70ac5dd2d6e52500de64c48a2e5b51aa34ac1ed4886b5379330e408659f2c3ea8ef9a8ba33a7242414074171a66a24d9bf63a7f7e2a674987a786048bc1b802abeff6117ad55369f094967dcfbb1425b4c59e732f11cb71d38e6390a9edb5cc00c2d9bd7abf8f9b8382e7adcfb33593226e0829855888317a3464709b831cbe3aea28468fcea39f0468ae84ba81f4495fd5fd28e765ddae34770009b2457aca6b7d0136e7956b644e617017e8f4f3edef7aa04992fa59d4d8312e2f2a23e26626b51c52548f0a1774bc7af9031a7a721d364968e3ad6961c5db6dc629e8053a9621409e7c30a6f7523a9572a69f655a2e63f3180809a860ab45bacb6a088dafee9129ae3cc5e9853f1706207f5c87c8abdaf5b84df945cc7565df4912193e0d3b27b85582f7d4738d43e4697246a034b6ed27555e74cdd591f5d599ab1e65d1304256fae28fe95104b2a77a810dd98cb2451a463dfd86a61b04665aa8d932f4f14cd46a39fd0d0fe3d01d1f8f3876a284b641fd4698fdf976f653d27e1f5492ec0441af2fdeebb811c3162cda32fb21ce63e141b4006b61c12afd0f3dfa65fdb5953aaffb0f5dc2cc43a4255c6393da48bd5af63bd235b65639c0a8bc3f4413ae3a68dc736eb4d2a6b287376e5e899d25471db74f00c8e510214f5b4fcd4a6364847b50bac2f0f993f7678013f2edc59e52089b5c4e180095ac73d771eb88781314c65499659d3d88f76bfaddaba048a5e74f8893c36d4217f1d8551f6eb1cb56e2c8a9cbbb21b031a83d895fea91a1dd94bf8ab26781a07b91414595474367673ba27813ad7c1fe7e836ec587b7c02d53e620a1fedae1840abf704bb332f46ee9147740f7d2707188c3cc84cfdd1111305b2be94944cebfae6bca85c4a4e76bf3db689f2645dd486220219149b55e43f72f635c61d84b856da3ee5e93e8896ea87a1f023ff1e00b8533b1ca07a1079d9f7d583fa7a56c04ec30f388903ef4c5d8eaeb4019303104a792f1d1153225e56cca6cbd06e9681aa1033cb7fd38fe472dec59d5795ae989a390c1986243a0bacc6ef138c3e30324b7f55062e61b90726e47101c1597186576025e6faaa4fb7180447ce3f015681e79146b190727ca7c257ce5d697bbd33bb915783f14be7ff808e5b9f8f355b7912cf2236a8d48ba2f61b8bd0b8447144e59c9273d1a4f786fda7481891ec7d47485f42b1a1147cbe5051c6b07114d93abbe0762529945661164ef47b19e282b3cede05ba93d614f2a7bf38946cbbe4785a801a93c640a43b71d3a907b2a55f1294aa2ec644a6d5410369f0b00d885110ae019f53666504906843c6333d7dd5de0d9e9cc8fd99d8aef76f43e6fac1fa1ac1becf4432250069c7cb61273fb5dcf0ee964dda2a229ae12d2ef37e7cee95416c9be80b412a1bae967e9e1ebc396142a475ed999b5ad8b34d61b7e9edcdcb7676b1cf2c0263d390c0fc2e8d21da19f0ae3eb1e16f58009568f96a35dccc962ff4255a644e898f813e6a098af311286f33a3b612943bef64faa43f9fc3ac63103da45b287876cb111f65ca22add6514e0057fdfbc4bedd09a77180821d906b850d8e7005efce43b80c56fe88a02fa950e8dbe416ec75b59dfed62aca9971ac5fae024ea96edeb7d65a600fc590548c7500d2d375ae6c5af34f4ee85bdedd398dba7b090e09bb86ec5016f5b6cd0069dc667ef056329e3457d6249e52c1280d019bf6b66bf0b897392ad771124e16218c5fac1c4418b4bae2d3c26355c64c4171f88f316c065a60b54e6551fca94e259cd45f41321f98c2615c5df5df2ac3a6fafd2ee766a4750977c94148d6201f94364279362799587c18338549760e192ff208ce063a0287366888359aecc8c9f0bb94f2451f8ca5df1b280e59b22e35976fee6cbf8698084bd58c1004bbc7e20b42cbd9a93c791ebd8e78054334f9d10a7befe7db03d4d8c2200b5e9abedf3e0406c41b74155c7db0371162e5a3b3efa6c98f30ff7990f1a9d4680f037f710f8f5df91b653e3cba261b39dc247da9bd64ecb843fd3f2facee25b765fef1344bcb25eded4e675df7ef9ee9e676bec6868b7a6d5a2d4bb3a77e85221ad83cdb8c813f7241cff804c3114793de1c6c2f4809f5071871bf1f67402a91b8d790ee54226d9fba2564a4915b3cf042f610959612c660b4276fc304da41eb8595e5d84103917c438cf0748a0284040283804ae8e52ee380297b9c75de17a16ba82eccee37fdb206e716395ba7138fda9c87e18844dc993ed91ad376544075964772e4cc4d28ae438d3a46d9e7acf01055e7874f62fe3a6eab617a866bfcc37292111c30d44202df3c35139e25b90cf8a8cdd8b50b6640f038b1526b1361eb8f05063edf3e8a3f6470ae05416e7d2b9a4859641bbc63a9472515f6b1394c0930fd3def6a53b15c0967ac68f6fc8138ec279d91830822dbec7e485b56ab5c0253aaf7e274d5479f973ac7a64b73fe48e15d9de216d93d7088c528e05e673510278e99c42525c4eebedb6928092784941edec85ae6d39a108442664603d51d82f100b2ecdb44a7d187299ae5821f90eb40488e29816338a2ead1584bfa1b79deb2a0ebab0abdd216bef11ef76bdd58c9fdf43bb3ca2d2b5fb1adad25ea143e817b5c199cad3db0f44222c97f973c798f79c79bafda07dce5fc4e172e43a72b4319142352c018ef48de5bc8faf7b17e255e4a88929f81572b447d53fb20b8c58b119b572f4a0a924023c3fbe18222631dfc1e52f4009cdd1c89384066ab96611c964697375b2619e8821dccb3fbb2745720b759e5fa7a1a3395f98b7394a5bdbff7f942d6ac3b54a400436f071a8e41c07a58c782ba4193b104600cd38c73d994d9d9077a30960a3f0f0baa5793b8616714b2e6994134692e4bc0929e8c2b44d88badc9139219d579eb9faf889d2fec2868e5b96a25945289eeb60fbde02659de79eeb35a2162c44e06fda6739923072a7505aa1b012568ddc32d8d4df418ef8be46eaee90c6f3e2cff25fde44231e5dc7a32c416aa0e56da0ea8207d3222a9f7040d1342ee892f78d7846856e041cea886101244149dcf386d240a6d0636ae8fa96d2d8d48f5c159d4c10a30465ffbda6bf93a37bfe8b0567c911845d182d631c45639cd94b7d39b44c07e5e7a42b36f309fd0a370583eb96fa86f5c3bea4c40ef68baaa56ed88f3f631463d788e60d31a54f49eddfd6eecd215b5a2ad33d0fa847bfd3023cee4202f1f98db7330f20498629f9f9a2b8c6632e08195af51dbb053908fad462554a238b60fdbed92d1aba66e385ad8b709a4aa8a08eaf5b3b5b8ef335bccde46705cde013fb2de54b1f2ebda171a845d60f95391057c3dc81e3c31fb11e43afd62c7c1a3bdbf2794d8496c9617d85730c26958f035b19330a411d3bf411827357cab3df4a09e7a122df33c18f6cc2eaf42658fbaf33df9eebb8654bcc5820eb69a4213f71715b41da5ea476bcc220a5e07b8b4bfd1775a5d3a17661c74ac38125d9617d57c64932ff8e7f4747d98df49029a8a7b0bcdff0005f87d68f16885aea6dfb72155d8c886db5bd19115ff3b173729a313464a72a9e5d849334b8506168ceb7ba64b02e2270a156364335a6061ad61efcf2d70da2833df8124d7df3f0e08bf80d9e79ceb17f0f134c2c213463fbf3dcd5f1b447c28a870d1659f4dcc7ab643712621a5cf0e7d6e3a657d587aff35b96375745a612e19a7797bac24b36efee59b190ce85c071113514ed39bd3b0e01e74ed4d4fd2dda602b3581adf0b49aee91d305077387c3d659e4c0639c6fc0a516d4364db9a12895ac2338b097f3fd85ab750d473583b4e8ade16104af81de81a24a3d7c81eef759fecf138441345f6bddc42ea1af3a14250d78ccf426453d19bbdd79f9d71fce7db96703b8d494d55ea7fed77b17356924f362242b9ad052b44ee8116aab6fa96e4f659e70eaa089fb24582ae3015f5563399dff95e5cb18d78a243b1436d3b5250da3a632e09668eed5df81c184adeb9bd105e6006e25725b69b42178a3344d288ee60822560c1a74b7417656c5a2ae492e276af1b7ed32d9c9cf716c60ff6314b8b0ad3b2f07d133916b0b8b1c28efd4a418dc92b2843703825e9ca12b671e00b155e914af7d7f2c6966a0da66854ea6fbe8f49230745ad0bdada3c05b16d5a2b8bc74fbfeae74b76c4f96b605ebaf669e345fc18883782ff5a967202609ebaab7eb8c7ff8a63a45cff26c7ca810bc5abdaf766813f7a91d49ed79d0aa9a79ae54a03f6cca0a3adf8e7f96f676a2d8bcd8005e5bc1d5c45ab78e0e9e03ad365141e7f3d5ed8c64683528a06442c5f08808176c668f772cd573913a2ea405fe729d0daa686f180881774920718870f8b6e83f04e544023672946b6f3b19437843fdd28ff3a9057b8e37affcfb581f73c5786794a401d4d8e2a08f94b79602a305a3c35c76ae85c0dc41f87314f25ae57b5234fee8740acfbe7df016ed4d2926e968b9d4d434170d5f466856be5bdc88cb9f1da3c52e5513e369e497dbbe5ecb7a746ab9d72434a6913d5fc8429ab067466fd9c5c0b7b7ee1425da539df96eab9cb37911d01614070f5336e1f59bd42fd441269f362d2f3007e6a5b0f5394fa7bd916a3180c3cfc274cebb7c4ba0012e78d6b8a32cc897865e5f581b58c69b0203ccf18eb63a7d6fe61768533ef70dc74c577523ae2d2e7feba51581cea7dd1ca92d0b5147ff4af6d9ad4e0703640e175224420f4595aa691514d1f4a94c675451a67a60d856bf2b9fea1b08f995b6985c1a47d1e5561c5e6931444d6baf42a49f6b2268efb165e309de7f9c549808cb6cd6df0965cc87c0a5ee39cf7072e42d983c4624b42f76819b5e25662158a5574bcd5fdd494a1890556d5c74e425013f89b601d65c1666910bd5d0cb6add04cf993b8989015767ff6f1ed1b47fb9fa4bd1219760ebbaebcc82281da44dc9688c4931e6369c8396a2fdcfd04160812a7e18d77a3a89f63d696427374459d5cf4ebdb017f5edeb934c1dd557b8665321ab8b96ee2ec7cc7c5564aa46f9015fef23b5ec6018d22d59a76aee083e444edd54be9b10dd1d8d2ef0d7d05aabb023df981c013a16d7444a24eb2f0f664028d4485a6844f2778faca1a9b7650a1b8c9281e7173083b6447876e79ff043b3cb86f93c8da3869124605191dff301b149bdf105a8e8edde97d81f4eb463d24982c1bba4518726d332f71f7da440e69fd3d5e74a088157ee1c1b362d5eb38c4f7f9daa685d32256f432e3bafc401c956862f79daf5a817e9789816563d18ac759055ff07f3af3f38d0dee8b60ce916b00bee9a56974efe84acaf29bd2f32fe6e8af5299a619653dfdc059eee32b25e92216ff3f93e49e10e3e9d887b7dd56094360a660f1ab070b32f03c46c1029b03122f9fe6a5bec18975894ed6f61bf0192497623fd279f57a5293f3aae07f5bc5b2ead4bbc18e2ce1199dd11f2978cc6236f83ebd5468580b609a70666807f0e2e5e805f3ead2cec76b4618e1dc058cc93ca7de5f4feb98ce5b4676d9986d1a28a67ffff602b445958258a53a17d073001d4d855662f084419627b4d00b03534c2edb963ee9f75d6ae26e7de32f9edd18a58befb9e14c17e377b3ff8faaafa2d330b28838ee52d4b43edf99ce89115fd571deaaf893a9fc51974ca2774d6cb496607a2e3f1221af7b6034f888e2f14b1d76285d669fd221c9fe0c25437e9906ae9c1fc60d66888659b0a2deb5e528878713cfdc29c9772edb9c092b20cf8e59f9400f6f2981e856f48da1eba72935e3430e0e0bfd688fa87a5a8125ddfd6c3ec24078ced3d55c1a1e942f9efaa582ef04367da8636cc031a922517b209794fc9523a9c6a6999085623f5e652d93eb4aeddb8ff3ba762bb8c91fe804c72972f7b315c41f23f6dc5a576156330b9313f7c0732bd175aff4714f047421e7bb5f236a4c926713eb290ec1c453783eaab4466715206d5bc130310f9e25a05dd49645bcead6666c7c11d13300493293b70586b3129973dc2e466d44da6baf7374eb57d093da82d17dcf5761a4c152e79b335d84757c47b96b79b80277dac74bf3410a762251da383432771753b73bb26760ace106a0fb6d0ea8ef14c547ec1234d2cf5ff38ca948342ed0d66d440244de13e8901dcc8e3f4193d4388993e2675271522bbe647efbbb586a112976660b7abbccedba87cd8e4f7239297caafcf9bb657e8e642e12740b18f1b9fa62e322aa9c3939179b7a4ce908a53c24f44620a02539df6f60eaf63e350bffbb4cc1d84f5e8a513297d9642370a2cacf8f572bf7e4bf10f228b377f7ad41d2b30def99215b7b198757b106aafb779dca8a9d820aba9264efdf83e5f46ff6b1be866efc4d73432dfd44d7b9bb77452a5051d1e329b347145bb72919c2ef4e86e0c2d33d78c982ab7c989f3006410b67a0823932180337f57d5a2ef256f4b747bca14e324ec74b202fc3d721a46a5f3e76f999038f2f93249cf3aeffd564e8e8b9ad8e9b106dccbf4d52e9f922f8e555c8112266a2f73f3b827d0f0e290de36d159774106e9205d6c518d8b3ffd45d96955f2ef6b67e17ab714d211d670a213c9135e024a7fe6ae00f5464ebee03882f9d950e45ea7221a055be0474ed1ee68dfe8ce77ff8a77e9f310a0acc605a5ed59b3571681b9699d94f3fb7a762e6a035f13b0de01c39e3140198a1bfbd162d05553ff514c4c6ce26f6d688f9aee314353b9b552c4c11976ae1fc86bd301acbbdc485c6431cf06717c78563bcabc4699610ea6b2c46163bc657e1bd2d9acf5e14cee23dee3c2ad378915a6e278411bea057b92ccad9e992d0b89ab5b97f75221942d66b69e3337ffa1db2a93305d43b24b8564899b463fcb9442e46a6d9fa16f10be8a633b23d52d99f31b340a32e1280db60a2705612198d00c0c5fdb30726217ae67bbf9eae73279563b56a46448e282f3964196a4ef2f48143a9ef9e93454dd234bfe8bd4c85d2a4a69fc1ff3ff2e154ab2f4ed85cf628f3f6c62a46e4afd9d0da6a50b58ebe3fc8eb6fc3c49f8522d7352b3210b8625515ada363a71fb0133a8f65745e7821e03490ab414d38eb7d10e18a9e126c13c81b1064099f87d29df91f2273bb472d290b044fba37cf4842f49af69ddf22b12f83df11cdb3a3dd8c0395e804dd6feaa4af86f30a6d518a4c529049140716db41583bc9c66a02f2e51617443740edbba37ce87c33612c29a709113bd5e7de0cb588b5d270883cd631b53c86f8d69d23f49b76d031bd353d1d084c48efd4112a9185f9324663d905a7a32843d90c247034926d8512ffa7d0e9d8ba21baade0937ee10bc1f753ad2364ed50ab5573de17b31e89979e516b41c50fe705088ba65f4775b9503e69972616329ce45e35b2cd8251a4602afa0de1dcaadde8664b1d167c282e01b78622ce46c200674e438843e8b8a414831d46533254c0bcdd4fd5993304b9f9d461999b84a6a0fb5cc38e4a1e53df35d5bd985172a4e8d6292741fc60b70fc8d6f49a741992ef7db33bbe3f8dc9189dc3257f499a0ba3e7ffd90a0d62092aa6069f01fd6a71412ae4d762f93cdb0eb642285a17c73ed976f0ff116af78f5c77baf0a507bac98b734eca4efc7db391c93b8e35f8200789727ffa5fab6813605122d5320d9e12ee1c8d9925e092a2dd978c359c0e62d3ad24b5033294f3d78de7fc1e581420a91198b46e9a96d1fe9d9d4f27bc786ff16021ebec0d7fbd7fa8247da5324bda504024245a52e2213b5d9a51d1183cd3b1585e267671007d0c125a9505208f63913ea3c2cd954f7356951429a4b96de2907c9a6eced20f154bc63c306eedda168081a8912054d2dc3b3742b4a85cf9b9bf69196cf56be6b65352d4d5b9458e19927a7d7cb793e33d3fdd39d0d1b88478860444e8a1a06adaf1611396d73d1ec87315bf202e44121739e42dc5c6587ca5eaa7732a66ff45b17b8f4236ee49b398469b60efa4ff0e5f37da8d50a6566dca7bd3837c76ab92f2c198c2384e6532aa9301f525b9279e8d1505787b3f57da26ef7f53a273db4ceb20a0cc5e0cbed2a9a83838cfbf63ff6ad8880ba3c404f316d224bbe3cfcf31253c30a15bce7405f8225521625603843aeae0b9f22a95610db1a28b279495f4c580215325999deafb0da0c67d27392bcef31d46414a5bdd707cb7ec063378bec831da4d1ba981cedab66718e56e64c8eff2bc4bc22af934b7ed7076f899e4465e47698e79925dc6822bd44856c799bf6910337b2e1aca0eb50edaaa41b83b355afcd2c983d61ae59c799b5569ef280c50dfd510ebf63e6ab79eb92b1965a19a8d3a410ca5c10d1faa83796f5de8a557dee1bc67732f1658e6eba3d48d179614bf26907dbc464f57dd4732c2acd5a9f3aeb3a77a107e1cda5987e58cb0b0620cafeb967ac8896452116b9052e7f05e1c1745ceb76e98bc338e5ca62cc363a7b12a7db80f41eb8b79522a04acab9d66bb618cd3b49f75131535fb7a98cb6c8a9a02c3c50f01c38c0eb7cf0d96c20ff9bc4b9c9af8ed51b3f6cdedf6a89770673b51c07006e42043daccf9fa4fbee264670c175e76fb7efff6864fefbb63e13aa8e80527d52bde8494a8f47cc9a56b324c221c7ba689cb29fc8c94aff492880803f1c0ec7a038bc445670df95ebb1df9092d06cdc57583260d36ea6684e7e6e87029fb667425fc61ecd54632dbff74c13e776024278eeafbe70c6e755a9a954f75c5f6aac6717317c886f721b9d23dedc2abf28d5588f36303862109fcbdbdc2ae9e6f9ee4efefcf8af705f1a3d5b12bcfdb105b81dc763219fcc419b342206862ba3ee0b2a6d97d726c03f74a1f4d3ac69f471d7a3e22df93707e7d926713b58653ea1cd6ccbdee6637d092f63887897942d8127fb330bcde013738105901e44fb0bf598046ed626982b8f42b982a8d5eb6eec72e233efd07e97da7ba4f2094718a37ed97cd5a56e892270cd959080b9e94def5369e72fef0935f502f13c80556067c048652bb562c3158067bd98519c9f5c4f6f7d952969ef17bac079b9c783a6f3dfd6c335982347e3e16f15d8416f6440a2861d0c18f8cba63ec07aeb757c3d272c17e4f9da8311e647baf15f4725bfccc272a8998ddcad9516ca938e9ff0360bb6b58eff4cd11ebfc8425df2d885228b8745f997beb2df9c8527a0d19760738690472162bebe059cac0ad173f2f0b0795013122295814c2f76273c2616a25c653fe20225875462be510dcff9827614be74360e2b5cd674ceb986805384218ed8238f0be77c45361411e222d2bc85cf81d82995ed31b6beaab90b75ab5686feba1b2f991b2b3a4b56b105f41279f5281f44299b5d682895c5fb09b02bc5d9cc02579c4a015c22351a4ca835219b08ad2004a657f20da2a9d8bf1f437fe779652e029571e3b15bef2e56a022c7ff0d50a5da64ddc84cc01b8269f09434120aade2cca94d5dadaad59e529da786cb6ec2e422013d371cc75f6b81cd09bc7dde4b3242fe5463b8298e63cdf57ae6078ad61ee959a1b3a3c7bf2b57423d2f6815d981eb29c222f967caee94ffb3e815b355dde38d479db1638ec9db07c8e47c62898645f4edafabbd5ca060d8b9628ed7c45c9b1338301b3669fc489b411b0e6af7146d7f67190794586bfa0f73ee3fecc0951b9ff569ca6e491422d5e6f6c635b7d4c5dff2827f0a3196873c6b1c916bc1da94aac68c126dcc8118522b88c8d9f392a5ca55691b1185c071977c4893eac18bf26a62ca8961b1cb149e2fc51605256d5caff0238c153c4afd189af8e1ea113b85f5041629d3ad853eb3c2112586e4e82ac8eadc2d970dd99441a4c179b923ee1a236b16ca3b89b1d6d237fee90d56da8dc7b1adafe35499468ba77b5d6bab65d72e04e7260ac0fc3a338f5fdd77df43304619327d095b10cba07cdba2e9b70910b88b29c2bb8f71e5eda0b53dab851335bcd0c8496fcd55ad1fb0c421e86f6d39982fe7b4717328902dc51502da8d44896d9b2a62a65517859b03deca2c46d1d2197d07c8f7a260755993d8e798dee384549bbe2b48858f964bf71f554761912819e98d0c6703fc5959ea665d65b6472f5d9450c064723aefca77c17da97c7ea152f6a20e2e1b60cce7bfcbf5acd011575781b8016ccb2994937c4c13e76948ade44773fdc6d89954877d54dcccedbe6164de5dc12df2eed27388d0046ba80380365ae81d3cf7c39bed50fd52c6af12aa143d57a421125d8056bc772b0d51fb3676f1b5eebde8ab17658ab272353a5c19faf657eb2ad095c8f8c8c95a007182feaee7fbb7719a33f1d5f3d82d3d65ec4e837ac7452f08d7fb19b2442a672d529c1dc7c435ada09bbbc111331bc1914cae64db53f2f486de2fbe0f92b049f3e3d947cab4af12a8520439122561a55ca210886054732e3c162555dcd3768347cfaffdc1bd7bed02ed29778ee08ddda71a22fe1e4ef3306f9c0d5548686e9d6a5a38d8527516d0155c4e5d12988a712c77903ddbbc244076a459454c135afa9d268f189b9d3f7b52618c3885da4aa587d4e19fa37e4e22ef487f86a1a7a344ba97ef1f1a1896b58a3a5ddddc0b05bd33ea1724ecffe9357628b568ad35db4c9b9c1df89524102c6dd4f047b117be4a2c79e49a2e9bbacb86dad785718e91588363b8c423c8508d5cc44981104c6efd20f3d5d86ffa31869b46a9a016d0f3a3c981c083ea8c7157c7177ec94766cec85debc34d540e1d735a9b7b0b582b263095bef12d655a90585e8924f1951dedfacc4f71b843e57d61b50035a291c8c662305f9851fa2afb9ac949d2b840801232051a292adfd1ca40dc7225207bbef06af88564fdc87ebaaf2a4297dcf10eccc343d0cd4af62a5a890fcdb5df0fd59365ac01f847a5ecef9fc445fa75fec318071220d1db1470af816eb7cd38d9274ea13258a629ff9f0dd3608f8c85d3f54d193ea885685327ddbd20702b5dab0a52302ff688f978037bc51275a803a1d6fdec16df820a581cbccd2351a8da118cbee0c1d1773029bfadb627048b1be1b041684f5bb64162c28c42c6325ded306fd106f6a53b3d320c964c7a634a705f94ef414a1930dfe493327c39b6cdf736a14d27ea1fc14b63245b263e192f1b9be156f7073e1df02ac4a2568065a26703589379efd5f3abb77e19fc2fbff15f4b07583d0ec653a7d821f94294880acde806e5d0b85068417f491f1a186b37386944276e38d86536c3c4f636b2cbd57736ae7f26dcbba1ae865e88f2715723666af614e2f96def6c27362ed99ee26cad62ab17ba9f475b1f343b8054b2bef099c386c506add024d2125240aa7ab63ab6a605bdb98ca8a8e726c4fd173cfc75a5eaf4f614616e02135322d76fc5fe0930b931cc2b4f916740d2ca47230b7ccd3be22c5316df15f29d22cecbfccb1269034954f0ffce91211ec107a0e0ddd6535ce8fe7e463de859b98d8278f685b41ad91ae3b90192249fb322c566a6ead492d413549b4710ba84b2b5a8c6c67968aabf1933f7aed279c67482c7946ab37553ddd79d889c47f6698dc10b237fa56f28941a3a3f33a572317c27ef3f12181c6e8a54ac65dbd75606047bf61d79e5709ca3a7082b32144ae95be208e7d31ed5e956b86a334eda3b2e4c9d47d405d125b904eab8d12fa96c78b444a143d59cb42a0dda79c8a8c3beeb4fe80ca3f95018a97256643764880b9cb02e49b9cc954a270dc0e96a1d8a6a4f75062c9c8cf587c5fe72888cfecf30a46c7fe37fe8a1018ee52e1824b9d611991b487c2ff9e1f548b096edc0f9dc8ebca1c3be214c60a896d1b57058af138475af9d414a70c35bdaa7920a966fdc6b982526e075761d515049f65b327389ff9d123cdc16c42c90ca97f232273dc41eb89f677190bdf02825594e09ab211f9fbcfd5b6a5f26135bdccee989b3772fd2becc8bdd753bf40b70f955bd9bb12b5b8e13138f7c8cd6548b7f7ba249641cb109a6b831beb13bf21c74a6e8ec8a603be4bf8c8539fcb588826fae2865c362fc93aa7846b74c1951104149563d1f617bae71c71d6c35cc6c1257ffcb5c54b9c502536f1c2d5b62b6bda6e7517836004d5870e4690957ea3d7549724831b330d3a6f7aca68878c63b18d6b9af1f5c08d6215a0ab9b11d86af292a0f97440354a599ffb43c1e572ff6a4547f25ee2c75faccca5ce82b947b10b384a9046e25d06a3f7dab0b2cbaddf8a0f97ea06f040b85267a46b32d76d9fa8827a6f0d78d2d8ae471bf72b396b9063d912aa1ea71930d4b237eb32e5bcc9a50f9ffd02709285f9e57e09be0df4a3661ffa9028628af8dc363bbe71aa9d0ad7126e81bddb5aa859f68ad9f55150c0e15f4b60c381edf66a5914c21f30859fb11f7bd3f670a8b88a88e57fd57b5b99087c469e02eec039e1777fae2e89b8f32ed2936a85a37f48fab917cea73718b25fa565824c4212bab1e241ad11262e023b7b3a8b75063fb9abba68073b82ecf878500cc049408f75d2447b7bc97f44e10b4a18f8553f8fd12e0963ad7bb439438e4c7aeaaa823dceb0f8d557ff6745c32b592b4479b1c3aaffb6fb410b99fe59a5c07658a9820d06bb120f093c4020b4523add33d316c79d4cefe01ca2f0759e6c07557f28f8db3b16646baefcb48a377d15f9e1a3329508bbd0d12223bc8e8ba50dfa1008fd7cb2cc1eada8b5916372228637ad4af0b9a343af44f3497414acc1c97065d523bb54b1a7e23aa06de9841674d511318fd1db6bae8e5ca7e138c6be5d6a0dbe56b5bff4e922c5552bcb5fac807b6143d7cc3d38caabbe0020c314db779efbae4ea1e920734ce96fa53b7cf41dd5e1c00c5641e58f9dc0867bb061e5e4d2f323f429d3a4c1a7a21dd21463760d11de3b3cebb71b409fd1a8e1a1b0d17d92b07ac7afdb90b7b0ae1cd8a44b01de5b61bc1645ba0970d7e70963ca363acc82c8d49cb2fd4b7a1b49c9caefaef061fed1e7e901bb17ef8dfb3d9a991ac79a8c3ecbf40b037f49d42fafa9c7a8615d9a1f8c9fcb966fc7cb53cbd5b185c31dd2b585376aa000ee5bb1b5f0668b5fbee5276919ff43de22155ff8748378fa2e1c2ce7d8297441565cf32ebd10a061ae3128d82bd0836428007aaada4603a51318b846fca7583fbed093cb027a7015deb64595737ee5bcf618ff68f3ce4e3896a2c29486276d5e77695ad710d87b8a2af4df40c7ab59e1ed8e8e11fecbc79fe3d519d1bb1270a960603fb85a76ffe72bf68ed430799f5ceea4ad6ea776d0baf580e1590fd130797aded78e2e3e86b4b670ce92b0c7b3faec05af80f5137ea3c954537833efaeaea9af1544255fa16249b37aecce791cf32e5765cd77b69496cfd497b34622d26abc0a2b798eab50247f57157d774ec4a10ae0c444da376e3b64a232f6a15a1e4af57b9ad1bcfb5c4e1107bcde94b7f39b172a67659b9ebd484670c14817b1168193de549c3a9c659b162d4d5926e5bf5988354e26c0adc92f9e4274addc417b6e14bf93f04adc0a50cc871d6134580c7c8684eadb964226dc51fc0a452f9a27e76295cf3d375474da8ce69beaa23ea91422dbf195fdccb41afa1771f550491661704e02402414e5fc1cd783bfa4d27a6f6e2657d61308e2b0883aa87920ab8dbe6d1d3bc67a416d5f515c63fdee716d5614139de159ac306a8f41b2ce40d3a8a60a69b0fea989e606d5d429c178dfcdd3c1d6e7d557e5653f07f44e66ce208b5828fb5eb069f6e30315ec1f3a54f83c3a98935dcbf2da605582638836700bdebd06accade570e157674d3a7b300d48ffaa03895b5ed6c81566c070fc48bb8aa78b04331e44db037fb14983e4785b0b50e3c85dda10264ed61b6dc684efa25034012a278070c314c7cb22d5874fddc35b536976846fca1adefe40abb8a3155205143d5b46cbae7d7bc65023c02068218024ed09bd58ef2eb231b35b6171105427214588b298ac0c71dbf8047acbd44bea4f53d41dea3d5aac974b96cc9bf2b2a54243ce071226c54bc60b59578ea2b768d5ede605674b23e7a97e24350b3520be2889ea7fd076956f24600ddfc29021d04e76492d5d4d6e0eba3b2dc62a6431aeb93be6d950821c9d3d9d7cd5cf83e7b09371037739648edb899fd05dbbdb8d971b7bc8c08719448f26244239c735e19902f4f710b736f794c5fb3c0bfbb07f2117eb2551730cd99e9d3f6d40dd612821e3cdfa178c9829c4b2947f1282686a2bc90b5abbad1b82cf780120700ff7789b1a144bd4d82ee835cf7ef754fb82b40c29a655beec7493645b5e6c8f2dc4c1225f495baf213c0383ccddc2280389d5f43e33b6c52c2564468b58767e0a0abc7f323965bf3e443baa508ffca651c2d26f8a8441045b8ab0799d0ceeb715c5c24d9cff9f88652fd37e8f9af789479c1e3107d714bac25b61d2dcb113ec1b30b92c611a64a827b2ba14eca70779c03c664296455c65f148c50a509c49eb7f223f06e6f114d932c14765bf61f84ddba35ed26cb40386483ac565bb6dde4a7852a606933c5904e61d2a7a6d248fedf4f0afb20070f523da6b39ec3b97e2dfec732f8e695098d0c56c05fa106b46d7eda7c8feaa9c0dfcacf9d6ab30510e0315aea692f06860cc6040e5adf61f8c58cf74627797faf35e199e96f7bebccc6cf2c43e2ec4340b066fbb2f05e2b8e9e9e344fe15744854459a0cdd2927f6c77f7145fd18d241480bae1e699f822e504cb4b25b65bd1ffd6d4848b5bf48d52fd5beb1a8fc4c6d29ace023b29f443d73a2587fb14146c3b6159182a36b2de7df3a2c4bb9189d96fe1d9199c59f8e6e59710b9e42be482bbf2e8c99a9b4a8fd3616d6bc7ea91bbdd0317924e28d1f45e73e34f4c460c3f81c4ef99ec9233bb8c08ea5d71a0dc8810bc4d6427fe40802103f6d7933a312bac327214e7937376d852932d801465d42e8e34868774564263cec8b1398491ad12abb2b4eba348e6173bd1bd09dd4040bec995ed037330b6ed2080ab9f1c538d1cfde902bcc4344db1f946fb1e4f0eed00342658f479ec596f6b362f37b7a261d6eadeb49fa7ccb7ae94aaa28132555b813cc24338776cba409bfbc62a1b5b845e2209e4ac06761faf6980d90747341e7c2e683d68588194779461f4abc04db3c42dd42371397d46b62134bf93ecbe2557ff1902b19b7474af330aed6d784828bbabe806390a25c0b2ab5f7b81c2f869775b8f51d7266235a27be4ae79f85da2c88bf9e9e45cd4b8d53d2fa84cc1bcce6026244035b1f37f3948b10da6d844f0afccaf304d697948693b29033522a6d54e99a24380da05b0e0f38a9a9209f7fc97b8a099920d72b9c566faa0a28d12ee2aca1e6685e93483ed6c46163c85187535219e166fbec20689b93bfbdd4b518ea3b233fa464151d64d5d96f06431570c380eb56a2c2012f732484f76e4a9fc31ff1766d632f52a6619410533d6d8bcc42773d61a76890381c1e633ee8329f66a114cdbcb2a97901113000c7c03d9c1758cdc7ae979ec36c288de1f3d373bd1a9c413e9c99ecf04fc90d3a7455de62528432d5e1080706b818f0c72b94924015dcdaf736c1ed59f94d19839f84fb8b3fe4f1d6ad1699988d11f3ac3db54b95e934c7ebe422cd3d405c20088cb913f970d668eeae0f1cc7bf046033a5d3224254c75c59cc5def065f03d469d81370d2f4890d785941de35fa3a9f6e97260bfbfcc51116b6341c7c45ce1fb098c8e9a888bd6905ae00fd7bdd569b98cc051688837c3917541206527634eeffe41f4fcabe9bb8126ca6f24acf9b008be5291cecc943c89c51c23706fd0e4fe153bf73f0b0bb0537688e5e41c5aeafb605288be8efec7b0d6bef1e169c0c55e6ac303080ee73ac9269f30c7d11332c5dfc8d0a89a034cdc9c99dab987b358a4dcd9ff02c7727e6968b5e5266287013d4cd9f60ee6688aece335349c05839bcf21f8acd6150a8cf590982e832536bc73c04de028f6a2f464174f33f27c6b92d10efe6e4d06eca2f715579f36279f0b21916bc648957d186fd140caae2351230e873dbb8627cdf6a5adfb27502d5f8b26b5092c52f3f6359e65793ef495783c0eed6fe535a221f83b0c1959500c56fde459c91ece34e03c4778232ee8176b4bddc6c834ba5bdb145d409560eab59480b5a10aaed78a972288cb8be640c0d976e36dd93eeec3a121c6bc3a74bff03550954aff9e3a880de5ab84ea8ab57f242b2fcf794af11769e88f392619c3604e5b122dab4a661126c4efef289d3a9a215cfb4a71e42eb86e49f253e0e82c8674a7a8409ade048ab9879d446abc1b67612e0efb665628e5c9a3b4b2a9c0cbb61e7ffc3fa9ab0c9bb8a36fadacd9751895aa7a5e530694f54cb17d37d12c37b5ce81350672b32c1855c6942969c7e919bb69319ea84470c89b2bde07f30634a2071ffe2a806411ccfdae174a723adec03d75cbf25660a4394d46a98817c9d32a84ab85ca0cb18bde72a9b4cd1fbb66bfda1fdd32533cda8da0dce4e159e3917a35506efaa9d1602a2a0d5868ab93f2ca54dacb6601bb53d4f90406793dc8f021107bbaff4487bdc7a848d92620a48ca3693da7a3e3e31cf63f69711012ac9be2c48c5f3698979d1cc8c794fa43575c5af35248c152761d953d8b80ccf345b84333f2d701e53755e046bf10c457638bf89a2a49f110d90e360bbc970fa6ba1ff3c6f7260193e8df182952c9976b57aeac9aed5183cc085f0a2fa2dbb2c72538db315b954d36e0698defd96989eab17e069510fb58c763088758f7f1f311452084fbbbe49a24c334ec33f5da1fa4e9ebe8ed7e6b2f77b2d5766f57457b4019f88ac5b903df26af05deeb02cadd7bc9a0212dbc473b45f181d051b355c07f36f83f8d39e49caede02e2e143d68aacedbeb36207986656a5b8e50e6fe8faab52c5f20fbabdf23f26d34c5762bb7d25b887415bc41e12b7b6622b64b178de5d08996e04863b978dd92c693db903b231d4b5154c6c3316eab119e2e56be84430fa64f5c0a12d2038d284d7c1ea3f0eafb3a3159aa028f7ee0377f862ae44b03b702f2024efad9a492a78e60c9addb04cc41e27d6f6e3a971a22a5510264256df1271006b3f45006e727a65fa24fa032f50c937153ee65672a67d7b3a793679ae6ffa76d6f2930e03f38fd393116e032246ef44b1725a954523eb3bdbadb06944aba0f91f35bc01a8e8b2d5e05f410141bbd9f8f7b62400165dd2240ca5eee153487b145f83e5321fdda7de18f6e457c4d82734ffb546619b9ac2eb0db96e214ba808e765ce52ecd5e47b0f07d6849ab3c8a20fde36e783d49dff5c259deac8589eaf32c3d05ac6d603eb9faea76b35d7c254bfc7b6cf256f5a678625378c9357b973e8009f90f14e9b274d9ffc6a30904dc5d47565096a2d0c3be289048023c9b4194263c790b47929a1c9acfdc49c323e1d599e7410e7dfbbb4098323dabb86bfef5de2ad4036c45fdbbd63c9362d00e93dbccaaadced32a0a562cacebaf42f2132a8249ce7b74d088ef212f9c40cf744a017aa275887d6b4ef4f621b5abdcb84e7882033a81cd5a04eee77aabc21de44c5b15f0bb17dcf938d49a6cbadf9358460e453151abc3d43cd7a9ce8d27efc659bf0a45908bcd8494656ba654f2c95951e6dc1c92a84efdf1f43f32c79a83ebdfdc51441004f83475dfcf08a7de94877414b528b289fe8f1854058b614834354aa2c5d66fbf650b76b0f6c8624bd026c3e706b88ae88e7869e6219d54110efc010c40c8b247d7575135f5f90789cfebe0d907a4ec187a8861df04bd95f2aa0288f1e7df77e36cd5ec49f1ced7bab4532df2b81434fbf309438ee18558b0e2f0b34f6a6897d1c736af43cf955e40325c2d2a039da3d76aadfc6a200a06c4f098a8bdba5281d8be0971f96816a1112bbfe68b0824f61ea5f973e6f2919358bd86d791691a7d5e03e925a08e78e2fd73b0b80b422988dc9bcb0cfb8da2da8ac1eed32d12671c43b4dc4a8879e4455703da02e9c1249cc5000858796ff7f1c438f8de1b161ebbe9d87453cf653cc7197a1d693b9007a090b7e3ac14272cb424d842feecb41b85d43cd821d74fc7f7c5436b0a6e6d3ac781f634f278487ec5fc65cecca8b724bf0374f64e42ee45ef8cc61928d43858dad2dc185bcb6292a9dccda1954a86b43efc74bd47b8784cbd9dbf049035e34bc63b49042e42154387f8c08750cba83d899ffab7edfca8777f46232bd7bc5a7472a3723d59175b8caaab9d8585271b9cf09f067777e6ebc947faf35ea5d3534aa43c39451b05acb6eea9083c5e7f244513ff8703127583f9322b810044b0ffef7b899c8d988483f8d03061c1fe623b0e64c1d690dc33d7ecdc69b2030b8f4891e7d1a51d0f050071c98363001b3488b8531ca8385658851ba7181266e98841a9971e96ebab351cd4a660f181d3be1cb17363e8b1197497317aa239c9ffbd15062dd25594718a1d4236089de20840eb74aef2832f5f01dfbd79da11652862246a467a2c384dd3045d35b9c2ea148e4222cc8f4a446aa8dd23f1cc6d1589b34304364a59fbb1186a8c097d8784f0d170d56a06d9a644e4385fc86d59969606345daee19dfafb7070560e07d755bd05bdf92f58338562f64022f2f0427f932da6615674ec7193b3198f77e5480e028d12c235b227550597cd876f82d72232603a85fb24f9d4579342691671a6154f06108d51f7cfb66eddf808b3e8a0d0f8c2598491d6dfc927d9bd3733144dec0a0c0292dcf39e8724f107cd97ad9551bc6872b14fa1c9b1e7138c3f551db4828bdde1c4ffa0fe5c3b74518e199f5f4049db230f117006d6938ffb5123b249666630ba0b2785cc3e7a70506b82904ec93655854515f2a81b3bf02b2c8282b6d40264f1f2ee66dae443e28fe9705ec2b0315ef80ea899ec60df90154bc734f1d5648383bdd9af059e8200b3e55a5bb8b91d1015105de53e25bfc9a805df89081a15e08a0252ce521a8d6c044aed77c28d399b33f3aeb7246c33c0e5473b27052286f8e55be8b62ee02f5f7c65aebde952422491fa1c8e973abe9447029ad7cd4b47b4f3c4fa56e2a59bca81e79b5f6cd5e520b6ff5ba62cd86505f00ae0682cdd99f41d145644fec0404e22fa7b1748d0de5164800ac921723a68a439a1231ddee254600332f5eafcbc7e9c950f026331dc7e00d34cc821784639c9c84f764db1c0de7a3455091e17698959f5524a0d99017d962952662e43fb8381218c3584fe5f6c5b9291d7bc74bf0a49382529bbaa678ac3d6a47164e18e0900907a6bc280b28520e7caaa4af802822b4852db633679590c0adc6b7793c728fed7fca4a158fb00a21ac3d943be0644ddfb301826fd47d58811256723aa36620593682f534a8129e88bbff007568122df1d7a8054bbb1bfe99e9a7a8863899f6e916314f8cac96b70f7bb2db4a017cf0ab2d0b365a1f8f75a053ba42372396178786795c8b87fc1e2cfa9eeb04ba4e761bb643cdcff4eb272b3d19d751abd417090359e00e346e43dcdec3274e917b4f0e7a8ce975f9966aac30d6e2e40ec2f308b239e95e3a3541ca837b221336cbd796a3f6be00c3aa36e6cc7a8426f921880363391ba7e54c42ee729630ca03ac2c55b4c3adfa141ca01f3e60bb9e6d5df587ab5aebdc1fb199794f38980a6690fc744f54c3871834be60c86764a88aeb30db9c72866085afa83fd633a71a8349c6109ba1182cc878f3fcd3b7b3bc5a25c50a71fc67d0a931569ded5f47b11b94a6ce1afb0e32d3870be2bbb7fd810a2ad60a2d2b8d8e2308be8ebed9a35caf652b57851b0de6c5bd6536e3f16621a039bec7a177181ca6a43eaa45b38ed6b9c1fb24f28fa309aed29d456a350eef7339d0dd994ebd86f100dd60431adbe0ba59eae95f398702280e8dd573b00db21820ab5da3ffbac2f2cca6c6a5c146e26ebad6e2490b3e0cfc9fda5e24253f1cdba907f3d8de9380125cb5075a1c83f8fc84fabc325e595f5b7c65c31c97f58e370c07f160f9e706b966587d01df2b0df7b731aaa75c1e974b4ad35f4e9e839def218e709c650676742931c4b26bbbf91ac4a6bcf5e06570c810b40612a694ca9c67a727722e80a269db352ffcceeb72479c2f44f3b1798d12af2ae523f6bda3ea3c148ba71ecd8cb16e9439d0e90c7b29058019983a95940b7e681b5ac4f340b358b70b1bf7e0611baed5e459533c57a3a4990a96d00370da2a6f8fc9595b297ef74e1a60b411e391a25946d65c331714f86c733152e0d0c5c07d45c8cedf034d5785752791d2e4f74f9f383713e24a825d04bd163d21c6890d56936efe269f654c13b463c5a200d0732ced0091635f6d1cc406dd618189e790d6edd6660bd5ce02b2d75636a1981445a4ffe93a42aadd3d21b0cf18b9ed61a99000e75ee94dcc4601179ff7d00dfbd94fb96ac3a9179165cdb378dbb05d889645edf43c1e22b518ba5e0e51610ee31c459be1afff3141d1b6f0d617d8f300c36adfac2c5a8231b27e427748243de9a23c05a40745e51ea1576a11d3e50a0b977ef8d99d5c77314f808a295133bf16be22f7f9a7262778738ef6a63fdb4ee71c27c1680c1dad52f43b3d0d695a3094d855987a5108c184d3c658c6186b426b58e9fe04acbed4e96f99d854290098ff17051550abfa8c5f551438c140d607518bb71a9e4ea66429486d666f487d3358afad9eba043db6931fa606c3c0b29aff19e3d7506428a85288ba8c54f96b0e321553678958ff863c9b9410039a1c04052d18095bb3f3828f2f34e540dfe54a19c1e26d27689e9333ff9dd59ffed472f3b51d256a4ba55331d1b3bffe5f0bd4507b8fe12d33d5c6a6edc51be89dda1b2c6dfec007f4ae81f08b4cc931bc6eb4edfbf4bb7ad5f4aa1a2e0d50472e4046b3c700ba123fe1131e13755cd37d2273846412b35cb4a4a832ae7a608e2859f74b070818ade293741ba1d23ace6f5a1405d9a0d0d98346806b5cc619813461b8bd4be9e208e9cbe5d06dd32bfafb8788dfbaa1a550d94cb28092c7ed34b7d3e9f53376b6cac37941d0c3b0c4301d604fd2af04a7614ad80e3e23cf79b1b7baf47bf6f3d239d7e784a25668290be3a693657a229709965d8eb10322789fbe9bcc6856cbadac5b32ba42a9673ab5a315edbd50fbae379f49f4418a8a8c92c5c8e5bdb152f0ea2f5975c37807c7d94ffda97dee930c66d9c4f9d47f697d2af7b89399e299d8b798181210f8034b60218a943f9f12a425f73272fbb21d041c7cc4888b0f877764b8699d85102cba9c7e8b5d7adb8e51a3685d04c502436b4608f2c7038dda71cb33c636ef34b4104011101120e10253f5546c810d0613c91e8b19d88d4cc63c3238a8b09f39d7fe614cff96158346c9955ee2336d9e2e977c4468fee00a08f9daa4f4883c0c589de404b9ebf2cfadacc4b200ed4ab919312fe71688bc7cee9e2384b5acd9e4400d143eb00359a796e79eff2348684af3c9d0d32d10b595ddcef3aad718319add65fe523d1af57532d0ea01bd1f040c157f99b27b5dca256c85087006b9d45ad2254c6dcb713a4c08cb6c383d2a1faa7ee2058ed4b5e12676f4f6eebf0990f7916c4a2369a95e611942da6fabde41dfd06f76134d86f2177285e9faad10ab88442677c371559a4b49e0437e889a86da6ff3a3b0ba625ac6983f64d65e704635e6d027789977fd02b4bc5770551e749d0c5e197ae9f3b29e77f768d80685f4041a296f41afb3720aea018d754e66750022b1d073d8b562973943f79188841ea63a156623a6b3501210f1f628bd9631a128b38c63dcf5e7c9c452305f8cc7db63be5bb38269e52ee19ca4a316cef955ea4e44b8407da0b5f4f76d39bc6e7a79b6df0f31318394ee2e8bbefe1405726a4fbefa7003e2910745ee69f19535de1205ed89262be4dc0cd800e650ee47dcb44ce1eeb62b71f04b43963695b07460a3d978f18f9ed353dbecf36950fffb740f024ebf1cda85cc8f3fe7fec71cd81f569fa42534aaefe178496b05c77367013cd8f0d7a1704adb1d9a1b307862eac982e78e9a3df63466ba4e7a76ffe5084e5cee55a6af7b9d2bfca49af61493e85f132521766f7ac1a44675458bbf0d0e9ec21eedd8fc00e1bb410bf1ef540d8c1a29f5cbe93d466c35555284eae6845b846222c4b9e9f020e78aa166e3422cd1a429d310489b7adb27c9970353951a4b517351e09f97a92d77ad2148a0f82df064b20b84f0b7c4fdbc0e906d92741bde1a999c43834922260d8bb5cf0235e36e3cd9689147c5d2b425074be05e74ae979f266ec8a0be014652062ac9fbbd9f7f3cdc73c1cdfa5e8ce20aead8583d6061fae1e913e1f4bf5ad3b28ab5a3e371ccd713c726379fc2435d67a58cfb70e83e411a7ad2ff9ead16e02e00ba8d10d906965c9cf2d9d848f64929f32e365354ab70678a0cc4e0f3e143d5e2223d1fa9df95bfae726581407fe9d3374da47ca00ea37eff64d84bea37700095ae2a0ca68d48aff686c0c81416bd051973511d4a280dede7ba3b57ec572f1fe6e767895b4fe1d2692f563430c8841da125c74aedae031e4680a35bcae032e9bc4961b78788a180c4079d86411f6c31d4d51372bb80edb20cc12fa8756b0d584c969274bd83446fad045e81d3d8071b8e911fa9f01db544a7c32eaabce931c0362f13efd1d3d2dd5e702adf8c589c7cf0b848e33a2c303f29862796c803bcaa6d3fcbf6f9c5ebc3a499e01f51bdaa0cbe90780e2f02f762e02d228484592943878129d1f5b153ab38af1f8cfe12d453c1e3a587f2d86dbdc4a51d92fcb6714ff9dfc727290ef8c3800e1b4f4638f75b35c6d1d6d2bc1123234202973b5bc7965384ee1800c5bbb56e911ad0276120b8c8cf14d658d18d28af354538397a971fe238dee53d6736926aed3176342c20c740ae79d1cd17ed8e3ae5ba6e94762daf226a09acac278bf6b463521851967e37cba93a37884b8785e88ede24dd1c1c24b8572ef68498925e9ac1b56c2cefeb605e81eea96fe4d0b7b175b3687c32aba079c5192b3046b6cb72efe1f41421283549eff796137dcf9c8f1719613098e7c74bef9c5044a3f0f509624ba0f2c0ed35ecf1fe1a11103a674caa886ef53a11af122b37a6ac84ce5baee493d8eafa771da171b4ef847e68619fd259bccbe3351900f5ec63c9bfb0da6bcefe86c39580632db69d1e62e37894f2a71b2b7944e8ec6723d3bd904f80ae31e60d7c41918e316ca1e2bd958ce76cbd37a2e1618ba4f3c66ee8b1c9f77959fce1a70559f5921be817e8cc54c4606ec7a88ef2852e4809b4a96c5561aa4d2989ecaf10f324ca1119708bcfda03a93b88f6d32cd2f88161e8e80380a802f86e2e974949a152d41abe3f3e4c8b388c562d63bdb3d31f15fbb05a8974fb9b3c1811074de5db9a6cc5c6d4e65049ad29dff1187e87ba067162b1ce8a1571581fcd30f000a1b18b083dffae0ee25dc178f162a6ce470160b6fc3b1d6f23ebb9febc74956b3ff8c6ef4a6f5a375a1da6a38341b2eb7e203d925ee021eef38cbd07e7b4f086011ea5efa1be261241de957e707b1b926ddd5fcdcabf6769f41f4d71ff6da740a0e0eba00abcaaefd8de43125bc20f26f5f7e5a6d4091a3e6036fc521cf1b6b6dc041249d8f348b907e0577f1130d95e48ed5240d6c8863ac516a973ce6b48980af391a38db1ffaadfa4b65132cb3b2f88eb66928fc3b0b492d2e6f68c5e2c1c860ddf920b832d247827dfc8ae36996260e501645e0ed00d5d02cdba22c271d4eee6fdc4cda73a0b44d0cf5bcb2eee459ab681f7729824b540b6d0742342e13e29bf1c0e2d30855bce338382ddd74f704753f5755dbc2b297a3b843640363d39f09e7e48e4bda0f8e84ad3a1c73a8d216654f0c86ec84a704ce9c35ef97e4bcc54912febae200581ed7c2b05ad4ceb7fde3cbb2942723a6e99cbcd09698dc45f31bbe2f1ca15858622c384b257d8c8ada810a8256e8fc69911276e122ff7a0e3b115c713120b431e8c6cc2e03d71c7970e8afe94aa7a5b5cb957ec612347583bc5c3057a682ee0e89a61156086cccefac7216d31a4382a9e10677eccaa51edc7a85f092e9bb2ac42de5226f9659e6235994143ff163020607e37ed1ceef1324cbbf2b6baf0f0dc34e2e40ec4753b8fa8843220c5e58f901fe2b4a5cd9bd797b6cf41b294ab6e93bc62be4db776a82e4d36de80d699124c531f8d692067ff4468b59d8121c161d99324cab4dd44b74b7793a502b2092b325f4e8b6505b238bc72a4495386fc97c2f3f48d668c131b7073fd04c1074768fb96a580ff0979499ba762891244f41c45d27f72aae977166ad97b1e499b25d925ce508919f6109b0ebcfa2b6983992aecfc47dca14dadcb2f3a22ffd66a1e0394c8ae90a41781c227b3cf25ed9ea549018ec17cec6554225518bf7a74fdedb63385d4b079a135d2793e21b0b34a883aeb8f3cdd1d4ba41d7b876468b6e48a8f5528af60ace2478168d07bde290f7dbe5daafbcaaa6e0a09d9915576ba7ba29f2fe00d805224548571e9376717fb8605126c43a1cde4ab8d3d25e8e372763dad25f6989c3eeb199a42dfa0e576492fbb8677bbff73c7a41e3487a30d5a11b14205931ed172675a9091aac94172799daa34fac229d727868f947743bc943e42f35be37e16a499e9d809964439a167a39a27f0cb19d9e505da7ffad6fc93bec098672964f083fbc88a1c8bbac223489147a4c2283fe6b243a51329378d45ece952cd74c521fe6db0ff67ef02249ed9ffff2387e05e07eb7e2167bf8c402be222e8f6b680c0352590bd9d8eb637f8d9daa2f28e7dc8105a280979eefc000b104c02e9968dfc469557628e77e4339a5c9ff848e3669bb32a860d13cabd6be8838e1c211e3cf980711535ad438a30710a1a3e02ef8e3cbc343c5a6645a88ffaecd9a9b6abf258d089482ef5783488b270dfa01bce5cd3d81b71049df39d351d89510738c5d47eda76fd53af04dad5b442d76bdee02710f755bb93083542ec8d32528f714aed6e5727787a6d91027d8f11a0ce45aed6518ad72f628c77673e05b90f08923dc8266f8f5f744dd91f2e86385e7ab8563b9fee0e8bdcf0bb51404d482d498ba1c6560df6991398da4fb3e87e4e1b1f5efd67db4171e338ed18eff64e2ea97b66d81369034baddc104abc0abc27e58e34a3b764f02f17c71e975e61d48a8b6efab27b401d41105a21c84401ea12dd19685bf0838b5d60e3ae1eeb4a0358e87cb15e3a11a70c837f9406dcbcd9632e12d3228d893f618fee599e6ea33824eda5be2540a5c03ba9080e029b2e49b6597f08643a252461a49d1b312f361b3c4638adb089318912d957aed39ddddd1a62a29bd5a1b638bf30f7b323f9003e936d487e9ef3acdd1373e7b9b61633acf21edc1357bca57fc839bfad1820f0a165e69dba116b4914fb686a1be2788018ed8042b5c80826998fba1c63fab3754452f9efe2c543c733372c277358f3c45f1eb4988e75a695893fab6d13e49bdc89080760e4f935783cda0a1fb4de5ebcc3496d303cdbcb2113b5d233eeae61871180583c017e01e58db6b572a5abc5da32097ff630f4fb57882450f2ee56fcf563b36b058aa0382a04f75126e52c2d08544eb63004d187032d318a397a4f7261a52578173223cbfa70419d2e57dd449bb39d5beed6a79db0d6e42a3ed2e931ff9b1ab2a7e6d5b3e6603eb553deb64e4bc221f32bc267d8b316e03de3deead28095b6bb114c080f433a4eebcc994103051b35a53647a907296a971c13bdfed277117ad14e6af602fa96b12c6053dc1eeb50080aaf5015941ddd95410b1615284a3761b6be0dbd2ebc7f44215f5646cbd497f97b1224e9c940cd21d5972e3a449da1cbc1b67151c88ec6ddb2ec2b370c386f99d0e3d40c39adf1eb85fc3669fbba9cea5e0e8dfedceb6d618fd3e5c50e49318a0374aa2a6d7244216793ed537a2503ae52fe5b9eff9de23ecc3aeeea2580247734edffb0ca75b912a395611754992eb26c4c30cd17078328bfb1f26b4b2ec18522caf278727e2c9a27d73b9a3a7b636008766cc86db2b2e4866d966449646acec0474405f8087a6388dc89b24839bb1cb3b6c9fa3d68a7e09b58316660f2c9345879adb5a7b1cdb0870a036a43236eceebf63966e3b4a2d0fcc3cde64e3436f0a513c77b40dd3bca26f691232566fdacdaf0156816b8f9c6d76ec733b7174231fcc87d0259717588fe3ffa82e5c3bd71c9953c27f33836d71c721865fc3892892f1127a7d4b9e5fc67e24f7e996e60c1ae5ba07aa78ebfa4c7eeeb73132ae91db87240b3fec149530e54776167d6b6eecfe69aff0301dc69daaaf80fc9fc4ed19c5194ae0fc2aecc6b66d5827f21cc572f9b4c690b320a83fe81be890528757918b923d625e2965e9a9251a5f0b2204a86618439fc32cbf56996ccfd0508060c05a28d40937fda25b0257cacdffc182b1c1c46977d35a5fdfc9853d1ca056c05db847be65a178b0ad43a901c5301c05064979f223bc2ff2f1c042280e226ae204400225b092c9542c13a37a9e51b771b5d8da14a9527f8a8a0039b406fe480749b2157f0b1809293b7f2b81dd59e17a4f265fee459b7581721541fd93c493d1176c50fa5eb4edae0168a257cbe9ddb76f2d1c089e20f2b678fbb5b86db99162e6498f44a629bf58c2055365f8f372ee4cc2f90d153f11dad6bacd562afe3dfed5d930d84d590a5a638bebe75edf5d94fb6b9b17337150a5e206632b0fd2c5a36f39faf63ee4de24d5755bf5b486956f1c8c2f1f8a8344c98ef595e948fad02e4a2a0905b6eb7413fea346115c6ea12720d355249ddfc6e028724d3b6336967fbec916a071c4c77ceda4f13d2c00d4349bdd36729bc5e4c1e8942ff2ead8932e8cb9e8832ab91af5af5332b65715e2e45d317d574fc349378784c3c0fb7d4ff6330becca4818dcb5174645cdd093b2a13397787edf933fe6d8ad50f9f98bf9d9a4b3306a0d7714b952d31edad9b6467a100d6595c099c863e43da133b68f5feaac066d80759d4592140cc037fdf4f829b2ecae37c6c49d2772427a5e01a1657284b28b8e66ea79750ff8dd82d4bca5330481c77fa08ec747fc9003b90d05882d0218b71bf61b14c0259398a25531d99e6df66a5e0af6e6abbc9eed1b40e75d16f5828fd44110e37a7e33c50c65aed2d590aeba73e48ae8d45667a73b94c63c9517572e175f09f85924f704a80d381bf988413cdaad183dd2be0d9bed6252609443f769d25ec945a5c66563f60732d10bb1e9e560f76fe29cc4ff6492636c98477432f61c1cdb16a1ca066d44d33183ee717f7fb391dfe8de418385904fd90a12b5aac9147d570af082e31b828b0c21ed464989089d77fe2db5b3e4f91c9693a97529a68e854a056744de19a53f9c56a82af58f68e24d7de37a84dec007ffa3cde5fe124d576405e9cdd2ad3ad27708554e9d046d258dff1104c19d502041702b32d3c9c4dc7faabe00d8008c7e1e2baa70b9a50a7869498e944ae3c830a55a25c882cda62aee82107dff3fd9054f9f504730023ea648d3424eec9a99c303f07be8074b92f361d6888db020a903d3be35ef985a5c174d8b8b1458b5c24134eb9c91e86f933ca129b8dda9b38b984179cfba5d43639d0275924b6a532165998c2fdc992e03aa105778b95fcf7ea1bd78518d4478b9b25f2a2c290770361a6105f64a56d3e187767018919643808664f0466db73022cbc6499c5a1acfc81565072ea0f11b0e4ca1b4d71eda9298092fcf7425488997be3bf972bd73861e9c789ed47fb3b80a4ca59fe849b2b1f5c941550ffd83a0363ba89c5c9a104ab3263625fe2c83b20efa9ea4a621eab3d6dedac680fa5cf6210ded7469ec391305c11f7e6aec7e5b11132eda99e540ba64fe18175d25a53daad4c407d1f29a07d669ee4c8cd7877f7624ea9ffaf1f77a4f5ddae353ec2ebe4ad683797543015d29dd3f3e0829b516b869b3e9bd17c8aa206bf4f81a504a086d953c1de01caa1f336940755d73087ad5d34a051c28de4bddc9a7c6ba4caa82900510b6a0419b7790a9c8dd2711e15891010949585b16f19df6780c460b58e80ca2bcd02903232972492453c00acd3a2b99b315316bb58f6af7c32bbf613be2dd055547822cb9154d7872f17189205bd302f0ec931f7dcd559086792d62603a6ba0adb8ddf44ba99c1879fb67fd0a51da026e8930952f719c2babdbc4c301be6d965c82e7320847b543bf335241e09033cd150351e46438754e98415d96751f5ecba0af0af748fdeb59c6fdd20823ab60257da0b77617a0a7e85d415164c575c8c7ea9484a4a7aba4d2b2e97e159ce6237fc992df21469c2c41131801cb98ad953687744d931820bbdca7d0c756dd57485afb46ce6e31e4bb15456a987ce2e21750497a336e0fde286870976d60a0f5f826222cb1ff721bb80708f9bf0ff623488e06ec0268533b4dbccebb923b51c1e2c0a2cff0af2ac2de2090ea6ae73247695cad8afecdda48ec7131e5f360e136173414484669e2140ea2a7801996b036c86267f12f7c02e8364ba8ce7f5a819918b8bd3e6f267f9d983555cef358dd8efa7a5c32336194cec5d549c5ca33fefb578805408db104830a385553b97d48836cb5f989d97af26d3abcccd6aebd2ea07655f5b513dfde76a2a37c2d41914d6eb0ea7c35d8ede646a6f2f294af4bd14b4e8b30384a0289ef568985f28f95a42abd0a47b23ad9458a4fcf5758ed0b6141329a48a00cbfc57749c9b148b51ba3f98daf1a2ff27e51697fe24b915776cd6ae5dd0bd95146fab4eecacd61a4690ca3ed84929e91d31a9f73a60ab90e55ee0d1189c687997d9be86ebffe204d07afac115ff7842c22319e4b492580e3f608350dbbee307c179d3c37f00d45e7c3c2e55631e68b54c1a60c5404aa534384b350982e222e1a6d1f23766cd053fae657a6a77ab43205f5209b2e94347113785f4513fff2f26f35c1369ada376771a43b941b0c393313816db1d1f94ec91ad8550bc0bcd22dd4449572f9dfcea0983e4bd2956cf5e81c43942e5533b6e405788d558d8fba8f0709e5373a661348d0b419b0a5c3bdd79857dca5fc97d29d67c1270eed4fed03b20415a807b83714a2950700a4b0861b7c3b134f259dd614ff5efb8cee1a27c6678d2d411c2eaf8a8441e15db404a93a6edc85570a59d548d6d0cf10c030251febaac8e9bde0ff14a562423c45e9f59ac25401bb39f9d7e790295d0e80e384b391044505aa96f1b19a80a598a01875516b0934495399fabc196b790af1b19ef3ee4dfaa529b7fc12a36412bd9335df2011fa9d30c2e882a2f7a0e5115e0869ac140331a8050b00714b993c335e3a389c4ba15fdd971e97052dc201df652a43d06bc20395a3a7587e173562537927f17c8625f5c698989dcfb57c3b70a57c7016ace65759d5424eea9a440047a59a0a845595065108ae4f923e95d62ac8ab63d0da6581a16952c5a191e0164102dfb0bec49aee5c4555bc0405eefa1ef7b4a1e8aa7abd45e44ae46bad02996ce07c3692cfbb5afa7353915ce1b5a91dc6d91e5327b55338cef026ad0a249fb3720bb6ddb559d1b7e3ae8c7ce9639d00be6d185acd62fef483c6b95dc0cb90e5bc20ae3209891a9f40a862f4d14a132eca5f7c08f775d3096f9310458ce012b4c29cbcd1874daa70a3b9fd42fe460f18d87b9e47f9237e73473460ab1e320fbb6d5aa8ae697f50a5eb91c65a2d649709d4bbf33713a0b0c40ee1f6955142f57e5319f2b192bacaa3ab5a4a4ae79d30cee1b1cdb36eb519766ac9066b0b25aebcc0b0b853f3a41beb6dc5512927d35b0c78d70e96b86d9a1cfeb6129b52e4218b23225df81d7b522a211737612b1247c7736fbf286d1ee34a9c96c6e7dc1ed101d7f5f9678d2ede556ebab9ef5d8f634dd1fb85906c8f3286a1f9a2a1167023717a1986a6221eb431fbc758cbf3e0d844fc838ad29a2d98c413d56bd3e73e00388d45f68fb535878b59dfe0b0ba19c6f9601a7eb3092314b4c44a9e3047e6af9ebb592858a9bb2fd077e1e8c4d94e83fd270e1fc6d3004946000e43aa6a801aab935cb02a80ffaa0a294c8929adf0faa4beb3e02b23eec4f723c59b8b3e8cb35dcb6c652e26d01010c85d7dafb34709ea73f1011286e7a9956f7a009f84818235d60356eda83abb3a4d16b71fb3e8ef65dacb9e589bac579c698e6e9643a06145b577b007aa5813245f0df0c316fb1a5c18f84f698706a1dffe05277c95260c375dc77bcf68aabee01c968a5f22c20fdc3587d9424e6f1b1c82615e1c3ab3b7fabc877b4da23f77ec1c3336f87d1a790b10c54ec42cad26f5b4884959bf4a544994067fde4e7483a0903a2fd880a280ee2b52129a817da4c8aeb9c09a20e054cf374520ff0752c1201d98e2903db858e363578965b7dc8bd6990edc8a35fd34de75911c85b1c52ba096088bbee5fd13975462bb53c117425a9d572e6482ad51f59cdb2b8a3be791967adb29970b7d8b95580be165cda51177af7b3f8332be4aa51df1503e464e54eb2779d7f82daddef62e025d13935d75edb97270ff51245249f94c82191878ac93aa1338315314be1de4bee74a66c67057a14ad786992f423fb35849d330ce3475b99d8a13a4769ca39905447f0a6362a10917feb56bf302f7aef43c8006d88fc3701050f7d0d6a817fccac7afd30533510163ce3382db7fcd5033556a7152a25e3c72b72a35ae367d2fa219fc7177aabc813bf0f29a30ad2f16a97233b842ef4f014661cad3c770d8c45d0b6cb00b30a0f706708f21558960d77e29cf325fc287f12d39b627f2878ff12817da2aa92654e0c51982f18f8640314c1dae73894feea937676ca789b2827ef49c78c93de6b6b3e90e4f7d7260637be30fece4d4b02a0b887e89e7735b58af5283d3639d21ec234e1f3c6a53814f175e41e2148e83b1dbba9c192419e2cbff17c0f4b0987c6301cacae3c55a2bca4e422e82b9a2dc4de081b82956031402462f1be19d19cca9f3ae7a7edbe12a550fa1f5e5e7275a50d9c7cf530803a2f075eb3b381932c0b44483d2443dae93f8c70b1ecf7cc322a62bb2a02131dd76844e1cbd3457441487d381f42a32995be37ce9c3c576c8b0f32723e786ea0001e5e0411c5a552454bd959ede4e791fc46bc41ec1e471a56dfe07118f07f868a7a8a3f6078d5033575326bc9067a91f854daf1e752f56fe0d7b10ebe6ce858f949a5c762f8a61b1943b468a379f39ce75adef40f7e4d16ce4175658f7c8e81740442c7af17f5906066947469fc5f1789703ff319c8e620823b85076f26082397a81814b91b43938bda9dbb0c18d2799b138c46fa9bd5475662f5714a9f25c70d23cf0663c40d1703e0b72eca0a7f259390fd2157317b79d8137e1cb7efeb0b7eb80ebca8afba5c740468b932001ef2926add90ff845acef52a70cd767e4b5df3caef47f429f342baaf8cf784d6b78e3bf284de3cc34ceaa45ea264e8aabc7be8f147f355abbc71d22eb5d782b0e376ec66348c4b51e77fdf8f5bc266d5aaf0d81e22982ae0fc9e60774235f1c77865e83c4440005d124706becdee2e9a9833da86a0fbc97f571d1b2fbe668b183816313b864fc4a3d062478a579d4282657525099b1e776917b19c74cfe24bfec7b245169f1c4418cf38648be42e2219e60fac3482f346be03cc1a25c92a639df2034a32259259f75e66622787db5830761b66d31215acf9dc4c913c74f4f2f00c332d1d3874058e55819ef9d98d1ee5d4d00f107dc1be4c0b24cea9008b03fecbe704af2b6a63e9d4253fb2cdf8544baa2d4ffb0842e143623f1b5b394b45efe9bdc377b750d2302347564088777f4850b04161b0cbf81c2b3c10b04f6f0d95d72ca47b4caa0af69fd79ede042348675db15ae563d23844101b64e05eeb93ec0b7e376a4645bb0d03a480bf5274f157e128412f65efab98ba0c412f5933312fc8f22422cc6a0036cb507b64a039ae0a5bbcb4bce9763e85b5dece860237e4fd4331f9759f38981efead7f849ac8c58a7e79cad2c309a991a075692e3d5979edac91b5be6455d41f5384a261e9d4c9b4387f2a0e3734931f0acb17a11248cdac87452613dee9f36b28a460f1fa13494bbcd5c28860c9c91c1c54809fc64708d561306a234c5575a1a7ec9c3447d680498e34fafca28a96ebcb0be0fe79397b0ac4a93ed730dd4d6764cd5013039be1396bc81af0ffbf648b7cb8981609deecb527b055d27ed67be5118c76049db9722c65b5f13a97266227bed46bae780c81bf2499742585d4288a257f606da58e9173d2c0f9d56499fdb0839a282e4c6987322d81d292c4ba86b1f59650587c689848f0b379f0da5d79a125d01a8b04170fe1063c063413b638b39df5a5340a36b4d12acaa4337df9a63606fd1dd4be18ccbf3cf52144fa0603f3abc4c4875e0170c0f3634c62b0428fe1620887a743ab2da1395a0a1d9ea605157806221e528c9b0167f1dab788f960b63772b54e789c97a765cef1b525751edc6525fbd3c9052c15d5d5e2a1b05e2dc2dad706fc9508e0772f2514fd1e46d25087fcf517d2b9c4e8c2518a4343169245094ec06482610b484dcf9a2714fa611062190763e8fb5baa8e23be69a0e05ea11620762d1f3285b043283911cf9480e62d0c380e64398d31b6486c1db2ca882bde5188a8186cf5021245061874e3a7e50e742cbd395734b7f31ce49f9fc5320e744d33c80637307a50bde3d6f3232aca49445025b247fa9304b4f4786339cb5fd78722a533bd10de982a2b9e1339241da725343dceaf9e98f8658e39fe95074be1051d1f1592ea41042763ba1fa85668f095a0c1993638b0eccb078934540613ea55ed8adcc8b31c0f1112e0b6ed866577ea502393ba6a6ea76e28ed9f65d51694610961081cb44952fc6a3de5b7737db3e087ab4d3488beb68b57d496ee71781caae69e5d1afc41da6792888b89c086c4c9bf9cf4d690b3e623d54d49c103726036f13c33e65bcb8842096740042bba582cf14880264e036a8e9eb082e602cb62b53b10f304858245446e0ca3daaa43addd30498728d15f65e5372f04ca062456fe7c05be80af7387752f41106ee994a71c6e9fdfa8463bb3278a1bf38d50e01e46fab6ac47f5be048ae28b3264accc4205951efa26b7c841a65c114fb28d7218265c4f861a599df0862ac8651ca2abee4d69b5257fec0f10cbe5bf4cb62b96fb0bebaa316b185b04519b6d0ebe12f7168d8f63bf359901dee0ee9e293bf41e750094c0d72a987db227761d02b5148ade1d1413f97c7ce22579c90307bdaf41c8592eb51b34558333d53afdfc9f94e4f5c39a64dbe7899112751b19ea4b97cdef54b41d1020d50aff1b424f1aadec201ff4695f2952c11b9ca8879b844aa33905ecc21122ee1bf2deb099471fe9ec89773dab21cdffb2a33bfa222ab19f4db552e9ab9dcd71bef8d4f1e3d96ccff66274c6d90157366a8786c1dc34feb8511be7c8b082a381bbaa912a4cbe1e26ce7bbe751a75cf4c2e57e527af230dc94698c23577dd0eb4d1132e22350bc9eb2e83162231da15dd77255338b5b810eb6a8d6dcd6942d99b59acb21798bcee56bfe676fa1ea89a059e9c55adf15b78347a91c21e8bba42cf1072a4255213d4e5ce0fb1010e3ba3230c3738a47d113afafb8b026b18f49469a637077073ed8cd3be8a0b1e98b376efbbb86de77c93f6b50cad5673e729ea71db03a6ab64451342c46eb6cdd239a2505eab8cd73d55155212eed94878f2ac87230a898c28a094dc70b33021122505f9bea4f6189ffb7d7e0cc7c9e459151bd98674cc08591edd8c0755f7d007bb29eb0a0d2e9458dde7c341b9cf8f73e92f32e2f2a35927023d8e173571002eb685729735decd1a0666459fd311129ea76ce1c43e29224a4520550ed5f1d9855d1465cda34463faee5353b98b416df4ce87b4f5e39366e5f8c88797d6d22fa76fe4edf8b821ccc78ed9e1b5d1f1185bd3c94faab41fdd7356cb2cde75e93d03696247984da37fbc977e5079907dbc0edc2425d78ba03811e9c854d56acd5cf5f990a87ce6cd8befd01250443a6d988eb8b32ccdc1581628c4074ab73e6f7f816d55d31436a25652a35ce0f46cd3d5acbfaeb2f6da22454dc588d40ce4b1a258c1eba8d719bbfa7cf3fdfa851741177ed1389a5805bafe0758693fc1f89b125c432b9424016425ccedd10abfb48d96eb5b88de60e04c22e58850a9549101cd5c570b7ed94633c51e670682ba55fc2ca73de6e9c84ab674680e802537ca06eaf39ed35ed7eed2ea44617fa2fdc24cad8dca534b133aca8b86979f0b009fc45128e96b77c28e9918945940d663c24e7897bc3ae82c8f3cf79aa348b97648ab4f9eece03b207f2cbfb5cf188de83759d7438805e34d01b3574ba9ab159cbed6a2923757267075c026d1e90ca670ce11224c6f114552a4adaaea7225948569c07cdb198a6cfe5b07a6e24373c60caf8a4fd569cb6e31a62dcafff19385e80577d9bbad0d4ca82592b9ce10044d2696d5c0c768b71501724e3901017ca36c3bb09a46995fb65144aa20f2be565ad076c30834b499b133a7c94bc5c508f9f4e85337e31fbf2412915cc1a9eb7f2a8548314b6783bdaa05f219c76b030cb2ec996be5e57d806289eeafa1ad10e14e3741c83657744c26578e0a29c3ff93afd7580d7f1acbc38908a1e950aa19d8d1aa326a7c4eae2b66f769fe3ef4fe0c8690ff16f8b031ca3756047c992ace080b062d51c50f097b0d907cbe608eff7577350d1cf52bd8f97cde3af8306cd3b0da0e1bdee4b05c33f33a334c2ab32000141f59aa53100ae592ce73795e8765756864ac8e2aa3f21306ea5959ccaa937d9b9b632b6246b2123d85c4de875527d1ca530ad8c88d44ce2660674dccb9067298baaf27a90608359a4fc2d1084c402b46e643cdf72af5a82f9b6023516f7e1d82600f5067f66af77947abfbadd86dd62c09a6a09290c50b1d3c0b8b60e2ba699c164726ef9016ad4d0857ba2f8d7fb37c0f02151e30cb59aaeb7ed4b5d72e01aca508a6e42d406be893edc74433b6ff6c37e3bc8ffa0fc8d36da09b80ed66c718a09ff2639c2a72e0a8cdfd410d7455720de7f634543e42af2071a3df9dde96d01eba43adc9d3fa40efadd2e06720b532a4e7ff2792b7cc2145f2b2499bfae109f095b785d4196e7a04d5471af1c303bc2a672bfe90dcdae29df42663cfbe7ca7e7fab50e16ad33f18ca5f785007d18fa6bed81d2231aeb221bc8660dbe2f9efa16af91af33755c68ea3215ac1c5b347ff7e573f2160bab4fabe9162769fe934bff762108fc0c059322db1b2d66316d3a82b6123e333087a1dee049ef62ed8b882eae28fabf54dcaa0890ad9990ed5a009811104c9270d31a6e6a929075a779aaa6b71b90f99f9758ef88af68faf7a408a3304969b1ed137c5afeaf3592f9408ee6808c6165aa0a163092d9e86076649ca0160682ea9a6cc679d98ca394290bceb407231ed260c843c474a9204a76c644e52a97883a1a6cc6493709d42c87f0626c785887dcaf6ff188d78646a1d0a4b58d800731d0ff5c88f4fef0b915ee6e7c22ce05d89aa7afc7e782b722c980d75020d142ef8d11e49177d1c28a039977c9af97913dc4eea025d35b526e5ef438eb66a28c2bcae211c76cd25e2c087b2aa9635812f6b54fb721e7a8ae0711a7a1c5ea220185d736483bb0b19973b2e6bfc4d0863deadf55e85eac76b4eb4f6cfc4ba0878184e4b94cc7e2e537d5b8c92d21ff878cce0fcdf6af005dd39209398395a812376404f708197f0bf32e19ef6e1b97f7006e073de63386e7a2f63df16870483db81c2e3c6cde22ad5f27b6255926af304b80fe0fea1dd2819dcdf0a9ab905b807a20ed94a8a7f22e958380c6aede24d38ddd5d0dd8718397fb4b4abee4aa9b71dbfa7682b114704fb1bd35bf4f2196fa1c78cd194ec7caebf0ceb5ebc4fdaf71b717d0e98d957aeb290c97fc77cc37588543d4b1e2db935095470dbf4493411f3cea7bdac098d4ea3505628c1420a9715807358ae9c3aec458b62621f11c12d1b7d761dbe2715e0160bbe176295fb7dab2bf1a9d288fbb0cc5576e1bda8612d622ee09458c724e26932c39f8d04001439293c279963deef136cb3697aa1168833992e93cb97d13dae517dcf73fe626dc2646c416de3015705adfb44d937ed299dfbb1420e8471a51d2b596917bae2bf62bf1974ade15c67ae1bbea2efb397dfeac69522bee01216b02762405ccdeb7f4b262c40b41532c7f91e02218a842519511fe43aa191d165da73d3b6737c50bbbd28725b8de1b5ed15a60eb60dc6a1f3b874e73e55ba331eac09937f58a3114baf701ef036056c4b6f65563002056cef447bf2806b1fe59182e2bf092eedf0e1367bae62d7556cf70e76afeee548023ee8269987e75633e459bcfd6a0e65ec68b800a36443206abe05fffa482fb54645cde908aeabef5d38032b42951a20a5878f4863c7fc2038c37b70b0fac38cca73c96d43385ce386913270a7b5cd2ce668c64236b1dd66ebf22cacb2fb8b47ee5ca049a6687eed7d709b274db783ffe78ebc1af0826449899ef4933ee4bb986a50c523f5f5aa0a09e46c51c544d571b4f8e1bb29e9107aab07e11c1c24ef16bf45f60e592b51796bbdd0ff75f2507067169eafba52dcdb527c7d805d8877125084fae4e23b07dac9a4aaa8a2d1f10f8bb7846cee6454f50ee5e17d6c81a125840f051724eb4a253f2ba10948775b76e85e50e4cbee7afe6b9a6ab7dada71ba912215b62a17413ef233bdbf523fb39464d386204b7a1e935fd791e1add51e055cc12d63c916a98b6004cae4c05a6678a2266fba33cbc3dbd22c560e1f0b37c2c2988c478c4e97653fc5b5c4094f9370c743238b98c9a2cd9425cd90c4f36a13d5a433e77f02b357cbd60441bb4df0f241dc4665893237a5322809467be984da498bd0ef01c48214810705a99c3829dc6bceaa57f84b5330308d2b3ed2c7f10e3930a8eeb9138c15347eeffaaf0a14df16002fad6cccfb58c277b1efc6d3825aa235c3660ecb464d7155ce7c779d5d2330a04cea1b90b196619cced94b52fe63d2b11fef0c7cf8dea82abb9c2a2f86f6a5d43a334219e1df57c383304226a7ec0ce452740c8626e1a695111a2634a38438aaca46012d0fc1072feb14ea3a95c3071c7b5e5acdf3d3914094d3af9e4d1c75dfb00a5927de6bd7e693a8fbb8aaa3df702b60607d0a1efec73475b0ba6fd8e03f99882bab8cf41813bc211576f287a7974228cb1d7ab30e3e4e8c23aa6e8aab0cfee1a2cae8f09efae841b37ba3da16c67cd679a78b0c29cc56f49d0eff2093010fa022b72fec2d6c58c4155d9e928498df31d0dfcc7af3eff8440996a23b62c429339c1af65ebba5ac37326f794f88b671e86e10ba4abb6fadcffe81212da61fe9cbc509574c18020074bc930670d831f46d6c999cb7753fe7253aa52a60e66ea917774cec08f9382c2172bd77bf4a0afa9db155d6899250df302211d0bb502e204d769f3b3b253600f428b295c8436e1ff3a8bd918da782b0f3bb6380b14418fb3c494091919cf77bdf531dc7e752d3f4bd67636896e3fc87df143fd6a02d7a2fe3474beb06f001cf24ec85623250305c8befc7f8472f5489e6db031c0d553433c9a65a325815c7f6e06e1c36b30264abac370c52ae030ec8de673660d96dd803513e71abb37c31e34a24e227c90ae06e34e4d3d3265b3395c0bb8d6f45c1fd661ed5c3124f41660d7f8abc515d3b2fa66eaee052f5b46397dc0245b0f2919eb9123b6298d8c7493f6e5d58fc9e0bda594877bdd55135b2608d3039fdd1c0d0ac202e949c70f8813ebc4b23d48a8f28602239a564be6681ca7f895a093b1f8623240182ace2e80b9c891c2889509af4d40e7aa3a6c5ead574dc77ada238ea12e1d87e6b5c36aa1b0fbc493a90a756f67954753ae41fd1de2755a3bb44deb13e739ce11c305d4a5c839f1bdf57b54393049e5d1cee8a7cf02eb1f16ba15bc34ad5f6143d04b32fdd342f2e1a9095007122ea3c386756d10bbe7306bae751fdc176c109f9a24ffad5c737ea4cc66e28530de398fb84e6dfb8ec8323061e7e539e37e46264ed5bacdcdc126529cb19510aceb08108dd53a606923554e92a03aae34441bb9072b30c8bb91920a571819cebfba6beabdcf7b7a99760aa579d3580cdc0122e1b96f7eac929f6ca737623a2dda0e8752681ec23f0319cbc1f63e7c3bdf82dafb9623a29b9a2be954f612eefea33bc7bd19a560dbbcf0d6d1f1747f9a5f954bc163fb8331e46732c4780643f87139ea7b26709383a163749c1210e656a928b89359b2ef0f7e3eb19c7cfbab2e83aceba2c906508a32f6b0defa7dd6890ffd990588275ff8242472384f4cd0bd33229ae2aadde064d0da37847b84f039660b18263b1398d2b3daad767d41e4415e9e93d8809d118ce5f284dc0856c04250e7b095b82bae7bb1c7ced3a3388fcda96677175ebfc3399a00f2efdd6d1dd153a9e466ce07a59ad8b625540563a11d8ef176d6cf6c8e51a3d350a5ec6bd109eef1df41b60b0b4ec39363e478a27149eab96c4cdcfd67376373228881703300777e0332c51f2ff36fbf3e7ad708fa1da4a95327725e208f317090886d4a085b7095e6da581459b75e8049c05710d750b34133daa4304cdda19425e939ac44617045cff63dd6f36097b4eb5d6e965b360b731e0dd07f04ef0cd2142a01c5e9f2a79729a7c554005c793345d2ae5dff70849acd47eca04f1507250238e137eca64a7255b1d09c339b346b5b71bba56863642b6b711ef2dc5fae6d66c28490773cb02017803f22fb862961f0dc65455833a5e956bc4ef981f2235c61345217fcfcc3e1d7915d2d78b930c6b54f1e128d2731a970fd47d7bbb088bee60e13852bf6c05bcb68c1ffc7c20b14870488f675bd66ccfab5b6916a7a6d2b33025781cdaae4b5535f39e36ac75b15620957224f9125b6a60e073a914d263e969749e58f020ec5c14a1b26ed416d45e4f4f85ee619b2df8a6cc357cd4875a324b7cf5c51851fd9db94ac2abe0cadfd623b14b191dc129e38c9024ed6155ad0e35ae751de5e08d7e82537ce44fd06ddd0d45c54cb24d05f67982822c41f15c4c2c3694624646300cec3e69dfe5d8e19e9a691171239484844601728e4856250be2af89e6be85a68ec008c7888c128ccdacd53043f131aa9703d57a262ec40bb406a2737aff3f633a9ddaa8c3c1be98a2605ec9c0e0bcbe0b46b164557bb9999f6339c7e31e2b17a8ed424a231c5f350fe80e7fec9edc63c5007826e66aec1c1e39e172647dc483eeff96eb34faba2a18476adb73ed68f13c014c0aac68a248dfb5923424352f66dc28fbf2ff27d0e8a2cabc457e8078d3bdbd7eb6727bf000563eac3d485c062593ab45d16289d082ad3a5d6f68a772286aae135fb4402166627732111e2e9f9a97c1c834cc27cf21aff191bf52319477587c01eb551e3108393973bbb0446ee86cf1011cbd8ef14c99c499fe5566a197c3b389d96ad86449c3d02da823afdae461e505bdef75fb4e2233f05c6f7b6bb549f0129f455c19a50bdd6dad1e478f001d832c6223eed8e38ce54705de7ec631d958c25c9c7b88dabed3a50633e0b0f3f86c7ce823250d0a1868bf713b7ebaa029b78f90a1ddc8f31530179b1d7300fa18a95ecccc31cfd0d1edbf7793728f7cbbc572e430894526534dcd5a554ce5e4bbead46b4b3c07294261fb99a9a205d130baa39b3205accc2133efc872d500d18bfe809edc6d215e399f9ed1601e41fc8880696cbd14a7654c23113d274d6f4bb77ef6c40133ec0c4bb494aacfae35953877d8441d2ff4eebc6cb3af2785a98721ba0e5c9bad2b9824484c0fc4a1fe8e7dc3921869b34ef1eb1d2f20cfcbd5afdd3e4e312b989a4eaf9da9a6c907c08ae5fe99d707ddcbde2569fa29753d6db2fd66988fc28d38c601b27ef901ed11a6cecc3294e0a48cb81e2904333e8d106183cc852b8d356600d3ff3108f7562e5151685e0e4f4879f7d78dafdf5bb6e3b3b97d2e0a0837eca1e36be11947b440e5bd926997408730ccb052566384bbbedf3c2dab88ce927b6b35370bf4d4bd5351a14f2fba70f59d257dacbc4597d902f0cf364612321a3d02cfc04c8972d61beef038f8f958197a1443e2a1a459bcadf394609ee720aa7a9aedfc4af749d8bce723d4601a0112a27a638f1b8950db8fbb0f7da8a0d507b4c7eb7d21a885a705eac80959e00edf354abd366383606bf4b9132cfcd86d2ca2d1cf59604928b8ad11d39e15565220d68509eb1b147e805b05227b1f46f22861fdafe26f5d2cd3f8caa41f6303f7746b9620d304d0387c72f0fc1049d80a66ee42689f15a95d7dc3355d85851da30efd02b6754c5cd0bb24c6cb655ae130c5e339a95a1ce0971a4eca08457c6c6edd39c0ab32acc1b80897bc636aa3a9d1a6d6da575fddef706a393145b395c08e9d509d57f6e8a419fd2b24eac255f47d9582a1c36e38b3be0f689ea686b5e337fc62131b40d5147981305c23eceef31cdd3b4b919b5e63ec70a8c8f386695c4e9668c625d010d7208a584fc3f92f79e37d74ef6bfadaaefcac748df34106b49c1eadee2ae6908c9814312d911217e0c6f5ae130c201ff870df0bd5854cb8c2a4b6a30f0188e180d782fc05bb662c51ec362ce01f2e5b0c9edd66d34266fdb8115ed8b0db9de0b9396a5ac0ce626b82fc21e246b1a26c45a040f46411b05b2254743532fdc363ce4c5a034026fc33d1381ce31f263721aa74dfbcc552826193bc7edd112fc37a918c4cbbda6a35907bfe452f2b608442ec862975769cf467d0c6288ac04a7159551e364bfb10cb129d67c00edaa3b275bf5f78a2ba6bf61828aa27d62a9a63cc0d5a8ede047f3619c02e4fb15265677635ba20a82fba45f5668870b9ae53860527838d66685bc3c3d1f4474cd46c86bac3510783055d6d93146ee65e8af91e63b71cbf3cee1ed2cb3fcab774a1aede5f4fe595c5ac1fbd5358615858b79d875a55fa3b150d463efdda40db3ddec13e7759ea8e9d9152f886203111bb404c97e866f720229efe113b63df8ac7549835475b06505306e49eee41c59b296797105049b30564f13ed2e35efb604bbf859570925291720da9d029e9a747e1abde8835c87efd22243f0a4c45fe52e0eb90b8a26b7518c872b3cf5260f88c1a54512637a7cbf0509b373a29b8b93a6c5c0f50f883405a363de2065cb8f89dc7ac4642f3e7a306ffb6f9ab939826d3684f8e6242ed7894fa51cd49a470af284b4828b3daea41c6f2cfc3527ea204d2cd30b0dd2b543388d60f30406cb5350ca9322333653465f6f73d87838bf4035f3559183242c621dd5276a3e70d93d4a49e9828976653951b7400e696dc20cf31c6599a6cb46574c85036ab9bc604f8806859dd0def72f3212a34e1d4f7cf75cf0e145ada939a58183eaad5e99afd40e8beed7eeefd8e2876bc3f6bf7bb276bc7829c1179ced4a2e13bc2332c28fe85e5463dfff428ec597736be00d5d10121f33b39cab657582b05d8c7cf67ecfbe3c7f5cfbc8dbed6a8b28c932ff09288f8ec6ecc134e38e61e2ff7f26c95cf59fed8e45620505312e0e131df885e3818df1b08a23639136e2e4553ca81d3fdc30417e07ab9ad62cfaad0ef3fa6f10c72a9f360ca04ff8801171d178f2a26725ec8c5f51b3dfc2ab478865fe14379b5cf90989ef0c5582c413079cb91df950ceb1103d1850eb1bcae25bcb8b6c9a87ba48605912342db78897393b3c4497e43b621ac0abad81cf8d0466e9de12129539c5a885a500c8f97a0a1e433733ff2eb7f6d38400d391f7b4dc22b10709881c1aeaa256ef125311ded7ebf55a387c53528b56d2fd3b5a0e68fa74cf059d3686ebcb7c8032536ee7891e058f41b32c04677bce08d1416d1c95cfbe79cc5f24c863140b52be70fdd77abbf6e4176f606c26da50ddde17132fb92f1108d1442353edc963af27b1ca570e583b9a74da4b042b1243aae86251752b358939a3e45b2a5751fa379e9b6954201314e2fa8f6c7b79a70663e5c6386108b7a41e2e450709546b8f4e5a625b67c23cd884b078e0bcdf39ea3fa8166861e94e07247a32fb393f792cba82d1b63c44abbf75df507300cb257fdb7039d66690a7db7452b6ebbac926f3782d48f64f4b76cd1b740a21bf46ebc3781fa53c925bbc3c4c792b6836e3745cd8b633f031786d0e6e425374cc327f5164233da15cee70f50f4a710ccc58c15a923ad9e63d5f15abfc3b1630c62e5a30ee80d2aaf4ae4a6aa529bdf672c7f882fe7e5cbb711a46d414eae5b4496cbb18408d7e2a343a59b48ff59fd47e7b63afb63b426e0cbc1c935da69713a4bc2907b5568b75917960bdbc7567715047b5b8c6119d8dfdea0b8cbeb04614ba3856098fcef419165172e7d5d71044abceea2ae8fb19b110da2573a41514384596a900556da7f2a02d2bf475b2de0bba2cabd4cc06c3ab6688e74fc9ebd32859f4188229c770a1287447e0111e18f2328dfcbc01ff8fa64650bcf4d66e15637afd8c8a480b1c3a864836c3e8c143a49aa5cb44859ada8159e3060b946a6eaa2c20b6845e7ef862a44ea8cd72f40f5c87fdfc2806df3224132c8123bd5307624e333e4ee3aae1f464baa81452501e39cc3d94f1d4ec4d1c530c6e360918c02ac3617a2b34c1df517dbae05d47f05d4dade600ef9fb25bea3886c03f38d37cefe8d8e4dc83932be3b4e7b666ba4d496a9853f46dd45b9dbc44f7f8e23ca787dc3edf4169d24aedf2c564b876c44211edbd356cbe88139f1e654d0e5a10ed71d3c05dfcb228c6dd59953e0e37e7e28e6a7b5880e1567f3cd0c5671d9f7ebe547530aab5a11df85f6e1ad4bd18cecdf93356389d770e7905dbed489737b10c5f078480cab767b82d59788f44fc3b0ff8c31be5b80a031bea560517497d26f5f861544edc7d7cf06d41059640e4e6fe7d8858776fad3ccc680ac6fe25d241f3c81935f531c8b71762f0ab2cb6a6dde05d8a1e5778af3c3f2fe61d503276ee6d603d728982139c85ea054bddfd20520ded6ff70195f946ec94fbc77b382d0827bb120ab31391f8492330e36d657ffa619377347d5fe005a5bcfe128fac9571fc4c0997b5f5aecce5eb009e2f939b65008f20decb5498b2d651c8a5b5c21b9d0f44a423093beadf4540f7203b7dfbbeb1909334538a4c6880d4a94324cf7bac234bf65952a80c5e98ec5eab60fc706a3b7b145c7906216393f0cba070edd9e1414734dabb7d7cc1162d99c1c982ad1005cc5c3d9cec6b99326b2f08b26546e301c705ab2f25e313644fbd127b1ec3656841255f1f57748a2ceb9c2222e10f3f78aa47d12451938dbe2ecdaa874014074c7641e4a1b24724e653ef9d088ebfa2f2934f99959aa3cae7720f1d7f8cb190f2e15ff22c7173da342a583eea46ca5f86f8a572e0bdf0a04a111948e5fab48e02df0eae8e774fbf699ec0b2c17009e8bdd28ac338b3b9ad085f5d52dd8d484eb19a3a6b34199bf473ed67a6571c1e6842fc25be04237d927c095391f7710ff65dde662cc7703d62e49f9bfeab41a06e63425a3af0109e91e8bcd3f346612dc6a3f11a8fd1c04daedee77eabe1154d117a1b2f1537d40af665a50b9154fb17970e7433f69d288550e6578ec7339f5280ed9e1fa5e94254442b9d07e78c61f614b4eb0c4b080e5a7fb2d2bd984557a07a8884d32eaef8b974329b7d6f0874a690c96f64c40cd15c73c4fdb1133d660cdf3e1c5d3a6dc0127a6704c0a3ea2e55d380fced77a83ab71d99011ef2f0a4ef085e3e7e28550906c9841f2b359e51d3fa3ac2b6922cfbb67cd0110ba775505c1c9f5adaab25b7b22f85a8cc2f388b03554e73204cfced3874619cfcb47f0a8660546b7395e2550b56c975c00281014e5050f9c1b91a7ed9077dccfc855ca1454e51e8a2da3daf95a94b732e9aff33bec2d686729e1ee38a214f953e4ca982ff52a59dcab2f5c3797b5f26440e72dd89150bb0b8c212f160191c2ec17a7f284847fa1bc5d79462b115ed67ccf05be8a4c4d149a88c71ac999dd4c47094df9758ae68d55c339c4f38cb194c88a2154471aa69ecaeca3c0add7888ca68fcd121857ec6194e4cc3db89a3e7862a26d7adbe67854dee3bf276b4d7200c752b70083f3c3dd4beaeec74996edee287a4a77c197ba6c5d415762d89a5dac9d216861c65af3763a0f79da6ffb7bfc02174abf8341b15b0d14cd6ba642678f66f5f359dc280580b43a72f5778f2bea34646649659ea3a458ca750a349572da44420287d2316c6bb0c7d009cf1b96092b075fe3745e871944c7cb17daaa97f00f82e2231a906dbb4763cd31c18cad0f1daadbd11dd19792f778a1c5ccf068fbedb35a333fb94cce3395867e164b1da07eb23cfe6580e83a1dd2d64b06f4aea23c9bd4d1f19a08361bda3156c687a064494ab299c7cd76a59bd8a445aef46e4d595e3d13c79b898d19a67bafd08920841321f63baf33fdf9b2b1fccbcfeefc4401ec30f67faa776f87aa6fd78e6efbe4600d2ba198b6dd18b00c0bc62d0ef5bb718a78188e1916c7ddaf2e3ab4634ee36f74488436e5f1febd9d83330ed491f5046bfc279819dce668eaf0608b74683c988405701cb5060516e1c1bb0c28ddafb53aea372f35c2c0e95b151743b42a81a46bac2dc30c6bf9ba5a71650205c774f576dcbf12ba5d62cf1c7d17f7218ea7ebaea7291f58d1dbca9f5adab43de8261a1965ba6df4014957c535e36dcc0b14dbd227326c4a6b07160c5906ec3c71ccdd8cf49d3130d549d526559f3a2ee7e0cd309ec5ccdbfada0a259316bda94b3a71f4d15a7ed708b6fb357f4d2a4889b5dd346a201d428bbae4b1324d9fc9a3b3603dbe45e22c372034f999ba82dcd0d0a819c7b6019934ae79a0f4033d12c17c0496f059e617fce6b285b98ce439ca58af0f78f9f668902475afba87f42402b74ac5fe23b138ecaf132cc3d680f91f56e50cc401c2a55e862d884dacb38ab5cdd149d505c283f0d5be4f3adde6b172eb8c8d1dd243367e3512ba1a050a078dba1a41292d5d770bc6eb7a5604965fd38f16a4054e0624cdb6c2ea751e737ba010cc4d617c24f8b67c855e887fa470364e5b811e97a82bb2ed5c97b348b22c3112a9e28f8834a82e8a97783e640f6111690e70342a91491ab15f237d3f15a07124460074e817bbf064a9f8651fc503980c31adbdbac62949273ca0aef1994d0677993bdc756499798b3e9509699afbb451c74ed55067e708ba2c45af715e4a6060bc8bbb1bb3d5e307667cd0a2158d275403e9afd2a11856eeefcaf566fb7e5eac8b3ecb59e4c6fa7676d39fa70ff9eec4539bd505ab746bc42544c25dcce68cce513e645d59db182988dbbfb1a76bc943ff2efa5d583ab40a0cf32a48c093b8f2678a6413b183573014f188f17b9476cc99e6f9ff7ee7df8fdfdae8195d2153387357ab387693a2823cb7c65e7abc8b46afe2ceaa3548c7adf12107f2ed74cbd2905cb767b175241265fe25330369236fa24525a7ef3b159efd53e7808d97e6c20b7fe5b3cd96edca583cf509e95ba84c8e8ee3efd442a3b7d69de0145f1dae96ca122d02e9d7522cc678468e5ff9451beb7350f956e8f2e86a5a247dcbf3c572d6a13db905dfb50bd2e2a5193acddaa5e7eb67fe40a15497718b5db9ce255dbca429468f74937baf9e87db656474d55da6b3366db994c21e835faafe9155eaae3364477316c98b4cc47362131a919d8b2b4978ceb0ad852d0e55d81f295b042150718c287551a75fd086c6a6b9134f684e02cadb696a01e0103c2c06929714f0873ff56595d2fc96bfca6cd0bfb170c6b0cec057298367392e9916ca9dbb837cd8338d3df09980141f68f66627e8a6acd103e0bc90dba5656059c72edc3a3bd7ebc8be2fbb4fbd8e57e6d6b74c9200db3e9435699b566845370f5de155e2c33dc8cd63a5fdd81686ea3f16632e478e54f85047a910a46f9c99d072ee46ae7161f7b590eb1e70ce15fb5ea7d27e5037024e1dff043723a6c82b9e399249ad0c33ee1472aeb552e258a42d4ab09b0765e5a8731c78eb8a06b00179605345ff9e80e75ede25339f8f1988af0bc96a66c3a43476dac11343bd780856dc4a3eb3f3447cd53d8971b1b2f246b38b572df4bb1784b310873862e4fd1203dc66356aa70d279f4fe367b7682338cd593e9cedc3faab8a0804081c98f61c9ecf5289d2847fa4b6fccd05ee4e1fd99374be66514a883807a7c0e7cd999016bfeb2d8dc1ebba35010b447776385e0c4415990ad84614d9d32df710a2669dcfc1397177ceadab201a1fe26df1ca20c3102605556a18e85bf7937e6ad1b72e5bc217764c0642c1514457c0e6eac5266c76d63aae29264b72ed22c349387d0e508c499bd0a1e7f45d23aaad71973045b7080dcc14a6901de9664f667973eaf8d7115355565de4b51ba4239c6e54d8bbfd6a683cc67d786a6511e3e0175e5d6d425ee37c4a3eb821f6bd0ee7daafe68a98b744f20a1dab2ec5e6f4cfb25ba3a97c3f3bad108d8b2eec393707bef1f126816d5c333a4adeb5b0c6dd66104464beefedc1f91882c922deeb4e7df85530fcecb9a7a7045c0df6f1765c8dc3ba44deb460186d471cee3a076e2b9676edcf475e6818afe3d898e1e2641b0b52d583b6bd3bfac9bdf1e5076358c883546afe7db494066dbf11daf6d5f0f6cc7d2bfceac881380e4ce273181c0ea409764e0fabe51ae978f2e52601ce62d57e1f42e439939734918261a6d7c96537e7ca9291b554e07fa52f3e4073b7e2f9e891421051dda8a329515ab3069266087f398f596f60de56f7b6861711275e94bfc88b88ac9e686390ad1c9c5cffe57875b6c98e806c986e82277e64945ec595c12394b6568ea653cb64e3ef8a0da0176a97b9373c32fad21c904c039126db902242477c65ddedf20e066d75344cd1fefbdc67f434094fec5955f423b334154d3fc797f394e821c109525ba274939261ee2b7393486ebf95227bb22c9acd8580b05e9b6ce9e182591743440cdcedf9c0ef288f3abf48a271ce9a04c50d48239ad81e8c151a82449494af5e309eeb6f9a48806a0d721455b326b76e26c9336282f331d5c66dd927da73b3b0ce09fa4923822fca07989cb3b542903099c6800ed3a5bd5814a936b5e38b10ab404fda1750b030167aefc19a7b1a26f0146df078a173e19beca73074e51b2efd5a02a7093e040d1c398bbd081d74cc46714ae320f2ba32d8e8d5c33a5a7f58089cd1775b7446413c43f45c94c9a2129e73dc7251f0bb20af6de223a437f3ad91803b9377e7e8e7a743b266f728b44f07df345ad97d19e1a94524559a3ce2e48a64782275fedee1fbe27e482befcfc76f71259e9ceb036eece07a15e4e119a046bcd1e6c725746ff67782b27bf694b922fb1e8405294de08343f6635a59c5009d19140c12c9550ddc00ac292bee96f844f35eb1b1d17f520e9dbd492cd3151c94e3388ea63fa3e00a19820f51164dfb5591c844f1d6b43c4e134736f397a40d17e60c877583de83514a712926ad16fc6c054229e3e24ea0f5ebd39fb639b2418ed6d6b39e2fb4d87c3ec5fe801a55114818a02fd2de669ed9c51761b32245e012e30af15082c3fd0109ea4dc3958f2176e20cafba5b4bd81dce79303fbb8fc542febed01acddd210ebcb499aa1ecd99599c037097bfcb8d5f0b0e261386e6d97dc7b92d0dab237f622c6a1fd4a9cb6c31b196d85c88b6a7d78d398c1ee14d03d29638e3d546b717ce3e6607a85d9ac8300466e1ba5ff44bf62e613c0d316d14e1c3ac52eb24ca4fbb00ac2a09615744f776ec567ef536466286221b9e835780c29578659129ae0a06fb0b3f10521aa48a88ac4cffc9f74722efaef892a0bb9e73a1f65acf3c705b5b52d1678437c1bb1e07db25004e88a429c0d00f5e83c785ba7b420da31b58e6beb70e7c206a01fcb16faea23728d4f166256ad206b99cbfe25ea11681e2622cb60a4db6c8d4e70c873f64e045575318f3177118069c82920af0f9f11436627d6f774add31a4f1a0be786030513fbc6eae307c7a4246b77b7912958b67f8dd620bf746db245867e022992c05c3a15519073dd982018af9671c592619402ab26d187075646836a0d20c88faa506d0388fb7831ccb53c09e0035d2f5809775122bfb3a11d0c902ffdc76788409d332e69ab4909b3d0cdd185ad765989fea3cc303ba0f64974e3b9665639c9d61cb56d47465fb8b082c6288c51587c77985d46d27c5f552a7085790e5b596ed7e8ae8ac6ad2b3360a45b97aa1c725b48c82f1c82f016dc3921501d68155b0054666c3afb2b0e76777a2cf15eee0c970f034901184091b8e4a7931c0e3a721751ab41a6ec3b83be5acb21a5843ec417a6c97d27aa6f1a29501e1cabfa4a0931b674f9ceb14abe79a4919a741cf672302426a3b5587358cc2e8585b3a64613b74f4f9e2af3df8d378e80f2781aec800341fe26d4af55d357691b4c97968521edae0733d1527f7d7af2b1e95bdb0d7df9cc1f39b30ec9d083d30d9b827bfc34fa2b6b14f25589d29dc28b6fcc40ad1716ec54e771e2a4220d6562de3861ea6c362b11495b94c42f5fac4338f4c8b0e36d548ff5ea1a60310f2ccc4945a147815ad8fd03133cd7f9057d05a9f212e81ff52d85100582a8f99676eb995ce88a2be87f0e5c6683e8e97b3508812ce1439367818bbdc3de8350b2b7118a3df223a16ac01d264c280783e45db09ba9f5a9ee3b4d9af2aab4a9e73c07ef3b6e32b7c77e177335c9f6674449c301031e41d0f8810b1e5d53eb913319d0f0696029d1b38eee22d8f03912f42e67163c471e7ea8ecb6b65083032068015afa265b6001ad212d14da14c09c04ceea8540e3c7a3fcba2bc85678dd4535bfde59ee08c180c9e7598c20375198d5aed0c0fc00fd714db6042c17b319873d7b51d5b2e434ddf610df504d1c082c6255cab95dc3b550ad63396cf8316ba615889d3d468730d39f7ed80b47a7d825552756b99845f030f7171943649925b153fc25523bc7d54356c67bfae244890ac61b766a655d4d84720677a1138f24787b779c86639b0ffec6089a9bdabaa66da415935e3f23fc40d38e8a97d054febc447bb7b1b74175a240d5aa734347658a381ef901c5aff7afaf7b786eda96bdaf50eb0c6f1e847098d50564d2ab4584b17a5dab052ed491358bd3531875f8e43a53e9c09d9f790a992386a20f9d630f6e10e8e2d6305016b8fb2ce89da07c6efca31f58426e419c97041284f1be8efbcbcd0310b26df292d3ae650570109252d44b91d85bef014c91edf2ce881c6c4f7f15a94aaf7de6c61dd61a3f72c69639d755c97880b2dcb7b1ba2e0fba8f40cf6c9d9f97669c41f553c18ba001babf18fa87c2944be9f6d2f83e2c3880b9f48146379b51dc78d298d54937db1ec306bdb592d5a9282680c4a93954484f0e82630486cf7d9ff81be8538b2bf9271d271d7a59bd42d608a1adbbe3d1a6de20d25e76e47e911b2ded4580350b73ea4ce4b4439df1159fc749162bf95e32d8d1586f1bc9cafaec09cc2fcc37cc36c8ee3e33fd08f7cb6943737e5e43f5853c4ca9b3dfd1531522566de2aa68d41556f4a4c8bc08930125c0aaf366d42c98450ddc74a31d25a63defdc0a0c0a24fc4ac4fc54d1ab2dd68d9da2684c15093152cb1a373671a4c030c20a0d139fc0e70c7e294f6f2e5bf6ebee32cd751a8bc075aee3e7f4520795fd36dd4325172a23875b0ac1f1baed3e3629db58f7ecfbb0e278897f39cfd78975394d38a0092276dcea7d72ae1d21dfc4b502ac4db664b1b083891206ce7e34dd7e20354f27a0e144f162f323e06b21f70fa86478c8e7a72068dc19b6c2c78e8474a779168c82001919fb2632dd5cffd8dccdd7d50b3a9d8c692140a0b3e756552cd51688abb48639c2af1342fbeed5c3fe2e2b2e851002b3e55a710ad2ae83c28f39614e50d6758dfea45c2fd4e9ebdcf62040cbb4285ea147f54673476fc1c7310e152d07d86884d75755a60311ed12e611984a267f4ada6100d0c146bd17924e4d3a4e240ea82212411f819c2d7bfb14e69fda1e85ba9f40d1c12f50112504e047a14fe7c88cdf48f87bd9b412530e8acb86894edbaf246462860a33713588722d81d7eec631bbd876bff85f54f69ff50d8b0a3670eeed39611cbe433d45046406abde4c27516a4efd3ca7dacd454562d6b05b44167344914870d048a2c7bf25924a7363444dc322014db9bc57423e6fbefd2a65fe1107126c5c81c8de09b58f0b3291e44c309cbccbbc59ed067926fd10a4657a9e9fed959815d39eec3e94277a6f4ec7f9647b3a6a18bc27850385adc03d72a291d241c6242c9f96ece7f91528ce83e62dd78bfc211b94c9077813e3dbafe7ebc8d87ff5712ae4c0896abe2f527053ccb2910183785acb3332fdf04ac135863f1cb8a1847bb21b80e5182274faa328dc5c61990f89a2b03be714b8606549db410aaa6b86fae69d5488858e57e97116962c68d3d5f54208d1f0552f97a68baeaf18a1aa47cfa5718bb7451fe2355b6c8d1789fb726ec29621910cbb784db6855ef3253715b9c5c724b46e054b91ecd6634bac40d40327ea530aad48bb4d674fa791fadbc757fab1866c8c74d4362dcf13c27d1b449d1568c320cb61479b6f091f240a9f3bf50041e96da5e96b3d8f7cbe93fef524d56cb262bbcaa66e7ac90a3694c26a0807e36603a9826aa29bb8292da18c5142a42ebefe565adfadf0d33a755082617fbdd03eed40609a01e11fec9f04a2577ee4f6e6170a00066b768c044ddf96bc8db5c8b8b91e47cf6ffd25c80b66ab86681e38a7cbe74158d096754152aef0ec27a2f94374fd8cd1cbd43f9d6be6160ade44cffa0bbb54d2d17792014c3c3b3be13d91e8fa42eab5353e3203e6611536e92630bffae3859befe1d83321ebf32648d76fe509a6880b5dadcac769f55235f922cdbff108066ef0d22d82d3d43143795dc9cece69c12e76537101a8131b947c77cda992491670cc124f35e6b17703228d1f95be8c0573fe69b28397ea15aad1cec79e4c279129d728ec1ac184600566f21e58880f8aeeef806090c4e63b16fcce3cb9a419913290cd3f8b68476a8112dc3b78bb0287019664576ab90d5a185f845742cb28cc13182b67ac62bc61e499235e22c87be61afe12b48099671c7faeaf7754d06a7da8985013f378556ddd4bf0d1c449b614a4ffe9552cf04ef51d534d7a8e5b3a681987d900c84fda607b4905b236f11abf586e55e5cd03735fde30ccb51d283c95757fa7fa51cf9eb01ff5cd86fe7856dfde6e9997757e4d6ede416b2f626729f7ce524e146db114ceab878bc31c486ffb0bcd69fe8c5c7dc73c9a9f43556fee97730b64813b221dcdf1071e49418e0ea51db8992343234df38bb5647432efc911972a09bccf7bb52f17ce7f461654d1e772211d0e49dfb00cdcc47eb43516b73dd93f3d9161bd80859637680c13eb91a24082da05f5786434f22e698ab0941cad40f3ace8ea97542b6a86f3a0ec0869d40d7077ccad45badc262b1dddd2e279534a85d6035771cb3d86cc6abfd4627501d04911f7b9012efa61407e92e519013e0fcddf7d6dba04bf8e304231a572d44db6d512353c5d013f679d76266f82abbc92c238ed7c4267095e53f7d540047edc546114c7022e1254bf4bbd43f0f76bcb8038f0791edb9b497afff3288a8345eb42a7f834f45f0a4b5f7b64090ed1c55db908b0bf1374cef2f10ed7c1b1721886dc74452396c35c0854f084b45d85f50ebb36526271ed6cfb55eb0bc2daf627f17fcf88de7e97ac403230eccf1ef1c84c2d388e97d182fb879452aa61c6a91b8716f9bb50876638ddf28f6b3553ac6c3b00c62ec3024ef6dafeef4073e87393f655244ae0f625b797cbae251b2f2744804e263673b2b7891c1880452da85407a63c6cebd46e9d92f49f99bf37aec088648ee08c096d5375c66fa967287481433431c04d08f08ad3c11c47fa27f06a0acde4aff382d59740694e22e7c6fd5ab8f361f139a6c54bd9c6cee67145803f5df5f9921d9bddecb71f7b4acce97dbe94fc79230e86d99f14035c20fe96a278428e2546c6ba6872ba788cfa548d30fad5f954a58b9fd2eb2ce2f4bbf3313c9fb152ee50c0a8e811119f463fd01e4bfe09bb99c26c5a22d1c8b6a621a90bdaf750ad371c01e2d28f913f3faa56c79059e64c54cd6bb18aab58b895f569be66daa0fb521a4d688b5658b74f693e177219c93f021df7e6edb03565d6af2102c72eae4e1c55a582bc0bbb5c64f60850b0830f24d9203c7d4182a91dd42452457514033c5c329072ea4dd7177953e9f19a9434cd9494e5c850b5cd55c69e7495614d017773f7e19cde802f2f96e5d264acf0d43c0a81d38c4abe1c411a3dda91e9e3dc876841185d905ab3449b593a6f4b59cd45f2a88c18a2ee839d4b2454c03d0d124d5d7b93cbd2be703fb7768811324893b2a6ef79766e74c20f4b00279855322af425e2bb9c7b64f4706364d2f9b891dab11ff0fbae60eb2d8488face8e4e28327cd86a234c4d7e3d8f8532b83a4de8f8c1040fe6655d271904056b6cf8f1bb9f0044c653cdb6255e47fa6ff22a3b74b1790ee69106645467a89bc91387a110288de1e8fa9daa2ab592ec4a58dda0cea38bbdd7de018e08e9276ecdce92ca0d91ff06fdc71e31628cbd0d86223aee2357e1dcc31793c9a9e2b7eaa9ce6daf413eab20b8e14cf7a0c29e6a8bdf33e29495aabf26837eaa4a6c852f1d95d05050d8d8ff5b6817cc9f65aa0ff22e1e30b0f0294953dad52c3139721e29f2765c465e2d42bdf6ddda211c755b576496a632dde3cc8cc773958d62b70c6c4a21280efe06c23d399aa940621a6f33c28a525f4cc66e67564e849096beaba0566667cf90154fea452ea5cce5080eefb6ba849bb7038ec21a2f4c8be10211295842c887ee7d3a697a075bcb5e594ba06c164dbf424aebb26cf99411642909102253eb7f6e36fe09180b04451bce87169d15e4287e407ebc926d284fa9211a8eaa2073e8025c2a1427424973a1eae89cf6a9be9d3fb7db71bc4dbfe05a9c094dbc470a58dcff5b41637dc80cc90cffbefb57728afb3cee4d26190c05b8165309584b69c6475aa66f8aac3947c6e86aa55bf3a41fbc5a8f3830eb976e255f2e2ca658a83c20f80ef44d8d6f2b634f530c8a12dbdaaae89605b0b6b6ed197ea7eadb0a7c000841680c24f26f8546afa93ed1374478c053634977fecbfc2757030fe3d083c777b0874a0d7d214912645d6948b8eda6bcce3dc98b7514378258107520703470ec10ba283a435199bdde0aa547c16e1c4f167990e019e47bf102cc04878cba50cef578883dbcc7565a000fae0ec77a98186aa1c3d3a4dfca34c8a2b5903c35cdffce9be621b2d0148e1ca8de05781299342a66c287e4bb10225c9cca62a59425d58bf2fd865d499af1d67bc4bfb8af5608c83ba6374708b873019340b045da90c16cb0e6fa648ab53c0b18ef41da1a85eda782537157e32ac0424af5c6af60e4190ebf3a390887a31aa1581f96268e94fe187599572f1b28ac19c98234ccc1bf9943edc16e4f28306a5ae2729aeb80d6456d07670f98b67b51673ac2f3887c06dae8721e5d901134186d67063698e6b1b5f56226e4421daddbaf8ec6473a8769e5385adf769fcd755073e289ab7a2fdc682d5582ead353383d09fcf5c6d689ebf131e0f51c60b4e761cd9cbf73b688cde22ffe0bead2c646747afac26a7710c8f040023b1de7372178d221bd6d9b6fa3386c8588a6ce44fb7f7020a620778341540e1ac7aa8c90243b01e71076a5892c8bb9baa4ccdbbc0f97c0373dc451cf4c8b84e95b0f9d0be7bb5c0c36b1f874bba2f8f9736ec1fbc55e741233099f337a75f2e118ab2f6dd44808aa726810458736413b72c5bfc38bfc90c7652d0eab5a0c676e31f98189ff698df858d0269f4e93589ec47cde7771e1f8ca2f4eeeae39ddd9c57d1993483e6f187d581d719157defaf0ae0a4021d104cc56b72a676048e26452ab202678c5d22f94fd2c98f27129d78fb8da099ad804e541ae111a8bfe6c55dd6e5c7fa223a1f511103de8a64f38e2e823881dbb151207417ac29aab2bb01861276c6eba644caaa113e021052450aa965184492298f9dbd367e91e1c1c62d990d330c463fd3bbe5dcbc6bb2e1cf8da0a6db0bd0ca912704134bf1f478a2129a355b144b098e412d75cb2a009b3df22eca2b6b4839989b33d8ef620c9fb5110e4ce96ab712677be976a44a0442b5243a27f28bf20b308214b9d621d21ed64b73e563a02b320117e9c42898cd9e9dfeede4c469eb563cdb9ed248c84da8dc8b5e538a39e175d18ba205a335f081890ed6372fc7b8407bc8691ff46e2dbd95107b98e6cc45267c8789a9826b03998bde4dbd3c417bc8f43079dcd148b671efa0e6a8b271c42751e12dc6cebbf2f31cfb8196b4f157ce1cfcab2899c726a98ac5c0bc0d29e6cd032e750187a531c088e933f69cd7b68c7e335f55390e457ab9a86bb56c6c4c87f36d06ad2d4da58c9f1b6e40ef94d04cae7db0908cd3dc003ea74a2449ed6049b98ac693579462ffdd8261ad1634dbf25cb8b6e232a2c3e7a5d59acd87f5bbd4bdc4f7d5f95486aba8c30a91399db3d8100777f49771f0e1290e63040adbcde2dfde3d854c0878c77e1032bb7e7b2aaede590b237b4981746fd2451bf501ac82456490761bdbf3d20b59d05121de4860c6e329c6d6caa662bb378b2020675f6c3ee1f2e329f07a91815a3cfc14eac7168a70e2e7149cd0ef05eddab9122a96dc2715206b7e13b79752769aa6e779fd8b062b4bc86f0334c43d0890b53536a09ad5aa1d6c4f232f8bb5b486aed3d4b277a5ca19f3740e37dbb970dd4940417e44b181af48ba56e086f5956748796d2038026ee1e629d05ee97287e67d6347f74f078fcbfae8ce96ffb1271242a4e5c44cfc15396faf0f698e4fb8b71f91c2001a5ebbf3e2785673a893384469e01759643f9abe8ff371a72d6bde2403bb583f326595c046c984d9b3d246743bdc7c75d051c915d5f34f6a8ea61ea54cbab8dbfe146b2ef04a3f6f359679bdc82ba5946fbea9a8e4f2a31ae9723991669953e405aea08859b0ba9253059a837223775d603e0e64e3e5c0ae20a0d32ba05b37be7134f0dc445cdcd7065e792afbf8d952ec4dee6a19a08a9e162810cc723a36d7e85b29ad318df86507243b78814d437be29893899b9518fd0cc4fc0e0548565f71de10c1cc83dbe32b709fe3874fce94d5584c2c46f671b6517a52c06246058ae3865b0b4c497a27f1a35f1936647c9cdef287ffe39faacd66e4ff9ce9d4537a243605064893b62b74db60518374b07628e06623627984e4284844ca10e81857f79c2ce5c7218cd98b77bc717dbb2348847615d50008df98d3612378b27880f8b1427d5a1feef048f0caeb3855569fde5138afaa09dfb4de73946fb08dcd86272575caaff8e80d593a437686c0fb85a1c842cb6c557daba637ba6f3257dba519b53c99f202079346e1bd0b84b867c991b82507c84e458e1a7a0bdebd62e61d93fe9f96b301976f1bd8c7de6e165727639853e9f23c15853424dc30b7004c2d0178f2e87408f16201d0e32408dbc6b5d3676175b790170fec7ca0f9dba53ff3c317d15e5c5f3ff2f5d7fbafaa7239df076180197cb3a520b6485f4d3cfc736fa78b9d809d3d52866b4b080c8ff7b859eef15f2eada2eeaa971df32e5cc7a97eeecf98af8aba98ea6b6235b0e34359d7c161125f4a0639ae45ad5e80a5b74ad05ee336e16f2d50a5844f2146da4a711de1f2a86b185141b3fa32a1828054706ee78804e0560c1a1a881679929f9999fc0fbc379124c2d71d3dea84e3768ebd703e48ed9084d91b94845ec3f287558f1731f4cece5e4315e6bcb650bbb8ad6d636bb57789d3016630397480131f92d3d44a5eab8e689f2bceda5885ad5dda7b6f50aebef6960d7541884754710d5ca78b362b77b4bbe6258da8e4cba8b91cf4d4cb32de38b56e416eb959e21764de3871e82f8ba229f79e53037b6a3ea28ce5a75c6b81f9d99fc3bd92e2cc82aebad8e014ac54a7e76bbf046d9807405659e5b0db025c3a5a78c7c8efb0fe86c6ac3739e8558abfaa91883279433e2120a2dcbd5e75ff89a72cbaffb857c524c1e0b901256f51057152a0f4d7bd8f0f69a4f23e243b5d0522b0ee81887b150f21294492d15137af93802260036c682fe74c2256645cc760c77d89f0b3bd2cd2493f6d000f7b361f8edce18402c8cc6e6d89565823434597f3db8e2276c06dfcfb659e75d03007417d7c21f8b7f9a922260fb130995bf583fcfe35b3248b6edbee44ca5cf4031713f9777c3998e416d7bf65f436a69127f10050d8251767ca2cb9445f087cd14d0c526a72a9d120660357205df6e6cd3d72a546ce2067e59a73e9b0ca98ae502f9b91c15d2b448e295aea39ad9f7e2e5a2c8e8335c2b6cd1bbfbeab0673efe144dbc6ac093309dfe261c494fe3d3be81c591d84f9d11a101c858d4548dcd2d73f3ef8f17b5df6f3f507e312248d20f4f4f7328f2feade95aafd2c8a411ccf69f1e0e43c1847e40a22d1a46dd28831eb3c987e11557eb8abceaaf53fad8c3b8f40eded3c04edd3c90ffc4d823da6d5d581b89dd418ad309c89fba678db4f13792a14a18170bfe7d00373e4a307091599039424af72d44df1b4a50f54fa30fa6465e3045303838cf52f13a583368bc9cc7e714ab48582ce7577455ace1d3cd1327a533ac8f828258f353c0d2b08b1cfd0a2befc111eb6f4aed51f64b63c48103eb9f114cdeddc1cbd1b7f94a99862be88dffd70031ef7bcd19c1452515864dad2c4afdbc268161b7ccd68a6d705e373e85a2aabbee0f34987c916a2ac2d4f0f4a5e0db143f3476c71c96ff894ddc1439b8da9c904ae5650831b8ba6b08792f47eedb0653f1b73a953c348ca6f15619b3f8f92d0dc33acc0b2f15216540f85c537408cab6528ef456c2eee9ca4d3d6b4acde8cf064a2eed4de37fa447b450e6f2113e400aeb038dc613101c7c0470f6a3b486156fb5cfb5cf03684b50c1d7b603dc300d1827998f3941265587a8fd462222b76753b5183fd2a4f2b99c333442277a70ef63215104ca3ad61f62006be7ff344d005ecafdd7e3ff7d6390f99616cbf5f4a6c187c6c9b8cd2f31f7e686e9fa377a3378b3114be70f99e0cf8377bfe61c448c71384a9154827984a9294f4b3aee8e970d3bdeab0dccdeee8f85eefc307e644216ab67835b99a6b58c8a08d3ab159b81de224ce5b8a3b1464cbf83bea1c47b7146064a24b3d84e92f0f1835384b3f1dc3192140a37f069e99184cc2fcdaa709b823d7e25bfa0d098e4071cceba6fc2ac6d2dc462a654e57930f0042f82f2b6cd980e5f5d11eac7ff0faf5ff3ab0ff7f64e785001dd1793aec248415324f5a8737d0c717bf17ecb2e433378d03968df04cb7cde1eae210e4b913b9977675d56673759442f6944e3ba3c619865c66b6e39e2a427180af3dd95312881f38f939d49bfd430a53c3a8253803371bfc9905f071f9604f2c6c5205a4ac96ff973c064a064efb57b4889b119273047bb66d5b7ec05e176846830840d688a306769d8b3ebbce93bbce3685118b7b32bb1109cf69fe1613f108aa816b812e452933ac9888a82bb355db421b12e0c31ee1eb7d831bf14515acb157b7bade89b6e303e626385d2f05d662d3479b3bb3e00a8be3b7a61c8310c936d63587379a41e2b276dfb07b8d1cdb948beb1ecd540aff99bcd1afe75d9b1d2c968ecad3929dda676b8d1ce6e2820f3d0c40874d11263ea335a6abf9dd09ca8a30194ce20e868362a82c6d49b2369c2dae9cb60f5b315983f85f3f35c2cdb8316f88d5582f7155d9f01ee3476d9d9f5a4e4aaae431f64bc6800e3edd087e25f94bd2b123ae573e2ba812ca4fe6128286b611219db15304b0ab9e4357ff14fe644cabb5b0d62d2c300fcd04b11d4f384f65aa65e79f0a74a03c162cbe24044925fd406945472e5a25c939f7e861525b2e25e8db27a1c3303ea2b92838636244e6dc951daf5b4eb123359c007d5da1b78b704cda5ffac2fd526b03a376e283a1c2df15750fa9de159957061787952dba71475ad8c5c1f5a4266abe9f58fb2078b08599c378b18935b0beb427df75eea0d8053e6b7747d4224a19da09251278129caa41411663b87878cbb94de91ee6941af4924ddedfa81e0e7591fb70aea3c1854d9511c91c50d92208d4ae2977dec04eed98fe8820b39030f69aa1a2cbe7574de7faeaad48ad5d9e347031d7dd198f125905d6d9d407f922308bfd3c0dc47e24843b0b6db72d192b515767d14d197e8a302a37dd26c78346ed3ae7ab43c3e0cd377e32e63b80db8025bb975ddfecb8f9c5c906119c4152f6d38338857c672da6c3a3ed56cd449383ae4b8d91ba2a64fafe725f8b786724301528406aa8e537ac81ecac0c07574b1dda87d19411273e2e7f26a777b47e664bd92e5c90492fbdc1da2bf8edb8c1564b39e4832c0a90899491cc93c4c40c0b3ece51cc1634a10a892bbb53a44a922036aa501cf7feec4acb31d8e1461efce3ac7097e2c4e134d4e7e9e22840450052a5bb0bdffafe7f95dca93f08fe7fea846d1616d6ea8d81c48e55bd92c2f5576dc38e743518faf347a63f0594b6767b4e6c87b5630b0295737334263a14d0d6c9ed52ec845a5b98cb369531854c22914d9cacb2070890a6ee62960172b695e29ccf7742cc7cfaa6aa0d5ae2e24de8c2dbda36a9705f2e74ec6734b52fd7a07c5e4bf3e4d89c87fbe468b62e3a75c13a9462a4ad223471f8555564a8f4ecac12181229a20c9a6a01d25b646c58f71de1542c54a3efa8618b2b40d2df3bcca2e478db988c35c36ea63c6e173bd12733f3a8591e4c9e94fdcf2268cda7a3804d0b10b2405168e9e189becb9b842313c8e8cecc6031a265d85f9bf4f421136ca9171297065db175642864b837d52140075bfb9070f0d376e38fdffa617c537d3b1a81e2f9d340386faf6e9fffe693af20816eac5c673d3be8516f9c277d5c8c974d45c53e829e0f3db7b0c054c0a91d295ae71e65abf33383e4d61290c114e3ab5dd61eb2ebc83d1ecc675739496e2c4e76dff305aece3bfb2509b0eadcdd1a7f4b90d5651a049287b3d8776315e3d9b096c0064d199c9e1998baff413ad944822c195fbec77a1ceec967933d84a7960d4fff32dd975894c38658fe02f3c9bd7f304ff49749fa014584382142ebb6ba444cb41bc33ede6a5a945cba20724390f1abfbcaddc6abee7b60fddd1d64ed83f2ff09da605ba017d8da6a6506820a7b0e3b5d7eb5c1bb17340e531b4bd6f7d10bed3c7a970a74100fb1159fc2d72f9e35927ac6a9fc30d6f9de5d6bb13cc819ae3943bb79ac111917070f3c7ac41eb959747b75e74b791dce2d904339b40dbb6f0f31bdb82d45c87737b8384381db78e5677c7ae382b8372f84e4d125cc01db2abf7ca8ec8eed4f322b6ab69a3564322fee83affcf0657fac216673fd1ebf673901ab540df295851e6a6693129bdca0cff01d3a172b0299c833983af097e0967c9c645ff5ef3b6f528b76266b8fbfcfe28da1c5ba8a2477eeb6ccedb8e3c89c5ec25b9f9fb4221253bee015e7ca30437ed7c712a255ee24bd8a718c1a88973e7f7ad07fc13f544054e8314b7f0b20c0caeb34e5abf75f253551e376dc4b8cdfd4e24242c1a1438f91cba9264bee0fd9192798e5f5e6b05828af1868e030b9c98a12b0fb4478af2082118eb76f585f5be4f6e4a1a83421d6f25253a7e51c5ffc17c6cb70c3dae49b1958d7a794e3882bebaa76c51b1a96c9bf3a1dece88506ac86bfc97eedc50796a0823d787e294ab032cf761154cc2c6baae0472f7ba9489aa2f45fd69c047c893cae72db65685e9b6f02244cf1eac0f7354a48ed38479dca3d1ad16cb07770d565f580f932812f7fd896737dd711c720e66e4dc005b416f345acb9aee8b57f3da4961d3ef6df86d9428bf55922ca5c5c2f813bc0c1b21f11974b14ac06073828fa2a3d1d9d625bf389910981bea7a901925fdaca64abb84e78b7cac42f17970530584c7e0a6d45009056bb1a2e512ab6929377098b4bf75ee1e5087667da2847998b54deb7f69b5ff9c1ba9a80c9311a2ab740befa526c84b84e16dfa03d7587f08b50d1514450b3b7953b7f92123c2132c30ed77ce5e646a7f90636dad54ace6720e0a2648f700bd7c7e5c1947fe542d40bfd3d25a3b68de72ec17a75c4314e26d5dfed8d03e80d713481291ba419bd62272c018410778741c4c61b43c102e7ec14d6daae81b1fb58f0bca6ec98227c1571fdd2c2a9b7f62d9ed38ae95761ffa0fefaca483baf52d9d998e2779fc6ae77101e341e19c20e19064a8d26090107d014ca824aec4a27945b61680fa65ecda0aaf83f4b06a3be3d6aabac6351f4b83e2b717d252c7b0a66925a9228ed7ec2c123903d0d6018e5889b5095b1a49124af03c9814a7337e1e07144e123a84f844449fed58c9ea14e5a409aab8ee16eae2ae1f5f81e92415053bd1a90f0b7f0909243e99b364fe63aea03f7eeeb60482e91dbbc6cb1bb94bf329839eab6bed69890e18b0be882613b20971c49ca400ed945ff4c7749565d7a8f6b6196c0ac5c2ec46f91ac81a1feb3dbd5c6a51ce48129d2c90d129b51c052130bc333c3d9dfb8dcfe236a1340b9d3d8647d402bcdc91dde4745c39b3e73186ee42c56fd6d1ee43302d027994c47af66039738f8ba7f0e01a3a2ee3e9dddac4d571d90dbd8589c7678b8247d413a21dee192877ec8afa0cf2a53a850dc9b52f51b60a6da23bcc2aa65246641ed03cafc704cc89013e50d2721092cf5be30419fa2b90011ee844274be330b76bea92c02c301c1d882319823620b75067d28a27d7ad3aaebfa40602a9c20cfdd689b055b1e89ae57ebc2c356effdeedaadc21eb6be47eb06e66d6c45115db6ab8294ebb850cdffceccc6220429324aacb4daf819f149a7fe36cddc30b59bfb6b0078f44137d2a3aed72e76e577df22bbd4d21bb525d9967703e18c21f7d59e691b0f6dc4504389d817b38d3bd558be7555b6b4c983fde7038428711ff990b7d620f2c6aad44d2247ab6b8e7cd2733faeac5972cc1710c4ab8ba989c669f1c2d96428f5891aa2ebb1d0116ad679702dec2be6054e1f5348074eb3aa99d44a426cdee5aabe846c46aeec0e0c72cd546936a1bbeca84b7e73a9d3901cf46060bb1ccb86571257d4e4b021b96fa0f8250f7044860691b603aef42b6f7dbab4294c7dfb8d7c8b9af553a80422654e7cc3af1ff175f026542d86ff9458e641da83a808b756b0e5d3e7793cf7e081f06b423e1973035d6592f806d4b26ac11071d48e038424eb2e6fc6ce907c4c87be37447651fbe5b0d0b89f8d640dd753f8a8801f7166fdbd176497789701e4f9f0b747cd93678f2a379d9834e076e44cd24d7f7032d391128228f2939036d65dd340233982f67851b688a1cb1bce16c8eb568f1eeb13f18fec8781b4095962e6027684908fe3cd196e532b8c1b3a7b960e003e99c84a8a2cdc15859983d5e991e50b13d3a47fad8162e8743e7173c64eafdfaaedd69d231cfc8b20a71f094085e22ecfaa33ad94aca445b7b7a8af949ca23b78bf80294f495ce3d9c6ee6695ef6d201faca3e5015b26197706d203805ee862b5f08f1d87be2c6b9d459378d0bafda72fc2ce0496e23619b2fa62c64a8c29e47851ff1f5d87c12506023330a56ed7eaa8266cac523d323989b6fa7887e421fe497e6c066982e2f52df79bf75f1021120727a24f929916eb8eb7d47cd07e36a2d4efd993ca2a6d64a590f9180a50e3dd04bb48daf572d38c19facafaca08ad0addbb5a994a25ced7d191c75aa735f51fd2ac32cf65c7e07497a1b271072057f373b7fe6fea25819042e3a5f6212e7672d4893b59ee5a7add2399dc3fc3ffcc8f2ca8f363d2cc2548b874602998b322b5f7e142786792463f3b8d92998faf7cc36de1b944a4b3e6a60a80ee0e68662a5828c5ca3b5e8ad17bc2f789390746ef9aea135ac11df31ff9b7acbe13d00fd273a51c03a002f69d1d425cb472ed1f7bc9db61d3a2b00b1f7b3a695dd19f516ea6bb6bb06768aeaadbf3a9168d0c193d4eb6215a6f3bbd74779ab2e90fccb34af434a4930900499b3b1931f85ef21b9e9b33faa1e68860e93978159264d54c665d9b07542cbcb8476b4abf2428e215f71591e52d41180bed8911b3fef7cc19690318bdacba0acd481a8776494f5c14b9a3a7bd52054701671fca0da095dd5eaa44b26e70fe250a7f8f094797b7557125d4f6a10d5812a1c051886d13211ea83eabe7abb4f936d0067919f0487bfdc4e0458bd4b07c850fb5eb47de28a10c0ead1acc4130d29e25db24a43f8fa1c9953c2b0df3816c836bb0e88c75ea021ba74f71101fbd191334e6ea12aad0e0bb39e25bbeef55de70fe04bd782d43446f12e39f1dff033b106adaf32df286080fb044176da08b00808520b90b539565ecbac924e4f4111f3392c095dd425bf4bf813008ed8f988a96ae661897d9973502d6c0f6a6d39a9122312ed984f2f9887fb3b1d85a78495c66618a8213128cff9eb1fcd258b2f337810fb4af5edf9137d903e7d62a24a3d972f0b5b5fd456201055d8085c091113bc55228d454f97fee5162b621d0b272741ebd479546c0edcb57736a792ba6f22ddbdc3b142161fdb6cfe967661ff986f9962ffeef02ead3cf83889cbf89868d9e2f7ab33834255925605486b925863a1f337f0c1a40dbd2f81fa99bc841d7cced40fdf5be939820c8684072c12648005a310c2877ebe305b6eee550cd1e72ba9643f3c6d0b618ba4778ae55d92acaa50d2658af81a842b7fc269b06d97d52f77b25a2ce9e5a459670eb770e46810eac4c23095f1b8f3035f8367609bbb3aaeb2a36913607a840ac2825ea3da290ccc1ac317d8bc2f9e86dac9e3df2c856079344ea844db824904b7811bb304040a7ef094d11e651a9d9931a64e9481d5ce6a05a0c7206502ccac59d727139b2c84b5f0b82327596f637a3d9926bade1581dfa262f132c8f3e9bb5f2a14c3346cbd2513e6793a92ec1196b4d39f1d12263e69072db939614f87310c567aeb93f91470324047534a7a80abdd6a66b2237f36be2cde2e5a7fe470296212a24e3e3e059c089f5280c8e029e842709d372cb50eb3b85a49c82275237b72e660211b4bd2872573caf12c6c29a461db09c6774a61d1d671572d2b46c927a004d73b28a386f1f5d4feb6332658d5a0644984ca4807a70fd71840d44fb97f463c4767b046c1885e02ba7e7e3a893e6629ce58c705354e5422ddfa3d61ac5b14c32d41c0f96eba5538d455f814e41b3c2a27417cd8cc2e28cc5022923b1e20d1fe3a20d9ea7010d431b007977a540d41f7d7a1f4aa7e4868ef34c2bb823bf6b0f8d10fe2536a1f126d9abe59d56048a1c947babc3b4aa0d35ad31385752cb8b7dc14530590a52976bafba65165a98ecab871211f5297774a67dbde2f37bdfa497cacf4d3e1612cb2147a2c2e1e526fd3b92ef9e3012e12f8f4aadf0d338ffcc14ff11aa0ad955b914b8ec34e983ddf946ed7e1715260f95418d5af2412ae9f7c34d2bc180fd0d956410d78ccb80db1965b24eca130656326257c32534fdcb45c330a9c30cd3c49f4c95032b44fa17fd75eabf084e2a6cb46e193101713dee0a0d97ef33eabe29f3006f3479253332c5ef03c82ed9997d35a5a7132c9564279d12280d759db14ceff91dd84e08c9b07a551a5fecb90213ab9bc7029e3393e62fa2c6729a4a6ad1e19180a57c9182a7cfc704762870693b6357129162f8dba59a8be3e5609fb7742d0d6bf06bde7441aa23d6d2a629641035f3621a0a33dc6fdd357ca715848a9c2e6414d8a2f817a6ed79debce6710b1f9d6fcf8c0de013d83ef87151238131496fde60229c41fafddbe2eb4f6d1d53daaa22be563874c1337ec161d97023d47f96f5c9baeb3733bbe948f66e11e286a562f448c6b7283824597a7de5d498c265cca1aa3637bda3d8540dd9569be976880f9676854e4eed1783fb6f0c31df18642594c10782526d6b28b720aa8625bbcb095dcd995a4e0a0332ff30f3f049acd905d505cac58b841047db299534bc928675c4a97dffe249a1e0ab773d6045b0cba6b7588f79408437400a28befdbb0e502cecbf7a9903bbd38b07106ad64b7b0c360c35c654ddc3810f752ac037ae3c5062a0c255b629ba72206a4ab755ad68753c9da88cdc16397dbf8ccc0a337b34406f4cbb15d48086781994f2aa64467fec270a2862881f57df398e07e47add97197edcf983004d3fe689c91600c03316ff8a3dc683af332434c9d8343edac1746c491db592d62b4794bfbc7fad23bafee4aeb100eafd239f7420df15ceed7d14e610671485a04c3745e3e93e1acc7e31c9a4fcefe77658273c333ea5ad98dc0a16e9eb59048c8931b5c0d7935c1d1a065b71e3d78958994ab20839b75e017b658fc80360d8b4fd9891e59ecfca2c4e3494d773f5939b44f05d642b3ff79f42f77c5a2e9e9f091dd6e5a3227e906af20111ce26ea37cf47d28ce42c0c715da227c1f31b86209a289431fd6108ac903dcc707a569fa8c4014ccb9f1eec5af1f9ac4a81a9244750188664bc11c30744ebaddd020ebe6c99b08abac93497b11b3030f5a89a7943b671e54160d98e2ded3773a676400657510d421658d23114a69f86b1ac4e1a1ded798abd47c4adb840c356a6f4872f146117245e8071161bcf9da9e0cfa9e2137e3c805214a374fbcb6fe8e10340ef99ae283812d01b4879b15b4fe016409f99368670efcb2af4c603b688fbb68db494a102253f7da2e920c2a7cfc473978f0f88fbbc71bea6efab4a7d67bc438ed40c49a6fed26def09b25b19e94586c061e4abf69a6d16b6721518567d06c63f5000e5862be5090887ff074451362b6fba08107753be532fb79a5d40f018c8b42bc4dd76bc02c68ec52c97e87a063e2e08cbed2bb366401fa5d1cfb9edc9c175c53a794a867f96afae520660390c529b05c19cf59336c8cdf4fcf38bd2faf6645ed061c9b23adc0a8e2e1621bf7a03ad0e82a5ba487a9430b7e8564a65903bb5a822c75aebb0d953052868d42daada1292cc4b292a5613889c48fc412b0f0fad21814a840ef90da8f69bcd030015f08cac37e074680664f69c9dfb2d63341f8b88f5e257ab80dfbdfb6de77a59144917f465f7bcb83ad4ab04b2f21fdb6e803acfe595fb18e3118e8866edda62d4faf3510cfc8647cf41a6d4dd022d44567a18fc97c2cb3171929e9afbdb3ca39ee946846126173ab43fd6cb45320c9b9350f67c97ca49bccccb74e6bf4976997fb2dc1156e9b5d8eea57cad64e257cdb1ef63c5f524d78e5c4a6194d80dc55b9116135376c92f3d09510f9f3995507728e4c1bb482b8fdec7b432c73336875fb4f0636553f894ed968493abfc3916034aad3733bfab0c7f73d92b0f32bc70aea57d9e9efe98fbfa4ae4e946aaab777282d6ba3b655ec0c28f71acda21c59cd33672359d984d10aabec69e3c6a94cd8252d35d93787e9b65231ca960c97011b5f22592aafa5897c7c254a7d715554ab56678aad84a411ab0461e6e98e2287440c4b4f1b0f93c7d9141fb30bf6da54bc87b507bff13df4f229c399a0014d61d33d7dcc0b637398d3dcf56ce85ab6de4f540799a440ed4fb36631cf4269ccc46233689ea425f3b4b57516be00e5031fbb9b227ba7fe633ab71282e81f15ea9c1599dab86f243003a08575ff1e790c6f553290ee2f48e6f00a952c7b283abfb0a40402b542cbe37bf801214d43073c7ed4d7ac731ac1c54048f9d676ea74e763870c687c95e80aaae5bc9134b00e9615e1f677060c1e2920d295274d93e93e947e16e383b4eeff8f48baec209b36ad09a750b0619801a6f498810ad4da7957eb7697c088e9211a9f8b68236a3c1ef47dc2d5b49a57f8bdc98149177becb1dbcfd0c23361115bf59867affa278ff1d1d769e65539e305c8bfa85c312539bead9269ff71be64743e7d67e1dab154f711a0d2424f893688a63da21c36bc64b20ebfd11facd547ef3096c38936c0b784f9c8bd7bc0cf3904b47297089eacc5a418c052c21ad9b41c2f70d90446031e2aae94a7215ca9a154dae8defa8957b3977f12059984954016db066f7f893315c6e688346edab3bc950da886c1db6588e66cfffd9b646ed0e8428b5a0115fa131caaf16bd535885e613f1583026f36ad6f21576064bb486e374a00d3931b775725e08900a2b3b352caeb74e15a3126208ac3112c4bc9b61bb3d7bae5adc9c97469ad830294b07bf1c4c6bd257e3b609af79b1e3599967f7c0393383533a6318d5d1deb2c5a84bce0d5d140177d303943567260aa862a4579d22bc3a86c8129984c8677be89a13b6a1ed1de4102c5b2a6c78a37f09336f392cc573fa0ae08a85533f6a0a7867646a7c919cc27325a0fcaa27e18a901cd68bebae3ae2e8ef898c97dc5e4a389eeae789f0811a23ffade8d7f9941166e6114c76347750ea1394fc0458e435ae4060c80657ed663c2df7cf59f36b025b54b1d7bfb77ebc782878caa079049250e7d3e4db4920227f7726290a16f38078012a2896dafba20082e63a0fef796ce3b83c4f3c7fb26293dd62078beabfbbb518f144312b874eb12df97a57fe638b6f9651cd59b0a19db9d252c53700859ee6d7218121eb5d36bc515ec1f2e77e1faf9473256280cfaa906f4cfb0275d59ec6448411631b21156a7593f7cac9e870921ee2a03b43ec9a02d8687b3df006ff0886049b6af486702e6403109dc91d0ee8e607ede21fbec4bc48a13f7d95cfe5a91954c3ae834eaddb4c0cda11e54e693b81e58b542d340c1ca7abbaba578e67e5ed784fa3c3d57deeef9fd6ff2d3ff3ee26c0ea7b46ea820b116bfbc47b1e292088fd4a92b9d7ffe3659c3b9fac3f5bfdc13bde2882bbd3effa3b929e54040aaab817f450070addfc6226dc9bb73f865fe828f7aaec38cb83099a1421d4dc4d21e5ac2b2fdcf32a0b85106f3859ffd19001be009a05aebdde8b0835bc4b23165b4afd9b867cc91cce046b0fbebe8ecc763b1fcd9a6060b2fc536789b56f3c454709ec3cc26bec8fff5eea8022fa9ff68f78f2fdafa13fea50b879d566b3a949a18dc2964e1b68f0ac7487222d5d1644b18c4c051faf978e77f320354233de0c618064b1e06104e7437743dd256c4a2b45bba7d98cd0be03b7a18f0021cafd5fc14c3adf2a0d12f543c8e2448cc2edc149b0c0bced7da0cb3817fdcc8f1a928b80782d76cc4579c25bc16dca6bd2ba6c3f1ad8afd3c51b1df4df51cb326f2dde02d370aa786c29a7f11084bd227db5fbe5b6afcf8a4ee9c292d22e62322e836f7adb977c0d5a0f04f1f5af56ec2ecfb99a05ba268e393fe6c6d947eaf5d6c97ef4d5993c5dbba029513246f414a58053b575e0abb29477c39a4b0e21c3d512fec00211dfa779ed65dcc7028629eadf86ccc392cec3a9d82c8c3a343c3f33ad06bca1c7eac28b504fceaf6139baab5b0a9e0ede7004a0de46948ab0f8fc4469659c5ade40a655847bc9e296803a6822cfaacd57b4916a28aa85cf4870f1fea26329b72f84316744fb302309b21a8b8ee839f6c49d098beecb840ee8ed09b7372e68dbc191e7b457f012c243f0f646e9182a8fb61c1f6e2d458f9c104d1db2dd3f3d7efb162cd01d259235c2955b05308723443ccac7a2bb8f2d1c3bb7488f9e2c3ad98a22cd42009ef6796dc0a659e08e70ee30c3e5089056bc9f53e30bda933292bd5eb0a6a7e146f2c5689437c100985dca1850f9a3e36c563dc4729a5c79a7114efa2ca3c46f6bf65642c2764f30175a4930457a2f689d4da9be8d69d757148b46d56cbe706454b624b6cfc05f7be285563fd72c0776695bb8e3b33cdb8c6eba6711c2b4a4ca5aa110b46ab753e08060a8356d2b4a87ecd0efd6a7654254ad8b691970a2631aeb5f191f8bede464728c055a5585da1106221ba95335bc65aa3d6a24405a1d4027092962ae3fb9d1a288d908b2a6d1960ff05bda822586431914eafdfdfc911a6c2350e96e4622f79dcac19b1b3dff45e1c3e33f444b79d2bfdf14203d7ab065d5e05ab307e69558b7d4adf64d36eb2bb3bbb20ae182978631d6a5e1df869664343da770cfa4c0b7a62ef83e6965f51a64443fe2adf67d057a75bd47875be63315cc0da55170e348c80c094b2d5c708a207d8ec4afb714d9722225731967ce82352091c1f234d6b2e324bf702a5b93d117918e843ca1f29ae2f3d0c016d18d53002a2d67d543da7056355a099760951b0a8cafce64c0154ab4b9f5514fdfac1b0537050feb3260c8d9a0d4edb53246994a342a1a952d23464544b8e56c19c5e97ff02aea579ce9eec6ce9c058ad5c851be121f0590e5a425fbcebf7aa1007d95c07f210f8fa6129ef76fa7e172f1e579118111ffcd4bdaa27e6c81ffeede264e531fe2d20031d272cfa13052f78fc328e324524779adbb605eba128c82347732037385aaefc4f88ade2c806d8459acc189fed95aaa9420e24546e3e42618c03e50adc81199105c2b2af024e990c97b803d3361a9cd21f732af149dba1daed5483c284feda8258919190930a54df2e634fcd41a304680d385610d10ca976f9cbd0bee869de6d7965ee620d0460efd2527e4c56816058ce3c22b9266532eaf0e253ce4d7bd7cb877dd3f7e83978983959e991e60bf1a21c8801252c42ca317dafd562d7b1dc67805cd8a644c4d9cd3397e74e92781c971b289ccfee94a9b210dfc7b72c117cdee686c202112917c5893e78fb3d2d1d1bb89936aa08138bc4b092eb68f086a450a62becdc9689d41b209b31bc5801eb2371a295478cf742e88eded1dc6ba5fb39bf9c1cfb91e8f36c56312dbc261755f6855176a0444e99687f8004c751890cdd47d362285fa9dcfc9f27b0f86058d5dc63aa0d8b48f41a3b3d8166e0d3da990273089e81b4177432294d03a8d0b7013d69a4b395717d0ca49588c7420819b900c19866b7f2570a823780ac62243ae1e5172f281c69330746049d646ccf80d068763c2418fae438bd5b4f2a5d15678b8dee6742fbe7a8b3c32a848c93e538807b70245fc5c6d07dcaff52de21bc1b14263cdc83cd9550dc68b9ffa43c70cb41794397503ccbc0aa07bd6ed33438c0aa68c6f1becc350f5122917052efced7e2ca98ae945a80fc55f1a6829af0f7934f9e8b3370ae3a1886a539ebefa848488c172bb48a7e83872b3fb4c1ed278ec48daa94d970403f27c1cebb0e0f954c51b18cd42687a46ee99dd16739f372c140506aa1527569da09fe9f3d832bfe7bfe406aefabbb36cb2d7f074438b1f6c00142923bc347f93b7f149573a1af721903a44858d6f8ecde3f3f1dab669dafd41985f1e0b5922baa3bb9879fe86c5b6674ccc4ebcfa55614cd7b4dc5548c1d983e681e022a82c62fb321a946efb4c7c2b629947c56306339d072ccadda40043f1614af5961020edcd12e5f2074afd908055292a5a40403929cdc33d886f2ac8bda06a5335706c0f6202fb6188273e0f04dc53e87200507b0efc81c32b3c2cdaa986a6a66e4892d6802296a14cec623f69594795916e230c5644ef16f7094e17c75a1ac770270884890d251a8c3b0379e193bea171309ae6ad5ba0eee1ebd628395fc74a0eae1a08eebd6cf1195eb855013ba3222346e40e26ef20452c436546ef2e7ff8d92d693d19c829896e2b5a59237f095af8264e14ee6c342bb593cfb7ece264f821e5bd45e9a0f96dc83e34afe5b5f411b464437a6db26c698a9bd2e6fa8d77935dadf5040f6a7f1f565bd66629632e5f6378b16c7b46500a738721d59336d02164763a2cabe8ad0f22fddf843852c9a937e68f2c01ea063e3f262f890b342908d3084f9da262e2ccb52f38545263a63598986aa33c827b1cb85cdce988e09792d822b916afa591409da8aee6a466325a6f2385d478ccd92573f153721761f60b80618189a6bfde6a20d6e0d5b179eaae16f9c1af93811d12a3308f9ea3e48d84adcfd488c331256dfe44849718c0008a7c8aec823c9109ec019b4a94d6f3d4dc11f73c82cbadcf129e7a349867976bde22e34fb6bce8ba3616e274af87c75137d2c5ad51b193cedb57b71647f5e54e999ab979160490c6122c81c3999323ada4fa7c5a2c1119e23a34fb738a6014762d73ee8d2e73942e15a0c9a2e9e18b6b9386355601c1d01ff43db80679a2504e8b07e756b806b198b9380c6e1c78570324d7e4260fffa67528a3f506b7da2e9c4308d1082406c94cb5a1665a52fe80c78e8487b67da364c7467a4426bbc7e2c9c7927e11939abc13e927d69f9c0615b3a6bdf7d8366ccc947db0d4bdd926d213af85355452f2360bba1973d9f794f99d9af06e91f0309324424ba2c0f907951a31024c66f9d481916d8a9f3431e2e39796626749e9f6fab49ab5bd137ff729bcb58804591a7f3508741fd83122437abea1a7094ebfdfea1ceeb6ac53aaef750b8bf29a7e50669826c3512bcde0059dc5440d8f6ae38de564bcb37a6bbf47a2e9aa05c770f200517e562daf2cb8b7392c76dfde68e624d8830a45f1443f2eda56a40929218fd3d57dca92bb8144ab6a7a7c9d42fdc9e6a15403288b28e2a9431ff167fa10d40e9e2e6f888fb1fd4fccf0b6c153f1347cd4dbb0672fd60d594bde6fd15d266a0f0596414c4573b36edbff033cafce93fc969f622a51d6aed5276199f72e67a88608b3603905fbcfe1756fc1fc051a0258f9b4ce84d2b901abde323dc8f2fa2fb3a6e927d7540e776187c14ef9670c08214c2314bdb647fa819ed24575bac9f587ca7fc6fbce71d36ebc7467c82d0c21e93d04ae15caa2f3c69dbb43be90f40ead208496b89453fea11f3368de7f4e16dee66604558eacf63bf772dd201246f2f35512aa72cbc9e8bcf0662afe7b8864b1201bcdcd4478ea8bf801fbd0c7151caf5961e55705a62e21fd3b3f15cb1a6e508b3cfc8398171aca4f6e27ca9d8db046acfd039a08d05efaf0887b541c8b64cda7f1b081caa61dfad0506c7f1d6598bbbd20f93243a733f8b00e37801239ddb370d8b90e7708940bf7b756f47e25c0d6822149ab46e4f2f70afd1111fd032b23c452629c06f420a1db8eae5951dccf6858cf3bf8e0397088796249800eeb88dd3737751a732646049757d313e04699134fb9cd049d68cd8c5742104267caa0cd0df28a273f1b9a2d4d0c3aebaf788a0b98f342d89d8fc0104b2790b051a4a84f5ae7019aee5868c61d866b7ae8913633707eeebca032fd0d7812445c894843ca7a6e064d8862586536bc7585bfbee18ff333b49dccf64f280536edd976d43562b6a26a2eaadf81fb060135303e5295782cb3c8fbbdfec7e3792d17c95bbf65b9ef347cb243382c4c003cb27a1212ac213b37ff820483fc0d30852d32c4eda96cf8d13ce16ef2ceb1fb69f1f9b6824178353c34bf9dd8c357451ba4caee32e4957c8c2df1a3a3871a19afc64176f0512be44b6330e00a2dd520538ac66270f43de20cf7a96d201005d10a9993750245a1ef0adcadef8931c6fc5f8b20b139bb32dc85020c65645bdc92871c1a86efeab54a3d8a34b5848bb40fb8fa1bf6679160621cbfec1d613d134be1fbe9580c7d1145bcbe7779918cb1a58d4640f39fa321cfc403e3cc81b020bb5780bd90b3c648f2378a18250a4ed58bc232886cc4408f8811344a6f4756e4b6f32daabf99629c5a1218057d85e735d9e67bba9f5ea79ed46a48c918c82bc0b791ab6b08fb715d44cf4d6fbd874e59e3746e3b4d858c03981f64cd8707de041f0a5e7bf979b194161ffa03deae2f39736711e801071597abdb341f89ed5e7ef117401ba7fe708f44894c8aaea4b650438119433e0a9e5c480a54d9e6de51ab6c5a9e9954a247228ff83e840e3e0c0427f253488cbbb766c7bf657df60b54ad226740f581ef82747a06f90f45851ca6fe0e944d0e3aec71431aba7983a06dad76443d570247462551fb18c71ef56059f6e8cab38fbe96196e53b2552953223b264426e882818d175797ed06ec6a5ea8ab02d83f37d2eca6f402c8a73f84e4e123c87bc948a7db030af531394c1ae8fea6a74b2d5efc180995fdb97818665b945136ac2ce449b7a474eba61033dbd78b3166d119626216aca3cb09283f4a9abda22a024d56ccb4d4e35e012d61afc5fdd884a27951118dfef6f9868520ce02496d8af782ca42744b9d6c4cee6e80012746f78485243ace28b646a21fe12a5c3cab9ad75034cf9717d943e144473d90524436ced2975373855c31fd154627122372d938d31c492fba823afbb8e19b18f54f2887d8f159f45e3224bff23e7b02ad13aa749b798ebf0b6538fe65cb7d4a217f8fa78ec3a3a1487121fe1e3818b3d87747a6f591e73557289df9d56348b4630f24bd233b105378b450c9e9e91ac40bd0ce6129c792aa8268a127d6684b68ff1145f832b8c55b9430b3ae82923d6ce0e1a59584c962f771a7061251d66560f7fe3538f5b754e258cbb3173455e234eea7ad2aa0da5d38c202d9232e2dae5fa587aa767d6091cf40c2cbc685ecafa56c8dee11444b0c37e0417d77037ff4554dbe525691476cdc58b8ace23d01008d10637d0d0e5a547a37bf284576f02ed6cc23d0f4c7fa18ce6e584cb686a456ee800b7d0947a1539dc395b48817e69259ee5b51c6850ca12d0a38990b32c3746fa2c8ed3b3ae169b8996162e50172158891d93a02997c1cb32fcd24d12c2533cd6ac823d50b758142f8934d7a0e8b370fbd109b9c3ecca7fe0ce4b4949824aa345e7458d0d2c759e125a109bff11d27c71c80bad94f621ecea54df3beb76ad9cc1ebd641b684f36a1e511a523ea1f7e9adb41f0d08c5d3f78948438360f9227730a0441d5cdf6a5462bbcd9272ab6fef95aa4d2b51110c5d01dd18ee3544aa7b3d1c52fe0429f4ea2280aedbc680d4eac8efcf7ef3504171fe4f797c67307f1c3f3eefc4b4a295cfa37455a8dbbb65a91bf8f7b91dba0310ce1d130b0391b32c27a0ce57e79db149adef8aa42d54ff926011685ecfb60fd4eb7016e1fa3139d987f77aaac4f98b94a2d55f64e4d9737b25c570330841cf683f886a7eb941120c874d5ec8c04fa0d61b6998205125ed6f7b7cdddb51674e47f5d821de5d581d8ed88ec3b2d6e15954826ca42f22d827890281e7a670fd16ed26544f042e4a11afd3710c592cb288bbfc4cb5efe55db08faee504618a2593ed74099245fe67b174cc59d63c4091fcee879d2538a86e67abb9f8c2ca6a0680f02a93e5afe72d23b2756fef3236d05013489f69ae2239fc08c121dc546153c5b51378187834e380f42913a29bf215381c83d896bee50e2711a474fb4cbd72902da15d501f272e84678a26c8110425840fd9d404667ad8be7e52075439ce27260f32f6499c0f2db101fc78fd20cac39d86676c1ac20457ba38c014e573f90688bc82cf09f4c629d6925ac578c078028e26a3e89462fb2e63e0f66254c79fb1925f83f24cf2ccd2e5668e20400cdda9f2944e965880e865ab40539facf433d32b7a1f619b488e314be91610ecac3cede9023606a0294f71e9ac72da3abc801190878d107c10a5b412ca44e4d71db1853c1836c8e1b5c122cb2113f10c0d6864448dad71b6a586a1b0943ad40f653df3e80f21ac7414006fb8991ea6b3e80a7cc258667f635c44850374e24260eefb522c7b27bcb737aeca5d0732de0ba9f609fea6141ae674b3fb30cc48ff45e33a058124c224ed59ad3c325dfab66a03c83c034eb1cf16f7573faa9e059880b65159ee4927278ce9ba147012f5e23acb3c80d06d2f09f2f95adecd04bb3661ed48d136dfec85c35b2743ea2a32c2b1024d5a562a6c0c020a06be419a05588a448c3fb7a2ad7556f3b5fd41e2ea87cb67bc9a86b1e787e845d3b04f393687a1a6286ea4a78c945d0d3cb2d43c01c69fe15e225c2306767f0fc308142e0edfffacf594688f9c35d4ce911d28d0c4dadc812c07e84926ae97baa36517422361046336e7917a151a95f25716602165a74151f62db5b164ccc23da35812ea997557aa2b90858256dcdf6131824021595d1f3a9721f9d1eb6ebbe35452da786cb4417d92e873e3f351f42dcaf1fbe1723c2c5aad0bbf607afdee363a8e0e8e0d4d6828b7697acca01f54871b5743931aca5cca0384f010cc61e847b0023d5eccb9f40f68142c1bb13dbbbf45d5a58532d4df1bd9f50e9ef8bc7330fd9b3973c30e1ca39b45cf699dabf9d68d1479709e05edfd9050903b92b4ff9d51292f436f35e1ed710cda08dcda1711824d65f54c11752568711c64023492a7a79af4ed8fb7571ab964b7429c7c59851d69df9500f8ed489e5ca57bae8dd7444ff3750f54085d951e243dc23f4949ee48000eb0f6155c092731f037b679e94a4485afa86ec583ecd3fbe38e500e249c6119b933f571cad09db81f0fb4b0a911c580d763ed563a2bb025307fac59542250e42f93de7adebdcb97953cef212a02de08a6b5072626b29bf78c88f9a38a4a9ec90a352a95e856f2847996991a134d9442ffd9bc6bd48ef1fc2b2b4cfd99d050cba938a7faa4f44b0f25de353f6680e441a90281c1b214ea3f162cf3653c9315c2fbd557d182a61946975bf413d86f285356fc2c8fff2adcedab40d20c56e543c2f7a6854c29ce6c446ee0da0d06858185498a85e9bbf540bd1f2a714eea158cd21fefaebac2ddddd03297fde137a48ee334c362697600ec262b364395d1a2603eec951fbeb452f58ab904e85f7243dbd8e7cb1acde063a701635c120238c05ead892d7c1720f958bc8fc0418ae91f8b9ea0054ed85f6eead00b9b555b2313b11255f276344f5cb4f51f04cddaad61cf1429c8d952b92a765a81cb889d6fcebb4494a88fa8cff675e77a52853a3d47b0f2a966586470bcfe10603796705bc1cafb1ad8aa529f497baf2fe4e587f38a64eff66e8dd2851bc01ac9f8bc130eb4a55af926f3262a175385728f46179e81855a7f54439069b012a9bc1779acb2328d60a020634534195351a33a2920d2f35f5c7423de147a31b7460bc83a713abce9714abccc0bb03b873f2febaf7c148a93d7eec50279ca8a862d6f595384601aea6e22f455c59c32a256e23160e2a9ac975047e9fd08e5147957a6f1de9029455ec8ae2d919abd6017d9626b04e9aefba571d7fb76e72eb0a6072babd8f23661c64a594c7af5063f00c0294a55c506e981bcdb530e439feed2cb45ae724c09fb8a68560bb401b06e685d02a6c0d3898e622bb51e48bcf47f22fb89389b35470c90d84edd73f7eb2ddcc9d19e18054741008fb0b30ac88fb79e7dfb7fe1683bc28debe08c59b3d12d8eefa92f72b78e4678bb79b4f20f9ddd37882f1b499dbf383a4ccc79e6b3088d4f624a465cdcae692fd65e31720411a026b692adbb5e4dec002390dc387c27c6c0ec463697a8b5aac06b0780e9b2d038e65c5f2e46674981f88e1fb83f72e3cc63eff5fdd94b388d12a02f491c9fbfefb12b63ce1781c9a87a20fd4a801be58a155cc2d38f24e85d035e353b554912f86998eab006de930e6896b5a2e0ffabdc455ddcf33eb7f41c74fd005c73c5042958a8233f7b0ec11d33384a156f1224cc03e15df2395ccea208eaf605482f73330cb27bd82ebcc7a160a252aa115c2f3101d8639c0feb7494edc19245b02a722d4b6ccbd976b75fdaa2a4c30460581f7865b891cd193de82982bcb01f580b7933f450d9ffe345f51bbe9f4a40fe1ea1848a13bcad6aaea1825e1775e67a2391177298aa3b23d5845f967c5d1d0ecb3172b8003d78d32bd5f89f015e8d4aae47c26f4fcc3205ac376e88a608fe5fc37bcf830e760e9044e02ba32315c9fa45740553fe892af6b1f7c4fe22a140218e356346125f1b2529c6447d8212e7a5cdf01f0fba77a9cc41f7a477adce049c7159476d4ccc1db6b55e5651cfc7981550b8ad39399bc954cee90c1e6b8f43e58b8cc0bf57a784628048135105d67cd7fed1a585d62ae3ca8d906f9037634093fd5d2daa9980bba9a4023ee89a7e0f5d050ff26938b30237075c65deb3d5764980ae6b2e12e608ddf0ca064dabfd5ded20b3f7e017d9267d05edde35ca9aad02cf977002757704d06515721598adf50a8f36c2809ee9ec8a15ba32eb77f907494fb95ab45b9da193c67eb26869320ad878e3d8eb14288abd807ef94fcd016edb2da44a4fccb7e90650d7b9b70bc99fefc4dc3c401a355bbcba89a919b8001f8e06d61aef4d1da8e915749494f5fb65a9ca59b7330c879b60b6b41256c33cea7847e2e15bfd3fabd0c3b03ada8c969e7b0c19be0af52ef5203f72ffdb11266bb050d8e8227544a52d88d17a9d6a393098d4492a6bd597aac4e133f7de476f9038d5d132df854850931b0a2a3970676be42a54490ae5f330e3e3759577ff5aff1234d0922287c68b797eb8ca2e23be3577664f8bdbbf64b605b5e343b5e99a2fb3c203b77d46e590a54f4e3cfe32672971c24844cdd8a988d0512168d6982cb45a06f64af92803e35a3936156ba3df8fabd29c9b287c5afb681aea1667dac11f9f0036d8a906e9fc78a57847284b7259aa812d573743f81bd4bae6a9b7132156a3a6689b982bb48b950bc9ba65769ab590f46e83a0cb36ad2b73c188440d6bcfab6991958e42b3b2ef8d0a4650b00096bc1e2543f7fa020d3d398a239b7108cf9c7e76389e0d21f4f5043cfd5f86cd4972253e09bef1391fd957b46545f8d74a53c4c8c3ed12a0f7d67884d92caa7cddb38983a7214ef451a1db1e86a46868bad29080cb5ec5d73dba3e3e0e8f13d6dd9b295731256ebbac4d20cc803b1bbe26a50d338248f0709fe030e00761379990d1c776cc3892ad610d1e38f803e9b20db8e5bfd16fc858b0b1b5e87d648e3378ac51bfbf049918e2781951e07d523b6eea08af59abe90f46607c9e4eee61cf0c2c49cb003877e661568a26870a5eb2937e43a06de38f48e15b340db20ec87886fc5e2290be8de0954c7f76b6b6e82e7bc8ccbfcf97059aa25ab5427a3c8ef0ab2792c2ac7b0902e9d3c4d5e3b5099f9be4ce08e069a9738796f6a733d68132181984d5b2bfa3762a5da92fa8015b0bc82c25c01cc6f10a2fef43fab3aee58691bb18172bd79c576fd91d98793932a5aa5b28d492b65cbcf7b3e8863e7998390e747d398be11847dedaeda209485c1aef6a5ad26500436f8410b9eb0387ed9769efcc9b3597e550a0151a489da96f34898dce0280fcc336c46a3b0292f88490e0948029abfe7bba2d9afca06ee237f93234d7efc35b87339cdd7633c3028deff0505dce0144565e53349624b65861dc9fe0663b3375593d1045a77b770d1c98fa5247a1459969c317e5348bd314d0baa5ac011f191841e6dbec0e01a076ea018770359c31012d066998fa08bc187e423d2d8f00aee951324c1b410c0e41922881114191b4eba2df77e4423c048a56341b4c26b394f40511f48a1b9f63bf1c0ed6682765169420b87b32ef0bf4ae9aec096fef7eefc848d9db31730ffe163977e8d8ca76331d5c6910de5f23cdd8c629d0e6f2782a0ddb96a6217e6ef896dac9fbe27eba5e28441e0ae768a0829ad3da2f4084ef46476d9fa1be59233770748ec3964169ff55e7183c2096ca0877bb6ee568bf3a19e52760b5fb59b739d6ab511f05719ce9910ad1042a3e8857709f5f3298ec180af2722259dfec63fa075c74af4483d3a022a4b33ac026acf548311cadf37da886a6e1b322a9495368bc971b16f4736736faadde38e6ce4c0fa9e0eee97aa8238ccb768b41c322e2462d6345c20dafaa19722d2d5fc643324bdbf73dfccc48b01fa96f93216cf9ad0060c0d727085d5fafffd29a4bdd8bb670874b22a71ba6c1673a76af7f7b9ec1b22cb35e7d151adbf1a844417eb1911ce1ad9e0fe180368aa0abc575827045a68b88f097d894877556fb888d9321953f6d7d7a3cbe87eed204a176badecb36359aa8776413d1723438161787a6c0758d448e38c6648010147eae3639e854a00ac591ca3d5161e2413b10e5e1a7b84b9838553d3afc0ca1d65b3f046d9bb358ab30107563abaf60ae70bff81d9e71df37c762b0c19fc766466770ecf41a21ecedbb5a994ac2062b86263e7e7ad00a2d62c85bcd2d1e584853a5b5a3414569d109dc8e35044fda245664121d6b58b7c0768140adae6d6b658bf5e5001a6126c4a2473a3a0aa8fcec71a2827a5a7745d04b34438eed2e9d1e32fd06aea26ca071c872b2fb631b7979f0844677ebecec1274d88abcae7c364b4a41e26f6375b1685ee30771e68886b994e22e3ea94e6e9beeca8a1072121972e824f49bfec0a1e87ee4c2399a802160c51f854844544baaac2a8e00656298b476cf3adec21c3a6d1940b15a53021c767ba60fbde4f832efa4badfda18b91b5753c1b14a6a236c84b4130fa7d40357c9f5746df4fb2135aaee6d160c4a0d239cccb66bd0df692210da2d2d304ce48df2075619282a0820e688bc86c78a8cab170175deb81efd03d531294846d3600cb630e38ad21e7fe8544dc8b66defd383b719f32429f6dfa56e8628bd54489f6a81b25a894c2faf5da0281abea8c9bb42ba41fd9304f178ca82de5ad5d9ff5fdb9ab306fe49d79cb145bbc6e446c896692cffdf8375cf4f86e50df8d66f1a48eb1186469e642114c5f341c23851fcb9c36d3f72bf4a500229d466461eee35934a1ef786f4f562fec8d2276e990d064bc97acc02a0658ba7f20731822a992f39dcfecded08cf879fbbdde8ad606998504c7ffee9165c3aa49ef9ada9cb4e54a9db77c3334671736d8b3941a060873d7b4a39ff606c3c6ab2b9670cb666e0578be63c67ac643b9df03f7195b30fb27965524f1b12dec9600e6cfc70323b5e16beca3df0e1aa9fd3db4fba811f22fac5d03a1c7a033315ca16ff3be00c3df73b6f54b3a90f7d6cb0f512b9319b81e1ac7edb48bb54879b8301c581e2ac8dbd2ddd2b58c9803ca5da726f8b123f9296c6032a0c4340628ed42d9fc2acbc0e4ea0c6624c9be7427359030ae3db7db6c80456c00b26067d1fee9050f2120db6de1cf870860535648afbbc42bb84559164e1d90d97a93d29b54b1c797c37e4fbb68aae165d6d61743661024cc8d3b684bc987e318770e2018c3ace14798b4e74f2a58cb8438492c47937e0abd521e07ca04102d8880b4524121d703d874b3dd91d869f124b0300c971bdc91e1c6cece864b531128306fc8fd76964e6f996b80d0e12f2e6404d7a34fc406f5df0519f3d660918a76dba1bde44bf0a1e1229265b5db9c1ca376035e8e24fdfb27058403188a03b4842a3f0873fd84d83c2788d99b31a74f2625ad40b96805fbc5fd0815e0d879f57fea82baa05320d9d782ab1042038236a40d49272d0912907c577868de942b44f8ed8b03d68abc37be4d122d8d2446e9a9a88254ac145738c9a3a2e35691713a0929f9267e37b0e15c0dd6be4bf160ff16e0c8342fa68a7a5629ff5461cb024167403bf25e851b198c3adc9bf84565f36d97da054d38867b957c7fdbebf89d2f6bf065fc4b73c4d4721c9943bbd4abfe852efffdc6bb5ba2d07ff06cde407d19287d14fae9b32c552998556ef5e38098212e5849d9a573a325cebbd6bca69685113d1e1ca3d1a6d038b622ff651be23449bb0fe9985be33f5ea87b872415c07a4f82425f4c4560d2630df57071da1d32cecd053d5d547f5cf707c8789c499fb9dde85f95d1f5e46810b21a2db70f04bd7a0186051a46c21932c0394b9aa8eae94a0d0ad71422bf20b931b822cd55a9ec749e78fefbdac7b1f446c535b253a34b23c3c34bbda3706ecec68cafece06d9855f70e92045574e1e0b6b1033dd9a668318b41b52f12139839e4291b8c3449d83177a1ae1106a25bfa992a464c44e181e4fa051e658c25b26cdedef5060803a213c0234bc1aefa95fe40bd79317919165a384c23142601ffe1a19014c93a57f6db913099cc9ed64fc9edd220b521847668e6a709c3a5b30611bb3fee354f5939fe9c731ba43f5e0cae8a31083257e9bb1360ec616c858932313e152b0e249bf9c188cef320b0ab7813cb763ad2ea7dc2abaf852e927e2d6b4f23cf8854515263dfebce4e87d688ac1f9c8d8da2cf4ac775a9e9c5ad1148bea981514e594298bf324617c6124e04f4800e9b091955e0fad2268f92a9fb6b805dd68cafd6749cb67a82c9cbd56fd8feb86a6b5d27d8f6f3079e2aac60378b2b5a27e6719a4b93b018f4ffc0e7bdb7d1b0c15720cf51db013be992dd10362238c54c0c78ffe02cd7257bc3be599756cc44876a821443e88a033b8df97228de6301803164add3a8f026ec64333def02a685613c28ff5b937bc905d225cc01c8d315f7c8952f071b45ac6de426532e8cc5b22113ee130040a2cb827f089f4d08c2a029e03d0f2c3d65fc1b227870c8b73d47592a1d2d6ad877d5badf774dd75988c2f6b425b6f0eaff49e1d0ad3e21c403566d173cf781bcb60cf5ac51a84382a9ece6c357f5fb5e6efe5aa00c8cd33ee8b5f10ee5fc79412af804467572ee97a7661acb29b85c304dbb2af84886a70b35f0bb4d8564dcbcce4c274c8fdaf0f02f60c851e0f1fcd3faad6a552ae95afddb938983c4072d5aebc21480ccf5fbcc98d578a0567e56b135020cdd59a5fd93321c7a8c3ecd9ea430be6ad16c0074e7292ff4dd113dd86ec952293872df8d2bf1cb6d361557ae38d05ec2e570505664a4d7bc645a57c51bbeaf4f82c2a62368e09bbda84c608f076c6e83fbf81e5895e1b31dd95472a5cbf73dd12096cae6e6f3d9e2f4972d3c2a62256342598975ea394eaf8ef40dcf5c0ef6129a7834678743c01cd07495d672465c431883c2c99f1533c9018a9754e77a563c4e4580c07e55ffbcf99ab5fbc49726358a3cb7c591edc8cbcfa4916b5efed31f6c183dc4c786415d72ebb75a0b0d0ee1fe0bf4096bb6f509ee9444e74420c7b50a38060f89afbd395358ccb23aed8854f23977615cda75a79d1bca17030457e28223006f3b4afdd7e714ff7024509e4f4a3e7330bd90a48275e9b7ec3e11e1232087fcd60ddcba12a2b326b2ea45d15b768a70efd180ab5106b559fd7ec4e5b1a2cac4fe76672323b75020b86ca9215614d01425b16c797a84886ac561f0e9650096faf034adab6a2a0cbe62b061c2f954ec179428a2d89e782f20be75ee527a7e274c2f67b5c7e0dcb8e57ab8978cd023f2ee5b077b25c7c26cf92b007560d6a2feb24f13c20c14d0b2899a400a610415a9e4f9c2323d32e88e3878cab2c77b35caa94c3a1520db20669d2c0d53bf050fbf151ebdd4e2f9d3c07f608d35f5e0023ab212292bb6c8830db099842938ec3b3f62a8f90af4379753d8e3925e608c9a08209ecfff4e941e9f1bf3effa238eb3e46e2bc60e316e9361462bce15507bd83379cd742f1356c84c106cbc0b9fccc5a9ca1417245945af89f60380364a74c3024bbee49a822bc8f13d2a13a46b61b82d73e9f663c4fced8f9ac1c1f8b19257f123ecd87e17c7c1929ef1cd370ae7712f313b866cb64b6a08f2dbcbe2744a1655faeeb758b503d3afae06fdca05029fe5ba0182d06842b718addaefa9a0dc135c29273e4e46b918bdff4e903baf9240eef4b9cae24118a906ec3ba9f5cccb8d97b359a3536e3ae50f3c7782c0bb9b086b0c5c87af2d5997446188da0a0aa7b60ad33e9572146732a8fb27cd26d6ea61685a8a8532371d2048e67198c92c0966f3218df62195c84e56f827651b4eebe170835da6631a0227944af1f81f6a462463d83bf72dab9c0520297b1b62e03757f9a998ed0984318c9d6475f17d30a6392b395f13d3a184df0e4b9f9255ca4f104c54a0cca62fdb4f16e6753b4884dec712572b4b6ee85c33e1678dcf2d3cb9a49a849967afa91ce3d64b0753fd7f9c80dd3fe322df0ec4a8f42d090ae820fde89bc349990184079a530721efb07ddb23cac23a0d3e146dd055e56a7e6dbc0252b6b008e7be53fbbd86c7965893e7a7726dec1c8504261bcabf0699503c21d25eda4348899cbe750803bead9846d58bb1fbffe5731ee673a036c72e4f29aed170d79e318c263767f080ba07f0291437ade2233ff0b89d18f0f8d3926ef454e143ea760b404b9ee95ee6663c50bfceef57e8ff02ca42ead7722c6a960a755459883b0a6e671fe56cf58452116d55d77e2080e1a67328a0ac30d7176daa394a3fe68f69af05d97201762e12b1017c50666d59469b7077194bce884041e591e1b45fce6d0fb3d4e374cfd3b909e716317be8d44518c97893eee811f4e49dfdc319cf8ed9a555b0f0fa6d3e28a562891a1fec915c9e319db076511e747c0484e1ce2ceca5a860d5373ede65943459e7784f4761bd71250ec8860b9f31cefeb37b21f5931ff0158224bc414782ee42d3f5feaf3fccdbb85c020110cc8e7327a2cbea1f4ee5026a6c5977677c52f2d4b0a8733a36e1d1fd8b46a6b6d3cf4459184fb12ec7534e9abe8202f7ec9d0f32db48933d2fe5beec2ae00afd3f471090b1de4478b3404f7390e4104fc32633c28eb402f70c96d0df56951029e353316bc410ed3a53aab5e3886dc35787b87eecf1d655d9f56e1aafaf5b693f4b7ff79f72b80fa20435e1c3ac6e7916f8882c12903b493e22ae121f718cde7a81ac983e13113654718e7a2b89ae32edc071989fa34045f4cb73ae7ee94c9ebeeb22222518d1280dd1115f510841d362495a3ba0c2ccefa626fb910c01bfde32cc5bdb4139d1356b2064a200ee30125d57e7fde519aeef19a6c21cbc285d0e70942dac5f94170417b988976307e35e8e0b0bbded5230ca67fd367f980bc9b4d79a635b124cad643b3622d37b389863522e4a16a526357a425b295c34a91e235e35bde302f5e743b69c58deba3d56473703547d38f518b3d1163c25a84a8e6543b6c908d11534a0bc440b3a7e5afdf3947360c61518a5acbb4ba4212877d8b0b3ad4c7ba3eedda68a137d03c2a8fbdb58051e5b1d65cfa77207a6458df8fc64a79756d0dd0680c79f21a26a7b3bd545da515c2840b66949a58f520392778b8154692811d9e56a085c0dbe823ca65570fda357621fba2bd9d217f83ecd29c880af48d0104209b3eb8a218a14767574407d70ab317ff258c6085c24cb69c7c39a6acd159d40139849713d33818cf60cb9d8c28f22e81001e99e7d06e53c560227f0124e6760982116d1cd271fc5c567c4e7148816d0102c9989a0478ac7cc522d656b523d9b9d2b6ba5d468bd2f06c7a6d034cce0e90ca584dc3b2b3223e7a2c5a1dd40308c6b2c09acb7e527319453c6c030a67ff56b24274eccc20b95e22c21efc4cb2dca344d2ca3cef8b2d788bac69ab7c357ec3ed68f7dec17e5193a03a92437bc943bf140c1641bd18918b9ab60d8592181d5ebae62652ca4fb5af28692bb06cfd98e05bb8c5b7e5a2409e8b2e066aff41eebce31d1ec5643c7bb25153faec0e3cb08a8dd91825a42c576747622f133fcc4cc3663ecbecd220a91e24ea6c62ee8d18b55c475be613e911c2153b73fc7676596713c1f0fa5e5e6ff428f0cfbd245474b9b27c12192cacde65cbb5652c2b40547bd612744a471585fb31b791b51115aa9028c81d1925f58fdc7b9055dfc0d143260d300578cd1b789eb195ca2a8b36419b39ea4ef0b3223b4a062652bea211cfa430be845cfd9fb660b487d7f0022231b4ffdfe4e15c4af5b59711b28de4ce1c732efaaec85ad017d444ca13634e57fd66a2d08761718119df1a2c7191c6de6bfd8812dc775d56ab29b396b91d172efe530485f0f179724aaeaf6cc05cb93af660436f9fcf88334b5283d95c95b73d5d74499fde298dd08da39174dbbdf9c15594021ab1b36f4a61996403f7d0f833029644b427bd4cca9e5c735bf947320ba59a31a26b2ddd539fd7190d4326f7ecf1b70e17e7a74b09765aa5c5e50c99ba7154c98651f9c07f03dcbc3c5c929e264d87b0a0ac58e29fcb515b1c2020538fa189a16c5105bc6f2c3705fcacc2a1d1ef208aba161d05ba0a2ff30ea9f9fc104864b90f77027ccef7e7305f69e57e57227c8bc053d4a23e1225c39d1ba671ff93b566a72944ae87842a7ea2410ad7e323f7a3f17dc17b8dd761913326ed1ae6405c83dd0167e632ad5c9394241f40ee229d28a4963dde2678dbacc75d8ddfbecbfadcd3268b7f2591f58a95d26168253f08764a168a3a4e5c937ef5f8aebe47f05eb00d845e9be50ad1ddba21d4f2f805385bb0de0123b22682ec4d63992264442020db0f40f3e5883ffc08718a214980024dc99f44b1d645918b17d2be2e487907bdd45a111411c34fef062fb038fed80e208c7ca2d1725a80169e6e66a3164aee43e9d879c92a70dd86baa1b12bdcd65b6e26b5adbae16b7bb8716732cbf56d2d7e501279c29899ca91b64d8fbf4819fc9823f5ccaa28ca657127b6808d2a159064b7be6754d8c8d8f1fc7bff4107adcbf5e804cbe004965c2f07be8b61c20a47dced9b4eb1e52886edbcff2dc71831f0bc78291fa08bcaf6e21cd8b73b6d6ccd200066efa75c50863a532431ed833d32f6f30794bcb92eadb3485be8079a8bc5552b57001f3797f32745a01d121682f6e06dbcb0c6314d51c8231cf469b3384b9736f04f719d41ef32729510c7004bea903f8e4f49415b61a8637d300766323600efe80dedf7043d1c42bf11f45aee4844f86a688e0624933979675b40834fc685942bd651338528cd7ef7ed8459ae0c99d687605a7dc6608a5a85dd999d16b73599522dfd2c6456b9b613789079e7c05eeb3967e97cc57efa5ae734b1ff4124f0aa27b947d7ec389a5543fe3cbfde0e7473c62ade14629fcd764232ceb78fd1e8df4bcfa1ac4221edb18c0063685e5d4d6b0d3f23cc77f7501c166d5d5e218be788ae5d1fa42575896a509a2f39a1baade0373e0ebcb8da7874bbeba85077019028ed0dda7ebe86fd064e19e8d199d4c17520dffde73791ea5326d5e973488f1d297059b58ba231ba7091f8dfe9f1d9ea13e7a1d3e6f0744e28db8fbcc0ec283eb0751395b4cbbcb6b65429f78bcb03a123afd241b7cf16df57cdd4ce597d4f6b2398214dda913d33a6648b2daf61dddada9b38c9652040f5755b33909e5ea36a36b97e25963653081dea345b121296caef58b4d231c1a83742c34b88d062a1f6dd55c69a0cc99617da930d1792c978a967692d33c216fd499ef7407ab8b150de40961c2e2a546a4c1573cbaeb83e8b1e6d84ce39c90c36c90c646dab6320ff3c79fbe0cec06ff70cb6e53c776804ac45aeb938aae322f87374248917fa8dade19ef2f7e3d6fb8cdd01b9651bc9aa80326a539cdb7edcbc6470a0a6b36114f2d2b31ded05447c22537bbdb131d1a5f40ff9e628dadd0692ad773eec73cd474c384357d8e1b9430f5b52620bae1d2bc0afedbb5efc0fba9853d9da0676f32cf1d0b6a57cec00e2fa9f235c585fc83847702796185f98e83f1a5e3899303c925dc03d4d56ec090dbddbc85c789bc786c3149650cd6fad06524d23992116475546b7ee30f8f92af0fdc40b91b4821b030c1d30e0613fb2a27498f4459e27a87e4aebccd98712f012b5a91f8062d51d7277115e8465c0746537e43c8660b1c71a301160d4ce7e48993617b1b003bb025ebc85e7dc8c9965914c57b6032e5fea2dca491a168d436c0820fe6365242b0f5d2cb57841deb0fb22fe26bfbd71fe039257e1c57bfb6816e530c16ca0ed626b6116e1f313ed45fd0612dda7f619c9e07fab063b9668ce2819631fd43a02cb4b8d0f4eb0bd4c95dacc64f5cd1838b690ce6edbd8ba54728619e5da8a78ea8a36a1256d7b7651b4ec853c2437bba6b5e04ff44e72c17eeff192e7e2717ad12a1195e5c0fc394084b6c59e34ced2e8659724f98614b10d2d6222d6495bf9a790613cd784d568a57388dde8ed7ea261f42188b4dc76166cd30bf179c3222302df7d77cc4452a8aa901cb1a292b110e58df09e20eb35c991cd2e4c9026b254e0268f57605d5ae44a43524879e0ccba39d744ceeb5205cfb1b43e6d290dfb27040c0de9493af16b047730f94a0c40854171984a53019108d08f88bae5ca5dad3d729657653ce142f7abea654d70ebdfc4ae7581d11b5b60b28d877bd7867fcc5149277571a71c08a8f19227857038f32d5ea6ddeed24cbb799420f31812a3302c944dd58f64ba4f8050f1ebc05cf26759e6bae5f17f14ba4f6ca65182183670cc6c4ef68bec64cd208322bbd58002fa6de1557bc874c704e655ed532a81e7ea7cc415e753621d8ada67ee79ee48d8dd02ec9e4556ef49b96664cf93d4d8eb3c34b7924e7b9579f99786cb1c373b6d4c1c55b67153b83bc23e4c17a084594fbde0c281f21b74530e04f0787f9be4be0acb3a3564579f8a6532f2c89bec8e27b0e71e54deef0d773c16cff2082fde93e0ecf375696eced1893c25acefeea9654ad5590c60ba494387097e888294a06fb6c35feabb84346a9e84692a1455dac543c02ff143d5bdfb5447170e9b6f4c02828e3030b04b902dd9602341ae34e6e8c4df74b9162e066729ec6f2d62a3af12b800a1e17d4bd45dee436e4592aeb4762da2de577ccaaddbbaa20ef6f5221c8fbc984a9ec51aa75e4abed24335853c884e9aeb6b3a4819ea7fc4ae4d701cc23aa7cbb3ce84e60b0fa4fb4207214fca3f287d9b591c0c0cc0c4a9eeb5f5bc9873cdbe791b4794c047f15a193bd872dd08137b8f843f5decb0eb7e82af1ca8d748421414fc3d007883766b19e5808345fc4a6376a7c1aca4378c0c88b7d79dcad9b17e7d98db716dc55005ed6db92bf56fa04603ae918c7517c1c7123501094b456f6cd0a900dd5e9645c2b7c68541ae71cb6166026004a528b487946e3c804937102b5a2b9de6f509412524d383a6bd47f401d8c38e4d1d585d5f7457d745a16228d28ce70c8ccc3ddc914c5cbd3e364ebb1420d0bd5a9d16068d7299607a05b622863932bced7cf5c7a315456bf6b6b80abc7b881452414cdfa1bb428ec67ccc8ff3233e83514090ea629a13c5b9c3b1c052e17915e6af5710fbe5f63f497dab847ffd6ed0d6499ea04a98b864956be88a396cb309d739fc08054f725731326b67e9b9f809361bbc6892d09454eae452d23ce4e832da9f8d7071105456059599b90df3673ac943ac218575f0c870bc55e2fca4c1600d8845345bb73c63365dd7312ad393ded54e05aef10cec30e495b7b30a36ffd0bc59f143ecd9e9c458a5c3419644062a151a510165e265a2129a2c670bbdcf99357aa5c8eb7960bb4b47a8bfc77d1efc0448a9cfdd893b4427e6d4a719de8c227434442934adc892146e423e3b5c159c82faa79a34fc7c447f893883560ecb0edd5573c08519608998e829823b646ebb4c3515de98206969e01c577b216c7806ae00b6135deed612b0be092990ac38f2a47ed9e884e0c3597e4774aeb3ddb294651d284c9a5e97a9b85970c9888beafa8b7a480dd7c79b75b0108b37d01c5d9703040139d6b98f16674f1f4f0883f5cf65f3492833ce15d02f50192211611e9b1fe00bfa000723758347ead8bbfc6147b4b23f5a9ddf3d85663398d8705a88cb1e1ecb7fb5b0139899206600b6d8aa89938b3fe641bdd942c7cf4d3336be01dedac0b02e537aa4064663268260bde7104ae82df925fd73a7830cfc1a57e91408b7937abc7f40299307bf2e030057e0aaf5c89916722084bf875a78f5cd172b01a507b830873a8b5886fc08c1e71f098ca1088c3f18941e1bcdcdf551e5b71b9a8ea9b5e5f7c4e1e537b7a42f6b1aebd25da56841293c086be2b5bdfdb6031b1f831b604ca73a95f81a951dcf71a5f6866b682f768494b2fcf9f39ed2cd9c73fa36a3e4f105689192764c7ef448dd0e06ed510ac166e25a3b9c917570189b525b7f5fe423b7df17877c12b1cf23a5c9a4852b127c5289ced07f5018ab64de3b4794f2019846bba4734cc273eb4f9e4c5ad3e24eccea6fcbdb1852510200a610f1506ada26904d13113c71f0a88b9422fcc70e6aa923e1fdfdb349745012f71bc03249496ffc9b2f86546f1653a3e458a3d0c6fe3ef65d0641c84282abd18e473c82d223f22b99b7121a150de736f21fc6991519f65721465b5affc1f092f5d18c54b529136cf262f6d2d0a21a0cbd2f032f6dec80c9b64e3ceefbd6819ba5c209da8e39bdbf342bb9cc8b2af495a45c09a084f70812bd3b22731950e40791cec2487db3bad9496d499361cd6c7708774a599fd16114a952b534c86f7de6a4d3d5446ebe772fc644c26ef0bc0fe79883c217fab6aa628bb0448b0097cdcf6fa9d9cb378d9c6624ca920fa35b838da216663abde9141d35ecc8e1db87a526fcf981f2a2ffcc4a93b55e9ddafec4a2739f31fddf41f26ddaa6de2da02c93a540f9387d609dac304d64dc900075e52f52adba254418439c2b9d7ecfcb74d8296c7c58a238b3ff6f53967ed3eb211335b62f567cd394a871ead93090026241f0ad75bebfd5837e5282646a91fa1d159694a1af94ac26f5979436bd0318d518040940530c0b1b10972ef63ad508a33025845d64625d75034f0f3d64c2d3d7afefd7ec08392172e18307d694b953abff09293eb65523c154b25b18cce1c1835cdd582a7a3847a091752e653f120a5867a0c3f549905244a16f865d10182171c8dc8533ae5381c8101f0259dd9774592fda8008ad7ad6d51971179d291f75ef4b0686f2c883e3a933c328b551f1e6c78d0ffcd955359eb78f8e94272b6a18d50ab6fb1152eb480f757007110a13e49d9a620895f11a88e6c059d5fe7634f1325f130938bf8425a64f807f0aabb9dc69b13342285d61bbe0788bbf3176dbe3ada793b81afe387ad88f6c49816597d067b2b36a3f90c2c3cd784271e71cadf166acb132cf56d23aa28ae524d61cdb2bb710d707afa02907171ba676d907c35fbc7a69ed0f813388d12ae8f298879f20741d6498291ca466fad7ebb5c5234deaf0a66591c3d1c08529a1e11c0318a5c39f258951dfeecacdf444b93b089397443bb5470930338e61bc5ff93a6b585e350805030f0d2a71994645c39dcc2f8584d6d9e4a621ef5c68904c6ea2c3b31fe0f09385e724b965c524252395dec7bee8c1f611e16bfa5fd0548ea42566ab6b3be3842891c3704f5b926060e86481477ad7ac076f01256377cab034f95382b4bb5834a428f71342add5e13aa8c21477f3b1b5c64ce27f8c8f31615c4ced3a5c48b82ce721b7bcd312e15659607e3a9ba36a2874529a0cf47f9b9843cef60cc00403c833c65cec343662a9ffadc58c4fc658090d4ac9abc467417c03455e21d25b98bc165499baf8404b58802ae9d822462922d1910699a91aa26a05ead970901a657398702438f7c54cf7e720d8941f85ecd8fbbebdcf10319c41800dae557d4c45ca7ee43e9f86b0db79b4ab0ab672700e706a6738e66a7411c0ad16a59883aff585e687f3fcc3cfad52b796af8e24abb45788352b8d3f8ddcd38c388a69fedb322d5810c3ee318de522fd1929a6a8146d5d0f9047dd8ef72d603074ab2e91a2b4f6b98c9f38720063b52c99f114a559c5d6bf56202511daa25d6b527ec3aea04e8796548633760155cc4b01342c82527e2c5ffc07a83d3e6c714133d10bc10e99ba90e719a1538f70b5f9ad2a7ae0baaab1887416a661771680a17a2c3c5faf20eeac80d02d93e7adc79e3df95161c0dbd9c8ac783e94cbe1e21cb3ea3f11ea945bebe18267101d00a9f35d4dd4a9845ee656296e22cecb88ea59d03fcb06ceffed52f5b3a4876b3d45d8eb68446fd84cf55eef68f4e153696da99e554479fbdf1ac3c1b742a5b7d39501a2d856fd61aece37c8822f44d86ebb694c28eaef0f0c003cd6936c6275c6d92f97b06f46598a25c7100ef8340fb0344a533add3b9508e80c451df244731d1d4dbe8c73c8c94eb995b3b88cdfc5212a69e8d022c45ab76f573615f018fcd70257ba54a550e06df7b76a802f93812a3dd4ed2512135956029a89715baba977cf7fa0f55e61fa79ea84674962db107b7117bf24b3988408b7e546962251d802ab85f11c49cb7838277911aface5594174ea72be1d02a7ab63cea370b82318f550be8845a65410f9e410804a62230e08eca04b5b2bfb444e04508238362d86f27935f7ca771e0ceaed26271a260bf3be5048bb4910b56d714f188902f05dcb0869b6097223b3edb36dd22f7ff1e7e4f2f83a3f17e2f3f756fc9f50fea08649b05e14d5ece227fbc8bd08920b51d3da85e3e943f32670c50e1bebe3eb0e99d5464b9fabb5d025569eda4abc36ba1060afef3284cbb63887ec4ef9be7b2a94f6516ddb3e13518e29a25b55ee1e2412cf569689baa5f0d2608ce49198135b9e23ceae6e56169ea4d5a450740f07550311c3d8ebbe8f11bd1a0e3f135ee438f3acf74a59ad2b3d08263c2ff01ff61237b876db6071a4e040dd6ebf8899167ed681273cc54f313f39df6cf36d5a2a3194142ca7ef96773448213fdc556f820dc936305dbb0c15f07e5f1bd8c532f467476688c33a956c09e862b9c618b3ca9726bae2ef09a81ad66ad9b76858fcfb192bc329a529ad2f456359d6c8d6fec816556b4a337a870b9cca84e894c21378bb71af5ddb0778e5464c6beb76029714dc9eef4b9ff1276a36ea17891af9bddc3fe3660137fe8cb1eb8fbbb17a3b3f00247115fe8332fc6ce838505252a2cb9abf2d23b4e4f83ca7a12a5b604688921439bfaef038e7e170f62874325da42f9825acac37fdced4fd536d9151097e9e02c3e2e9bdb34ac9871c5bbcbcb94135ca077ceebf666d761895a670ad539e054e257657248658dd0f390c9c44876e5d1ea50dd3087195c261b61b5b70c264d176d0307871f5b674fbfae543d37d3b0af3dc5957168314640ae8e9d2abfe5fc4a1a95f2618118239a359edd747bdb7a72eeb49b6940f702ffc4a54da60820b4768ddcff102d3a5c15cf490f278fdb2577d00ab9f39a92a47b1fc97ab03a7e600334bbe2bb9a0f4ac8ad83e7532544dfd9f70fc57e82c865592a17bfa23d3eae7c21b9ec879ad8fee0e936b875b00d4cae4af9ce4636db3474383168bc2ba05926bf167bbab303164c383746ee9bcb338a543dee24dea5230764b6e7581d1c193d81cbffc171721555e523dd2d190b9672509ffe58da8356b068952f3f6f3170e7b6ce9edd5bcd1ef457c2f26c07c2e57b682559261fb2c796c9f135e15086e59d258450dd52e8c5b56d4a7359e09db40c91c155fd7340e14171cdb230c46f10104d9a8800386cf857374449d2293e257446384ee9636120b670fcf500a4cf93074ddaf194f11f29bb2868027a2e2afdcd0d50fce1908ffad43c382197d85f50853a9dcbc7377ef0aefd66bc81dc30721b68401333c2a6782bcda3692d5003b0efcf068d2f738d0e12d5011864c717885b19396db6f26145ba81729295e285fb7d277a0f4f0a2ee8f7683aac3db0aae882d1541b8986f25d9c132a33cfb0b9b0c8b865bd3f9cc32d39842c0a4ee75e65d83285498fb6136388aeab41e07bd370db99e3a92837fd7370d63ff38fb8ff921b8a6313696287f72be4390d655ea4e8ce526b95d4eb3991d850e75885e41cf3a967c7e31cbb01fc5fb86c6e0591d0d9270571af435eda368e9430ec99db3eb811793f05672c1856447e473258681f666de78af9244f432ab6ac2585ca7a0ad758c9a017955a54d82046b28c823bfcacdf85a2ccdaf8b03b9987d8c42309af80b39640b1cbaeac8244ece007e22d7d5b3034028515c56975b06e71bdf6217e5e65e7930b2f55fe802c1f71451ccb0364c318904de926e3c446e320d2852b8d32a195ed2de61b19d45019a61b1378375dc7c91a3d9fd73a45deaa51a177ff45f38c72135268f99b5072c614ad532dea8a5d01c55fabd339a095215165cbb5277b6078582572e85ede66f54beea4af5334ad3cba10877b86373516a18f73d29248e0f5f3f4fb015683ea06c2406fbcb671d6772ba08405e64f629649298f50e62255e2cc130dd2ac5673bc3c2a323dadf5bbb769e27f384b71a33af6026e36ae754149ee622030f81a6df8bf9754dcea5581c3c9aa4ed7e6bc0d26bf72be47f820e051bbca339f74a7017bbeca51b54a476ea7124c31ef7cc7e259631aeabb343a26d7e67203c5947eaad6a26d4e052234482b460f0ea284e8f9088cc8051137d6b31eb4339f3ae36adaa3f6164d5abe5cd421f36d4ea909cb805c889668f01ff33f0c844200ec744e1b7074a89c25337549daab18d446e367e8f24a5003de37d9bedde7b3c0d99adcb882571fd71c470fb82a70800423fc35cbe24f6863fb4045c265cc6bd519b822286bf8b1855217d158b16889dd21fe48f2c61a1ca0fe1aeee6d956882b076c5ed876335dad886f312483d8ced4fe2f187f075969d41b520fce8065ce693e9e23435ac8d6ef760b93adc15787d93b2798140baecfaade1101982e6eed88f7a30a79db1e8abac5cfe01ac1a0291c210d3407ed66e04185834052ad3ee7e5818b361cc8415e529efa97918e81ed339906baebaf4cf3cdfe4c97fade4e842a2d6312d7700c4136de4b68ff6fc31d930ae4acf374af5d37a8a75f79442dd175c78551e9c3e7fd965ec10c72c4b703a0d77608b90e9ea5602f858aeadebf9e55f2418c929f77b542a871d4194a50493257f6a4346e9591a5309ff6ecf5969750de7461864316015fd0e887e04d33d3af9451bcf5649d2783e38e9e6645b1ace68fedf818735e0be1572955388bee76956e5ce7b425204837124098d860670bf7ff617f9c0f26196278e8adc9c41bc2581c8d4dd59337b8b517ea33764590e1a2ae28b7db3d531a2730a174637964aa6f4db0602d48b8f816b1ca77966d0a74467706ba5478df9649e5a209f1807a29ab03eefbf3eb0d69b7b4c5fdfe663169b24616f8eb010f5a09e145ec9e37953bf1b59a1b39e12a82eef00c63dfeeafa48a9dfb9385b26187cb1f84d6cc722e92ebe3f14cbec9568980bf90e88804f039449f729b66ada1658752d902c8e1e8a929464d32b35903faf54df706014f64cc394ebce38812add0a5ffa68d5162f3721fed75a7785188789184a41b3d1bcae62cbd4953df2de682198536ee31630c1cb23493de245d303f84cf31be623e051bad6a71df3d9ffc6f36c1a1290cc28f0ab7287cde6c754cdecf0df16a723b759de7c84ff80c0086b7689a23e72e4d23cdb5fb5438d24d2385c758bdddb9608d5f8e79687f96f892460fde6ecc1c2f84d5e8514a858072a8a5be179f4cf4d69c13901d1b919e470dc2f845dd247cac07ab9b62be1d723480cb49f2535147653998358890ff9824224b9e4ee5cd31d00285db20ce67e1c42de25718dd7783c820a89f332052309ff996b072b50f6121ffeed38769632731761b9fe6e23b89a6f4e1479d2113e8e2e1017b7973febee8638a69d19322f5ece777fb64fe5887cbfcd5cbe648b627eb84c5fe4556d534bc4c1f45e7f215cad8aea0f99214250f2f9a4baf4adce2a5b264f52423501646762f6bcd71773f00c3f7a5543eb485a2024f4f9a2488b8ebeee6d0432e1f9c4bed77990383b0fe5ee17ef4bc06f2e516edeff57fb190f2f86c20804adc1c2dd04665d0fc39ddda21a07148794337519163d4e6a808da28311700eb78aac90f2b09882c9a80708110dc3cbf6435220937ad6c0f45c2911284e420e6325f156b865cbc4a9b1580f0779cde23f9564a4c287f3291ed396c2f1e5824f3293602bdd9953803417011902c7427d3dbb5a359b810d727f5bed73527106101e7da0bb48f36415b4e223e57cc72a22524f18516472f18cf56f53394b799524a99bbc23cb46cb7699825dfe63e404940c6e5be8be88b9ccb11068ef941f84c29396f6ef1b579a3bda8000c6e9291fedf42bc7079ec4e215d0de96fc24ffc94893c4be75d6bbd86e3c6ab6cae3d58b12c8b16eddb5adec8a0dfbb20f04bbd7afb727ebefa2af582eae155947c7938d008b59652c0affd296c6d095ff7386c913e1affc6ef815e09c652c6a2c173f8a460c5226cd6009afb8ef0e7f1834e0e87b54ffb5ccf700a44c409dfdc4d7417701ec8a17b16f8989df90121eae27b42648e9c69ae8e7b4ef2ed57301320543d5ecd9da2305bcf8f5bed235775a96a08b5febde2021953f98f034f7fe72e29fc5cf897df44dee4e05abfc68be661fc8b3557f308860d98659c7c6f678266383a474f08f9c2e38949beba5a2aa7964497b40316f28797be0d43eeabaed649be62bd42a6bc1484bd7872459085ff7c9bd3f17049b1b179917eacc0ecdbaa27d14ec2a769681baa8ed9525e5c708e4f190aebf9234fd2f1ad5567fa54ae11489d70eae7c32f92e10b1c9b60aa7f550e9c35a2c01480ac4acf0af3a01a5ff134ea2af0f3bd4f8896987ec0b43bdc06cc494c015fbc6b71fa869fec36dee970b27956444baf183aeff0a8072d3e4db82696b15b83b1f1d25b01d01e66743d8fc07fdadee9768c6077f44fec3b38bdfb922a5e39364a44728d8fd56a1b1c2b0c03de73bc2bd3584e24c021b621c8602b40a7de0c30116a3752ea8a415659a08cb90582a6346e0ef646dc9462e3e35b00d00e9204375673cc49a34e95b9a02e8823332e5ecdbb66cd6f576b52ee353d5df8873d029c5c66ade36985523ab086931a43e3be54c41925f0ecbe0620b04d1eaf19bffb43d8933a01f78474fded872121bdb8f3678f380dfed72ae7f7ea9bcf7879d7a5962a95a1aa523202dedc89bf2498a4d9ab256014d7141a2d9f625ee6da55c2abdf6c021ebc50097a15abccdc8031d8cb76dc5f534bc3abef4be71da7d6dd7211abfea71bd573000792d62e3437e6cabddbedfa1fb9c112e821f6f255a6bbc1eab2791c6ac28212a085ccfcd4ce0f53674f91293fd872f7c5a40984415c5487dc17ee95daddf7de23552a83d10f2c499dcfc7560ffa2bda913677217527a3ee7a66208b28764fb085db7e581f66101dbebd1568e98cbc301685cc0af090f588ced746b1e062330b592ea7e63c5d359fb471e19b401122d5ed5c93a9ba926aff8a06ef07371b4671b35d13cbe977f14b94650e8f03532fa5428a504138b17ed63f151f65374360535642718417f99c2f84122f9d27efa8537d19f27a12f1e396cbe15295dd7b7e6f44612db7070d5df9d7e67e3c5f3270b04e79443d16b5ddf3007522f704920343fd76b84d07efeaf6e8d0cd390b8becac693faa7aece7d43c89071c9b6ce366b8e35e10bea0a984861c93029a01e9718d51a9a6c9b27e27df9bec23daae2f23e3c26ec208f48cf64c02d25d815fadcbaf25e7e2f5ee8b63f70d4e767ebcbd0858724aa87a656b016d22c39339804b0e9c2efdd674d5fc5ccc25f24b6a70f0c2ef8a1b475f143815165484df9bf03f60de8efecac04c26bbecf2f78a0e01092bdf5af5988c9d0cbd865c67b14bd8a3fbc3e556217b5e95a2b838cc14a08f12166efddbc79b4f976820d4a02734d8020ec51f5145061dc653a3b22590f9fa02cc88ef17e45be5a107af13464b55bbe6f747a72249b525ff8d197ef40708d5efb70f29258fcdfb009cbb60c628d70605205ed01c29622adfa901210d19a96ec9a1df27d674fe64ddf2f198d404c883fe07dd582ac029995c1a4007deda5eb1e99e109b358603ce8f2ee3de99e788b1abc847e9a1e0d7942efbfb848cebb7f4690fa086f50be0a72e87f0f68dbaf9eed7fdee076eb80808a93a727506ae1025c39d2a901a78cb7546bdaf1c6fc80db0fecbf465c6c47821c065dab686c08ff8931abf21ebbecc9b4da71f572740bfa6620fe818d95d8c35643427bdf478d65a6c7c9aeba98026088e0b39acaadf514cb34b0a2ac1c0e9450764560dc060c2c12cb75673a8f74c6f7663a84e025d7f6dd06309a350a55a8d06603fef387b095f931ca25745a987108eee9cc0b39a15332b3df9b2a7174efffe34de5f3f4ca9469367230017ec02461e63fa354ec59c3431325ecdc816ff156488de98e505355beb0da2367aa114d49441a06132c59c26da4af853aa4fdc43a225add5bee571a4e7b162fc670a3769f42c267404afbd02854db3428845640179fd02914e832aeca61bfc1fd31bd02eb15534afe9d84424dd7fef1ae5335fa5ccc9107ac5bd3aa0a43025d6372f20024d89b6abf64e4f90b516144b519aef418d768e9c32792e49f40b98f19b22f97f3166116eb7da02f19d8b666a8cf48c510041aa33c061ad0c858d12c7f2f421d23644b6860e46dbfdce6f66a886e0d8f08015e26e7c360d4b97ce75e94d1a120844f5ac087f99098a7068b1fdef1d21bef4468ab2abce19b720882f79c5c30da2ea0b6adcbc3b3499d851780ac49811c8d3afc6551e02ef359f86ad4b470b85f7935da367bbcbc0a1bdc5a66ab85a2511bcaa69bf027feadccffe4e43ce7ab3a4ec55d91d00b27d37b84fa560f6240aeaefb041a0219687eb840aaccacb8742a65932bc78a29a0d259edeceb7d0d1ec2d0efa7b9f9aa27eefecff6f39acfbf6d78d79d5537c02cc7eb948c2437536ea85cda907054cceef227e44b2ca50e33e64eb8f79b721523c631ed9251d25af4dee8fe83c1666508d9c0942a9628f90a117e48fade21d0a93c4bce6fad037f462f3200a94fe7efa73e98c6b4ec0f7e587bd22564ae5dccdde464204ae2bd0913fde6359fd43b606866fd126b4dc3eae9e9c6ab39dd60dc4d24df11c61a9865f31c1054277279e97faad37d4c881dbf5db85580858e173de75a163112ca785a703dea6c6aa842ec2216fb53d34f1edf12de1f807de3059a1b5e329f1f3142cade2fa27a05535476285dfc203b96e1f089fa1335da13e2cbd51e207e113d7c6635b223dc9ad3ff4ff1db1bd63ad5bed157acbb6d10f1ba24cdb7615f3ac29401dab3527c9582f0286bad53b7a3585478ffa31bc34aefc18b2a93a89c10f562e033bcea77e87cbb4faec68afef08db189be019cd624cc95bd386c70f7e0e418e4c19a981c4499c28eac377aa7375bf94959150cc102b9974e6ff6420a7416817785925be4934496e0b6ddf81bc6cbce930aecbebd89654db719be29b53e5dbc78fd0542cd0618b9ef9bc1e508b3502b7f79f34304c139c8879aa43c78df80652c25862f36fe439f951a640fae1e5b6d6ccce7b3c49a70b4a7ddaa42558b9dfbd3715c40a3c548782a7b5e2dfd021342123a597a1e1d6df40052de6840af8e30d80b9448b75b8ff77896f906c87bc627521af2de0420af409a95fd411b69ca54fd04ec421ba894dc36f4a3e526cb0df06d9c616c4832002b0319557def52cb20fae106273847d87e112abe3f27e7f06d4874cba342ce5736fbd8397d4b591eb6a038eb2bd514c68298eca2988ebf91a937771f22c0d5227e6a7c0339066aa6f9d110cc0bdbfbef9e241cc72f2a3b937c8b0993b472c1c94fab0d9a4a74aee7cb14b9f39914830b5ca30169a1062d4421e5ca408e6533ca507da6a3089ef93809f5b4d9a24fac275624b28d7c2a4fcd329dd482308c32e626d7245c99d27cebfcfb3dd81b4c95b2a4beabd21a3a83dfcb3d42f28c43fcddac222568ecd038295ecfcf4944e4a79c26ac3d57afc1488f601e4fd97a982816795757deee6e137e5263123c78d5fb0b9a84a2ba3b4dba59e37aed3eaa9455d99ab2272820b9d64c99b87e911651d67225605ceb8ac85582ff85058bd0419622f435031762d0587470ce96d17781071a9c6d144995f17731c6bbc8ccc1e324dbc88a12cfecc37d777350f2739e1d42df18d13cb5ff40ca1107f53dbab5a18649b2f93d15e8f47db0e8a3bfc82f35045a9d20928ae542e313347add5040da2d1e3d38b847ae344684f30a6bb0738c5d13118dd06f8529da938d6208d1b3c85a56e29950575289b8c9e4d76edf0230b0cb070e0e0bf3b1ed036b6ed30c2dcbab17d754f1321d957c6590c296dcfcf2a6a9bede9723701848dcd728e772e224cf0211cac10e437a25fd84c99f80fb7b7fd92c7cdfadfedaa7bfbcf48a4a585e7cbc46c0ca3f35fab4430bb4ea9f834ea66a336813c521eb21ee2f673c722012742eb09bacad2ebdc24d7a404bb29dc4d0813383296763b99e185fe6e020d061fedfe13f2596084b74e64a2ee0756fdf96015cc35c7e815a323c64808898dd1a913816391595727deda49d1224260b37e525d0e51be32cf5e988225b0eec9a7a71fa2145df09636f1b2d8e87b2eb1331ded07574bc37cd19bb58ecb13d6f9107b1e5a5aaac7cdf81888961684b869d1eaebc7c729d0fd0cf9da92dda38e87bc297979452bec7b041e24b6aa9fc398e35851c1d00a27ba1afc017997e8b8247de8a105b68f047bb266fe17224b5af114e2c626efc8cf34a27337f0cbfb42fb46410773563f3caa2a13a793560cf9e1665bdef808d8d129e604b78a26b6ea65bc02a24881f678e3eb1ca627147e22b8c2281612e0ad6d4e8d00efc8feab02ab7b8bea3d0e4f6cafcb391bab410d645858b3481d5881bb678af5cbfea6160fee77e06c572f4eafcd21f0b90e8a02aff6a2ada7691301dea9d19b5cfb0fe53b3a7866e2da8e79d94a4c4117ca7740016a24355cae382f57e50812e8ffee50505258ecdbae0ab2ee00ba6edb90c80c506779e0db15856a00bf6f91b519cfe63385f10497679d431f80d1e0590d9f6360a93f6a69bad6a73ad2dc0bd73ba96b279ba7b25b22890d8e5a4a9a40c4b850d8818567c01faad351ca6368151ac01314d6de78ee6acee8dead3afedbe193345972ef8f1238ba7f43a4856c9bf1089a6a27d2e2e3a1d7130ca4e9d8b1c56bb3e15839721c99ed7892c32eae8760ec781c8b32bff62cfc0ce87de13de08832598d0646cd7cc8013951bd30d0de74ed28754320b1b34ebbba09b07870edb400d29557eecdddc71dff6757100d7518fc70bd0cc1cedba89b685877a9199709ccd3668005da5aa3829068a9c25ca6f132365df7bc9d932213a7a032b511e9d691606ab566792ca3de59a650db0e79501162a1bf115791a9e8f4a0e929551436b8d6d2c9afa426380b0d89f84fa16849ac8887f9bf55c7c2e715e7abe08678597a9ae7c6163865014f2877f780921cff78d0799b61b35925d4b58e33a66c3b23b3f104da4f7b74a447c5112d7c91a0da084b13dc369d5dc4f10ca929b31b4892a006713c10b06b5062cd520c263254f8f5a1fe7d38c83568d4cd56eb1a50cde6dd5ea69f5add5250c1ccf9614ead06cdd55e544952359f8f72f5d5c0e4c3b8e3541373d0493395f85b1fbd9a96fdc511bad93cb668c677833c10fd91c639276978cfe3f8836eba26fc2657c1911a0ca26bbc0b35dcc1a4ceb1f9cf1b1964b6c8d38e81d8b6218c1e80a994eeda4d2a61bc391b0077be9b78dd3fcd271a1e83f4fb888c014f7c2aafa6537aac7ac29fb308e2bde120fff793463e895fa88acd8c1296435f25e52d95b5bb5f897e893fe1414c983989655c02f40309692cd6078e17ba0f40c3183ba6b2b3322970116015ec55cef17f6fef2f5d1f4b42d749af4ba57a6fe3ef248f4c4ea92256e4459907b405cfdad6889e875056e521d67e882c0536a8bded6369eb6c336d15da464971afd874c9ed6559b02fc77e1e8f69d764c44183308c16ec2ab0f4892e4d5eb061272baa04f4ad63a0647d29c6b1496b170a057b62e70c52c40493b9ab8e47ce18de8c0c12cb7a38a66f8d11076d19da91526a70ce41ad22ac6b4e8336287a7961c5c9a31c92094aac09f236c31ef5e276bbdb0569f74ee32aef7daeb7d3f161a15a921c7b0f55b6c847d74130f6fd679d26664a939cbb17b7b1c827f407078c59493c14a2f38bff78d10ed95392918e86a2b99121c1aa74524036a05a09cdaeaab5c73554ddfd675f2203c0a7d0ea844561efa808a1bd7dc7abe7909e94a0ef865a4f1a96acbc306908954be85a676cc14a60e2b317af8c339aa33adecaa7aa777fdc9cfb072acb33ee071dda413a320de6c3c5e69322b1c6a5c59bd4331fc42494975ba8de32b6114711003a7cca4096f5781421e02fefb2022f2ad4e84a3180daef1dcfada5e62bb347c96f15a859333701fa8eb9b43beffd428c09495ecd34933689ff89d8869dec89fe64bf5d40117d426f3a2ebd1bae82fdb65f7c7d9f21343bba55c90f51a2078d9d5e6e4ea1d206cadeeac1760534a6591832d14e494150450cda8269de51a5bc8a93598cb42b1bc839c39348e144a794a6fb11eaa68573c3da35aa3e4ecacb75bee4518b104c51265fd7a3570acb086a5256ed4013ba907800576239b7b00eaafca2fb3bba1f38240a504e063dc13aee3f109db4331d870a2b2dfd10cbe33c5734c2eb803c645bb7220da437b1555237a2b642da24e33e5d0649abf0c6e976594eddb05958bff6327a7ca05f528568126a749490630bf9069f2f8016bfb130e6e28d4c6a81eea9d1e7c25df711b3be29127baa7cf07d528f01d2ab74f9bab13241a87a8fb545b1b4292d898e8db2bc5a0ba8f162e922f655eed7afa8d9883565d38d9d80c0c17b7a41a989f1ed26e8ca173083b18ec2028871b912e830b5fd6b977cf988f563a3693e2af89a77efe66d66ca3e90471ec7acbb5418d44391b390541571f083ffde301ba088a3669bc6a25c968b927f0247b948c6d8cbcfa2e100148a21d520b9d9ad977b5b138829bb666582c2e84ea31912a196d773d3440726aa2a46baa81ad6f4d98303ee198e8972fa3da4ab41e8fc084a0240643f2d0330e12bf7e973923c1cdfda4a1c87ae5820450540bea9f8f1c84396bf79da44a05850ce170df114ceae962d25307ff8d52f409ea84731ca3b059bdbf32a69fad1848b815d73dc8d464d9dcdc6ec56f192786d4a14156cdf3e764b9b93e482c71d0aa018b5d4c86831b12cfce381fc1e2f9a671a3317090fb450c4c7df9da66004eb208b6c11347d535726984501578e1393050ca9cf3eae227a932c74455c132a3dbc5ee7f9b186e191a900322e755aa2b31a7604efdbcec8290cf37afb34dd0ec636d271252003bf36ce39f58b5797c06022a067ad65d04467af2f676fee6c4e2a53e198646cd48d161f2c9885bfff86328062032f1e2cf4b09df38e8cbd1fde8619888003c648fa2aae85b3996b749c27bfd03ff294bf72bd83dba4b7be323defb425d3a49d265a0969be178508b7ba5cb278572227700386e733a795dbafb78ff74a8b11155c107020a69cd5913ba9164b4f163c0aa31ae62c5c1c63dc636c8fbf37a8a60f6fa9f3da4babe213a014279dfae52b0aa9995b368a7bc4509516cc895623ead0278b903f70d478712cb96046aaa65b1bcf6546e3fde370b39fc52acc8bfc2ae8b1a97969dea7b75eb147e49dbf4f5ef05379ba289b1b58e8c799627d43e74bf4b25f1cc1a4992f8fd9fd77cc1fd8fea1071d2e10c89203434e3863d4309d8bb7670967f74f5b55ea57e1926518b8966ab8bbeadc1fa2d0d195a88e6b87ebb8263c316471fd8d34e0447bb83f521923752032c930ebccbc972f1178ac563e6058a4f17b5d0a28182bfe4dd5c5b993fb5174e7f3244223bdc1922eeb7fbd48d2dfb386e0d2ebc0b6cc8fb213e88f9f6964180af0ecbc51b9d38d9f185691904a52a64c21dbbd99d526cb35c05b1df9264e1b09d465dbd41b86a8742b38ca53d2cb5118dedf7d32de67e339c776ce6892ccd26aba6f73cea8fee2b8f5e1f45867e4a2463d403e09d9d2d2fac400e697dedf3f37cf547d4d8c3cca81a2e31207704b10bf2f3d99cbab89054e3869f75e0162bd9799bd470ced7fc4c1aeb7d86cfc67ab76026624def42f92af139bad197dc7a5213dab3b27588cbee2ea7d27bf2e66dfb82ef3ed2f53e65aa16f05ab588f3407aac224c56eee61149152b292a2a4679e28387fd0ff891a224d0488cc5690fb861a9a0095f9d8f6cc0b7b31c074fd1e37352724483232980aa5ef031fd1b7b303db8d0e57a584ad85bea2999ecb543d7ffa4af94797ae0c8766ed0905dd8dec70a00b7c85cf1f3d50bd5c2a9300a7054bdaafe07777c93fc989e6b6e26cdb4d51dccb7da19f020bfb07d14e4fcbd96dfbba2412cc5116ecd17986f81023c2cf5b9ccc35ec9cc3e8106925f93a43fe501c274b2317457eed5be7d6ec0c41fa69bed904d732be3fdf643b9be1df2bbaf5d05e381def7c4de21618fbdfcba7be2e21409ddb1cda2558a5f3c9f016923407458e1fa2fca4be368d35e0fceb5a57e9405246ab19a9913e60eacc9adf3428b23f91dc315096561de23feedea5e941e8a4e68c7999347df2eeedb49d17c6d657913f7ddbc6c88489abc0c7247ce8450d22255faf5f55a8d3a5fa62f255f987fb3e91069bb37a528ab4f1c16c5115b82d293743d681ff92140ca86f13fe5974bcaff599a25d9f4323a17cd3cdd8db7219832ea7254ffb4c259d5aa555d2977fbb708e4bd8f1ef032b182114d8538b5e9bd2d0bc31b777f42939efb545b5a3d706a42131311cadfedffced2d54fd2a4caf7c3920c7358a739371740356159a84d7010ce0fee0d918e280375e09d3e1d3673c706cbdd5e98a376736e99bee890051ddd93d03cd716c22dea3e8837aaf63161f00b0f1239f9184d300e387fb1c1495ebbcc88dcc605e4ba9211b9e30afe551f50303956a4bc9ce5dec5a49b475294b0bacd5795ec9aa4e00e37abf7f6111cd0115ec806db2227582520322aa2805a84903d424691b1e0c1c7132eb4f39b2e196efef398dff4d518b289d041121f4fd245477db3ce19a06387fbcbb36f4838331069f0d5fd8aca306a945fc59fa1308476412ce4e40cdb4f88a180663b42e64ff36579855e9972f3f076ac1bf776bf877fd01f0e15563bb032334e63e4438c2edb6bb627f14de89fbb483a02578ea55771db15b5dfd048ab0cb85171f5943e8310848b84d0f306b0fa20be66b4ac860afb0e9756e495964f68224fac0628461f3aeac05c4edb7c73ec6ad77ed4b0d549cb074195ad522a56e6068866272676b2b803e30c8389370c62cce358478b8a145188fffefb4356f6449159173d474db42e1f825b7d03435a433ef5ea6117dff7585e380646915fb247a116ab1ba6c346180ec46d94d1dcce592c387cf44ad19f9ae59103cf25f49ecf29a361ac08ec6a7701163fcd8a7eaa4fdc8fcd621f40d894aac719216bf322db0245c681677c0de7961ea54bed2c6e4fa95d1b8be43d8421e30d78a67c7270550ec07eb75f2b36d2b387597e1afb603facdeb52b880bb96df2b56162b224ae91d8456f3558dd2cfebcd9c0216376a3bfd238d36c8bcb2a77a8a81de7fcbbde52d926404039be589367cf01c44ad06ea99ff454ec901a212c08b3e7e4911ddcf23bcf53217c405b2dbcae4820d37019ecf74d57254face2f69bea18af58b0447672a8b7c4b903179f93ddab2b676838fa411ee97ff7b05e56ac5030f2982a3f032c9ae07eb87faf873c629d0fbf4093f557cbc2f45bab8876a269e70f9cf9dfb65048374d060f3bf016f690a48933ce4e61ab852506d1eb9ca60aca49f8c2f3486b75a3989242d5cca44ca66d560ea5d65e7e24b0f103d0f4ec727cc50d5f76f4a1cd6c641759fe0de4bdf69b05ac2034df5e86ffedaf5d2dcbe971b84f751778e4cd5fb93405aae794acfb350de5d591e91c0ecefc7fe7fde3a1b83c056a15878cebed10efcb79b33a9dc68cfde9031c2c3bb6ad9722778430f4c99cb3032aab93c50dc9504db79dd3296f35a6d273758b8d1a1fff415af7ade13bba20ee84997c0afcf2398526d1db208d44195ce5da4ea3b7f1713841da94632c937461f31dfbf771dae226822924ef3f2e1511fe5dbd3676bee4795f5a2a2089a2e1fa9adf9a2d97903dc000e3f0c6c634098ecf2b7400dce64aaa5002108e306dd02a4e548c94ffbf4e99f7d9ca158d56f60769793a6f4d67edabc31c9e28d155f22ad79f7e98cde7cf6d287e5f1a41359a9a773130d2b51ee97815764359ca6d08e6e5e2f992b97c345ea8c038d8d582a2ab1c9ccb23b7e71608297adde8327bfa694e150269f7b4373a65a06e740d820f5a6cba9df052a48094117f8da05c5c81f469889fe5371d882867263e3484805f1b386f519d8562091db94ff94b92b908359e9d32b9bdfe0cc1fc349d5711e1f9213573aee2c5ea449260648872f2246dab37e74d97119995ad8e9bb6ef4d6da5e1644528779f53d29928a2644c42dbaadc720c8728506f349f3d8b91501d1f3c4e2acfa55461ac0f64aff6b30aa6e52289d4d43e8c715de7c1196d3fa6ff4a772eb665b929f670d066bb5cc95dedcd96975cc2de3f310fb6ebacfd36981664d98f7e08e9ca4037b2c8e01a98c4050ce84200eab4b3a6cccdf07a9a4f936d807b61adbea62492a5e11185bff747fe9b4ee4fee6b07490ee56b8f2a8392c80253d8a8059108b805275a96c978b975a8b176365663017fd087e64cb20c5c35c3bef945cf708c4bc4e30847f5b4c1ad27e6a6772abd72f09c580b5c943246a1af76a3413a94a328ad0f6c0b50704fc983718d221bbaf4dab540c24ac89ff4764cff88a3ed2cd9de3e1a9b60d7746d0a0a9de17b2f5eb88388c0353150a0f6df3dc68489bda1e0ce0ca5cbbc3c3811fdb901737796892edb3f78e32ec40e15f4c3235077e1ad8537711e75962f51e8b39ad70fbfbb4ae3f9880324d6805033a5b2fc15d8d35e801b7d6903a08aada5bbfb00528455e13ccdf3acd0531eb9b8c789498fda3cde74cbce744da138d22cda0f7a4a12736af7f85060febdd3545516141c8faff4f358d320bd4f091cb0cdeefed69c9ff6b985c296d897bad9dcd845257af8a3a4494690a9502542992f1d7fe5c9b4ec5174ab73fe03b13fdd442c30d0f868207849f5ee09e725dc2baf8169f04a2a64bda27f366362cf97fdb08b0090a9dc66362b2e526aaecd5377dcaff5c553fcf92c36d2f29d504171b0ec0e768f9685390dda5b916e320cda980a6df34e3fb3b450f19d9da10d1fb68c16d2a3a2f953da95d77a33af75e817238b50252cf77c60dff8fb6cf4cfaed17598553232dc5622f80e70acb87ea5e4d747f5cead7e7834f671a442254c9994ddfde1582e9851c0560be3d7ecf5913008b55219fec7ce4f37e3d977b95f40d4c88d2b8531d9ebd3c3292d8a7fcc7f5f6fc04c8ee166b021425064bfacf6570d0e9b1aa6a825610933264ce925ec72f7543f7cd613f6eb6dbd166952fffa66509de0905e7008644877fb379bb9521f6bd634dc2d301ce0d7ab3078976fbf1a365629db6b572f7f86d616f220afea7d0576cd7f6ab2518277e495879f0b6ed93573e3ebcc31eb0615ad271f408c4362d4ee1d422588af90642ea95718d35bedb32835414b314df08764780ee64f8d7b0039480d63c13fbe4d2a7e39cef3e0f9f15e60988d85b97a6a94ba797462b643ec235347a85d68bdbf57b533294d3783cd60f657f1a3d99fccf1cae1cae2d11a204124bea9100c36177dc4a50e48602ebb9d3ecccd79586bad0c6938ea2435f2a69f4e139486dd8c21c3839ebff342c4cbb08736bfbb555f576b40c0d879ae3a9f9464021dadfb9986e001e20bf4ab2c646170c9a2498800c9993025721d2054a271a21667300cad9ae9f44ac9e51dfea2b6f9d3d6c7ef00649b56577186dc62c40e454c2e6147cee361e027bedf82c8a36ee1203add5c6f5bd759770b23334c45bc35bdd7e16865646f0f435b2e5ae1150db6a655ccb3344f900d8a7e7c4b9ec785d90503a9361f86c227ceb677c9b8267d8f01ec8cf58db29c99a081c6711da77f87bf870517e4af9a66d6c1ce7266f128f16f00b0f793370e8cb947fc73b52846a6213592584ca0ccdcca7d7c9121359508bd3d8b7196730638ea2ae66de249022a210baec24dda041b76d35d334086fcdf28bd58bf2aad3e4d9898fef17e71f8a122299ebdccce8693948acc312107bfe217eee361d4f60d61fb579b0cf15574066a98f639ccc6b4da0ab2b78c17d66c6bd42f379ceb93876c56c102e9db2b84fab149408c7b9b61981161a0a0075625ee48fc80d0dcc810ed647282a63eb4619f0a7497435d5649a672f98d586e5fd99533e1196d5b506e7208aee329696186c678b9785a6afb146a0e2b2da23334bd3a6eee4f34d6149ab2d1912b636279baffbabd35faf06d930006e082f1f861801d0b8a4039ee262c6ed2a03df7fb1a2994e00c1fcea656fe0b53f9f44b1704bc1482b89309488473f6044ce3754b7e3dcf53249fb5af441c999d6c308fab1f1760109f995688c24e6e867ffd685dc79b2b1e3a0d04510b262a07b9953c58233fb1b7f6f25df030c95e6ee81754a13f17a9b1bda058cb153c22757a3da0e678f5c22f3fc545d18ff7602425a02c8a1437f429d91526e987f33930e1c841e0688db42ea4296a1217daa5d21fca1190bec914e8273fca2eb753546c9fbdd55c836a97b429d4e9a1b88d8472ae74c1ab36066dd84d8cd61b8b509897f3619070d48b29dea4f38ac67309ca8c43ec54d9d53199183e3420af17fac35e28aff74557741daf8f7ced9d6b7f64be34a08647905685386040290664fd2d1a6dd40aea06d36c8224f19fba6df76a8443ae292801cb0fe3b3a12fe85f48c702b9040aa201d86d0d9d0d5fef33d3e7ba156c33ea529ea09acac812b2a8dcce34f22d5512c42d61b96ba26e90d4f38bec4191352900b9a58476c8adeeaa610d2c144744609867269647cb2fde6d44f4c6a0b6ab53f6ede94828cdf76aae9534bdb4bae40b468a34228288cbb862c6fc961eef8fce5ae939aa0af70d9c0c6044e673a9159a871526edc772880940cb528b4a2378b619f7b6a6226d20bbc41bd9496b73f1370c67c6d06363eead9d8f1a759f52c0e2c8db7e4c67ff4834495a2004dc8a6ee3460a57f4db97d85ee5e8e9685da7ed28981f84d4e045a1b78d3c7a094749f68484e672ddf5d827070ad82f03b9216d05f2b42f9e49a330e2bf15f811447315b76a95845f4d766558dd3f6d16e0d987fbf95ceff819c71a85dad792132f9be0d0adf6a662dc736e2cd7bf6a41047f00f4fb78409f6f7cacb215f05c76cc4d786764c7711671102187476a54cf88ddf8bfdb5447484a31f6c6cb57e60e340f62b98e44bb7087cd7dc85d1fe6b5b6d0035757445d361e123e707814d40827a1c147c8f9c196e83b9c72622ad13b713405853f785f79e161fd6999f5419391d048cbda44e6a0cfdf770569072690adaecb09ef435d775cdbd5929ef8f620928655b1e987750e4a76f6cd6e224dbbd8b64d758d7c38e44bee7ca42209124db2e4fdf6d2fcf431c1ff3306d32a62d9c1e99db374933fcc637db65fddb8d5224be504e5e6e548d33634b70d01ba89357066861ba38d0996ca336155c34fae37ff3f339f1d1c92b02dfcba8aa570304d96060b90fd32533a3ef1ce19ce46b535692e100f3fd3988d8c9fc185e8c7d2ee437a989c54e460e751c6389cbd6988687f23d3e904212e433d318f6f909d498651d3225839f028be98c3b0b0a3dc10eca2ce3cf93d7897839a32946800957d75c38f99cd5d42b95e4f88d6d041a4edc383cfcbeede2c3be43d582c11ebc85448066aa9e03e148a9d321943d2d6e2c50a1fc781d64ca3efb2a07f475dc2f3a6334425192875c5ac594c478921ac150bf854ec72c38e3cf247edbe92b0361153de33b6d0201d1047dc387249f454c6ed7ec075ba4e9bce07d2c1557b07d954241b401f8d823bb3d03af7e038550b5cb5d06312694ac30be7a9057e926bc0675a4d32899e388f17507e88db313562fd1d964aaaedc814cbf25405f01b71d219c2c8e883fc7a83c20228ba23182f2e9fe7632972c6d71b93070d7bf0bc698f7e745bc62bb85607792997f99d2b3aca6df08b8d277e4ab256200b5b057578ee362c5a3b33abcf652d538af4c52fe0b01878507f2da1d94fcdf66ad3a6295bf3d58db7a4889ebbce0ecb24e791a0f49fd88f3ee0a3f0c1c3b77de6142407acf42f87a1e6c8f32a28a19ab945afe3ecaf1cdda585b8fef2f54093dec1833d881e99dc335608c20ae6be927cc5f0e06a5f334cfc876662da5ad8893e23c45bc4d05740ea2912cc00640bc951a492d6ca0a9d083af26f9d367fb770c2b6d7289ca780addab344fdd032b157c109886e220116daff94c5a1e11c2fa66c72588538c3a114682b41d64afcff86adb7f78136ca2145162c9eb56d5218e58f44d353b5f45fbc5f993e5e0cf5a77b91da05b004058c21f68baacf7285f065431635fb0f3ce878ae829c31b00ad098347c8d825aeda85137f2acdedbdab8a791f4ae3aa70b6f80f552fcbd47f0f47db36689ef547839bf064ce0ddafddcef1a17eda1c636e124bf66d715f79256e8d439d68ceec9bed3047b3669338f129c7adc19917e5dd855babc63d0715c0048012fb3d02749caed92c59dfd2476f635ea7c5aa67197e543e5e27b7422ed8e850fbe915255ebea6d85618ab6aa6a4b8d087b82e8af33aedc578e8651b6045c7e518f67984e6f9d9141c229173dc04a41942728354759e8c17ae12ea444ca2bb322e73dd8bfa5f609395bae14f829ba604043d48e364ff012bb11fe1a0bd34190a577030624e49e776789932d860a852bd3733165b54de0f4b3227dd429e24436b87db08881cbb7a41d1a28eeb5622cff72e2393a2552dddc3de0b87fcf67831564b898153214af6500332db5a9b6d3c3a6638817cee16f610418d688438cbdc0c8139e47f405417c161fd0449d22bc8b20c233119185897017642bbebaf108ee41052b4ac3ca3af7511b3d53abc00d120482c5c5e28e1368b147a53357f97677db08a4f377d1453e5d19e06d361947d7d86e6ff5141c1b2b7830cf3dcd22220da96f008e8f2f055a3c81a2efb90717f0706d290f134ad08e4d3cfe319d8b1d507f0567d70a23fea48b7e2d270a8e8cf0261f5857a375eca99613e5a22506edf6ab3db50ab1e9fef87affcabeac09a636e85572382487ed022eef714735212002a9c18cb6d3aaba97354ea13e5a122c27d0791267cc7387af768c32e72fe91a58aa576bfee4a9baa4285974ca74cc2dc5146d0a83b05db831e45fe73e9841b0d3ff9a59c2c8f85b4cbfbb7620c8dd31936579bee44abbcd2c7eb8e815a862a7975ae4fa8a17fbaefe458070af363be4627cd65531e9d283b37dee77e24f3258ec6380132e8412a1648c309b8497854ecec46071ae45c31d125ba710759664fb9252327c70d350314cf71b03384f3c95ca6d555365a2b877e6409e9964839ebe95f762fb74b923f8901a61cbe8308fcfb78e382fc54cc824b89e0790598df5cfa736bbbd9f2a4452e4f57d5e961d65b159430fa8edf7937c815a055fd49533237b248bf4e7deaeaff28e78634c6c19536914e174e9c861fc99944d3bc3bb0c4d8321820530f57afbdf53c85253b8602ae67e86190d4a5f3f2136a29664edd123b94fdc1cbe1732c034670bacd56276b3aaf027c6a526133b8f258023087d03ead3b4ef67b5c191d1f36bd2dbfd75b8870e6ea21885b14cada32fa40290703ee7eb0bff9929751dbc44bef10a9e1b90cc5734328134feeadaf3830aafdf37ef9d885af7f91d6dedd3ac4ddd1372a78cf52b377b91ee3ae1ba1ad54de6273794fe9202d39950f60270f565a3b411cf3f79a06091074cfc3016bc16424dce3b24856ed881efeedd43e06553ee5f32818f2794807467ac046b9c61889f1a032633bb4a3404621bc9a9f16c0997f8d526aae9175743aa68de4f45247a1c856f3aab49579d70dc34a1805ffea24e32137ddb88b260917d53bf1eb34a9b4aa0d32d97d7da48dbf5dc215dac88478dfbff6028a1befce4a9dd2c7e9d63da43d5dadc68b7f9a35cdbae3810a2560756ec57a9fa011c2687b7a377c550cc62d96607c25e5350467d5f0b3cc9986f03061628ba495f8efff4063b6985860cb01a54487281f5982c0fe7d3ea360155b05ff4be19b37a97907703721fbfd6892062f3c88cbf4e50bb2405895a3b2550b38703020704eed64e73cc6631db4d2d64a37ba3ccf06ba905c994676c61fdf83516bac5885d06219c00e5b9dea00af105cbbce1e020f0e230072f03095440b89ba27f5aa33215bb97abdd9ee73aef2a7eb1020fcd2f7861ddb5ff0572d863570c8eba9223a0355eada9e83f45d930efdb955d91137c8ddd4620f0bb68e79c92eac792f82ab4da3cfcb533a95839ed1566ec8a754aef29db7ca01a3a82af89cdde4e081e329bdc37555745bfe978fe2eced882a8ae21b90a8d508f39fcaf8a0c2a6a4ad5f5830a8ab6f28cba37961852052d1306e17aac4f7a27f0c2763e71370a00edd546e16ab76ef6c68bdcaa125e44e329e92377081019a54a0218eee5936c04a4c88e1021abd956711c88c4211d3e8c7ffe309699f1bfe13382b60b64eaa24ee74c7dc6f5f519a958a920db63e77a4e2f74dfc6df050ea6ea1d0076415638322dc78f7c90c75ed71238d352a07e366f5c61faf22e1b48adf1741098675e7897221fd5dacd6be551ca8db2121a0a431fad6ad44165989c9b04e27d2a02bf3b85f99839b5eafe4aa4eaf0feb3e78c866dc9ad7f4c8904401279d348690fe4ad773170627c6864f4b1d5f5d1d25f49a77760199e4bfef38e27adfe5a19fbf32a91c6ac9813f2ed82301dc28d9cbf61b166d8125f8fac45491ecbc0ef5d8591d6030467edd31a27cf7d359226259f789fc0adfb8428afb846db23b63799538e16f283873d776659571fa5c3db3768c29655e0779411c5fd817edeb084d2533b8acc01188992a16b2010ceabac50890a4b404726c6e1daf6a531decb72a8646fca56ebde2e20cd688148bfeca7fc3e8f7c1a8c4cbbff538a823504e8fd5e2ee3460a849523b4ef7c8219029d4087e4582d5651eebfd73b2e53be5066ca12a99a5bdbe6c5f6145e754fe4d777f1d66aa55255e97ef07f99e0a039e684556c8c1f0063b915eb44efadab7a7277017127b42b4e9c7e760b322969d29a9720b6b30e902f9e0aa70e928994ac22906b528b0d24298e3c26251937a2d7314abd37568dd289a10a4bab11f278acec6b3ac41ef17d1a9d18402d628fb63c3de6d1dd3b33d5b3ae846a80117a5c9971286df070ac69b4dcf6c614c67b1c16d02c6a5cfd92ae7d94476dbb3a9502785498c871254fe958da7cb2420908eaa2179461d60eb108f339d9132397f460c7c9ec477798c5cdc2f70eb849952cd8e3e7991bb4afe807e4045a9c000673e1aabfd4b1ad77c5f7055755930552ff577d1cf5332d3614531bcff6cfea6e5018a0372578c0ad00b69d0f0cda3fc7e901da033cd21f605a101a975233476f1c8c0dad45838ba5bcd658a87b200cc00dfbb53aed0990c80bc3b3c728ea5bc89a8a094169244b52a6784e59b37a2d98240cfd993119a795b6507faf9b2a704d9f816b25b27747a40f8b35c7903b06d265b931388389c8f352ea38bad747fd8e1f4a20255c997a8325571251939fb69666f008b12fc6beee499b6a8d48091532ac6c3594099becbf43fd6531c5aa441995978bc9b798acb6780e8639b04b90c1daeb8e15fcf4abce2b251589604cfa09df39515c8530ebdf1c9de986db6b95861f9675d4e9c9bdf6f4bdd71e28c1ef95c3d76caab46e56dfb74f6fe48885f796d25e1b461ac9a62352be3173f816e06039b1c3c979b38791804d497793bab2fa84312ef3830b4834a186ce31caad2df99a5485604f253c0505ffd4c9b19b1b3ee2e27bb4cb2551de233a7d795ba96a834e2d3dc8af2d34f5d70c0520bd6ea5aafce96b82cf01c95e509edb77fb330351efccfb00276ff74f94d9e6be721eed9227a288a10810177412fd5740483d9a3d64420d48b007f6a178d5b5be4881991f60dd68a35d48f3cd04a9395d18fc8c91c5a711586ef12ca690761692693d3bb44771eb0b065f823a7fdc72dc6be5d8862d3ac0403b23833a7c4ab66aab8966ddafc6ef188b47112f45fd4a3079852d8bda9805cf4184c05f4c184001c372869a898e3c44e909b4b26543cbcb1c9ab1a861ea3ae61f8228c91aeca04d060bb4a81d4bc78ce418934a6623dc9f5000959354f5e7ba29db5888d5e95c81199f8689d4d65fc0769ca8d3c2e2c45259b6a26816ef8c8696ade3ff5437bc8c96a0be30f8a16e890dd7f283c5040682ec2a404f0ec094e5d83e4f29d70e76f966fa10697e4d90c061f979c1311786ea547acd7d0d1d87c06917dc047a3fc5fc00a0bb311e20e1f5f9d3d276240a2f999c7f08e006d553ce1d53efb12614f59356fa66545b789bca9c8ddc673eb922b5613e65ef1d13f1f4a96d5995eeeeb3b26e9b64aecf441759d2386cb99d055d61e8d54ed494c927bfddca7d5526bd2d358f9565701bd74d4ff77b61bdd8fdc47c4f26561bbab68d8c30057a49177b1fc21aab09c38b4f1eafbcafd86272b942078e08280758aa9865de464b1d2ea956f7b538b9e6764ecf7581b94df79e6ff76ea319c0c7fa11ce8ed759ff0b7e141789b264652b1cd82443f46d17aa7e637cacafcbbb84608b1190d4524d2575e487e58ee54158f635a1a3e51e84cbb0d088323f3b0f3085228d8450e630c5af6df85fdb50dbf3b063daacfec9c35c27b915a879e070e8fd071e30b17a87addbed201471d9cb27563d20adc3cbab6368472a7379f23f6060955f3cadcbb2a3242f42fb725e99cb816c0577169426b8200a857d1c55038900ef9b371656ca5d84e61fc915345ded465923d4d41128ca027c68aa2ebb83ac1b98960925f938be67d4982a8e90837a0dbe99cf330d00b3ad5137ee163ac5e21a91b7c6cf93d60a8cabb2de38b892317abc92e3e921238dcf7861cc4d83569f1d52a221de28efb35176726633ea19696be99e3688cca9596d5c254897748be5ada537dce064c5753d468299d4d54a9ab353cad0b04a1e21c6ef497883c0d92d3c53853722d6b88592390db9d9dbf5369d8d11f292e3c7810dc3ad5fac894f3b6274b394f249320e51e0565b93997ab61b642dd511544c7cd55dff316c23b8a942610fcdb03864bc0fef20d1277133a267fa230cfd64b041ea270111a0e567ca6100c398b5fb703068b9a22b943fd2d59bbbfe26822b33094fe178caa2c36c988fde86dba7467edc09c7d1e1b915b8a5b0158fde12cb08db79842407b4e361873eb00ec2b7a16f1855fba7308b4f0d2d79bdf395043d4239c6246f495328249020c84c1eba5f256da1a8a2302134373654e3c98edff80056be1e3069bfe9930fb07a6e5d750f98d6f25f240b491bca52439fef04fb18f8fc66b30def0bfd806b9fe03eb4637652855c1de917793d8b9d51af92db469721b594cab593b28ac5453c9503eaf54987a495ea33be127b52f922b75702d2d5621aabb19090510b514a7a00c8253238f4c17f0c1cb92027194b25c30517246074ef0e40ff450e4cf49972bdd4bb5639416c8cd3322b48573ef721a5f4aa638d76b075f708a326de1dcb95d956f1a1b438acf210712ca60432b46643cc0159d2a91b64db8db52359547f4fc573f6cd768a50bb340ceb3af6632ee1a1b420efebadb00545b51616f269f65722c127721c6d08c6c8a115f215ebfcd7d4a5a9075988fef80941ff26cc689fc73480b8d47a429a0d68fd221203bae9e43edf7420affaba8303e3549241b8f91b7021aef6bbbec93080fbd0fd30c027bc3ffd98b7b60de8a990a6c2f86d62e711cd49fb2c2fea5d2ee7050b7456190ee01758366c143b043348f5137cc03656f84a7b14f9ee0c8dfdac042ee528edb422b81dff77e3c05105e31ec79012c36d7fe2d2a6d0a330eed4974078e279686040ea81e114ffc9fc8548fb5897a2482b82c622bd27ebeca4fb918cfb1c14d40c7399a41a04467f19e7aa2c47587aff15110c39828826026cf1c45a8ceb6caceb84af087d0d93c286613252c759b3beee2f75f7ace803d38892634a3dce9a2446222eabf6699284b5219d638034fd24ac42a9302a7c406d23903d8e1478668239a2292517b1a0f1411db4f7fb6d15e506dfe47a6df7f39f9cdbf1317f4d19fc851733ff96f56dc5bebcb12b8aa5c5a3ff452b3001132825a84ce06ced826d5042aa23a9b50cdfac5d0c34a3630181e500ee1f5476bb4e16993c5827db65916183aae2e0ab899536f06137728421a6f617f8d82802ef75871dc3bed5245ad6eb5783d822f7b36448c585eb145182d2af779fc81016d51e1e5ee120777d016219eb73284740844ee0fbddfc49dc386f23dcada7d1eda59730df0ca6a5918bdc7ac0e8de99afd10cf362cb96dc71f41194ea77e0a13954060e18a69ac2c4032b10fbcd971c03ee8613ae40d2384fa6a78a3baf96059364a61f1a2d2c0cc4a0811fcf93d51b0bf33c75e945b21adb407a14a74b896200487b06c25b1bbed6ee0950e85c3c4b5078262fd67a360b0696454e91ad8143960a725f40650b0ddac3b2a2789ddadd4106e929fb2ed8306af760f48f2f3eef0a2ede0fabe1a3f7e40e9840d63a0e5917773170b5bc43d94baa148713f0717a7e1ae3445a3e4c1d3cb96595a642c4c2a56b25bd1c1a4b12b632aa6bebb23394e36c136237923bfb586f261c32f03d9b5e99f27ced3d4331ef098946d8cfe4c52a7265ddfc710e2c5d5a3cfde2678c4e0711ab8010ac5e8d5b8004ab22c2ab63d3f8b5ac0075dffa4eff43aee8488a180b589c34995650d478c81e780752ee791f32951c8950cf9ee78e1c6111a8e4f41feef93e1986739a00faac210a787db03781d9c8f2b9f4dfd6710e0988a0b014616b2835c21ab2bedc76f174476d52f17bcf832d80bb4b9c48e84edc33386ae0d831216bde1569372efb433d13046ecd78e2c9205378c1ca4ec24e70b2afd13a443db4aa4a6dfe5a914af5cc5bca17172e5141ce10327f1cdb8f679f1afa5a3bf55c85e0746158159eb4e5d986af585862bccdedc2a0c8454c15fa0544a7b1403a8f3152078921bbf6618fca7fcb32d734b552fb3ba28b89f2463cba5e57e149920f8972e29d7128d86386713f9bfbcd3c0ef037cb18e0a555cc78eb055ec67ef01b565ab05de39f32c9224dda45b2db1c1b90ac1c52919dc5696e8d578771358fe1646f7ed93e8b61cd6543ad4ba7c0f1b1a46df2019bdee269253f9223580d1710e50d5590399c48c8d34c3544d3f8462729f3b4ffdd93bc9c11ff1e0f366ab9ec348be11d85d7d2f3c9686d6bcd00851a02bd889c5c709c2a8ccd22c6646fe7c233f9b9ffb6aafd49a6c3568bc5fb11041f62992d576750f4e8bf2fe05cdd761e98b8fe809b74b1bbdbf62886bac7bbc8a3667423dff1c2b91ca959e7d6caa99578ea3ebf4bf3d0e5f4a48f0f74abc8d81c0e45ae5085470d70960b8901982f5f585020b3ea4372a6fae360c231846d084eb4e3ca737ece1de9e09d2bc1b48ccf73cb1172d6433fb3cc77e3fb5d45afba77b51667e445b91528b7264f880d7c7ea90ca848bef05c88d44d2ab27e1bf4dd7bf152506e7d0b3c99f45ceb9a6781e5047c0b57acd9866f0e6e477098d5724585c8c155833d63e60858a89ae84b515fddea6544f8ace6ea75044b0b8d698eb138ad2c566e9d914ca01c63c3e5486156580619f0d40801e30b0208df6bc5b81047984f85204dc9d997684d7b71512345e2c3224ae3c8b2935874af612f3b38f56becb5b14cab61736a86c2121df07a17392aa354f138707578394c18e95a9477fabea6fd2d4b82638f591da65492165228844d524db009090794078ab5ef1a3a67fb28bce3cd91f1432ec9e51edbb2adafc378bba7829e3dfccec6a9d292f3fceab929614205d49f2c4b6c4ed0f294fbe3d3e298a6d633c5088690e562f1000cd59200659c0e49bf3bad6ead8afd4228110ce8a8b008df694995837cec038722e9ad40064bb393e7b88195b40a014909b3ccce913b124850637780200f07dbaa916a11d087c551d9e0b45832aed9604a83deae6dcc066d6645a10e8d4e4b2e1f0955807b97cf5d53baf7b299d1894c3efccca077b611e7029027d61220cddf5427f29444ce9de583e5d6ea6fcee549bdb69d3f7a3c7fec55eacf5845ad88ff6505815ef6c86771ef3ce66841758f29d27e39e6e69ea79090b83a8edce7e5df8efd994ac4b0a2631c3a25608abd29c0a95964680a58c70ca333a9da87ceb444dc1506f726c61fe920eb32005aa2c18b3eae6a78fdbb72471872ca8a5c90f062af5868bae9178c22411c86d3405f945130ef2ede54982cb441cecb7d454578fb1de922f2006a7f609505500a55d0c961aece6ed23d70277cde71a8c57e72c6096f66cbf432cf524816d56272773011988501206f10c25b44223dd14b46ba1e7bbd6a005f0e0e14c6422adcb7b9d63a6f718f0b8eb2ebe1d7b19952c3f6f211f13a2dc3ca4c62dcec2ec4626a16ae68f84b3a7a1579f6ed5e17fed910721d9b30bb0d8cd94c9a482977c9ea08d66280d59bd4f0506251fc8dcc2766cf34c39066ce9b07ca5fe41edb8e2eae8d77242c58129349a0178ab1ec0e128a0fd02fc2546fdfebaad5b785c4976e87d57624901114a261f8d9ebe123c653a822d046ced3acfceb6766f24ee027dbdb1bc22fd88087dd69addde4e4bf9382f7d698fa4b48a848ff8efc1784246e48bc56efda34700799111e836fa045d9d7ef544207956d38fdf46d53fc7bd43ab5900bded7fcaaba37ea3bb29152cbfdccf15ae114a4a5dc4bd674a092a63635133ae92bd4608378139d990a8dae0c7f96b8125d72b1f5f36544e24b7c094c3f2d85fa985e20ed3ee992d89cadbcb6e13fc1e2d68e3c29af31d85c3a029098eb31e90ba9d5fe90f2b47e6d185748f906f36f770cefb74f6d199bf1c645f4a7463aa506a25b622f4bc3064ca817b75c86c5e2a5e89650f33bb1bd4880de27771d7fa3625be3486e2e25a75a739b07b83d78d3847bd7f6dae62bbb8fb3bc322aaa1ff69b9d034ed83211a4941eb5925efe90835530c7b04c29093b01ed004249fe13e1233445007197e6acc961266e5dd84a894213acc452714ef00ca279ae436b65fac405646ba58e248e67982774127870f5434912465f4ba85bff6a80291f8cb596e6ff87f9485114b4cadca65c839c91561249048a22521d532393716c1fe9a26a9b8ceee10bbceff798aee6c854cbbdc44c94698511fc8ac44469e3fd25d16e22e4ce946da8a13701dc3eb4b2d6a6ab0d7c2b7de3dca06d9fd1f3e4a929d4c25f707e20341ee5b2d095abd8615b647c1a5df22436ab5c44dc50465a87982158f9ddd43e6ce0bbe9828849d40df266a75d6b0088675529495907002ad1cc38f47f103a401051cacb9cef4c89ea10bd4c39097437b0aad482ac190e6f7d3a017ab355a09a6331883292af23135cb2b5a24c113ff46e6fa7c0ca32e5f38bb9267f2916116f2922fea3748e93670ac8b1f1cfd7293162898ad610554b577240fbe35f9fe7def86bd56dc34d5121abda3d04db26f55232d414bade0ba8311b0481704f2519a868c5da113a2046f64ba9f17e2cd3efc59ea7b22bfe19827f87df0bae36838d10a7e29d5cdf74834be748de2a0bf4d250e949e63bf47f55b3b8b11d5e509c5c9ee7aa123ab18ff6fc604dd3d6524a6d40fdb1af2e101033826dda66f01e6d7ba18c28b53d040ebfc01aa17b940ab1b109de3a50b7417970c94dafbc6a3978db5aeae3d3148b59bfda1ae62719f0c18722ff2d1cfb9a6fdc21cb39fa12b196ce7e1f6c8e1c91008e4b01bce9260cd86d22282b385d166363474fa044bfc0681cd68e9faa521513ca89a767081a5769aba9ed95ea8cd921a4dec581947e87d4be5bb3089653eff2a9a41e14dd6c54788afb8b49d5fbb2f66418b7dbef1ea561f463ee43623e1d5f00573457be9e5e8145dc44c8ade54567585bd3c5b824a734d80155d4773007e47dba961e004e7cbb6d59805280b8772b04c55a523a503a18f1c377c0ef36789c9098ba6baf2c39a0128257833bc85b887dd07f5f5d00ba16a4d60d484dacb2204dd4a13fcd45b4afe24ac81bac7c4497f79167e1e3a9d2ea9ca4c56dee769c1ffa4648c26e58d2acdb0c51e36918b3aa016e21660e7946b5069521d95d985bff7d6da1011206618b50c79ed81d347a3f8f33e0c1bd48c2be5fb0f0c82e5249a2fd7fc19c58820383d84a9d932b07beabcfd7728663b9dbe0ea17de479b05e3ebcf8983dfc3c69217d73e9202bfbf40cea9fc5c3f0293e57c652b5cf6bb0f07e11751b915081ec9f81433e9b69910d0f3f55fe1078d5f709e27fdbbd2b8813753c5959ee40f6153340f320b45ffba7be4357106958f6db7d07e279e816651c4a1867d5a44696a16bdeb5917906fa437dbf2bc24590eeaa6d6688eff673d1c81c418e0af0c6f65ade48900c0795e8af86470ef7abd219b1c0da9641901daf5cd98d8cedca70183f5a5a2ba535e52dec89560b89e23f0c44757b83691d045ebb21b16d801080fb5bd8304a3f2a1f58f05c6af0574255de6bd9a7e9ff43a6d68ece206ff6ca8a2b39aeb4c3bab315a93d2902f980e2fb8c8ef9ac43000e30c0e73395b4f44fb59d6098ddd71ca9e8f726dc1935e97576a1c784033c8939d1e5b641b9a542f3ea8594b5a4636205e3242940406f0e52f5da4b28cdf79e9aef70a5d1d553f1def7064febfaa94cfd6a1607ce354589374bad28dfab8f316bd6a471c46847cc00cd9cdb169a4605710d0d4044e4b3e634bd27bc9572f1f0fd6bbfa6c756df51639b59ab0a630b3ca43eba38cfc353296d43dc4b274b253f3c330925499b594c672d4219d3d08f5282b51ad96e8713b216560abf76798d4d2e5c0e67e5a24f4497d4172c256e774b8ab671131e885412681ae5f40135c3c900730dcae913fb669efb4af2da8c324c6050c602de39eff87daa2d93603274408067184a217649affdf91c471d1cbe36bcd68e9418671aff4714c166792981cb54043c9dd64982d8c0c6bd40f60fa4f3744c81d42ad498c39318a77e9a5fc0d0ab9919d50fdc5c8d62ed136717c6acc9f95417a258078c0f6b9ca8c85e26367c836b4354fbc1b4fdfb97aa0244ae77c2200778772f06c265c53d68ca52da8339499f4d210780d4c3306f523a2010fd6dda01387bccf183d1858fd043498b8d0027cc5811c6aecad1d7a2c6f7833b281bedd60a688527f94aad17b8f3243262dbf89f694546807acf8e7871e7567be49836b519eab2bc1c20822b0efe014f00d75057a7a1c300fda3906e91033e9e5b895f4d97e6f654ed6fbf8d83559f42e986a038732d4a9d58173d1ac0a8891b007c94da0967023e24f0cf3a0cea2c6e3dee7debbde18f91457c9bc7f565fd3acdbd0ef379ffdd287b2fc4d38c892cb0396270b8b7215de9f26c01f8b35a766242c7aec99084f81f69e7048ed9b3f3866d6aa0cd1fa07f940493651f288b26c0b468f14b3838cf3ca6f46d463f54022f0c86f33bf3b78e1997ae15525af0842a3c706cee7c5a1f333e53826f81ae41bbabf457c164a287dc4811d85c6054384eed7de46555c5ea9f38b9bb678b22149117d0ee1cd22f50826a27cc1f5fb628cbeb1f477f6e81fd8d1f40503aafa94966bbba9eb8fe60d6a659092de7d6c7438e1493785e66ade0a29083bd4fbde10b4db8217a7934796a2c430d27faee1a90b1dc9c2a278477ec7dbfce79f40416533c856547295567340b147bc9373ab277063cfbb68c6d68f5da62cd02e0a8e4d5350185ed96b8cddb1cb5a119995cfc09214898b7c2f515fef36cceec3d7e8d07d3c03524b721ac6d3f3fa0e1ebbf004d3e55753eadbf4da3ed4cc15bf9fe81dba7e3bd2566e6ab2dca8281d6629061187355370d5501a4e165da4e87a0db589fa7941f8a1b1800326e1e81e204dfa53a74a4797cf03199384b146f57b4efa41b28d0e10daeb9731af38931f2ef2712199e95b8e168565f016b3090085dae7ec968d6a720a77691c278cee0d9e542ec8535b550f5c2321ac5c930e06e64214649f517f6701dcc1e2e7af6c72ad26e6033814a601cbf45d3cd1b59d925313ca8d23138094ca3797551faf1ffe34e9df2ef86b0a000b31a3602ff4a56746cf894aa89323e0f0634f3add49f2f0ae2c231a8965b653fb7840382036a9ae839e2928483500d3e563d9d7319cff7bc868f0114fd981840efafff6e74e3e463aeabd6d6818ed9891abf08531caed03a3ec1487a39bf266ea991792fd86291b36337316e22f7b97facf1b64204d4e0ae7319386f286c64846b40405ae740a4f31f2575575519ae190718ce56feb40ecc972ca6f1008b3b4092a8d2cd53124ae0f3f0129c03c66b9c463033bcd164b50f0cbb3da7857cc789bcfe60a3b4ecb6edd6666c0eeca8c68ef9d45ed0e2bc321eb1c8f60279c2c07f7c306d7fdc71543aebbe7d6e7a8bd8debb4617154c69f95898472320cb23d75ed4885ffeb696e6dcc83147dd058cfdee22db00efec38b86b1ae94fb8340076e30bbb2ed83616c061c2cfcabfce00de5bb04bcc77b086d1fc5571a140144a8f4c56ff366acd0f3124b3914ef2f9b80b2433c939f90d51890ce1c5c808ebe52279bec0273990627cd33592aa28411e9b13d15507ce5c6b8fc598d5612a49b56180edabf4d8568c3c9839ba33e585cf34f7ecc2500fbc23c73cc489dc7c2894b1388ed8b1ac935132d7b7a173d45e88192d92db9cb55a964c7224e31bf7dadc6de7541f0a1af175e914508d6494680fea2cdc3f91d2865bd9f13af3c003667abb8d7ae45bb14863e02e31ffeeeb96a38d431f4a69e6fa75e6f0f9dfda9ee61ca60f6d6b5f97e4fc8b20a60afcce40b762b6392f310d9afb7cbb454b839640669f4bad9b8fb7a4b637f6e7a18c42a91a25618e1ca1bd8bf965a2d42609529e1761614c8371e9c4715074aa2d88143ba52bc6ee42452993266a2073f392a3e6b88528e93985c9aeae8350a0346bf512c78ede91a904af46278fdd4d46439c9558ba185f3e1974ed373307779eb2305f04b4bf58a7a9f259e772e736f53f7781b1003a17417b605f9f148ef440d2189ffebdeee3f504e976b7ea44766ff7409f6381f1c8741a92e6011c1095ff22caa084d3f1b3917dd070eabc11fedde9ace5bc2e198a145497d8383053b346466027bdafc3089cae4f4092f23ca4b9f414e90631d390a7acba7b88d636a143d2f4f120d333a5802d345f3f58c3d7ca7a1a03f755abca4a239989ae46b74fe4e5b3b2900b62a2c6f673ae001dab44965b234b10ee751df50a1fe570677f02d2af81818b59a0b3fd3a63c5dabf46447d4e65c38e4f16643d4e650412f63e4597f98cabb5ab890f59c5e7ac90cd861ba716d2141aae16ef5dfa4f22554511864069fe27e436e4c84afa21bedb024caadb663e70abddf75a67f1b3f443e430efd1472e4561ea7f9bcda9724aa1ba5c48377aefa7a70b3d3e8eaaf004473e8b6dfcbe7cf1b12f3c1cd81265ebe84e271cef9f86490a1910cc3db3df35565b6e9572e073d000e14f387d23b15cd60513093599c7748ac21325a18bdf603c597f09f7281ffa7717d92edc0536b15bf792cef2838b536fa1fbac39c4e93dc21d837230ceee42cbd18c60d2a5b7fa07060a3c927cf8586d90f01687a1f4cdb28ff1af51af67b994c783c2077faa2d65f23922a3bf3f30342fa744180cecaed9a0ac018bdc451944187a8dd5ddaf858cc05e4646961b1e3e098edfbea7ccb6bff07b6d64a320da1361f626523e45d623fd19b1c700a33a408a3a3ed00bbda71e8ef7fc880c993ef2d20dcfca329b44bfc1abebac3fe7df1aeaae47b1ba6f2ee791c68ceab23514039f14768cea3eafd6fbd629462fc48e5213b6b2fa453edad197f5857c117a6c06e3fd6954ba7c71a01c59bc1162a6f0d239dd9b9fa9a925a6e1b142c57c0d26cbbdeb7a06964768f23d39cc5bcd554e44dec2c0b800f395643faeed4730a8de14dc6498d487904ae61257c43d1c843e3de60b38a8c20243aeba2f6e2b485deb667415ddd4998a016bebd66784f673b1ac862d6355f104dbce53207410d93e4329dcb5c9e0ac6a3b5439885f65807898467014aa534b1de38e82df0b6352e657f2b21a57df492b9cba461a32181e832ab5014828035c7f124a8bda4c7220c91c4859ff6d51bb9b53d7c477e371863b0c3aad919842fc84e5ede58b5a1fd4d29f5fd951ad15f05334ec89359b9d698b1eba28a1a41d3dbe3e2fd5f9bd5fe3e677fccee9b1362e5ea4046ea50782d2fac9c6ac0385dc2de294112ee8ae4a6a7f7a06bc0eebca9693602519eaaa665458cc796c8ac4915f42bb71c4973ce73fdeff81158ecb9c8cbb0d668254371f3d190a8f8e509c7c391d9407ebcbf71f02ba5e91256062db65d985a2ec39a84b8dcee81a22b9a4d799e25fe262c4e0574c646784c29097854771abcae448e0ebce7f1a9ab4fc84e95f0216935d664222a124856e78357fae569f77d10d16ea27abeadb6b2087128b29d2398b7534371e00cad02d9f53b9d955d77c32aef6750460cead01ffba5b8e84b196a550656483edc91ecb2b3e5efa17dd24cca4af3ef16ff30e6d83658710d81808480e0234d4198eb4589d0737bd51a27d577a01527b41d74e19afef1bd6048cdf2223e75dadb9891f56f1f99dfc271544667ac74044ddbd4619f43eea8f0094521daec6db08932c1519efb4cfdf8b93a72e52d14a5d62bf03e10a44545a0dd184e902e6dfa9bc67c8de70c1ad12d1db2b3e7a92cefd06160e398b1ecc2459ec3e47e89dda70c23919b6dabd70b8e4aca27c19d54536463c3efa0f2fed452abc404e200023794d3e7bb4cd2cb3f9ebda872b493ded6b488f3182e5838277dd92d23834709d93e6a353c54974e0f88e04879f60774e4205dbdb2399907ff4e612bbf95fed372cdf37f337546b24c72dc41f7623e092eef49c370e58217cf164e599776e726234741a91c2b67d7d966dc9f0567d37dc9e96878eabe4754b8c07e7b500e3c659c4769e9b65bdbcc9cbcd09b226b267b8f8e3c02af6fc776428567113f7276ad6879184a20f8fdbe9fbff046c797a613dd79baf52ddeab0d8d9c8c7477b8a659d13b4c94f8a8b2c6c6fb759680bfaca67d65af2dd02eebe33cb9edb15f40b820c75fbc19b05afffc0d40c7dd35aebd16091d6d51c1a552f22abe23f28ecfa2da53dfc4251f1631c0181d882dda34665024339bdf5b503f79e291dc4218c66f96db3694c61390c89057b60b318f55965f3fd14f52d3412805bc25280e0e1cc5d4fcb65f4f4a272af330f3690f72f26b3f1fc025394e959fa6e3dcb436f3e686164bbda05593477578d2a613bd722cae05e1576a1a719a987d1938b37f283736f9c0650a765252d8c4369fd86a6f86cb060051c75c80f31a4aec630bfa4519ac3c5d4238a859dd15e6e61b57b3e73ad4d59b8daecb27fd8df24950bdca22997573b23ad6dbcaf6844a3764b6d576508a93a1d3a9637d485c6af33b1cdc76754ae20f7b7b615b594238a7e1455c0373052f4b315d54e43171da13ecefc4a5e70a6da2591ce07eb0d361ae1728923fcfef4f10efbcd7fc4272bbe050fc7ca439ffc4b1a3f21f19780da5c5a1ff961abe6bdb952b3c88fdb9c279484b692a5a65b477840f5bd1d5147523c16339ee5927c738a680fec150deafa4b6dd03ad18cb27b2fc8e23fc303194c692a9f8f6704754b86ecef90cfa51cf2dc5be3d7166659c63f129779652c9fea87519f57300db33e5adc0db3b779fab3a0fe70dfe302b8ab96f03f31a85df5fc5bef1d98f52eecc2559dbfb878f7d0506e466b7dd7959ccb1845907c880f7aff336c9cd127a10b70a26ea6bfa37e2cd698c574fc07987731f542137360e59acdd197780d0e95555e0ed61ff492fdeae99818df9c95d4b38535acfa7a8ea02d8ff16b111d4a5c7b53b9659a45a196d9cf2a07f2df258b385ed5c4c82b298bffa6af55b1acc7bb7412a4043885ec2f45cb6b2905b654a9ba75ef60a610b7052fbc06982992a40a2bf228e5cecb7f864cc1251fcc0d8e194784b132962b43e1e8f747f204617ec1094056d96a9f7fa8b7a665edfa2c1de28e394283a7f83b89c1a83ac09c645d080c077ef11d111abd11902d028def9ce2e38da9abf5fa25d2a1aff6db9e739fe5f5676e6f7c3f54ee67521520ad5003027e5d93d5fab5c76a3f08c66c428c28a8050f95b5b1221178282fdae9abfb812eb50788b6ca96b2327d262ac1a782a4a80b72d0c7dc0ed1054592379843400a690bd1a953fec89e5c7f3e5867d7a5aa167cfb855a2039a3e1c477f5b08d89170f6339d917e6956d4f68833908a0e9b4f7762c3a912514ae5862ada20a2f7fe03ab4a85fa162edf2d76d437aefb7de32fdacdd7afae73a80332c75df8fa00fdf2f2c4ed37effb03e752e7178c7d4836e23908d4d33d292bc127a30aa4361482c3ca678fd0bc6e18984e9f36b3926ab603a0f1609f24ca4848800e71de098c9266d6bcdbd75810fa4b02e2637ebb5bf053611456041e94f7d16ac353aa19583b6b11717146711a8a8206a4a7e2f5c5045f521afd90ae0caf19cdfda44fdf13bf7160f374578c8c754e4154bce76935e9e8324826e40de54ad7f67026d0c041cf18dc81ad8deedd1290f492d067d2220e6291b90fcb0cdf0879839ea84b8d39cba4b39a737df10c2ca8436bb97e8988b787613490008ebaeb3108bbd2e7c00497825a573af69ce260096f962cf5b07bb25170b49a9552a7ef83310f7a061cd8ded2a3128d269cd284c36ffefd9b99114bbe73bcb9f60326fc6824e6839603f6f85e8d2fbfd4961295dd42c810dd6f3b12b908ac6750511fff13cd80f511e69c7707d43b048dee7a40aca6b652fe78486deeb9551c35b94a581926d1014260efca11338eab67a71f3a3313261e223633d80efb4072aed695878cc0797773b7dffbf306fb6994bf73504b0777732ff3d90b2b72734d920eafea9121a73445e7922d64d0a6913d64757a4ffedbfe8bdf2e0e1d7a08467b880cfcb48f396521d319cda387ffef95f93a1ec74d0a117132bde93ed6c84aa8f0a913688ac3630f4761c13bba4dff6d6f2c6c81bb14a7f70ba83257cf484f94f6b1834b7fc8a8206a07d3f978ce9d9ec058fa278184ea7b619e08b5ce7b6211a51ce85fafdb99f1e89fde551f5bccb0d1a29df3ab30f07edc8e0592791caf9331c69be166c7ef2122d62cb7faf1559e2cf765c738662ffb518b585746af5beb0d5f1b47f6ac47f7013a73f7c73b7b173aadd1189088ed9105e2dd0f46aec34f1230e6a6143547e3f950113c70157a7214132a34cc47363ae3ed0da290fc04cfebe9b92a310f425d04f528909133e6a3171c7e3490344080bce78847043b09bddf69cbb83ec00d3a99b388d4ba0a996ddd3d3b314cd33fcd566e93ce9c4b6dae8959de3bb686792b08ba1a6d1ff0f5b8bdfc042865ebf6a381b044e3a8ea0dbfb079ed3b153e6effd476ebf8c26880e934e78ae9469df85b0318e30ee8007ade1cee880336f93eb4a802ec7a9cb259e40e2ba92522f151effa0d7a23fbfc0dd47eea5b66f21796073bdef396768f3994b6fcea9dad1cb9f782bf5d2dea6cbdcd788aaa81e9c4f13aaa626a0e3cecc93c3b93341b1fc27e6a49f5fc11d9cecc14fb4d9e528f7a6738ad6d1e47f8075d327e71e0a2bc59d6ca65c95bf0f504e2e4cb77e54ba200f95486047e0956f911d34db80be7ad2c31396d3fe1e39f6a51ec476994e3fb68e119bd61cb116c409336f3246c9c9b079ea6cd74d07d69559565f6ae96f37e7166b0e348cc6ee5fb0dc223220df9967f5ccc86441a6c181543a8d264fdf82467c6779e3aa9ded8bdddd0449b1a549be0f5e1fe80f9170ea816727e0f70604ab01fa8ce2d15607343eeb27ec14da2ea875a85e8d1ae841daf37078166f8b553a9d7acd2d27aefc366d440a7a5e2ed4a621cf8e68c1365185e5066e85830a3d7b5f0baaf560a0903ebfa05f3513b9bcbf89c46da96d60e578088628f182a403022757192a01ac2459947acd4c7735b009a52e10e6ac8a31988fc9e24fe1367cc2e8f05a961e789cbde8444435a2ac9b16eeecd4ba238a52e94d52709941226aa58495804cf0dd28d0a2729561a078f0b821a228de9c60a369c0a7e86a5981e0d8fb03245a65bb77ea6802467015e38856b7410f416ad962627bbff4e42e7fbed3c24cac5175c4987abdd77b1d672ad995e8dc1ba87cf57bedfc18ebeb65fd677db5e8f81dc00f90d59ec4186632e5e16275b59341d7cf933b05f34b12d17f0aa00f4b40024c5a0957a3fe77e4cb5054e12ae88c46e976e2d78bedf4f5fcc1fa0991739b9b4f54582bcf817e9014a2b77c8e6784929fa2c148bc61e19b95fbb61af502fba56b04e6d0a3f9bbbd47064ab6dfc7d7e96a311f74ba255050af07b39c17f021a18336a09bc16d46ce94fd9129c431540fa8d2d4c184e4028ec583cf11f4ec134a71c502983255fa9cbeb097028df30881cbfa32f121534eabea1e9e88d440f2c82364ac86ba70326eb595caa36141611d6ade6efa16eca3be3d6e46739f4d92684e4d39a6871252d3f9dbdd4eabbe77e0c3e4361981b1af7a50d96dd58fc98cbcddaec3b24872d27873033a5cc0cbdea628d826386b5e62e595573214408f4b7066e9acd8c52ebb6cc2556ec2ce70d3b91245bbb35c4aeccb655a657fa03b3eeb923b15213bf48dbf42d821bfeb53c0c088c391a68e032ec44319b27b5442cca21cc92b8cb1763f8742aba69c6b3bec28583dbbd6ccc4445108011429eb74efd24af28c323dfe40d3450918f672137742d582c33e43bb82dac149bc4ae6f737ea8c33d953bbee94315fad14b10a207ea25a2fabf3f00313593e772dd89b560c9e272fc143e28be670ee96872b651e5baa2ba27315bd80103c4818b164342f7c211824d08fe078714f1685ae8b754129c374ff57b412266439e31324bb2b031f89495a1b0f735b6593d12c51a2492e89170cb121d2b37c6b9b40b64d647305726dc5a6c03cc01a47fab0b7b72b7036f9e26de8eab862c79018ff59c211073b6a7f22d94430551e521d9ed68a0091e983b1f84c3dff06fce77a53c574dc1555db30f93754a00977aa03d0d15117870302f49b2142e524a237ba723b447be72379b4489b1545d3fff3e7e505acc8b9a36c4dcc1ec5dc9170d16946a070049449f833ae26b8f0d41d145166b35cc39d98d743b582f68c8dc105b98ef9ed24338a0c3979e141d14d62ab7af16bec1ae776bb8593eda17ea28648437304696b204b623eaebefc3bcb1a1b8442781937b2369d4d4afea9fa7187b33d1a2d68f83d00e4cbc8d3632d41e05189143dfc07fe1215833edaecb98314b8e3bb5b5bb5fd163996c505655beab1a716db72938a8b8a00b0459bccef5590c20440ecd6e87ac10e4e05456d302e1323e2b0ff0f57e826067728a81073466dd34b9e9a2b005e761dfd340e04844d1334d93911bc4974e478c798c75e3c2dd2da5aa2b175e312f8ae153de67887a638808ee04e5c3f92eba96ee406fcba87e2de129d2ae36cdb39986b6685a6a00c628862a0671968945d4ef4a4077bfd0f1b4cd6f51374f5dd2bbd8a46c9b2be011ccb862f6aabb20825b01065bc075287d9dd253210ceb55c2537c0b7f1b08bee432532282cf9394d19fc029a25f7c40f86b3ce832fdaa39ffe0e62b803ccbe94e434057133a9b84133f0128c334a5ca6c244844c2bcd0876628b134c8a9c71bbd5a91c6f49fd82cdeda8843d21f0ea75999177d971811fcd9955eab1e3705a77c3d79cd84061eaa66c289039786efcf9e19a6210ce28719cc77a893478cc66d461c0897b5ca8fe08d4161bda00e6f132b414b619bb4d01f9c911f447158ffccbf230c805757f4bcc8be59cc2e27b2bbe9a50d80b9fa4e1fe3a1a96d2c2dd6dc827581886967d9c435c13681f2be9f3e51b19cd7107e2f5c19943b6dd735c4554c998fece4eadcf3c4846bf2a69bf1b255ab0886ad0cc41c4a3e75a0aca7011820d01fa78f02b16cc33c97003bf8b98544ba6a2e071e61c775784d7ed25afd6068069f535253ebc1090f4eef81aeb908fb2c195c86c9d05150a08c36e4525c1a0c42581de5c57f8b79b63923c75d497bbf934ecf548cfb951c15ea52fb11c64b8f697db7a5e4e6f1adfa20e53a544f9b40f67cc7a6bb48bd7331c5b059647f9ec8745adb28c4b0153a861a7a418a6bc03df8070a83ec390c8cbcdefdb5ad7ec87fcf01502569a7f36fbfb43d3d23711c29d9d2601fa89558fbb4bf8dd45ab60217edf43bc20ebbc1fdcf87a5a61d46d7930de7294295423ad5df0da65322d486d4dd6d9cbc809b610aeb9882a01db19436d91a96b99aba1f4024002b105d9f84ff261473dd49974419ffeec44accf84687e8243e1f6a1e2c1bef9efcca680f553b408ea1c4e8d0b989901167786c36133d62c3160c5b52f137cdf5d433c7d5aa67769385ff7ad0b88cd134c8b29279d017a910b1c3c2f59bfc53b492c8fcc0ceda673d6028a3f4a3611960738455648bcec22f03869255e624994b0c6047f56e96fd8510ba6c69a49d0105dd3245beece6a1ee35390bfa8a53e24e9abccd1013bb52189fc144c2908ffaa502ecd37d40b06c2b8ee92a1e6bc6256c7ef6041dbdefbf872fb3ef58661a93401008a3c04add56c29a43f09a89ff0151bf37c529b0701e2fb34b11bd508d21ace7a6428437d253be2d1c749d155e7a48f6d067b86d40cbd3394d20f2ce5fea5b393015f30e10eb550650e4dcfaa43851dac6920bafefdc9653610fd5a66f774b382f509df5c6d5231eddccc229db6a43856d502c9b316e230f0d5763cc41e5e5f63343a6c2222704128cbb1817ad70584983df23435bf05634bf23297dba4d8a47edf5ba99b81ca0ef1ee858d550c1676f525718e391b0a42ffeed7778498dd7cb04408f945e453021be344da0409e3022ffb7664ca2c6632bcee70d762cb26731702c2d96614afe6b69947c2fcf9d7c31e7d300e770c69542ce5dffe64697c623598341394ef544c884771e355f9580d91d244857b7aca6a75f3f69b22abc0d4f83940f0a9923dcf433515e2c6685716365a92822a24a5b40e22e809f4f753c2dcaaa1d659cc7bd983fae81b3ac58a9e08dfbae817917cdb93b7bd8b0cc31a19e6d240b020797dd081dd09b7850d933beba82b355c54ff26dc0ad3d2610220cc0a7d1731968ea9ce4a754c316b67fc9444073d3e60ec644b463f5537dba9b12c2f3135a93a8313e9b6822db6fa0ddc93e8d4986d5b5bf70943a35ae3f4865fac90ada4a3d7478a28821a218217e371a13acb5baa7e7fdb68e382668d0ba01696923038264e6467bfa3e5e9591bf72bb45a2dc15d57577f51db4b23ea25cedd98069556493fca6fc2bd76b3f827955448ceae189c8d91207304a34d7bc38d48ee3a8e1a0a25f3d5d0bacd26c79d2bd1ddc1b8a5f8475cfe3fb3a37a801ea4ee0cb6c19ad02206c1849c00b57dc949618d4b4a77b8cb040259938284e29574e855cbdd3ed8de985fea278ccefdbfe85bc4bf75d6775b6d8528fb6944ff34944caa54ec13de60a6c013846c5bd39b281654428d1ea253e1347bc3d63971bcface8eb49b2290315c5c945d434333811a0ee7d228a87ebe3da4cd64d4c7057f07d225a3a32a6394fb8edde4ab4d58319e3d4f0ff4c964a9b333932ac0bedccf9a4563e73a7088d72d145d6e2efb37690550a96638d5f0c7215f84e263ebee49a6fefb8db9c7a422d59e2f0e90618c418653377886829abb4f94c9fbfc306fcbb595e4d18129f9aa31a427d302cf4107497ac8bbf6b781a1a881f00633c53345b52a8b5e4c8b2599dad56d2cb0b657c3db3e96dd7f487073b25ba37dd7260ec941b6bea4cc65eaefc1e15d9cfbe9b536161d297c03785604d84f543455d9e1d51bfb8b15026397e99393821d7ad22857c20d1c811540e1ff0379d1a908f141ab495855a44b8770f17063088459d247ca15bd2c85757b0b555fa4b995979f3eb568da69f9d2bb7cd89fe4866ec47c9021029810ea4b98e161e8ecfa25f8b522c5863f4c13431e8f0bd0524be1da4bedfa0e90bd5ccc6ecb22b05c3d1f035b86eb6ab285cb4dfdf8b8ecfbd201109a120aac300f99944509413fe25a2d2675f0f6134d3203e1c43a323d11f137613ab0460930bc09cd1e295b126cb51d0a36f1007dda9765f611b78e6966d948501ca9b5a3319a5dd4747b4803f66a50fb5a8ec52ce0f2d8106c97a1863a815ff50fec647317af4dac9b6e6b2cedd9f027e526785bd1392b6cb5d9c00111f303dab97462b3493655497ab1993d0bf012f6d4d16e161574418110c2003db56e75227dc7297de04a044e70f855fa60aaf8b9f0cfc435f5fc052b192000d2d2c8d61bef1b59770d1306b6873d52e67eb76a8f965c150aa61f4a55ac4f234bc1b00478e552dc1dd28d50e144426c68cfee51babf0a63f3eb443f4ed3674bb9a345a69570f65100ddbc7cf90ec04dac1443759ca69618861bbe505a9d2f0905d963150643784da7b2def3681a7a5bbe87ce9283981d946e54286b18e94eb78379400512b2a7cc514066621ee01616e77364ad3e25f295ac27f93a271861938c8c5deeeed0609a4554111e7ddcbbc3504e012c23c9d7956790f2e6d24a47b8b2328d44f2b5ce23f32826c817f5bfdc0e723007be40b36058bc9572f29a990ae6ca994fcd37dd5e9d7ed8d7edf23ac9b9ec6a00a972f710ec8dea9b739ae5c0c3c7d1dfc0bb97c43fe5fa33e7fbe0931a910e8e9bf0f7ca6bcfc0e997dfb37a21613ef48b4a7dad0e79825605e0f8a4b72e909296790dbf6a21351fc7f52ee648c0553dfb154e5ab007443f5a914919a2836f7ca33f25f6c9539431a2851c0584083f959ae4ab47d17126dca9c5fc3c8ebef8d31b945ab45366d0eca1166043a70918599f3d325fc2d917e8ff359d43d925f4b50c8c3a0539648299041de87e983c96793e7b73a8e848e100fffac71f6de71466ed21544350bf528b68f25c1fafb11fc2e4ad83f787bb8b54fa2c4832b219bf7d3485ea7dae149334887a666a539e330c8143608fdc77135440a7c7ef93adec8d10225a20d0e141fb230f9088f4a4cb8d69779216c2c9d6dff8f8fddf1f321542174f969b2bf3f0e6e10097fb338148714ac8e0f03c70c6c82f7485c2ec0fea215be37477f92aa2393c11408dc4d9fc2c7b67b5a771105e1c5c206a44addc2dee5e92f7599dca7ccf87d61aebdcb5d6bc18b4cc4d1884d813f2fc01311c409fdd794865e5e0dfe816581fde744d40c26cda0ed48f75ba35b4043fcd34bca0fee18872a404ee44f7bebcd3d3c6b37a7d52ee0f91426f787612af3b082573815ce1bb1e2cf4d2685886c6199836b2964dc1cc6de4f86dba88518c1429f4f845da5d9d2b7eb2175077f1fdbc0097249cceed68ec8be9e53dcc0005c82f2ce59658afc4eb1fb88744e96f5c9d4082ce1c8c3b90fcec312eabb9fef340a1d923913bfbb516f806f06840a954b38f7576d404c2c3a68342900a7e2c48130d3d9de122e8e31d62d09ff1f93511e3c41edd1bc1f8b25c9abe129643b712f9396698c089cbd8270fbf6fdf23d0a25221f8c2df810ee01c290bacaf16401028f568ad47d9771c554f26ffe3e7ebc5571f956cabe883fe38f68b0d7ee67ab816bb61af4f85e08ee50a7276ce2885a820dfe42f3e836b9f7f633611aad5be12d37334980d6723ddc607e7254113a8534f797972994759fb1f8f2ee341d7d1edf1c8c4e4e3f584d13d4f3303a6338a7405776521deb328e5528a91ba4e055e817e251360109578847e3e9dd969a8f75ab7825961ff4d4e75dacc1e9caec7f75c153b4037079c5c5f6c2b24bb26ccd8756ece57701d3161f3f9822be8503dd4f738b41002ac7dad0e4a734350c4b0680a325c87bf2c395c5522590d8f7ad359d9f5d89b474c2bb5a0a99eb60c8c8fc56f88cf74fcf81ceda350ebe40dee3a28a01444e4b4e7a06fbdc5b75f7c4023c496c45f2a7a3b5d2938000d7fc86fd73b31837e24e28ace93f9417e60d911f58631b3c4c1612ff09cdc8c89631bb29d575436255ec88e30d12eb03a3284896f1f1ff0345bcbd548f0cf6680650b1821faa4c5dafc5b05b9225ce853453635811bb6180eb1f2057af45db0a23c56aaa8d7b1496c92be9589ce041520b4c6b55e3dfff7a1e66f7444704db22c38add609aa6b955043d6b43a9a10a772623c07f58d6683ce5db75c8c7359aac01b012025777c26e76e1635643c7bc6590cc38273ae5a63c913208f1eb37a42770f0ce636c8b16b9351fcea34c9ab07d5919f3acb3f307fd7373caa36148f00859f1aba07492eb4035ccdcadc43391d0c18de10b00b189da76eb958e99f0c74adf32e0080b51ead279ab681e56cc21f20ee868b93c3b1681632c722fb41369f8a18676c07dc71eca92bf20de446008a5fa2a24bf4c83c2d7aea0a0cd535dae46664885df6159332c409732628fa47e9326fb24ec37f35b8de7eab900d3e88ea6a669207edb7d57b81fa4f39de82d96788b4eb328de77f2e2d46be06e7b0c35b4d4bda4472007aadc49ae797a9f4d7a57e967acdeeca61cf979c6e098290517b703cf4235e18a28bb316163c6dc1b8465ee133c4cd908603ed98b7f73218da2bb907814bda65e592aacad015695dda95cea75fec7c1df6315fac3613cbf4779d9fd39d03e5d70c9d4082fd382b097c1cdfbe195f110d3253bb13c56d523edeb3c001ffa8eda5335690911bd7f94f2c1221e97647378dc481254c61b75e8f57d100cb8872ce30b258d229117889dadc25ab7b2458613bb77da275117bd644216ec4fdfe41d55deee3c5650f20e3cfa5959e04459be81855d55f4c8e3d6a315a56c4ba580b72359d9ef2d15671380fef4a4d12f7a258d5b209df84c4578b50183cc8733ecb902a3d19b56fb37573a63555449b7cc8ed938f237cdf29ac2cfa3db2fbcd2945e9be1348f2905a1443212d001466dd82b71a5333576795d14c9bf596854e2aba591522b01e414d02f500ac87c37fa09fdf1df6d3c8423ce731b540c00bf4b044d7cf48b3fb135b20c8d8fcc7e07b668f878353dcf0534925faa4fe5b3a7f74114d067b2ba7926921411d381e063f68e2e5db02fbda6782958a89da2353aa6b529a04c3b2a93b73651c93d75e790278c82a1d7ac5bc8794b69f2e4183f423d40b45a469a2f2ca61d3b64d72aa64e8a74153762817583287b7332ac5658e5a53715712ac1af7642cb5d32b47b3e41c34fd6be937d117c761c047663dbafe30a621121889926646157844328187e5439dcaae3e1bb9288d5b4459b0705ee7877a5f5aaf7074bf714658caed45497e8b75f47890a46f8f1bdf85f72de50a0fafe417f600f1a3fd114db2b07f69aa6705f9f1eeec480f964f1b671566a594c121f161c368c0c34965bfc0078d2cce7b29f386274d0efebe6a57dac448c768dd86252d67b354b07a62a5a96b27b52fe13d49cb693cb8129b5d459309b55c921b2ca3a4f8fffc6698c13ee5857fb093054363947b1d7b5ac9a03fa5865ad614b5a4fa290b880380665784a57edeafec9c15141c2f687db8cb7201c03f732405effcf553b00a88e3177f3b6df037ff712c8a46f74e6edfcd1819322ddcc0a07cbfd0d616a3f52a008cbcf15864073ac2e6628693a3f9932f279107871743955dd4cb6a751373373f5e0edb502a903bdb8e9d760ded4f9e6ac55958665bd3e7de6fc43859b0f55c9d7506dc7c47f97d006ca606799d7904d76a9c90fa9ca40c46e42e5688712a5c75d46d2d07ca9bdbdc034b6a4302b9c232532f643cc8ba60f4ad5bd92724f8c7a27d69227b5bdfab819e9079677c8e90beb20885247f18d1a813aac897e1a2fafd0bfdccd75ebffea906c777757de72e9de65475569ad2190fcbf0f050bbfcc5a1d96aed19e90a85d6926db8bdd9316a295c6369d754ce9ea8f9a036a9fd52ca4b33e2f25122d81e0c5c8b192159f314f979c7059cbe27279a0351284bde977ed42d560188210bcc09eb0910478d35ca18793c1677fb2083950a1b10fa86ed8fd2fc023b69b64b3a42ad0b812bd5d6246224f2f24e3fda3c71712d535f2f6ac6f14df9f15e78f08192848a5215a3f5e47b5566aa0f0f8f7bc9fda6c5d221477837ffac2b7988d74d169917ce5cd4d441c7122fe086df4556e8d595b68c49c29a3f65e7dedbe7e30f80e184f3eca9454d696e575105403d27d6488a46f46bbfacf639e53c0ecdd08c7f0c7ae86350a6656f405a8265515ba7ad28dfefdbfade23268208105fd62003489a8e07e46af36b520029e994d039e5624010867de47ea39158536c22384cdf4f82bad349d1ad919f120416649928937c625d6c3a3e43bd089e9a96a7b7d25ef7847d90cead1c0030b6c00def73d9572843e17491a118679bf8b6888edd0277589cab9a138aa3933f3144743153dfa5833f7df3fc86d5c3a44d6ecd7200ecf1d858ca1c760e0dc202abcacde6ac90c401432ff54b20668be61d302b66ee7fdc7f8687a36656afb377db24bbfbf81ece765960776c95be070875dda9d9a9ecff68ef9f9aad948eb1c1c7a3dd3325368327df92ffbf4413d29044cba1bfe43c24c861ded9d825444e5987944cb1292b3e64008a9f250437542f3aacaeb1a89b78a4dc361dce0e9baf5739232814aa9970c29a63fac0ed982496c1415a27ecbfcec03e6e8992b101c768edf428653472a91044b160cb6f05f746626e59523429723847571c0c65ea295b49a61b08287a51c9b81f14edb7756fd796f4c5c97932a9f3765f83e26d2bab00cceb8f7e43e3d0070d57479e2dad1b838123a3d0a164feee8b71faf2f27153b3612dbdf640eb60bed3f62ad2701823118fb7be7e198d300706db15a2cd5828ca277f0ec769856293f9846ff2239f5cad166344e6c38e1b51c164bf0398f969d1587781a94471775f93b42c4825188c3ca4dd96c91eebafa3f113289ba7362bfb6f8e65e5c5ffd6c41a8da294291a01940beb81ced308031fb0d5049196d515e4564fea48597c3ae0c235ce4d32bfc2cb55a2e44a5b28d595c26fdd41298463efe517d8f2d9857db748a8fa0d05c91146168c1aca41d6f226df367a84be8bbd9c8cef1bd8ab32e73f7817cfd1ef15ead148ae8ad6f938240aa2a5098bcef809f29fddbcfae438faed29a4bbdb9298bbe2703adf955d1f9dd7c3d38f11c666ae8835a06a1b13fc926b8fd14acdd091744d1335574f05e8aa565d9cbb9acba3efd97468bd2127035e407983c35b96b5f4510167ea24c5a27f5035da498ed12a96794f12766749a12ad703c118055f37ceacc19ac4d0fa476f24ff1cafa130e3c2fad1f327fc09ecf780f2a575888d2ec8ec54e3e75ef64d2e3323b6775d9b10b22931a605963721a3854028396ab8994e96a5f1f9b5279ced49e5e237eef26c32514b56e4b90bb7c304447ffe0a45509591faefa36cf5c503c989879b11a108432818734ef4b9d9d91fdb94d96787e22650d4c54292dad414884a5a39dabee7b49e69e3c94d58af8545debb3d7811b10d058052d43db70f2fcabb49bce4e00ff7ac86785402604db63cd1e59b707578d39efb799758371835f130a965c39ee22132c336cd0b81abc402c51d29c587fd27cb560b8d84fa8a2277f7a7223e0c32118970a14492c577cdd69871d4a04d0d9e07b55119b0c0221f1ab853f11be738aac2279e0f92ff935305ab8c87736bce852d178e25a1bae3659db50c93ac693979feda57eceb79502a38e5247efe970898b2ccd203653bc3dffef33eb9bd29cf5f81e9a666b0c64ba3c7e43aec1dd4895ad9964d998eaec62afdaa96feb3c7473d8516ce38813d67a05d2e8f1fb69300a15fb8a64a6db75cdf33ff2791bc3f27c292c2a4402a9fda10ccfae2108de26ea0ed041f90a0dc0992e558234be23360e59be04d9d3f2efee6124b592279809bf416124268aa17243c9559bfad8e4f030462a632a0e06ddd097ef48667a02dff1d2de2567de30ec0ba7646707844ecbf2393675405bd4df0d3db75e862635d8441990ae8141dff9e63e96286ddb8ec300d6185c40b220242bdc5a3f5864ba34b9c25cffddb04cb20138c3e6b6a9d37051c45d70e359f2a33516be65cf3238e370e4b504e96300ddca9596471f7840fcc21aa4ffaebb323547518c0ad86a0fac70d9dd3a293cba87bff7b78c19fd0923a2c4eef39809d502c2b8e92852b26ed586830b4874212f096f3d22fd86fec39d04fa3e75ab1e518b469753e44d67b3220149952f3e0baf810d3f50a9cb6729bde433d2a53e6a3f54fc91558d5d8c81dfc617d127fdf90fc15c6b97d85f5458c62ad6680d6c65f51ac2d9466a07826fd49d777f6e82ad160289194eded18865f0679e54e1ece919378cf1c480e32a0bfb8a808ceb38627519bcd6796e199f95fc73cb82511454523a59ef214f8715f8333354c5946437ab6bcdb8d3b68f3e9c3d228583a3e6110fed1d8a74c01d84b956e5ed4be2f2428442d1188eabe5712375dba865f7db9a3209b2a753f1e50a443675a3be85e02bf0e0cb355a5eae94c3731871697b92c8156493d270a98592ea4b0af7098c5d5c62b9295928d687be7ac8efb7607cf855efe0879aa0ccb1a0e47ec79c1feecc4f9eae94ae204b1c25c80a498fd1af692b19f00888fdeb2b789613831dd1018e2e6bd27387a58cf7d99234e8636a6766c50813e9aadcf39ceac2a5b049abf5fc0d7a67787313d493230a339f3f06bc071d14809c9c1816036413ea37d13a93d83151bae06c8079d26226b8c433b50fea564e12fa6b83443db8a36d8bfce2ec1205ccd53278a8fdc32f9db2217f536f78b96da54457ad740575f2941b126f7c564beb0f197c171aa20bbba779f09f0e0b7b4886e299515fef04b711f4cc3da1ab53573c4dc44af20557dfd96cb7b759ec80d3dd417b15f8d868818fdab12b4f8818ea239dada01c58441bdf5313f1e3b00d5c1497a165f76e85d3bebe16ed28dbf40deb30679c383ca7fd6d57d8c524015394d144f7574c4c1affe8e0d0eea05e74f6e640a20ad661e70348fc27401c38fe6d9610fafedbf57c5e1bdb492fb3d6d02cddfc62270def87e501303edd4d85d0b224baced3e5305007cffc1f97d047bf3d122d92d1ada431e16130f8b6b1853b8ed02103e167cea206c170f99cfeb7517af2289d2ed75f8a21ce77d3aaf7b36dddc804e37dbdd216bd190f99cc6b3cfbe76928ff9cd136564ccf7390d9dedca6e8354fecbe7e756998e003ac88f9c22717a019941b85341e8d394f13165371d9deddd8ddcd7216980393f68e64546860b6315a61a736b526214b5cba232561672b1580bd0bfc495ba99eae5e3f8fd9595a889fc5c902f5fb19557b470a5287ef9ede4aefce2f06453cde1251f04d1b44b6c5f5a0e4bf38b02774bf515b47741a791a58e81e292777c17f56881c85b8aa48d79e9ad00170e970b6d12dac1e061b1d34130e26b9f8f49dcdcfc1232b3b9ab05ab335a8acff66cf52f4bd8f33046123b0773b7caed2225312d435391626ed73c4dbe7e341e106a6b03a311f83d46dd09387171705b6e9e9009eb703ac65c5f07bc5cb3faa41670bd3cb99954ed564f743d908b0ced19d789494fd960eb58c3fc98b390d62ce14b27b89fdee54111739e7432fa4e6e44ba0577c0344becd84e6d41da195a5a21730ce1baafcb4908b25486043f766a1d232676d029cef6904a821e8915e0804fef8553cfd5868386565bb8f28a3ba2ac65d67587746453e4b4a4a9a47317d81b632c14e86ce8d975cfd7a96a08c3b35402bfbe2e58f827a55206e7254ecca5f158329af93ba2b66503ffa45d6bcb0b4080d1c4556ae1a2c505b5173edb77a957d62d1f0fc4d3998d24ea391798cff8db1bf4bc085871670f1bd1131cc6f4d4f489262241feab7ba728ca27ae2e29f6bb71295da6ab3a4abed26b83198f70f5510eb4c4d0c7a4b463655f02c6286a617fc3cc485980e1c26f337e09e9b219c316e8595b16a30e69cef798db3d47b9e1589c89dcb67b14ced68f064b536b479e0dc2590a8a759558fabb354481c0816bfc482bdbdfc126ba70300ef20c37320105159187b720315c78c5bec0ebd6bc1317028441b3addaf1fb7ea2fb13af71d0c4e2d7225eda787191f563d3b7e419d448228d8b6c4686198d9db3b3ebfd3b5f286583576399e83003e9bbb435b30ebd8a3559754c80baae2b92b1fb4b654a0c3673b3d3af69c0f517154bc437b90c68af198a1e81c5e4e3977ba845fa9ec66b1fc5429db37755f4da7ccdf05dc6684697946401066d2c47e13ed77824fdb1b7bb3ee7cc686291af94b5b3ed0851f2471e2bf95f611db300e8b86b6069a0e2e772ed0f5833f5bde3d9f9d0423dd35afb85724c6027709f6193a6f353f14821d19954380ee560f881c5cd4aca8075f91a453349e33fb52b4c0fb4ad85888cb040c686e0bc5684c93b2e78a17a49b4e2471ec8129182f2b6120b41c3b45abb7df72073bb50cd097220d610ff7c78e416e0f3dc6ccd26d24f4ec14fe220f88dc7a44aeb16b74bbb56df4d9a8c906bd240979d6689abc70740357dfa3ebb6ae8c33f40a111a738969454475cdb4bf3b9cbb40fce27701873039dae30d999ba9d427490b39ab085e176ec4053013cb05285f2aa40e64ec3e54c1f5acc4b6b2167c1ac387dff26c3e0eb24910083ffcf4ec0ba8d611e1adafc5c8ab0600948bb0a024a6b7aa675044b6c4daf36a1262fd164ef87bf98d429e3ec1c2de6018aa1f763249e3d7ffd65fcdcf20cc28f0f714fe6540eb2cdbd8ff43552f5ce8c02969f8a6930d6fda215eb3e948a48853b8202aedc3e5c36526b8992c94161bb1afb14c0cbc1700115b33e03820cc6251a18fb4893fe6cdd62ed9159de4669d7ca278e8b24d8754b063dbd53b8716a6d95d96ba51d43aca72a23dc24758a3c1b5cc5503dacdf6a187d245fae2bb68a8c54682c40281ab9243f8028889c14fdfdcaf2711ad4c576c898314df05ad272344cd41a96d073f0c6a56dbc5fc7102e740be26df06cc0271fc89c1f8fcb427c3c05ace4758c9ec8491e1efde2325adbf6e44521e4bf05945fd2204fccc82c2ec3c75985924d37cb32cc335fa2835cc062ad3403b775a02f3869471bee66ad004257744052262f6d533f2aae64ab74961583aa1fedcea3606fa6f7a5d9632dbde449f08e471733ccdfabdce6cbe51706056aeea25248ba12213869ed0cd1c0b5a7d2db15430208f2e4620b62b4cfbce2392ce0c67a744643df5020c49d220c66321693be4439f9184a2fc8cb592f66dde4f7634f2c0db25c47db6bd911ff153c57dc0500a10b95933bd225ebe8b38c5a473dfc9983f38521ba93ccab2cf8997df8712872b1b5b5e01626db8fe48986ed9a178d998145dada5380d67f731e1fd66237dd159f63c2c91171dd3369197e2d21123c8c68763b887ca1130aa418505365c94d89469e87f3ec4ae9e65011e7d3492a7676a902b40b57ef5a9062a9542ddc6541944c025cb0a798ba28332b49d72891bce0ddf2030aa0330b482043c4aa69d5ae22e13975948f255937a9e501dac134c52b0a23f8fdb46c6feac20105f664fde1c0cae57e173e3876211b70918b4796e4f71dd0323e631872f4f9d3fba3a2d724b22dc98290c6531c43373a5ad4f0be34f1f1ca1ce3fe8df474f1c391e5702a18afd6c3ddb357324099096f13a275083a77af8fee56acf4e73c5105690796dd55c700bb092bfbf6e36c3da5bfa3709da7e872c6d339d4f78ad4ab0b98a205ad2a9c5c4a6dd886b346a82864ba9869cf033b9c18183589e8391f9eda1d633b824a8dd1868e5262751044ddcd7a8550ecea26b509a0ada09e6dea434fc1bdc18ccd3205965f3259ff94a6bcfdd7aac6bc11fd00d953b1d5ff2304d4fa61aa3e825633ef6460417042dc7c66308a0179ec4651d07fd895f415ae1178b63564612319226c383bb50c5010fcd03227779df4cd109589df0149885bd3cd1d75ef68545832574d58ac666b812ac6c94ae1d1078dece816c326194979cc615afff21d663da3fa834e730fe42cde6b36e4bcd88147a3a2c066a9f2f544ed49d45eb855c891af97546c31c50a169942b01f0b75143c0268e0d2e1d721762bbaaf54b6a36900806d8392b82854502ff361dfbeb2d75e7faa8f60217e34e6a37c4f78c3287d8180c54bfb5b0be4ea795b2b9d92880d2cdc024e9d4d34bbaee4883e644fec9290d323e91f05b652aa0ba104a2cb3b4e3911e066553b3e6acd9de5e884f0cd2e85a03afbb919db2af3b83a4f8ea38460b901bb331f386526016ea30eb713b3f0b98f1ec6c0c00c94ecd86c9736ac8483ea88dda2fa45060936b6e3358d435ac0fa74c2cdecf78e12b88b62fdde2424d8f618a6e0dd3884b0c597c436f824a1a8255bda6d4ab71cf0d2cebf44f516ef13ccd11bce67a328349303f050c0d3a484a5ba8a0044635eccc83f5c68c956e241d29c6cabd3b38bb3ef199a76dcef1b932c2001c89589ddc40db810df29c9d8bdd0c02ecf11a8d96493a653e3ad66d5ff9c3e27eec6d3d9f3dbe7709deb76a901b4971ceb358c26a3e1150cfcbe8e7857b9901bf2721e25676a3552874373192e89d3af758dabab25e185c9c0e449a88cc295bc9e6019a46751c16af622a68dccf123a253666fdbc2efed7933390308b571ec06d1e04f45676e9331901fd62300be47d0a6b0f97a3f5e916f7666a0c745fa2de818b0552190b61b48da2a03a6a38234c3c4846df645d1fcf0c3e54f58f299692cc3f70ce0e015ff9d72fa1ac75d8ca0c5eb590de1d5924b0645ad80fcf2546a9e8d924c318a175ce3e490cd562373a79453f212ea50e581f2dde422dfd6d752e08dbba936d0255b34c9a65e07f007b9b2130fc559ab7b5a9f3a7c7061de38e5f7fdb71fd8a1fde353c53c12d8d061834fe2aac90e58faf5b313591e63389cf2f8ca11a8e5c4f3a73063e8f04786612ca88acf0b46cb6d42d0bb2cc1f4fce014bc1c68ae8a25f33fb22a3ac59dc5815e40b159d404f11b169ff507eaf82f6a6b8f3e8cc4ee9311144aa4aabee520ab531ecc9d495a46a56b0c86b919b2f763c1d0ef3633eb966b8c205e71be8efc4722b17454b784b3661b402e2461ed560352696d52ec011d611ee1d0afb6cf6fbf25e1221716fd04720162028c0e9982fae7ef303b0aa46092743f4aedfa1a8da3862c351100ae836a22b5c59fa57c24edbad625487f3570d0cb7325573d0c7ec4181a223b63fc6376d82421364d866dcf183ea0f588a8196c2258b1298eeafcbf6845234cfbb94faaae5546595e5548961bf336eeee04af1b7311ee03acd96843ba2024c94a8b729464d5fbedda8f092e3cba295496f6b9f41bb6aac0b7d03d10c1781144c429f5e085b49cf95a66900ab1fd4daf8be8ec71da4fe9ee01a3e9501d0e7e2214cc6fe407f602697eb4c224516fb317ca4809e5f3642014ffd2485a2a1ff6d9ad2087d2e064b90b2f7cb94db28e0ac2696bf306a67796c9b7f355df76d6e8bfcbc59372d6509ea95b78cda5a7b4f3e8c9fcf929f236207f892f39bd2c25e18b6c2e70b748ccaddf32f6cdb7640557faca91117fd94a9a40a4d95aa91916728e0b07243583d6369862f4d6666f5c8905c1ab59271d6010ac23dbd8ed0f5a8d7bc485083d61eeb18902115711502ee03bc15185b74bedc3c9fac8857193aaf857ab1fdca50e85c92cdf5a1aef5144f4de39b484e53232816b6f0ec53b28322d4cb79806e61784006e67fb7ae6ddfff1ed295e0ff01f750bd32116d60c33b496488757ec1ff57469264d63c6fa248c22cd934ea24360d836ef74f848e513c348da92178202126ba812526564b95e21aea41e6d2674154db289a6aef1191455b2c72bf25d4de84500ee849fda4d09c571d3bd51a925d0bf6bb4199696f68fdc0421379f14762dded16c3343113ba021cbd5aac8d54d5d5bfc2d8f57969cac9542fb531410b1682c28a468d0d201a9ccb98a7bf68f8ac7119d3c72efb372788d721ec4747489a9de1ccedc90c0570f06142013984a92427890a9bdf29f5f8725defd984292761735c245c597ccd6b827eb777e80aae973558ad97a94a8c258ceec71bd98f5abe9ac4853818ed4e23ac6bb045f90717151488af79332c26654410f0d3dd6e28bbdfe469c39df637dab00b40d0967bbf0aab59ae10986eee86478ba5ca63cf0d999a12096a65d5db165a1703b2beac5e67b134af21c2f51542a5a70b990dfe09f419f15f9331bb7149d10783d144364627ada8e7b6fa86ab240efa9ee65b956f5c93b4cfdac431791938cd617bf04ff75b053a79627c6754f2287215183a555346add58955e2212b29ef926f4770d8a67824289df4e54d1b4ec8a49f941f3c55ffd026077fd68ba5b2fb309a2cadc7d753a15a18bc83c28a2820903311de513ae25b6cb9ba62ad06f43623e956837ea5beb1feb9e3d062086fd30152a0b4d13fad9d0eec019489350d94650c5795127f4e9ae32d8658359de91894d4cf55f2dc860feee71ba655c4b6246dcb3e4dcd35e153f951f7df1f6035a644aaec77ebb7471a5af1e737e38d0444e1ac20cd8171cb0d020cea1f6c67ce8e0f57b41ccb2ccb51fb89c7db38376289c2fc2240a97fb76da23665705deb3ecf9a56145f1ce70f3be60f51bffb41deec8f3e8763a5e4268ffa2ef4319f38e00e959758b0147f6bfb2e39be9e2ac35ba1822521618fdf22e0a154cc5999f49fe180090bfefa6c1c5cfe7da6b66f5dd8f9184aa609d5335a995bee39d4efa68794817a72d361c89e740c59d9e449aeb759bf193fce05efa9296f0d6b67fb50771b8dd15a230666b90accd8bd5a23868a0d10e67e10708cb67ce49e79f85236e90fea4184589f9e3816fddbcf581ffc3a85280d6dae2acf7d511a91c70fc41ffd84daac7b4b951d13c9b8b8276b076414107b555ac01df4d3b8ad13c579ba927d46054a081d053d994c7ab2f5f1c3abb279de7874194e83dbe987a5c5b514f869ce3aacae455027cc5863deddd64e71014babba884dcec045d2b0ace2cab521c1c1a6b06dc0ae613181ace272e20a86af0fe93d27cffaf5750982694038a2182621effd23a486a4ba7c04bffaac5b7401bf5215a0836926f0a7ec62460fe322479027b1ed50d502606fe618d144d882cb3f03566cf79099f78fede6e13165c0b46b6caa1cc1805a95d41882df6ec028c2c56f8db2608abfc5e49b7aaebbb4b5f02c8db45b63a451f32d51ea6f93b846534416f63355ef50aa4a55586cb4c1ed81e8e0f02c550f5a2f970308a665ef781a79d69647fd95ca35c741a5a95d4d7dcc88d69a380457539085ade338bfb9d5ac8589510423f35fd7c32dd8b79d23d5ea83bfd8d9d9db310de4cd27034fbf863c01a393d04288a0cbe5d244e965d902a4677e37576001a8fb12a30b84a9378d84ec27c9ccb3c88f7ddff552e385b4de51d83566390d8b6ddaddc6c9086959b8bcb82b85f8dca396f1cece9064d853a69f5469ecebdc31d977df9c98d87acaaf5ebf13153a3899e88af950358fdeb8ba58e4610fbdf9a5336deede8db12d6585362052f21f4ce8d4d20b97282b80e551062129963660ed173789ad882580637bde7e340416bc03ad0d9d4fff3308aa72a6bbf70be048e270e68f1358230c68022bbf6a67fecc2269ad59614f475d666f920b1641c857e513ce12e65bc5ec8144dfad73160b43551aa41713db0e66a83f9b71c189325e07c2c1b94a362668c058ccfccce6219987625dac37fae4ceea3bbd636402e6050cc6529b1f95e2f0f53bf0313879a1a0a0a082665754a028628cdfafbb900740c551c15a09a0f79b9e026ea1dc2664e3a17d05073476bb41909df1ec0298e5a776121b216d64e7f276905587bf0f6bcff72a72d8a33fb864d531af70c27aceabe40b3de18277802f2d870b403a514ab288830b52ceae3d00c92b8f8f1b5346b15451118e6b8baaf3f70473167cc4f9d33bb7cf7a368ce02705582b305e9a88b09d97b4674480bf759d43e77e905ea52d3c852548502dc0337f049267a5a023475ce2e4ea50b8cadf8fa1155beab8c20b09833e1d10e5ba075f18596e9f61b506a8462c31477f132ff70f6fad059fc94ccaf7976e9a630b39c039fc94fbd80b454b0eeaa89ab8c24ddf0c9830e2d75de854ff5a94b0f9a0fdaaa4bbd9e5ff10d65c4e83fba9ab4e213aa944a64d29d470ab9db6f97bd985f56fd4b4546033055bab76499d9bea6600d46a45fd20bf9e75126c30c7c850369cc13f5ba05e93fc166a8972f1446aef8ff3675e6d28d9047d4980cf2d7ea42ee3ebc8fd295d8dcb7c139ea701cadec4131b5a664688ac6f1c8bcd0de3d3d09517252dcff4b823ec414ee8f476651ec9751f333a66325011a59dc8bbcf6708d82ab9c2714525552d7b81717982e3557268b29d883ff2aee65873a7f72629d55c357dfcd46c60910860ffc6b5fcc94aa0cdd9bf4ee5edbc1db6a87cb29f6a2689cf2959c9ecff59a7ad56e346664b7b93715d971833444cc2406faa53ce19a3c58b73da39c7d56b593726fe084a84f28dd7e4f4bf9a83737d5e77d6400481c89d5d5a718d5e0f9093f6cb6df35fc406aeac23a2f01e86efec83c14f1137a46f745a51b5b8650bfa36f135c03763b076c903b2c0d94d5ec2f034040bb6a27b20b20aa5401d69a7c98659838256ed62d6b48d829cdaee96231607875aa2227224f3e096ddd55847415aac4252d24a4697f07fb3464ab0b1981f418fe0e2d4984f5aa0f5bb479476ffdc6164549042e355a648aa23998eb129af5a9fb65882325cc1aadbb2c3cf6ca39a05f8e8ff228b6bc5f95897402ae42410f7ccfadffdaac9f83839bcb0b942d800e697ebbfb756f0718ad8ab143d0ec359a3b93479c52790b5987bb28ca2e61717573b4a5069310f54844bdff9202f4c1dafd52525ce5802d8c94fab819f6ff4d649a7390a88b71bdbcf1081acce58bf9d7824b6ced007326a6e5f65ad99b6ec7cb7cb3ff1858d70517c737933508c9e50b43aad8817931bd428a1dad6f1fab62ef24a0203af4f89c3b3691abf27b7848256290fb56cdee1395be851e48bceeb5e7519293ed134d7d2167447df2cb0fa935f30af7f2c2a1515de292cca98560cfc80797480d96d39fd8408821e2959dd18a8b819620143f224cd459e759ceb1b2920c1b540907d569dc2cb9768502f5bc0fd2fbe29c73c16fff6353b9c0db4f51112f9353e61d4a955bbaa4b9be036002a0e1acf9a6a0004daa71aae42504206c122fcf6351f20c3bb09eaedc12232deebfea879bb6423e7595a2aaa6face1627e70d3656d9e4074356face763aeaf71dca6aa345e4f7cf582b6ae4c1944cbb61407e6b4b0e034f92c5c4c92aaed24fe1a40abd523ec67e9c911bcf402fa211d800812b4eed1bafbd8afdde52daa18d1b81199fc9c2592b423a2206db097718a0143b991b4a3f36a9f7b2eca5a92b6e6f4ba40496e050590c5df39f8cb7715e89e28a93f505639aa9f2fa9890d72ba1fc092d2fac571f0125c07990dc93bb68ee13205ce2b0f7909291e42b01c362b4ddc2c752d0ab4d58d04acd0873b5179d68c2dc122a114a64c2eaa1d10d6f5bcc5af6061412cb30077cb51fa933005ddeaffd4a9308c2314e9b2945620efb8a1a4a5551eb943ad48241fa877f793f69b17d6be0a8c74dcdb36b40eea51164478e234c6b938acb78ef9e1a4a91ff8830112f62cd7f0850703f436ad6cbf8bf91317611beb3a420eb51b93296821cb85f4dde993a775aecdca833f9b6d5713ad50d7ec2e9c5d4036362ba054145076068b99acf11f58e983ff5b1746c3805822191e03b67206e6c1b0924355cd34d8b106337006715eeffe07f56fa972427fbc2492fbb3ad22ea29c578a0a9db5a54462a652c1f0b2f17270c936b7ac617e3297ba496860ef878a43a5c24b3c049623bc25fe6a1778fb421131437ac32dc793b9f79d5c1807ae8470423d433cdff85bc0e0727551502565e2f7554534bc12346b2a21cb5e76209417623cffed3f0bff61a3f7de4337be7a2824fa030cf990d58474c4477131e03fdd5d7539f826ea16e45a9e0c9b78eca859c0f2da56bcfa0bffc2d6db476efa73bf0c7d6bd50f4183d91fcad3c8f98818e3bf9d2211a57a66461c07643c0492bb8fa565f1113b19494ad7384d478392c7dcf83333bf52c8925960ad9927837505c8ab6881ebee54ff1950037b57f6ea455a4aa8b6ea877e9ae2b71b974640f2b355fb8268d53b49f7c64a0928253c45f1015aa205aa7a9d70ba4d6db0714550ecdd6877dc90d72d11e3d2a98eefaffaf0205c77e6b6140c102ebf0e965612d342bced7bfeb9f7341aa5be3c0ad7f2aa5684345246bf76c846426504995c5e6046ddb9c4922c842f4a8d3e436ceb185ab381a2ceec4a5bf63b2e8adcd6a29437e1a7ab27e3b0750e6eb84eed37b1806dc389796b04708de11f5e79f5f4e369d3f4b256a4766643a7f0796b5e8ff377eb4b2a3055a4e90ff0d51d5eec1138da9e0c33301f24629b2d62d17f0bcb1f26a829d8a5825f5317fa353c0035f1aa865355524aa6d8639d60582d4b9d3bbf0cf2c07f0e2517f12a8ab6a89922cfec7c545f4cb7c5f8823a6f056cbaeb2a5b2f307bbff73265ef62c4ce310552119f6196617a7c3ba0c85fd77f9068428e7f0699743bace4ce34292902297ac8f4fa7acc05107560486080d90b8fb22aa02712d0678b46fef750bd8c6c676e4345af3ef2025eddec6346438e1a6476b7ed21cb9526963c2802cff7f81da5c11d9c34d8f4eb6b9eaefca094fb92deafc469077c8dd113546c0f43e164385a8bb81ad74ade9fc72ec2f78ff9826d30cc53c38ddc9b805090b4c5939610fbe3a99bb1868474b4c519d0941568414363250e21349cf35eb73b3a6d3a969a15b6bd6b0fea8cd6d524d9319957e467489e0a3b1ed5b7d5123ca23569afd283c1e8f37fb4cbb4d05642005f95846546d29083920b5f0a46d5f1aab3535a8b336739f5f346faaa770517753a1eaf2ebd9c0a669af8f348feeb40e977cf89f20afb088842ab167a2ec29404f8e85b394bf848aa97795f9e4acd71feeeb1b4cebbf049ebad96acabaf7178d50a7f628afff5bc19324fcdd150a6cc3d9f8c3169a86e97934dd4ad82f62d15e2d88d4c33a950f720587e158a4ae99fc848d03aad352f982f568c21be1eb2328318d2bb5d972dd660789235564a1f3eb5678a7d3679b6d0affc4d6f0d0f0d0cbd5c0e6230c5aac3d6e53a1dabed3a1ee5e7a0c77f76e0e01d5f2a064db7e05f4a9a3a5045bf9535975a4ee2a3db0cd31e8a78e96a0d8933b212f3d4cfa72aa1a2b64ecd68c5d50d18b77ffbdbaadf3f3cd76493f9a2d7bf6e680858e372b4ff323be619e98a82d69003b135ea4bf4d542220716da2cadf0184c111436696198af6b31399a32a5bac6cadddff058124c208093561f200e0279d22ff900f9c0dab471bb15b7e9aa461a58bf7f538680eedbb30e65999465d832e5f23c0cc5db48c643624ff9bf37ddf5e7b675d50869639fb4a69539b510859a09a1045c983e39be5a42c8db866ec648f5f44d679d8a90c6edadcdfe25b0d9b88a5faa71836fd2bf0d77b16e7ab0038f26d7636a042888d4e6d34da22da0d4977ff8e8aff04a47adab9c629a9aac93a4f7819dd9f1ff99488f470ecb5cd6957d65458559363ea59733ea2620cd75c7ae69bc3703792730058c71b15688152cd0562fae5a0f48da43d816e34c8609885423bbdb474347465c461f057b12a20562be95aab82220686af58658f16c0ef8bed86e17558572ee92c1aa06211fe52a8da6054bde02946fa3a5f3a5cace6b7820194e644f9d56d0422bdba1e8747e29f4549d4c9aa657c7be994e08387cc9b1e5ae30a46d90f5bcddf10662d0342a5fc0ea411afa30cae622f131b2bc07a947f0ace4cc93c58c378f82d2b08d9fd8887edff580ae91564a20643d07d2d8468dec15852565a1b1efe0b9d032e0efefac63605a05ae161f981e1a026434a8cb7b8663b07f8fa3a7c13854b09c7c3e3fd63f8affd5eeac427c209c4a78e246a83d272381b5dae375bc7283799cd8e06dafc9b1692bafae43b563a387739deeda048debbb09046a6b7594b41f12937f78bba325f0927fbe59d67c5001bea4c62eb6feb297c94685632fa677ca845145ced76d57429bc428ca2d9c740e6b20a2ef8f9ee6c1276f9d239f416da088c57568573d33d30303f0e8b8c1e91b2e680da40005f78302f1a6f98059202d4714ec3e4d1127177e5034348f713da5be7f6b90b8243adebade1c1445bb3a815aff92bceb90aa829886ade565acafc155ea4cfc25e4224d92ddf8f242e9264746a574d9e371cc575cb5dcf429a2940d43726b17ad7442e05ef247b619d5ba1b02913da24e6de5d79009c10a32b50bb8b60db39b1c5267066f361d3099569faf07b106c27f6b0e7f8314da795d9d7090617c6eb272989b8b77706ca161c5f014c42e0417dd0a8ccefcf23e6a701cf80c4064b1f0ebc8f962e2fdc6c14323b14214d439a4d0fcdfd6b70a9ac67d0d5b96adcb7a6728ead0c1321aa57f2cad6259705c886f3ace5247408a8590adfca7813f8817f4381f7431aec6dd934dd72e13ac1506a74429dbd89f934c09c941c6e023827b672e5eda62c274676f22c488e5f7ff373071569ce604467b7392ce6f298af18aafc4f68534efce60ba780a8bba5fb4b779cbb871a2b3f9d7253461589436900ec0e07ca40d4b5c28ebfc02596ebefceb738e282c493a6ad1e5bb490d27d5520e5f1b7c5f945264fa1148ff765de24bb8ed122c1f71524d3961e4c5890b9abeb94c76802f77c8d5cada9dd93fede0bdb7107f80cbe87eaf48dacf1533f47413ee6608235caaa42ceb8bf1fa25bf2534ae62e9aad17ace6f8faf6e4c6cf85438c2da3d9ac50ad6e1377a1dd3e7a262af7311ae2810b188d0926b3d85535cd057ceda5bc2685485f20c5268cb8d66d99d4f26beccd1016c442f43adebcb3884ad21e61f80ea82a7a29718295eb0cdbdb0d2da9c57ce4a433cf394c90abe8f758a4b17aa22ac377951236d9d83738a52cfaca8a8c1f24cfb14be669dd409751e4222716a389298afb88cdd1bf3213320e99aa46f767018131e5ba63474f2575f4670b800bc2a36739e9ab5d8f0df7c3518909750e4b06e69358a6f8855ebaf354603aba050b95aa05fe6e59c76461c252667bb5d92d158d22b7f53af5cabb737cf4592ce0a035f8236a1cb95415b28d2b8f166b5fc78b2fa5cb9645cec231cec0823591ea43e03abda9652ff996c12ff15ca8a68f25296f2d13d6f8cc38bedeab7180ec6f153f2c23b8a738cd22bd910ef44fa536f28e6ff6da42a4a8b61e6c69d7e5444f8c9b2f27a282a246295c5ecd1449b82d3eddadf4f06b15b17e36b1fb5c0ff5fd8c71eaeaaf55f520fe106461a074611ddff7bd5ab742ab9c108bde66cb793d7c03d3c1c2bfeb031d7c31b351de1dbfc9f1e8a0ed91e65c230ac999349cba59f7819366755f4d5aeacec8801bd299eda6c5b0f9c1944695d803eb4ba8721f645c6a4343514a73fcd52126f7045bc44e8eb2ab0c9646ff0164ccc24d0aafb8d2f2728a7ae321d5766e134aab39f3d66e6582245510749db1ee285d88486efd153ccea03da657a095d6747577fbc4f644edc6331282189656788b56d2bb2c8dc63401fbd3ace88752fa53a232f515b54ce0e06383dfc1bb18733067b8a17361b9b6b28a3f9a4d064ad32ac73235ad0319f1b08d0423055073dd9d2864d843e2a3e231c595b460206cbfe20058e81326f40178a4de9cf2a29b7d7c882ba4798ad2056d4afacf1d002e07522f6714576f07662ca4dec6498c8c8471398ee07dc23cb1eed8fc5ad4f620b2f8ef69cbeeaa6783829d9d283b677c6b786d55264e5f75955092dd72863fcc6d5b418846ae201696ef7d9bbef99d14f87474c61335c4f386fa405f54598448278591145d5e2095ae0e8dd9be35dca4e856114958e499259a981c9128978ac287f9c27cbe979c302d362d129047858156df7b31fbfe4beed1aee70f59848fc23d572b81428122a3fe9995bf0fc428abaac2098f81be226cbc60f9dedca7d612a17c62899efe2a1eb37455bd24a83aa40b97c715d1c7af66afb47de08b777c26a2556d3489246f560723d17657d92b5c861560f5f1f192144186026f776aa17420569e17b3bf4db9d219baae3cb0a03920873b6fef4c74ce92afeb952ea3a0d0351397ed9a5915067742967758a7752f818173a62501c14b5a708630559fd6130605cadc026b29447f04e3749cc8913867ec4ab42792f4c9fb4d80cd51224e24672be81420405730f4cb752676d2561ee1d8947bdafa161aecc6b06054b9c840c213bad289795e3f793508b65e97334ba786f9836e4551900f03e7357d3fff61f91bbfa0db06a8050818dc49f90bf9ee63ea98880cb1e2b51e01451f48e658b91e5af8c3444bafee6b90d3d7f155395ad02959ed2ee42faf0301896468420634c630ed155b6b41ef60fadf529d2c00f752c0696e729602eb5107143297f6197fc777f889dc6307821aed84b482ca70ff0163aae40e76b9a5ebcf7e16e0ac90f41871c619d553e055a178d378c530a0a14313202573f671d86935ee2b3905d8091602dc8800c929750bdaa5ee9c70ba4fd25e16ea1d6e8e8e03a41a1be164dbac92d7c3dcea83d903c854c79111a5e5d0e077585cac81630ef9bea0c7366813003021c2dfb135704a7af5fb9b1eeeaa94c687e477d7a531288eec8a2efea23b2ef989a21c4ff786e285b6afb3e82326678d34796cfd83d7e78300a5c2e53294d971c9a56e041d99ebb9b7ee640702bae26f078dc2bbf5b84bfd9534ba9db6e674c8e5bfa9ca3f968bdd44d3f7775cdc6e98db15f847479d6a5d9d781f756a6d02bc9002b381cdf66b47f23c5943aef85af73ae5b3c9f3d4f7665181072dd5e499dc9880ccc17c9a3629ba70d5f01dfa816d9eb51ae3007803f1da1d8406b4687b1c97f21fa8f7e1bdd8ae2c5a75d593dc10e78a2d68ad7dc3e6c409b01068d45038b4b46826df049f268b7f0381b12eb057c4cf8a27b7f4912cf69a2d33a183b5c5ce48788dbdc1dc556fc2abebedc8ba502c087ab763c280a84cf8d353ad1635a6c3be5f73e57537218440f2ab016ce5323212efccde2886cf88f82baf170aa93e9d6c06d505eb06db41354e5660976aa2d3d414589422d5beb2d3ac3e7e7d86831ce93ea2857dd8cfb1f7fee1d8dd5583c6ef0d97d42fbb6124a937162ea8c7b29ff446e37d17e1e015df1c941db88980bfc60aa240a16b13dac4d8af25042721dfba470dd626d21f7661ea2386cabdd38f7f63da46e5919874f45b1369f8c3cb1b5135f79f66c295618080c347f468dd502a2a8d70dffdd68c89d9db185f2019708ba465cab287d2fdeff7c832f81077fbd8a1a643487b48b6b3549ac5ff5f6cdc4afa2a17d0ca59cbb84c2b434917936bd210a451afc7c180df7ef3b9445a1001b9fc7d7a32902ca04c60c483e28fdb90d6d7c6a510d0da77066ce870e40a54c6fc8667e1331476eacceb5c8926b6e056a7bbb016be8ac1d88dc925dec4fd73c53c43ce03e9e9bbfbce25ea9d489e012860bf6589994be9a9b4d43ec6fe9b73574df8c3fefa25afb26fc9fb64908d81b93111ca60d8172c241477c392cb7fbdca4bfa6895248d2e28f402db2a2ac1fcd36e060f47769bb93b693de6401fa92c85a24fa1b6f2f69b5330a3cd0db2ccd0bc7af14d8a1facc9f72aba4655830476fe3f98501e42dacc68298384130eeeec294e83f376421d434068a3c41e12c72b69ec8eebd4bab9cb0918081ad617a41537d2b7b56b4ebd5fe4b8ab46a76897442a78ac9536562b9cae08dba88b22526f6f6b206f07024017087b0943716c1fb04a07410f52b826a6aa55066b56bdb10c16522941baded0aa9d41830aafed58fb0c2a7cab8e171053ff48d252e9e758c627d42b640430b3922d1baebfd34a6af5c87f011a06e794be95238d1985ead27c07a142183009fbe63392c2994c431860cab8a12a2acabb20b89d3090730fef2dcf737c1b5816278539e890812f3cbac6afc8a0fddf298eb73b3224c4d9bd8700349b7b556f517d3d0bf58ffcfecc19fd3a241974363b759ad47784354bd6d09cbb6a6f3d79ff30b8d50a2ecefbb38f8a0848fe41c174a2a05c430213e338578fcb5917bed768c0d8fe071a0edc84f18d9888da9b360fcf294e20ddf9197d65086eb43938c5fbcb7756a62da46e43e6a17af6cea2108b01c95f2b2b1bca49cbb1abb1f312ce598ce4c7dfe445338efe21c186e10e82b8d694af73d92bcedb5735fa0d4f6b8905fd620759f156a4206b12bcf75f3e6bb1a93308697de766577435cf3ea0204f156c1a257d6962d8b71a744ed4437e216b330d7005d6a1280a0d6713263d4770b48232fd08ff2f1326aa148c804e4b077b7dc6ad08b683b16a1c0fbb55a6d1b472f3730328e32c4b1f0052bbbcc956623516e5b46254040dd6dff74810e928a4a0079106319f4d929a992b363f86dc3b24865fcf1d3c90a8d90591b1606ddb67890dbf2b40105c5a791a0531c933bd194774197d11b417630596f62e99edc1b95722f2bdee5d53b4165c60612ba217edcbabb98a29abf5fcbdfe0d9e481b00292dfdb7b8013358cdafd02efda3c1d0dab1f0b748a38ec8df3bf0de61dd7744a89d514ee7e1992fbcb4f9d078627b8e9b9342d58008b6d884d8d57b3af20380c75d477224a86473fc236902bcfca6add210c0f716399931bfa90f7944d81a87da8635f8bc885597a30ec0032dc76e7d1bb26fe0c4035b208481f4a673272f7b58dfa21c6f8963550de59e28e310bbc7ded58006e56f7d44e9358de02012e168de9d958274436fd158106d6911c290707008a656625791f0d19e059f6a3217862cc10aca0127307cbf2e9801c7e9a9abd84a53a89d371b087e4a6b694097e3e94c9b518929df3255c1709a0f001c390a01f23811e54f98d440bfeb6100ba9c6230523eb021ce55011bb4c0c5541c8e22e267b5b1cf049aebb63b4abb3460fcb9c69863f9c3cbb53ac62048ac75ec44edd00fc42ea5eb231fef07f6bfa35b37bb634845642637b56c7714ffb7cd403854a7a69bc576d842605195f3040db7fab9c3e1c21ec6c167a77818454542259fb3d7ba872e369e47d7db758eb02108eba66aa358a945c99b1a1e8d49f009818cb9c171d242a6527d6de012867ee197a9ea174e3829b7bca9b896bf0b6f3258ad92786417440c7f1ef476f1e00eaf31a9b3ee6000224a50e024856c2a86a08283c05b1e05dd18e2719a72a58e61d9e6a35c071e3ff2756359b0c4de97a8e3afbce246f618ed6e0dc47acce461c632128af08a200048d7143f7e9274cda6cbe4f70654bf60d6671d98ea7d3f88625cd5885d89956b2ea8ea08752aebfb45bd3e8f8c51f0a5e98093814cf92220315513aff339ee0dec3018a2b321fee6e7f40eae9a96e4371aea32b58a1df951c1ff275ea4131eda97ff0e1d969dd1fe3c789c964eab35f51288f9ad4288b818753563edc3a14be4741d7f35f98134e8ae7092755ad436b3ed1ffc13dcefeeef40778d09b87b84058af471a0b09b1e066d6eb3181ccc274bc8eefc9c2e954570d2c494dcc789fc03b464ddb95a39744490a28359abc4f4062fdbad1b27a8b55ec9729053c017bd2ed6830ae217954f5b94f0e0bc56040a95d91c0f181779524eee8770aaa08dba4caaad232a29c44d34d57f94d95207e5e3c440ef863dd73b4584311c01dcc6f625ce2d1df41203d7cdbdf27ff5f9939b9a662b5c75080ca569077530f2dae2acd28b1a8ffadf637f28975764a66a40242b3e2ac18bff9a4c99ad4e0f17383aa45c98f88a002015e15d29d8e0d5cc06cdb58d96278141d6c9c60156c1fcff46f2090a2d482b53eb3f0030ac9ea60ec1a848a96de476d2a79c8fc38a098bcf4bae6afb317b050652e5c8f5a1334fb3c9cabf9f7555fd8fb1f38aa73b15955e94233baed100eda7acfdf622d28a0c48707d260e09ddf0a7ac735a5926824682625d4b0934dd0a2a869af20d1ed19ed304d8ad1ff35f0295dc2e173bd206be8857dbf550b610513b3284b0fbee10b3978395a47d5dff47ec13a78a478354889f6954c5d9b0971d8c89a68153def08f22e72b44b0f01a12f521b03738f24be4522846ecb1d8966bd1085ae0552acbb376345ee2cbae3590fc9db49cccaeadb2cdb9d702df3333a900f964283f8007460c5b9d8f10417de5ef01e754150150d97a038f2cb8f3e819d08a9786e7b3d3c5bdb6694ec49029346785221081402d160897cc5399cfceeb070b0378f5280cbe378aee7fe1857474772cdb1713cc2713e4916dda4541f6e420822a79d5e97c7b500e806dec43b75a2ed3d45b1ce900d31e7d29f00540041001e28e1acbc58727d3b9e33cfcbee19e38a346b2cd6cb79fc5073ba10d71b9e804548008b95d966d3bf880c2a837ffb791489e67f0c0d752945c790ff9ac7b16a7b5aac63cd947a904b2fd6866e7fa1a9e17156196d5e669e5b1c0a868ff8520db771986407bde658bf49c906fd14215c39622d079595a5a108134e1e2160120b74712806e840d734305ff632dc8786d344df17d0dcc71d641ccf3bbbc4f0523d36dcfd07ce8d56d13f64ba812705a2483a5d197d81e84d767f6238d5e194bf9f104b5d8cb3c96629dc1aa379926f9e0dc5d970065785e3a1eef61b70473ace5364ac915ba73d21bdd89eb82c23bb7c130d106ff38b51e3bd9c94d763284858c2f14a8e396f43e60c40311254dc74752c18c6d678f157e106fa7801266639730295f15f5e281e29d6c060736d9a8c52f79d4936626f576aebedfe91575b97d4a1669c1db95d3256c006eef3af02e1ed1b9dda1d5288af43bea9c53f54d77370db195fbd269451bca2bffb6675b615e274e93f6db8a34fde8fb12b35c45e69bf71fe295b567c187014003c955e590151a74d63a0486a6fedca71a3d13c3a89c4c84e6a91b7999a24885bec888a46dd9b33318ba3bbbf3bcdacecfb74c702cb7a58c006d944abd0aab7c163211588b7cc6c7005e564e951c2f64919bb390caceef25f118ea026ce70159f4f62488d04ded3b99150d16cba9621d377ca2cd67c62f81607f8b33de40f6f5029d5fd47fff2835657fa878ad1b1d3ec192c2e324c827929803b6299104b39cd3aac83e14b77ef41e296079143f51a7429c1e703bffb0635fb5ceeb901c76ae23db471ddaa19539e9ef9b5e79b655204d935aed31adcfbae287ee19ddd5c8a5c48ed38ef026299a2f840077f555a0819f47ca6b6756e45e0f2f79c16da6d3751ac76fb5ed3d3c2cbd21d81d58629994a6d06b13a70f4e6ff5e49416e96b847d7538b16eaff94d9576975d0e17ac0260cbbf098a9e8f03a32cc99f4c8d9ab39945e5abf65608e75cb14f685c39f8f2454296eec179f1aa0a4f26eb7c8c78b963e4362a3835262c486e1f8d836c8e6cc56bd113405828ea6921770821511848f4c87765fa7364ba31c4dd78fe87f64d9c18b97d16013bb8a9e483d5f0b5944260ef79639f75b93fa587efd24713366f3fd1690795e5bd5ceaf5b7849a9dee744571c5e5368ee473ec15a74bc2cf367d7ad3e9eeaab75b5c87ac1ec060bac3f48421cfc082ee685eb03e1eef23ce89ac4f598ca203999c319a41dbb2f4411182731c21bfd9cd01f61b91359462321aba7d453f3d3f1ccc9a33a6ed26c9e33472cbfedc6ce28a5deb124bed1c58872bb226b25bfc38df496e5b5e3666d93252ded7b5a8623fc3895fa9bf879fd862cff446d5f6951137a21531cee1a0a5650df15491fd5c4dcd6d6e4f877860466014ae17ff9c85b08c2e90f264986488553a9759265ae91cae07d0ca4501bc1106e6d2e898582fae733a3d18cfc0c812a49ab5225d108521af58f5b54b47de9db282be4c7a320d12a84aa36b3e1ace93b3721b9bc3bb5c5b875521b2f51e459aef70196fe3158f23c6069fc232c427ba3ac7b1232ac551ce43e375cff25fe841a11f5fc5689030249e26182a15d1a81513b4dde09f94a943dcf99410c0bd82c901fa8b4b5847b54620514fa5cb6e2cc06022e7fbc7253900bc9c77e3c6bc2c382ba698caf0b240cc95e6e3342f1155b5aeacc0c719b9b7e610950bc62d113c7bc169c8d976af7fc1f568807425b9cd0500ee4b80a49379060dfbe946a9498daa32e8dec4b584d0c5f23f3b424721d42c63b279ff545682e5915e2cc634f66ce8a60731cbd5d44a65495672d4331a3640a91c82f6241e3b03c17b4d6352ab17a56d3022f44feecb4bbe61481f695ec704fd756f5b41cb7ec01abd4f857b4a82aa0fe22d370148ba4e13afde4a02fd706084ce3aaad0270d6423fb7b4750e87cdfb8361432a5d7856fafec31942178968cd675e14fcf604b8f192ffdf7d73debad902d9478696186f6f4f5a510b870d21bb0df5b05287e8d357a8ac3dfc1209866f2ebafd9fdd175d7703672e04f764293f3869093a9d55a0bf721f3a44c6ef329eb7c5effc254b9057e76e327fd9de52d41b75ae3b711e9aa2d2f8b5272acd55c36162190b0d2535176da50c523873059735fa30160d65e1d6d2d04fc28a1374ec12e963dbe37c7f843785c9715b970d31b68151e910578cf4ad1cef5eae2042a8a0a7b73e4450289366cb1c2a4b362de8b1ef4ef8f66dafc8cd2ba6c0bf7551196b75a791236ce5096506322bd7e0726c99ac7bed40674b3d77cd97e235918b04b06e248794a02ca1745c79aa5bb8aaee7071561c1214f7320cb8abce2ee137ba076740ab43687ad40c18cb649a5b6b0f00123faf1670e830f28fc96cccbd07cec89c99f66feff372a0111f9028d911de6b95126891fcc52366a24af05ae72163039cc4615603306dd9eb012b7715e35ec73f47766da7fcf2f15f7e99bf4163247879e0ddddfef91bf74f03dce36b46aec3a239a945d975357763ab1d3d989a29c0aebaaecebac25021eaad41e977438867e0b93a46e8e0733c3265bf438d2c465d3efca37fb5ccd06eb97dc77cd2095a2b9cc1cd86b7a7ebb0786fbb8bfe525fda6b9d024e767288d944feb071e534b1984d0ba11bb96cf72a1b4c0035f49c2f10e4f299075bbb278000239d22bfe63e1bdc52ad9456dd6ea489596789ba544b141a1a923ca42bff02e9adb2e95f035c6978adfdbaf0468305ed9fc0d88a24e7fe446482e6ff4a2f62afb74e2761d11505d776141adce686e530108e4488b499f4167ed42827ec43937544fa35ccdf0566a776781e75f66a3e07b7c2fc40b49938df93a687ac392d24ff42c896cfb870f27263f94c2aefe0c44b765065c71a7292df09263cc2448958a37ae806a7740ea8d918b18b5445b8b12fc2692b3abb65555f6a4e6a3162b124ffb5053090f0ff813ac3589c366225818ea1f7d1ecffeaf8f961c392ab61e1b3caf2dd2f84c3b37954bbae7d1d74f03afe73285ea926fe6b755708c1f3314ef8301318f13c69b7a981dcf7a449f32e44b32554e0c6a9c44d38a8b23173f9ca3543997abf49e0c79ddda6ab4c409ac9d149e021dbea4a9d8113f67be48e116febdb6957380d1757dc4170117cb434dca5deabcc8e13d2a17e04d1a7b80f4e354204713da8835fdf5945c2c2e3f7a48d392b12b07ce375e51855fba5289bdb92662b16766999e83fb32dbc5c626095bdadff7a480d4928fd318054151a9ec7fab16c3e2a86a343fc19ddc51e781ddfb1a386793e42c71ad1eaecb175088e9cda30a4dae8b5b29db14c9ac5856134245e9dc95728da8aeeed583f76fdcb56fe8fefd9a37314e8ff2b2dc134927bfb42abfb88afd3bdfbd4aeaa3891a33041d5f091f38196c6f3a23adc1c884f4ccda6aafdc894077120b8a54bd68543de5f1c75a7bff748559208683cf74b0a3bbbc12361f6aefc9d3704fd18b1696d7de2340b86c65bd0aedb76cf45261072dc73cdcbe123c5090b831e69bab4a8a5460c0df7450b07889d520189872bddab13e47cea5aa2e600e3a7a924fcee3e34ebe9f0bc0ee8387c0d781ef64a002029e249e67daf49a2db8f44f55dc5ab3e1178adbd79b3898ae08a286d7cda303b780a02f7edbd7ce1b6a987eed435a95f422a33b91563f07c989678dbb0e093cea155e4244335d435457aad5bdcd624f16479132f730ac504f26d6c0d38557a37cb0063ff0fc6b0ca23f374fdf7b2a871a23081608f4af1bbee1968292f3c7fe467df5d325908b5e1814c68f7f634dfba89a289af68b09bfd7269f8e5084076e0d07e62473e49f1846237e409b133c4ee74aacfd5ffb66487945249a798b37cb4834992d732accda502d8f40e74e1515d7998a3c9f2e9232cd3f2ff853895b982a23f1fa487c379f9b797dafcd07919e1a125b7d8aeee5107d4467807acc304570d294e1ee3126f4aab5983014d27b35d3ae770c612dfec72011143180efbb874cf4d88c4f9beb75658f80385aea0658e984c553458184fccffb0aecde2c4293933037474527226bf65385aa917cc9990c8e417170d9939723a4939601f84cb9f7b77b6f2f465aafe12bff982011d874288e76d90524228eb2b845c2e2df2c07d3f4b717eb876451fde8ec43f272f7da8ba20ee31d024ea6f39fab65fdea65a149d16427446db72a98828319d907a908ce4be1faa9f67bf879e6a39a32e0bf23c068c8bd628338ba12cbeb10b8bc549f02f616494e14b6d68834e90999be250b6ef54fb40de64f699ffcb5ad57bb2cc930c4ffbe5ecc73360c6dbc8a026e9e44d7ec9ccf757828f15d1a7296cb4c1fa57d1b71a2392b001074fd84489a49d20530e2dbe124c986f34382356cfe6a73f245f952c81f9cc3ddca3f8a3a1e84c875cf4dd94aa00496600e020452fe2a0bbbb577541d70214f8346d45a39817049cde6dfe68e28002e841958daf8bd953c1d8bdee83038c6861d776787c51692f9931dea4a49cffb460c36533c5091c22c4f7b720345c137fa4bd37a18f91c429334135a3e35482d08173a34d1d3a6cd08dff997af5b9cdaf8fd5a315e3a6eb506e7e5b054784dbb155fc32694f7bfaddb756ccd5e1d075408b390edef8ba5cfb9eeaaf795763304646a2ea9fc6a855a3980cbdf878a584e3f1ff7e0a5dbbf4ad6fcaf271e2d60ccd6eea4521a4b39cf1165a6b4441e9fb897e0401cd60ab93f813cb75eee096334bb6a3b8e3d5fddcb93852ddd361cd5249ace449e4f315b8e94947a245ed77aca2955efe78029a3643e833c66f8376d7dffcf74e3ae49773ef6d1802362718ea85b833d25108cb922064374a1e8b60111c14366a17c584edec3b1e8599f60231d8a31315313936cba14901b57b05f1860300e7622df6cdc47ffd862452688b48a7c1d62f154e733d0bdeae7174b72ef5bc932bc3e0c13598184b9eb52fea9f95b79d50d2f5d1eb72c5daeb4e6bd92f40092e79ca7d521534fabf5e93eecf7d631290cc57340666e7cae2c87b8472cd879501da2666e67c823deacddcc00ed0e250cd8ac11655099f2d66f27ae4611be6dea56f1b7d524e29d0620ecce0c48df95b3641f49030c07695f492f56e132b69c1bc151da8fdd3bc68b3505b485d76748513c4d10a46619f3f72c1466f5222cdde32a17163682ff0c8628a9582a37ed63f770ddb51b72f9fb0cade4aaaf6a52e6678bed33625fcd5c00333fb14d3dd140814383ad7898aff0278378601d1f0990a1d8b54d7107967f8354b04660c60bda97d5a9746b7ca466c82a4329c30576a40fd209d15bf004c0374b7640721c97739be279f0069671a9a785c724dd07436192417ae569fcf5fa3d6a1e211f91f832d1ed1ccb689a8692422d0af3a9199c94b5a8df41fef0d7fbd7738d8b1bdcb0b3776e045a71da3c6d2f87fe60bd3097f3900eba7986658e12a6d600ed455dfac46a4130e604f9312c88c8d88a62b87ba9c930491cbd73732bde10ade0a54e84e8e8ef41984ab4422ccaba5ff8cacf46e0232601fcada75f18f5382597bce138e0755a70b01359f505d59083eea23f6259c4428ff328cfaf94f2fe2574e7631e7498a854abeae7a8c9ba17d7fda76955c606e74dc1befd2e2416fa505054e16f9d11f20a0359af91db997d9cdf97ca42e5279e09d10dbb986d96d1264bc7ce50085b848ee075e49f4693d2ac7e214a9f81afd47eb7e0c940688f57af1ecc26744aa36425c87858a477cfdf6e9bc1f463d9be5d7f1b8a61ae206f7f2899421bf16c7bbb7879b76d20009c024e01af4b07530e46a7a572ba99e0009328705fee34d789b5c0b3fb57d240d148947fe4f6d0eb097b80dffb126fa03fb8d40fdf13f49e7554773b99c6f4f4901c02770dd01f9a8f6fe589862cabb90b483cbbc1fba2ec711584eec8eb9b99b17d6902b8915ad10ed218b19f6b338e3f44f3d8f973581acb28c2fee4aa4bdef55f2eb5f5afa5b0e68765fc8fdabd886a47e8da43342dacc45ec9acfb1851e193133a26dfba3fb47f141d0c5d8821d6e08f6ed291c01d7ae1547992c189e9e3661d9f9fc05ac841763df8288a9e5bfa16010013cc8776345664175c2da295d95984c44f627c28d216e7b8242c72b690b38c20736cac1be19a83a30c004f6745d0a66627b65fa5e79587a727bfba98494b041819c333cd736063654aa68bba6de21dfe52cb0be04f4fbedfa6ed534a0b10cd87f96b4c0a11a0630b058d6932c887861af7c3f79ee73e5c5c8d640b4b2fdd91d959eda7e22b961e708fbec7f18879fb973076fa72e5b0f02cac6ff6793db7c19910726f5f9518f22f974781a78de7d7d394e9bbb6a0f1180e2607eb697e738c7ffb752e224d8198619990e449b79f06dc302b6cb7e09784308d092b8505fe3bc71d8429d6d478374494f07d174fa0ae412a3cdd4dee2d4e6ee6912760a48741184e6c214689d8024f83ee56c872d6d09ca6e44c943c934cb7ea631384e206a4119a037417798acb7666b306ef6930cfe46c0a7d430822774cb8dd9086fbe84760498b9007835527a3391c19bf78fac8b03be272b2749c8ad7c35e62cf094fe1e82c4cb79f6692042ffdba56539e9c572657b89b595262bd1a197bb1961dbeb51ab6740aa3d6e9eadebe61b9a38d659f964ff6b6a2e74cdccb51be133f5493e3915045ec98c49c972814f77cd71cb5d3c18fddf8475c34f2aec87566a4d0b2671af7b30288700dea3c53459a30da6ebe77d855b3351b44b7e44b2905fca5729e7fe4515294b17526a133d2cf5bde3b22505e1d7c94843bab5c736289d4c1d78b0336e30a9857ef382d6a2d00548a16b050f214e5a2674899b5879c688a72afeff3e820741db041b2281255158770254da29a187ea8ec6975b264695edf32141fb4c9c6dde1382cd257bf553277da8a75fa9b487737abbff29ad0ec7ad0187513b82199773f4a7f15aa08ec6c6fc62b7aebe809c372f33cff93280dd4787fa05be47f6ef8b33dc658da9534dd2e5f4cb8039301e72a719485ad3c1e87789559353a22f52991e47cd9e1cdffa809347081604c4c5c8ff211a0874b56de4951d801e37885f4a44ce5d101d80bc4ca38ce8ec7b197061755a79aeb07f68f955d6fdd1de0786e623c12fb4b12fa752631aa22cf4ea2f94347dcca4d52c4cc813ef42eb37b9c7ec65b5470a05dac2e1a47735ef7562487d067952949a911d4897c4d4d9b6a672355915015ba2394a689747448419d9aee19be9cc22f95ba05b5f3f72b170c23fb3bae8c5a85a3b6fcfc761765294f6e61802fa40acd8381d33d483020be24c552446b68dcd78d5ad0537c3a5f60b0ca67a6a14744c730e81bada55f87d8dc839b134811dabf724c8291b38cc953caf00fc6022c43868ae50eb51a70ba75894a0849cd3fc29d3aed9c8cf440f818c96193744da70059d24bdcc4ac914959a9343480ca25871d5fe2805809a72016c647a93e0b6b133ae08e8b47015f788e8afc89b4ad4501b89cd87d76edcf1cb6a5604f6691d8199087a5b20c4b155d896886b1e8fae986a0455707edf432572b3e52fe1b972210c659d0e1e89edcba7f906f59f2da10eb2b3306e248bea4cb32b9b8537fe33504d5cca731fbbca6f8e04fd0352e32183de24e2dc297d7c1859498c8027a3742fd6d1622cc8c24298d965f98fe55bd484231c0af7b51597ccafa699e67ac708cefb34c47cd196732c537440f659da81a9054ba35bb4107f4169e8052acea598bef200d7b7fb36adbdcffa6f2839bccb05b9771019e3bd154b3b75988eba9fa7ba89acf81378343875316f46e0b507cc2de94c100cef9dff9fb130027b0996939794dfac723f817ef3b888bdb0a1d17ed8b1f642c49a57a55b2e113f650c312f8f8c3586be2e801c1a60e199d7e2a9bbce98d3bc0fb6b88ee425fa549c98b664f5afaa4f2854193d6b79df192c549dfa1ba17a360bd5796c5bc9f485602dc9802abf3ed49cb71d28b88dec41726ccbe05c6c4502b6fb56353fdfed123f78fb0557cba69dede2480329ba75edf09fcb0c7f88d80bd25b2764342f5d2cc6ec7ff83c9143f564ed58af001fb253fb34efdb58fabe50fa6d29720abae294a6f06f6b23fc01d4698e116bb2699d54118c90b398dacb552fd0ef696b78798423de8ec381e9b74d6fc00916541b25aeb74f02ceca0b063fdab165c37e7a91a3ad7a7ed18d67a11159b67bf45d47c7d880de37672c88c9022c8a98abae0ddc30a8cc56fd7027b123e3e057b04dce722d32370576260e014875aa1c11f13796bdbbbdb1800df5cc58184757f04079953b577ea3fd368a0e3decb0f27d3bf755a31b3f99d4588ec71dbebdce7e6caf30b3406c96ae67e1e518348c8bddef37659f73d0e0c7c2f7bebae85f86f95fd1bc0164ee957a17f2985b93adc469da6f709afc539681259f19d8d124d1432957781c35b850e3bb07b1cdb581dad52ef8634e59fed48548861beb797464a2c3f207633eee1d1dc950867f409d5999752223110f885c6d10e407545b241f139adcc6cd4cfd1e18dfc26414e3e7d8630c8313db56141db8e593867fdeaf45bd062c79991942af321b30a36cb3f7189bae8604c97a2e99b74c5b8d9510117789bc32d462101ffb4649b8dd3779d8f1bfdbf8fa294c4501f419fde648da2d08a5869f15d646ba9bb13690a5dde5f8e5a036e4b5d180880c0d776a2d22d13bd96b35f40bd71f6a7764e8dab611caee639b656e4be6daa39b81df9cfb66b3ba03eb558cc4b8c306248d2928a807f65bc90ac897d6738dfc70091486bc3dccba7fc07c3b78d49ce0b2ff6476d523e01902ae8443c74f1caaef55ca7f34255534b48de9f4abf40095a6eda41fdefbf462121c39851336b46a5f27e38438edf9175d22bda2557137de27e9de9513b2e276f8561928379756a3719625e40111be59009e59c37055c02fe08c28fa5f86cd2ef44265feefb973b36661443e3aa62e344e2dcf48635bbde01d8f6c9c93a1b9615917cf970a3d21d4c9a780aa081ebb09a7d17e21be4a4c3a041aba7b5fab3e7e4854c23561e824cc57ba1ed9eb6a223dec60484284484937d808aeb363001b82843646abd316a3a22d18e6d8fbac1339ab55690b5f2b9b402a40e64a6302570899431d2acb8d4ba01c3598f0e8774d10a0825446deb213d5c48ab0826a21b5a9dc404defd2b2a8cb6a7d70aef918ac64ccc168f9e6bb486fce5709770c624541805fc03a83625d3206e7cb50640d7df9b5f0c21a8de052a96b48365299afea0d7262bbc144debbd6887fdb9a4940aa069367ae9e8378b2016dac883077d5b7b66801846458428293e175c72f3cad7b96ad8708b25c1708adfbb99b6e9e21a157fea61cf13f450dfb88697974239655b5582053f32f466d40d60c0d88fe8853e835e56b991411a5a322563e99e8f465b038f64dc2ec1f3e971d84e4b0d7c701fbb3de496968f66b3199b783d5ffd6a9be46c4bfbb6915cbe8cb6a121e783b2a7acebd11759539ba23bdbcf5addd7cf108ecbb51ff253c5fd693be686dc5f8319b0af20420fbb27f2a58b9ff9f43f8a60d84ff06b8b739854b409977b332ed556706fbd3d8597bc51155e4d25833fb0472022dd9e82a4c2952a6c9dc302dbc6639a425c82948cbc2f98edae34aee44edb4029b1cf48ee080f29748b695b72e219a351a456f6ba4809520762a326c901799dd687cb77e18cdb38c0c5129cd8c4f7cd96991fe4fe65adc329f563d95e93b4e4c181b15841a0b8b147866be14c55f4b8bcbb4586150c7233ff1e25f14f0aa0a2a19c587513bfda6afe88878a43e10429ac73b0a28ab43ae7e7c841e3d7c1abfc4a7f7c002d53b0b7f8e7d706545cbb27bee8ed6f3b5847a54af2eaba80417a53b71d2eee915cf341d54045d47ee839a5392e7f2ee3c3b5c5bb5ad9bd5621d81dd874a9af80a1992a2ed607cb47b63bfb138be4108cb2a7d52151587ddb0cdab410bcd5210356f092b40a83493088fbc29a067130d8e81c8ece37d9c00b1edae060ca55e79de96296819e1e34dec1bcef5fbef016f75f58a7b72280d01f2512b46e3933885259872b304f2ddea11bcac31ce695d4988c3d2e9a5fc92f2f3f61a568335184aa2b141634356a3f19240738f93d8e6a184de5b817d476497b8882e86207d964f304706bbdaea9560ed429ec03b35e837f471fc437bd5d22085545ce91cbb94ed8ae5a2d2fdd30a67ccf2ab6dbe8946e41d1c0e72bd3721078b53d9f24071e56a44277a7b581b82224ce97014df8f167bf4d5b138bce5805352c3681d49db97966f302a409193c62da54d625686acf596790f4096c4d4a2f99dd6c33ba45dff2caf90674cc38b1e0bb0d1b5a53bef3eb9edc0779ac106c75c9428c30c55c4be1286b21f28d653476e1515f333b47ed042618f1668d1767aa402db1d8377e7f4e967d6f298b73da7adc2765cebf89ad8c542e23e062c49c9f647d630bdd90b29124786cfa9821616f3a9001c6f6e76a496d55a5dfb1ed187e987b649bf5068d1551ffe2c43633670ec12e26ad95cf0d20cd94fb187b3cc5ba143cfa441b5c58e772976f5e26d99065f741cdd7e54e4d634ba1f557c84a5b6e4981c52856a2402bc6a020803f4115419cae24c89356888eecd5849d1c4f57ce58718aef6a99123dc4d3738e1be27bd43a70743249b69677033360d3f27440720d3a6224aca03277db94f18a409551d70ed968520b8cf04d3cac15aeeaa114696ffe067485e23d190598644d42b6f5bfa20bd3bd827b79874546739c246e7a6908bbfa075a82e903bdfe39319de5b0cb7113972effb7f35d6a590a3c22cdd23aeb90e6db95133a2c057dcc1aacac05f035a4c9fa6a66479bd710444b161cb427fe5bfebc3a81e8704566cf95ea18d33eb7b2e8c7e236c190fde6a32c60c5cb8ab5024b6048e3cb6b9b51d7d97d73d1966bfcc8b2afe924e9cfdecff9df74416280263d694a13dce3d4286ef2d03f349abad168a60f0f0622a4507aaa34157b7a07b05e979da4bc00309d413bda67e0b4e5eeaba50f79f300e8c3587ec32c27b24c74114a35f335dc464fd078186d55f57478b0143f9814ef93308f352aa42bd3724c15d6f9fd06b1c1e0c8202e2be658ea794fdecd679f8e34be87b8d92bc0ca9d29ea9226b8003f95cea88b9ddd68218e8da1a458a88d9507db2d5301faa78d023130309ec7c78de5cd3efbe675d5ddb2933435c854b63030f6640eb7a82e9b33e7e2b8dfe4edf8fdbcf4fa5cf10c6325e58fa3077d0f6221f204665f45979976fc423e00848d5cc4837d91de328c90078ba9887961cc6ba6be663fdd02799972fa275f0fd0e621774fadeb15c91e9c2c7cd6f8e587c21f738973c15c97177aea3f15b45969c9803a3cda95b2f2b89fdeda2b3f820c5ad9eb21ad10a4b3fe49e88b1af58a8bd4f57d684f20f814b597d22e9cb43979afd02e3d1f06eab6575a3744124b3802e87f60c6d032342b17be8317cc1afcd785a1df1cf130352704ec64959159235bc9d56cf355606ba3aa621c5fa213a0c2c5fb5e468939a06d521a724b0b4c1f5c60f09c97b2af5f06fe62bfa19cffba44855e5ddc3b4ebb764ba08f317905830932ede0e2020267c275b288b8b59243f4d1a56a33481be1542877d5a91d0b8667d0c6f49f56df2522352ffd3cb50e53ebdf22ffad3514c53479129752320b106118dd56ce5544a7de4f368acb342d13066a56ef48a905eb48b7ba8958edefb2f01b637fa008b82c8abe5a7b0acaf35ba3dc7c79faed24345cd1347979338718cbc62789298864d5f65ee29a4626858c31cdd82c1ab2cdc8ff7b561197486c1600e65dfa8cdeb76c032c951d7edc9c00c2bcdd686895ef5804d848285d37b5ecc315458e468e016783134ed76152f64bc9cf7bf4b0484f801f6b7fa82b9420ab24b7cd352ab95b0f98cf7ed352e5ff8fabb4f7e1b83376cf242a94bf99e3fb6f790ad1af4475c3e2a88a2523d2ce30f27cbaf351754fca7bb11910fe1dfac413dd33901161541fded0a67c61001b00c83fce158701f3909d3d54e9b6870286579733017d047cd1448633636a57d9582d4bc03cb2f62671de18a63c0769aeae9339d67da449c231e6cb1cfe38d7dc461087f8394b439658944f7970633081685279c507146588ed24f24b6cb39f4044a879f60601932ff3291044f5edd50266e79aaf5c340e5533919e88c58567c6cdd018fecc7f0e18258299be3d40295b22a49b6c19a50cb6dd68ad332fd531a8bc0d3044bea6a7879ffad9d53fa29160bf10cd250e98f6b04aa6d41a298b1f9952966eff01fb517b11d94ca6bfd0cfdb57d287604110f7b9eda1a49ba0d19cfb0cf8eb0d06f4075e0b99787e572321fe4fd0b64571ede77157f2211d2c1eb2478bea963b84e3f44e4007cff4372f20851ec3ed7b96fec5f088b4446d18f3a5fac2462bc267f63550e8014ca9402a2fa147bab7f5a5753258bbf655673840d947cf4e3dc6c9f0493da5da035d2492c8ce8b98dbdc7863abc1f166a8b14cc33d166065e9a866977773b7821821a76cf5d2959292ca6e016f6f66c799baef5ef786394876e1077aa0fd8b9078e7ed409068e3f7e2f9ac89816721ab0996d68dcca58c3f3cdab5f403152cb2203f7c2cf93d49be449f3638490bd4244664dba332f0f04a6e867e0d1dea18a149945494d5cbf3967b876d7d23f3802e21d2a2da8adf045c31f675ac51059992eb3faef5fe73f72b2043df95f28edc9f0ba39a3e36b1fb0a8f6475e57d38428f23c0e34c75b97f1478ea507c54891d6bcfe7a5816c21c10c48edfd041db1cc7a4df88826c9a85ea36268ad0e7724acb33a0929ce95acccedd292b5152bae705c943277682abce95ac06f74260d0213a90c0b26e607482b22888646ecee2581a0b5a2877f2304142d67c55bbc5c66d818c4c3294b47b6332547d053ac2e4d7a1947b59279019249ca8ddb455c306b9c494c7ce703262dae5e913671a44d52c92ef3af98ef8e11762347b612729ced4157b17b90d7cb67cf9c93b59eee2140ede008275013201824baf9602825709a12bb7a5f7e988b12dad6a416e1a0bd2a3b46c474156807cb4e5b6e382917a1bc1ba44b55abaad7ea2e2f72515ee5624ac1f0dee8783379b9e7ffcfdadcdec4ac762d82c478e709d74844c15395eeabc5261b833c9f0f717e9f6941274c8a170f3c1d12b3519dbdb1a682d65fd8658088ebffb5b67847f9c42e2a65a4127d180ab365c17d8ab922857df17e54369b625db7415e03193c399254636b2bb3f7499a964ce4815e3a94056f49e59dfd6c0974d675766c9727a5ad41ba2b9721c1e737098f037969da74667cdf9c387b8596dba9f4ab67821a64d9658eda9a7fa450b96b86428a57060305ce4bb200524e0f9cf2925e7489cf26fa35936965f0e501ba4ec0c971e5fca2f13bf1513a24bccda467fff7669c5c2e6623de4088e13d16a21fac884a1a00d562f876ac90bd85ad85b0ed6d7596116b3975d93cd4869bff962959409c117608b6c9dbc04ce28f1ce890783bfd6e7ebc9afe0f0f35fb5dcc5bcbacff4dfcada0def3844b0a2165b0661e60dd4e64610272e61e954d553d99f748202e60d0fab9d91cba7d0e116fc421d74d75edbb10f543ef5291559d47928ccbc8987893a26117cce6147c94c3818acc829cd6e672511342b0169481e2464374092e3e6a6d7fea742ccf0cfdb4b0ac75cb130fac4dec31b37c238ae63c774f42077f42f3ac396265bc5508764875cbfb5f7ebefbb3e62ecaaa5e775cd4936da821a1820ad721110cba80083ef9dca9b3027ee58e98f40dc9ed4d1cda215260ffcaad2977d39a168fa64813d1ba70939a2aa64e8667abb9ef846adf1249b3b469ca4edd68caae3a7e4f7ff0218b23089352e0fe9d82837318825fd98fd9b88034d33edf8843ca14631c55fd96261673c40aee2d1a0d3add119ea564e8a0d0909928e234a8f72c2d298a4c6bf2fe1ab1dcfe32b515ce914aedd12df73c96d8d0d6bf3555b4c6707593cafc5a0af1e330c37a14b7233c85301e4053191d485d3967b69ec8b64ed3c396aa6abe290c34354e924929ae5f35199f416ac7a819b25e24249a1d30ca89cbfcc2a050b51f10af1154b34802d0440b10be7d96c0476ca223166a73f9383b3850a6af6c29efd8531d44cc0cbde5e810d4d4f7d56f4ef31b9a79a28054faf94c9a691b2745561e16ea5f3b8b812feb0b2c31430121ba29177940cbc3f8bf7108a916e3d309566c3ed8e500cd470b474c36d6b14cbcf331a500fe52b9535e532ab3ba1b252e2959b73a464b0d15d58ab1efbca3c3e4c2ad92c312ab6bc4b756c96c839a242c601c3c6711bf2e80f0dbf2b9d38cda78092a5ae8956bd150faf22acd338865b5c556c1430557ccc51bcaa003bf2618854321170b05d88a487eb88d397fdb9900e333fd20218c8be20223fab48bc6545400d5d21829002703f9e2280627630684621a260db20e60def0bdb6920bdb88511a570381fc64a1c6096631ef8cffb3752db4e0d425ee3b366e9edf1d6ad66066c36d371d436b69934e27ca60349db50c1c1d068cea4cea423f2ab9d3eb71578e47b9c4c82a69e5d9f5f33aaf2b29a6f6df7a8b1af779d51f0020a00ad9043e09b42be4e6fb92475cfebc59116b1efa2d96f81f395510858b95a0aa7eebaad7488537c26cfee7b742f833eff42916157436217239b0c11e6b5f52b6a4a87f2ef284fcf9fec45024a0f4122d8133fda7dbc879b0100821fc4433f5488d32aad39da0cc7154a284e279459842f8ced30baf1326c224168aa768bab43b2163596ff1877ce5bd22675c4ee3dd152a39286de0f6a7dafcc1a101622ebab67137def0db378775420f8ab335428d5ceb141b6930df4ad1e68b6aa1f96cd3adf419acda35f3639bf8ec252cf20e9475b8eb8ef3cabd331119275ab1c7ef44c22fb3eb390a26d76fbd69e1ed513ec1377c16394a697f20bc05835fb63ad33e7fe8d310e43e8beebaf6958311593324cd5a5deb44fd83e5bb61aa15231034026924976154dba17d073de4136655db024e38fcf81c37c5834234f98e2d220aaa823c293680e1a0a9205470f28c6cc6df6fad5463eb10441320e7011637afe6cc661044852153dce8f09391abc73ac3cc63261797c78f9261a0917697d2a95498e10b71ef468c6b55bd3f55d658ce97e74a5fff8746bef0a5000a30cdd40484dc2ab00e79aad6bd87829bfd35b5462b4c376db8c50b773171147da009a52d8d26b0a6b30bb615a1efc255517a9059c78b854dc68bfd7d506e5bbf8ec9c1481a10b8bf24caf8c318a88355349ca8ad0c6c61ed9fce0c51da43914a15328b25455d163f2745ee447bc8c28ed1de5b4aedfa43ad28fc010ad43154c8de6f7340e7e067a42d22351e66c0841071dfe54d69f12637b6726f80e41c0f2cf478b18127075f0de42e90237352688aa7474b50607518becf056f28576e3a7689423fca623661d3932494cb48dfbb33b03b887edb8a10dd8e5516c6bda27572e01e0803a20879ec404bc4ea3f4f1d06c0cc37b9d3f2adde6e3888c635256714492d34fad425b775c232fe491d3bc07674d7f81e48df891475fb87295d086c13efcdb1be3ae1efb27f8e11b83ed5c1bb0e2a78fed748c4cc2b9fdd97feb4f20fe11bf6aa7b9072c1a29437ce6b15f1c2778036c7b4a328301bd67fb34a9223879ef4f9ae2d138c67ce116477c67435375eee58252b14c43bea88f3dd49e5942566bfa9d7a321fb37e4faf0418583c46773535c1d42217eae2ed5f6a5e0f672ebeccfb06a4faf35799f9245b196c80efd3391fa352e69c41c6a7458c033b3f62d1b76d54612d0ab8c052beccab21f1fe51dbcf07196b560dbf29d6de598246159027cff126c6b924c6e224bbcd45f2902ab2a92f71859552b313c9634b2a5ba928b26a1ce9dd8cf1fc76a59b10ce2e7544057fc0994c0e9826a72555676038249890fa4eb556fa98644f4af17eb288bb41cc134924e91073096d0bb046633306be27ad48ef25ed100ebd5dde2a294cdbaa36d7d45950c16eb2badb9b58b7f0fee64a43f403977f11843b998aef3e85af10925dcdb112724cafa80d548e1cd6a75deb4ec9656fbd1d98a3b9a1928c1ace46e42ae719fd161bf99e34070b47e8b5573e09e8ceb7bc54118ba348222550d764c2e250ff2ec0533fb1c0c58045b7c8fe768d44fee8ea2c93f9ad52de4a3c223b5d67a7048bfe8962783ab4f257cd7d06d48fe3895bd25030140d02557f175853a73c3d8618053f1608eec60c568d0db4a9337e4e72702837cd98efb96dc8f47e99b38a04fa93666b75ca2036c3944984f08f4e5e6893085a1ddebbb05972a8235438a38e0ab6942167ed843b212414a685c1529230851c8aec4b425e474f48156f717ca027352f6f9f1bf9f06c920a53f982d0b0fea5fd4ebef9e4043ca09738a15f94c11aed4e52f7afada6d1bd917f879cc26ed29de32e10814b403c5dac33652732200f57d689a5d312700a78fd7df154c6ad22d24cbac772f6c5f89a64805e946accad177e0553995b7ecb23ceb7d444f0429efa9fac53ecb3d0f3d67366092ebab0aaa9d753d9d9b68e9faa3171497c477b7c028cacaa979067d4c14ca75b2f5f3120764d2cfc9ef8092e5771bd9a3a82dcecd5c0c70ffe68ba0d65371ffc2d92e6692190d1bf4223eecabce46f7837e2f0a39ae3ccc5066da80c246edfc9cd472908e520954e07b85aef9af3fa1119b8e51a718b2b5f000fcf88fcd0441f24e187a4028390145d74a2f61688420782395711cd525004ea9d7ecf928aa2c0bf485220cde8a5a3890d6e1eeba6ec1a880e68848fb44826914ec0affb24f4c7ab846874c2ec8a891ee3036b1ed8795e17aa0a1cbfb6b623aa24ac79ca5e116316b8c7def31ea56896d5c65e749485aaf071b305fd468ef2dfd592204345320e2e670087f600fd22daf346ff6be9f72ec68024e9fdce3d6225646503f399d47a83502c54228ddb4643642c21aa143628e416d0d9d37a58aef8df50989e7c7a9beaf34e58e2abbc051797c8beefb108cfd58eda5508a324d341aea798a36e83e0e280317318d4a765e09bfcc9f642e8a5acaa0ffe9260707e191806174f6e1142d57dccef3a457073bd92f0a7878a5ce56ec8395b3b19f8df9e021b14f4d246f8d44124de4a163e8fb1734e7560513a405d155dca99804615aedbe11bbc3b410e9658ea050866d6054d766edb74d97e199eba0b8dafdda99293d0ca07a9546146eec1075f1504fbcdd38f4c5138bed313405a73c941b8278aff17ff96c339dff8db517a338b3eabbe3f0c0a7c07e5929faa1da31cfbb0094e82b7020fc4246d6b12b4282d99cf139d20d993680bf126e3fe175edd1ab98e270d96b74e53a77443144f29006670435c82d08a960a102773bba79dd3687a870c511f2f78ed1bb8098827bfe5f26c1702a740d617a4f4ae694f59a86ea9bae6fffa233361571b7bb13b9b7c04fb63ba3dd0b06a3392d2f6b6597323b2e2f4747985372022820f90239573b47e35e846c220075bc7cacbbf9547b51620a2ec13e064c48671309e82f4ae27cc07ae8f1a84509c3922dc581f40c5022dfac1afa05667cc66219044c68f4f681fc297581af74918fd2465c42a3a557619524ed2812892e46283c29a38a1fc6a5da2c21971e667b0f895c7430b5a07d7ba4fa0e940b95a87fb6fff18323309adcfa4d7a46041eba29b62c014e5cd207a8d0a5eb8642aa932b50d09f315d0ed3c8e79daa06bec57882c22d1a96a4f412426903bfc55f958fcd29b3a2dbb63526d565746854650fc1abc919d348889155d409eedb6d8dd56cd44ec9900f6ad1f7410fedf93c6c58220ba504ddba253612ab755adc7c46f0f72c3b9bb25ffc8b73514badb98ff8beb61491ead3d28dfe9d2c1041b38b77796e458b2c7bb21cced3ce91c83f50fe227d3ca5d40b69728a595a56bd5519ef1c77b8ab162653b077e9158ad399907d86e3a343c261a4150f88ee688c8dd21236e9ffe1d906e062b170030a9c9d7a975d5070704f7d64cc6f6615b766d017bff448a10312ee55b9d0ec6ef4f814b5c2170daea3c6750152f6f90286e3cd6c8b0a15bfb167e0cc726a4c355bab85dc7d6f0248e89a6a4633555fe5c6f89207807f64db26240af6bd3603cf2f8c7460e7004a8a0092e6da6876b201860f6fb355dbbd1360f7f5113ec1aed5b16109d5c9aa315d2ba3b2566702d074e5c45b9e3692dd7821db16069efe985ad8b851660414cb76510719d7d61f5e699df22fd2fc462e3160d73e6b28d7cc88c75354cf1b9580de2fadacfdd19a43f3d86f466244cf43ca47d8f7ba5f19ee17351bf62da9c14019e0de90e78be62462126957ea2bca8452e588f61a5e4c9e4ebc9559f398e7bf2bd84c8ba0aafa9c9ac2e9199228773754a9ba873f5cb6237175c9721f7821113ef9dc76a1df03af440f6ff501c47385459aa49b28d37d9b4c51d3f599a4c816d6f6fdaffff8ddbc31ce308a1f52894b7d27767db1919fa23ec259c1a41357ed347b28b2e5f6296d1debb980d6c11f07c7aa58222acac80f478f71fbd84af5789b589fd2a985010e000ed0b3a8db451321a57ea865272a70a08d0431ab185b0fecfd6d0d939a6e8f75c56cccc74ddbdad8ed7787f3006216b23ef608d2e37a99dd57362ca01aa981289e4eec5cfc225e01175384ade0a4819820a7ac39f2c3e2ca280fd77b7be52a40192579737cd8d95edb2f670de5f346a1f403d6a6e66510893aba43727357c73906904946220ab56e411572bb8c5a0743db1b454190ff6d8e2b333e423e911e0c294fd5a30728c8390ae78513395e4a0ca46c6550d6a5ccbf30ed0530e0d6a5e7e48469a9003e779e60b1dd7b990a52dd27ad67e23e95c184200cd4c63167fe6b88b7ede8d1630ccf72640c475be3d666eb31d0f1db835a07812804451b9f5f603f6df49263533bf3c608419548c6cb742e1420e6c50a96ab62aef00c44c486827ed7c80f45c5663ccf385e8cdb15c8ef66342abd546bdc2fbf5653e1660408df92f2c378b23a2d1627738eecc288ca1e03bf57dc7d5fec0de8f080d6b335956d71d7f077d8dd069563e9c4e28f1a14895fd28adfbf41ae0a9a5392007de8f10ca8213750467af450382996eb52f7152ce43c3893c0488be8ad3af72f2bcbe7cb647720fad9d5e31261b0a8b745fb6b33992a3d9b49fbedca8a45f0b1262549f38b2670301d0ea413e1c4fae9f6ed8ac5e3011ad38e674e810e1c547e996acc19f59f3b1b81d5e500391c0b3220cc1087204e50ed4fc37368648c4e200ee1988a1ed3ebdb0b3b7ca48855c3b5f46c69ad0523e00904a1b8335220055c6c3026570af7f2c29e35eef6c40475544e7cb2559c5e68720a8b789b7f3e2ca21ad915c41e76448158624a7516bb64c22247cb916f09bc48a776f40788978b32ac306eea2d61fa596bf14e3680544cff2276e00580c48cdb1d8cfb138e042268d7dcf39f7ddc68c1e9704a01841ec3c328ffb60d8008afa2549aadf0a459bfc507c951d3f72ed6ffad14c36e62f678c2ee601753c40c2eeaf4f77e0bece803d131172e33855b668a61fad2dfe13ad110953755d880e8ff77eb0ae8c72c55e59e20c2dcdebcb42ebd97bb7c6ff9168647d91f63905a5eeba681fd1a501c30c50c3b42e381687f6f94afcfb63592451f2409561b636dadd34587086cbe8d143677ead4034846a3cf4e9b1fb3f543f62a65ad6fb2ffcc2ebc03318fdfe48e48b133e75b1a27e539ef6b7b51147567c76479a1344aba6d71bb5c0744fec633397b681f3cd46ce70344ed15d664e1205781151c850034b4b30d7a16d741656930c94f3977a24a8f20175bb2a156d0b7abff45eda8d969e3e8a069b0a5563d414ed8adf6819dbd4dd7127268eddf39a154e2cbe2e8843410dfc68a86cf564577509759839d3da6e25c61b8bb6eb682e280235796f85edd74e9e47454012d898d0e6b641d1c46afd8599f21f20bc687d91ba896ad0182dda521839aae666c20661052cf0bd40db79f8fcf5bb5022482d26052c27ec8aed0e524f497e97a9bfa5a72b40f5c2c2f3bfc5a463d84bf362304ec1c0856fd1374bf7bdea5b30accb98f775b49e9a28ae3329b948c988f9c1f92fffaf13943eac18b7aebc18032611bedbf16157743dd3fea965d6e83155c4022ab1c41c5d080319aee5c389595a8e2c1cc433c4ddcfbc5744e3dd507976dab2d6546dade749eb2c09e02001e23eae20e2dc0180d4f19fb9bf6c193a36d35e8441be83f905d5b6f039e0f30a76ab8aa22577fb0c41612a3db4f367b3c7b7ed157dd5714f42d1f0fcc33730e47ab2a40d27fdf7c8575a57eeb93802c38e3192896a52fa6fc237603ad293f6b11d40e8c34ca694b0feac19705c9342a8a5c50041dbc650404a8ea5038888597859abe7d3a3dad9235f4afbc89bde3869c730dbe89375e4e7b2540e5144915824bfe92aba9099735d3007cd1d1646a45949b9aeb2e768214c0c333db2b1ab3d747dce9c610cb1d20ea279b0b24eab879849d6387291851931bc089242edc806156b32d4abc7914564de8fdba45d0e8b75d8018045e49b705ccd7ecb389e724cc2bb3879571b078a071bc97c4c8236404285a484d1006202b0a2a42e0c90a129289f282c1e7de34ec4ee82b184aa8e33c130309220610b3ef3b854fbb17eef54e4586b8dfca2b34ced63b00b89e602f7bef8f0c8bf44e0e1cd417c2c4605225360ef578e9005b7de40b274612420ca4996f09deddacea73daca549a4c31153c17ad76b5d34cc1ee6dc059a401fc0af7333823c08385f3d2b5ab58e169e937d57e58af4ee23f64e67e82916d40cf10bd4b5dedd3da8b1c07c380d67a55d2f1a1663f57a1a1f5550eb962817c018e42c8ad6547e2e1388785650641f28200944e83e3f8011bc384d7a929b0295c672741e235c5146e087baa7422c6cdd16313222fb24a22c50c07eb69aac23f1f2903c89c8f70ca5f4c915567f45547992c31575d1dfcece097ec5851d5389ca6564c4dd07980e5a682148c13c75db6d57b65eadfb580ab02ed02f7e030e63b18c910a12e92f1cc7a94f72c6683ece3f4b623a627e3e5a70add8ae6789659d3711b3abc07b5337d22b2413d64d86595f6ec9cd2fe9b955557eda5561a7e26dba347183ab1b051f7b0b16b613b93edf38924282ad0bfb855bd3abfb797b12579943e9b7adf4deaf81abbf8c4bf6e643e317f8e0747ad497bfdf60e344dd28c0d2161b823a156aabdb0d5dc82165455ac5a0be66a716009dbdb2c636c1566d87f77cd939c439d293599485b23689119b3839eb9d854b0d4877283e26f98f84ef21e203cd939f558c6e2ef1fb7e926cc163aa3324f98af9603659eecd92c6d9233d98feab3b383babea9cfe231d8551e352ba9b0b895199566fee027148e39773676041017a15298308c4e88f0f8bafdb79de1cd2e2d69c386e91629ace8072a7797ad2f4c81b89dad53394f9395e2ca23999259b47ed27b7967c9e76102085292ae314d465ab297495a8384e97e72026df8884448a51bd5916fed87c800e977338f6f74cd107e75499addf46941c3bee9ee42f21cd843c3f957ce01c8f2fbdcd4990d370397f39a306c4c8e3252eba0a56b9739d78cb5ecaa37d0a2de5a8c2b0f9d0415f7efd9304b0d04f135d4a9c5bed8a63cd9a90cce292f349a1de7f512d052ff8cf6c1cba2bc30de0c718362fc0c5d2d565a9c8701ef6b8c2f6074b5e2c6ac1f4ca43e84e1cf330729b07b646443be7a8e04ffbb43ad66fddf0a821beb439420c38b51d88dcfaa9aab78e4c8cbf31e615475b3a8c53b63ea31902a2d960051a621aa6e30c94d200aa22fe03523179d0d22d494d8992b05380563ce78cd5fdcb7987bf5ebe2afbb2d510bb0e97a50c048b80b0c503c62955532ec0cb75477a6915c362c7025ef2216db5c24fe3f46c1c3b4a9f3a4b0ce711680f6fb44fa60125c80c3627b93ff5187d7730aaeceec92cb022dc8a1016dfbbd8ffe1b0fa305bcf7841c0e879db7262b577fedb4e8c9953372a6f434d596b8f8709d685f17884e7783485d26759ece36ace989e2bc21528a5ecaec3e3117c76da23c880355a50c345945fdd5e198b8378c4897c38dbf78e243495919c6db669a7c8524f460fe2ee52e303cd5ee622d8ed7fdb5417df010b3d42f9b98a8d064ef9a3bc7daa4661f4169031a4896d3fbda218da6e556f1324b86adf3696188bc43b5dbc364d649357dd9f66552bd1152dc646d27fc4954ac49ec242ca0b0b92392178c6c754753445db87d864eef6eb90eb02fc8bde2392f2202ead36baa91b5f7368351a90d90d540790224c4d060bc61064967723311152328480fb5545281e028df8a88b3019a6a44c853a92d09b308eb3e8fe36802b53eb269fab04019374bd9cba0a8678a1db3735d6a97cdf77c8def395eaaecbea6f074c375166a6187fac65d7cd20d902909b33d2dde50be3129af55594d784aa737f29a14ea5fc2151c088ab7967af1ec86ff44b110ffd5efe2954fc0bc76308fe22fb1da612f5a2975529602a92f7bcb37aee4f814b3d3bbf12ffcb60185bb49d001621480b04c4e0a89c2ed3592df6e3cc0b0e0b06303c8c480558c49bbd8811682e1a49dfd8d76cefa6f63c6dad6f9c5743c588152f41cd9b7ae91216333e43840dec2a69b96afee61444dc005caf23a95dd669cb17e78bebe711393a07a914cba40eb99ff984c4182e130945558bd729bb99dfeac153320c035fb83c22a8d28b66960ca7f4ab01996fad2ac771ac8ddda430570e6c25a9dc80430c789b29f4eea5300ea75e7c73c3a950aada3de1e6bb9a51a82e29bea72ea3739d5f23ccb7d18908083c847ea377e7062fb1a8996e65a5fd5285c14cf18102f60cff31e21698f96b5a4e611b0555d399652cf293f7a8623a6b2096dfdd71f3f3ca48f7c15f5008d78354a02aff52ad249c476e95e7a9b8d830c62e2b260717f63033575b32f9c0ad109f59778ac14293166b52b707dbe9a4efdcadf6444fa40f026d443efd85063ee6e1149323d5e0939b3fd255b0bf5d3e0a87917b98bc2930fda3c5372c33b9d03e08507128e8e08d586c71214ae3be98208a59bc4d1cbd585132fa6785bf76e1ab197974a5c6eb42fb7715c642ff27df2e2f5602f3d72ae634ba06b8faeba1874cf2208d632932cc29f568c23c3a8f73d25fd9cde2fc52fc3e86e03aa7b412b961cc6841972bbf658946a6de4f30677ddbf72ecd4f00e3f732632d1cfd2376345ad05228ce2d4a6262b108e7ff4ba2d9f7b49e846740409d764532197dfa288db5d8f0b46f1f0d0c82a390ab17484e01ace1c25a0225ef6dfead11f069b2ed6414bf0d7deb0c99724ecbdee86fead645ee87f9c64603a00007db56f5425073b663a4ac5609882729294f935544be7396c4394a0b9ea51bcd3a5619ea335c8f407e4f559133ea5dcddbcdf271cf445aa81e69676726fa71f66aa667995e37b1817559c0aa00dcc890c11fe9bf471ed928a67d704bf7ff2a74f9ad6bcd3a26ca882b2d45c9fa857b4bff8a88fd32c75981ebdc6822a18c6a32beb6043ae5d8121f6890ba1294fbe871ceb1f8ff8af53ef8fbb7ebfd9fdecb60a2472a4e24799559551083d22d56264987aa5b1fa9f502a97c1b090678ccac0e9d373279c064127f7e90501ba6e47ef832f1034e917a43944ec211503fd857e595c62f55d9bf324e5571d168860fc74955027fe7e087c31f7452015b1b92321d0a01dc40a13863b8c5c944ca98e2920cd47507f12ca8839dbfdb368b5c2f96636b8b59b536843365bc696bddf0f8c4a4370dc0e54c54da08eb78d9e4cc7c7546c1fed55f425571e87f11d04b9e2799ecaded2b869f41af6c47ed876e1f3b0bc9eb9351052c853e36ea31638d80f28603a4693e1a99b426e910bc1e3f6b8a03c5f01713de708998178737f5e1e2ff9cd5954fc706a71926f41149b10fa8a024fa4d3077ca6b25cb1c05dcaef9bc0e653b04ca73d6ff5077d8517a38cee2b42ca302faac64221d19551091da8fe741ce8d827d61889d39fa6e6b06e3d5b4c704535b537a4b686462a7ff92bc013abc89a23531cc23ff4064a3512fe05f3891ee11a92b9846d3d2d2a902e5ca30986428cd0e7c93e4aa9a66619fe789d8c49cbce9a678cfddcbc5b728a6840d8c3b0d8dac3d0d63bb121cfad0b6ed7c0b92f2be030bb1f5c8d8566cb296cb58c6cf12a5da8749b735488f79b1f2435440c27309dce642012237fc77bddac6453296f1320d4261058567d76c4a6bb4d8040186ac51ac78248bdbe9ec1fb6eed28cb11e035ea306750adf84f9933feab34f154c4684944d1a0e094d81c9639e4ff3f0ce6acd5c63111111c6dc6f0944a32532aaf36cd2bb0174bae25e15944098fc86973cc433079888e0ef6231f0270d9f5ab9588caecec33449398b126f5ea7935601d23ee2d3131099e48871bc6c0f97de0f14116518cff0e2ec3bbfab3e2018519beaf6edcc513c8858fea7f0a76b03a08bedbc41f42ce12d8df2747f4ea48fc3a6fb0a29ae1f0dd0db8a4ebf5e9cc409f4f423166c0cbbb4952c788d76f95ea5d2ab21c6c038fec250916220f196f929d56c17f3ac88e6d0d634d94be6e83a269b3a6050951e78ca4f875b89a8ce44b4865d2003f31c6048c54df2cccb6864b820bdd99398e9260194d5a2b58ddd66aacdfed41e4afb8b806f98cf9fc9233c286c0d147922f0603b0c0b328831535def30d74dca8478889ca4c9b090867be65f45cf105ac913ed691404b753fe155e0079a84e25bf6f730aa477fa58c5d88f14da8fccfb8a2cb0d2e4ba8b2d9fe0f4463646adb79528741ac3be7e156905e835a5bf54a23c15478939e2e9d4221df4c3245797c7a7079a813f369ff84654794e8df73c874278f0161b30b167493f5a4e3e2dc805005054f3f7702fc04d59afe66f7ba5a03ce9d6e6968bc5c11b0a0f8d56643e77c41c374de4cbbed49508f9d343f223b648944faa952ceb99db4ae26d784031d366f9d778f38e4f2eedaca2d91466866f3714a04774905a3bd8aa9809f48168c3b2df69b43f1d5b74b20a0bb000fb046ab22fa841424446995b88e942af6c687bc792bb29a49918c6d934b39e993261fd6baf287a29921f80ec61001835aca0778bf4e65466fe5a4f40d8b9466e71e44260c9107dcf662657644ff13fd47d01576f2621c8f692ea5de519a87d3dbf50559088f1ecb58afa195f45fc867aeb852d3758c61ce86e6b221ed87c8f1a335cee7c0b8bfadc7c2a839dc8155c9e64f42d4347730f0ef245bf1230c05d6d0087838037f612e2bf6bc8ab70ee09c392caf4416b86dbf28fe5714570489808a7cb2907a3eebefdade957d82178ac45721484d9d06be85fc9307c9d317ef624774965d8a8b21d8b616df69cd8df73b60305a75b48f041e0666b39ee67d4efc553e131726dd3a66302a49fec275e30860afca967a15ebc841feb3767e3d1367800688368fc5f75d6b25512d86ec3e152bb603da20e45733bb48c49cc3dc3216acb21b69bcc0d32f43e4d1c8821c143f587af9fa140e2b3b9e5096c9ea1c3db271d9cdfae6447c01dfc178a65736d135eb4acb1ecc4de419e492b6e84e0be4b358272b4e90214d18ad14b1928d9352a95da3bfbc40bff90e5a53ffda4616d230a443184424a07258098be1d4d39682981c6c63b9cd3fbc383c028ef28501bddcdeed55a51532b3eda632ce4f74b6065544db0a34717daa4991c15e9d0bce290f756c736b7c38b2c9d9b7964df5f0a843d249175ef83a7994553c89b2bd76d01d39dcc0b383c0b6cf0a094cdda393286de7d640c16118712615141c6844ebf7c1bb7a7aa6313e15de8135ffe200fa4830e21428060be82c6badf5b06881daa6e4a2c4603ec18c48f27d5bb67b59f7d118a310ba9858bf622d0c8249b41a970cf466098b800bef682dcecf07986b8f7ede39ae0ff94d4bb9a030bc85dc8ba30658221f5c2682cbc444b97c6449288c3e34881461847a9c68ca131f551b71e50329cbadcf79493212184185a7b97b9831a6e3f5e54f7d21a7f0b19b5c4ce427d60f6a9c0aac513d759534ad4cbaadadd5ad780adade2a0d15f1bebe1be7e57e8fa55658e502d9bc372f75b1684ae44e7465d4f99e766f8a45fa7aa8c0ac419f34a629886f5fb6e7e1ee1ce695a69263d999d1ef862a01d1e8f9b79b93e7cc30befcd808591dfa86f504ce21595ba147785e64416786dbee5cb66303307f48718fc101c531f3ffd9fab79d8372027935110b0574d9603ec70eeb85a1955db4139750a01a51c4c4b0a79246bd68eef620ce3f6005309a582f5a77fb65ab9fbcb92e3c19179c0d314c3ff6ff88fb07e2f00e7e6dbd9e93abb2da8687e4b5e1e6515e542c3cfbd4fc4a8b68d3ab503f638f0bcbdf8c52a7f963591482edaf6be0d77cb256226d5ed88fdc76eff38f02f91161285d5719282d43044a9ae7a251f5f8155325166fe6b4fdf2f9844c62468d539fc3bba11518d7f50bf3c93ea0ef943eadeb93942ebc3e12b31402d94af321d69da0b4d71e0418291e0c101233ccd13c6c5ef63c439137431d0e6c4f71c06deeba2c946adbcb30565b7194292ac2741495b8f4ef7acbccb140f11790b7e511007d56ba11de608f37072456923167331ca207df749163a423528451dda93411a74c9bb9190c7054f11175dd44e80facf66ee4bf0467a736d69bcdb2c6ad3c2074a174998cb1c71879b9b4db7f636599c4adf556a9b89b0e469c72fbd6c3f899ea264daea1e6e3bc3be857411d1e9664f12eedcd2a45c35206b151e7c15a6793455ea41d3f71cbeb96cb9b45c054319811a3eb42122e2113c8713b8e78fe26c84d704d2a5e28ba65f5c7cf2981dafd4e04e851bc24e6d8edb1b3d5737d32eb7611c9ecf7eb5d40c678545fb35b43aa58df44462d59f79d7a571f119c54c1e822941dd23f3267a36c29e6493cead76dc96a00ff3ae298d2815a560529c174f175b6f80bc546002737b171b4cde9d9e9c5c6df4aeb9d1d56c053f53f0dc6f78248a024f6555c9d9dfcde7b673e7706fb5d2c02c1fb4724e83eefc02fcf42becdfadd5ca92749bb0965e2ad896af7dcf3ffbb469f7b5040e85fc97355e0f40cd2f6e9d7be55c4a81fc0fc81191a13290729099a75f42226ea17a6505c650ab14e79f53774e6855402aa5123bb715188e042aa1a4fe142a116079a6c17264aa53363cc0545daf3f43347555fc378e80c785e7ea0e9b6fb197de249c34e23c47bda48408bc1da7fbe839b6995c660785dc29b2041733febf6f12b7c7d7d7213a2b5d5a0f04f95fec7b6ec1754b7884bebb8780c11041ceee669a3cf9512965c2aa6008298882faba095b4d2f60a62e5a2bd983ea0c402da8224c7ff07dae276b97ba96efd317ca56c03aa98681e582b209a8b0198d5dc97dcd84c6a257c9cb914525412d98feb6fad24e9a927712c2a1c4924bbbc642ee843619453070da5b916b024c72d661ec2204c99ca9a3348ba0f497951c03286c3cf82e2bd27f9e9f2fe20fc69bf556007a7eaed37d58e02dd1e9c031196f5f913fed47d7d8b58ed0c62d841c609926eb05ea75b80557cb6f7fbb59837f2806038026ea73dc22756bfcd7c35e498cf11d811f7da4d893d89166274ff00a4b8dcca1be7e8ddeb629bd857f34c46c2f52610d1ec9ec0bd7b844b1e3c30236816daeaf0c27fae767e2e19c605ad772931bc8a29a2579cc572b84e73a58cb9dbe9cf0753bb37cf210130edf411b18f5255a45e2d8b0c91491cc8f24b04bcc93fcdbddd08116bc8b360d0df090676ce8027d70240ffb197a92bf442dd05ee6ed8353f618733b4182c3d3ce4051243976f3f793e9ffd14a44054478e5c9fe82da9f8163c95473ce43986f1d0054c73cb33102404d9103496b9ac1a244d7a39f3e69fe60df87337b32e76a16ec652c33aa0294d5be178a5938d606c26a845822cae0e56669df42f08f6a1b872e02ad6dc962883791e8ed27d166de828c6311baec992d65ba125e4c8a6cfb33ce9a43fcd59671ebe7b07167a08220039c2548f115533ca0add81430c29a9f2312be5f52b5e8638948a3dc91853df88ed99be37a4663d2c341359c4a2cd4a4e1045da907783c11513c218eebeedf89ddbec7c7b0ca1a0dd57748ad1c7eee2118ad483e7b77d1dc0840005043a141d2da1d31b25308de11f9329c1a42eb99acf0539199719092523cd3253d8372aa8e4d5223ff6246a4765713bd4186250803a7d9b853a9b45c98feb493f5691890a3a5de60023fedb9f9c192217bdfe17547f025db433a78f56695be314c437ebb1c5ec71b426202edf752c0c5d16dc95cd9c2e5ebe4339d6e86ce6456db9453a0c59fd92094c0db8f0216d8ff1e07aa177450f6a21494290fad82062b998dee0bac8852895bf0cfe8ee7a95dec6d5550d4fac6bbfe0f82e09a98500647e158c1fbc882c6a113843f0186e91402ee8b2c57abcb58456f85ff74b66b67bd3f194251bb22be9952e8fba81833a21a10e55730a9043c05112dbfcb3c26f70ffc3f61690371a34d05276157f467a5fc236c880066eba3261a27909f9db51ea35db130b45b67f1b287ccf9572ce73ac698c46ad855b2768b0be2a1654df9dcd0018308f27b543e604cc48e415746ab971b3a121a5ea3c3dc211eaf3bea04882fdae23ae120d3da1e9c498d4841a992cf551592275da41fea50c048cfd8c57c1870e6da9d42ccc3103f99f90cb88d9e3bb44b680076ca1ce54afae428e6486c1f4265d399dadb6e1d3456963ff5faae419f99f166c2492954f5d153a560336c771f558070ba9b0d45982ed89b1e2dfd0de5369b548b6cf5457500d43b51bddf39ca2976039c7138ec90d3045d1258c979412a7647341d33dababef00aa344646760c5f1bb671e3808a0c469b4b3dc4a4191d002de729e536a95e9d4710ec988cbcad02efdc237873a8893fb8c2c6f4edd4c5cec821785e1576d0ac973cfd7144a72f76aa2746d405b2e774111589cb56c0dae853616dcbfb93a70e717e4fedcdab0ac4b8acb6dffd09ca5edb9cd23569573a49adb05b7a36a23ce4d37a58510501304e18281b06630d7ba4ee0a481c7a682f10d5983e8199f6ee5ccd3b7cd151fabcc8d022c9efae7dacde52f5218ead164306e4b2bc2d9cbd639ec377143905f21d0633e040a1654fdd1a94cbe2c7a93a7f3f96a40ef7a14526241d3c74c75e6c9d3d390a5c1d36499844b195617bed8ccc3c379254940feefe675a1af365b6d797ecd99f0107a56b576273fdd58d9a4c0f5c3b588848fd8858b48fa0ae6d3c35acc5b7cfd18d835699f87f0b7627305cbb1001a4cb2910ca6af01736e85d44d9b0dcc6b354401d64a9151f19ba5b4c94f5ee58edcb657fecd6334132b234fd4a964f7d9a89f093d148b732cbc9e8b14a1248ec9389832ae87e8325c615dba8152730ede9a3da5c630396b8c2461724a02dd7a87263e499dac5818f70cb9aa8f4d55220647099f56e117e1ea0611bb2e9b3ae4b7688bb24665fdabaca2d84a0cc44df55bc7bcbf3cf94f1380afa0fc17ba624f976dfd4fef33447481af988dc0e476d855ce896eed8d071881f37c7852b7493be8dd34aa7b75d9750371cc33c36eba35c9fa9cd6ae7b9805b9770baf2e8af596db41fc0e55992f4f715e46296d923b30d7a21b377b67de6cc910bfd735c526909997349a9d42fc82bb1a202bd730692ea953f792de1e18e9498da6b2cd6099e613bb2fda852df789bd177f7fd9f4cd4b017ac79ea111892cd4d48ef21c48671647bcab2efdf885522469b4b798cc218195e1bccce9177fe2f51760be5348576ce2a79222521ec6d7575348f4d66142da4f7ba1e7e82f45e3b06f05b2fa05d3b8ff25f00ea6767c8c14ef491421ed0a725553187be37db41a11fa06ee737362588f09b7a40f98e086d0564381a54fae7517db80f76dc99216b6d6a85a4c65bd902ef347b674aa2c66e3589408a2eb42c5b6efa22357b508fa5534e83aa2d6f2095493577830c81475f435dc1e553fd6076f2fea501677efefb3cdc03876187b02d7e55c1284770b7d2cab31113b7b3aae1d33299e79550c5c5cb2282e518333466ab966cad7e043aeaffb3b09f9acd461a0610b1eb093b81a377d594a811565d4246e94bc565ad5eecfcc482fd8a982466470158825805eeac5e2f1928b6d6b02aab18e0b65ac69332c8e66a66ab12560cde30144b4958d32e7da1fe0a80518ed3a6df5c25108bc08937a5b512b4d2ca9d90142ba10df162548a720e3b91b4e2d5079727b21b38e6d1021d4200ec3a964eb480760af3bf5cd046c3f814d1490b2d3e480567ec650f550f23142d24df0e86662e1b16f7260723ba604e8b988a77fe1b767fd309e6a49708f014cc2850d0bff4dc3b05bc2b7fc614253d95b6e219f2851f9615b242b0dabbfc414da427185d9426551f5bb899a2f96a6512321a376e7bc8b5d312175b175f969630950cbe6c98839af0dcb57a1f015904cb340b082ce06193b6ceadb7d50c98afd184e466595dc0e196266f0e4f7eb70d027d2b09cc97931819a279015190450ea785f8e39dd3a57e46503e379ace013272f5df29745e89862dff903fe5cab3a0d060be0d72cedcd60866d01385d30e1c03ed2124910193ac52bba9f76a8e40e94789e96537dc4751ccc8b2f974a546f1d3f1ed8eda4d328cbb9775d33bda5e6a9a5b47bfb96d8591ffe4199691ab6d32a894aa64e4bba57b26244076cfb7754816c33949dfdfdbb8b08d7e412fb812f5101ab22be9a196ea5d8afa6fdd08fb4a8518d5797a34bd2ea1008ccb91a208f915fa03a5469a30583dd20891773202d18130e7b249ec46856c148d90d4eb3d22774a4c836f8c75d760ef5b16885378807ddaece9f6934de78597af46175383829ef1895a03a25b9d83cd9c084a9dc99d74da88af5223e1179f7a7993d080ddbbdb3b3ad616788daad8e4e687abd58cfe801f4681cc701a432e53ac617598ff67277e082fdec4b83fc766ef24498b9c2b98549d49d9d75e135841837646224c4777ade0a636b0d743593979460e3dc6d2237e3b97c9fc8ea1b03cd824849a12b7980cd630ad224aae16ab014b24195afca528f87d28794fccf360898a951f487f5cd6de5c8525cdf96871261204c720e8702a98bb06a110a810a769c3a51244fff3f3a3ec3f032e3a66a44c934844c00e33cb64da8f12236f402320a1509a094b2008f23c4298eb8dedbfcb3b92fe6bfb463d4d1cbdb25e498c0dce7040b371cdb2b657360c68cc1989160847c3e26a56cfd33fe66726901ee4ee0f87123071b35531da98cb27a2c3ec422496acd11caffb2278fa69c30ad3336cc7658fef27c2359d94b704e7c119c2393c78e9a87a34aca0b30da56ab54d926e8cddeaaee107664405c75f29074c6cb893e3e29bc637a6bbf6f24fde808cb3cdac9398a3c9d8ad4774c1cead8fe8269d8990d63d1dd4264c66eac750da486c93ebb98f82061d8ec240df094c7a5956fbf39003b1fb6da73df98cc9c133506a1de6bd129a21cb2f4b7a7d990611d2b56c2f83ea1c64dc2b57bd29de835e557e018fc1de6c0e143c6b121a40c5ede00a0513040c744a9bfb1bb86bda250be2e4343839a2e565f66354c0ccb1bde14cf7ed9ac404b17cfddbbf754cfdde4dc32b8ae418b4c6e1ead7ed5362c3b90f63b9bff5f223939c7d29e1acad5e51dfd6b430a39b2ca0736fca06fa175d14756b45650ef91094b8082a98b707fbad06f504112534b433b5eb4e590849117c65225ee61d2fe711108f0450fc9d65da967e8884b1065fc7126db96b4f951626f2d03c8a8063e53ec7e14c98f8750033dd0178dadf38673ab4698ad129b1640e7c847dc4f97eee3c3e2763e06bdf277132bab08a7cbf5349a9783a963d27d50c5fdefede1ee6f75c7ab8a8fb4c9c0dc675016cec0382ff59de8b687cc22a5caf60110a7dc5b9ea499c0d951abbd3ba3bcd5eaca3b94bcc846edfa17e6292730e6fc55fe331146d314b3227f1326dad4c952da4f63ee4bef92cc9aee24852419471a264c39f2c418b97dae8384b598d30aed5d7253ea0c294e1c3b91768382af6d0f9c4b6f4012e75930d60319c4ed75c93540e63dfad31f5350640c83ebb897cafffa08184ac129b41f7ee6138df2c351483288cbeb66c1332d8445ccbea81a051acbd28711900a20a570ab7792cd4faafc1f02ea4ec703fb7c557ab7c2e0125e3d15a862863a893e7a61b9de5b1b69b51a86fc238f6295583f1969e69291d33c3dd93e48a6b73ad19201f8bcc74b1d7fff68fd624af03554aca443299d5a87842b4eab6fc7c55d1c9a1e8fb4d62f438a6f8b55a4c921e44ad6381157462ce98dd9d63c016ebe799c43dff5c5407f5e68d4e6570a49a0441d8bc841f2fcc438bbd34473ac0332da535a1e2ebafbdbcfc9fcce01e7d49eb83423670d7644e179064a9df094d40fdf4bf7e4969032c9cdbe5b9cb8c7329421e456d5a4aed5a297c8a4b282828dc23d3508ac8b40f6216362245e1ded5d385bcaeb1768b0a0f91aba5b76cb10ab28396c7e6a62efeeeed9ce7b9453f9ae824ed661662d6e8d8e6ec215c040b4b0f9cebbed93a9ddc9227b99c25eeddedd655a50b48fdc77b9d4a534356212592dec57416829dfdd214ad7c59e00229323aa4832b8dabd16495b1ecdab9c56697fcd4e587e4524a62a06ea41a9d804761c17330f8bc7c44353d24398172056a4236dd1bbd09aeb2d91d70d1d36ab62483116b18c03385356b6ff3245701a9949454fc518275cab1305b58014cba8e191f4c5c27d46535c09e5bac5312215fb25b2a409751a24e929d5ad52dcf6212f92bc74bb96b9a4bbf1d1f22b848e1e5b635a8d5bfab3fe4ad0076a84caf5c846a76c8c7c44d05fdb07c088cc59fa797ef078d9b5191d7ad15b69e90b14799e82f616ecf8e042e34e3cba65e1d93138d7f61b41631e47ef2c9d1ce709e025842aa06147dbf15c0f440e0ac4f1887b8ed7e55ab3f93a9273e61e0b817c5f2e8650e76e8607a3028ae66941558166546f0bf6745b2bf2125d1ac3212f69e053fd6b0e11c4291d9de547ede65df5ea19226c4329e936ce8057c33dbe3a82abbf961aa1db38ad203b63facaaea2a5355420c438194127aec42c9b9e3987fe622a01a6528128c95256f83ca8610c35ee6a68802417d6bd233e7be80c79f46871f7e6ac0fc57780e5985e7a634c6690fc45970ea35a7ee1a669fcabb13af1254c9b2496865dae88fd694a680d44fdd3ec08bc97141955c23a8ed8077f84adecb1259658d6e1bb3ff9b768353e22af8a2bd34cd95ced7c08cf0e81ada34e3ad3455c3ad8d0fd2f4135d98b4e5b5024657a79f4ad2986e09e24c811736f16e5190498065cde831793513a8091bf723c031a889e399986104177c1c04726fab1841ea75f1e7026074db280c1a54b9f856ed0a8f8328d0a3a77639ea5545541ded594beb48d58ab056c97a03783f0362b08a71dea9d8be70c1e7b09790e977195d0608b1c79b0b170003b17198eade86e8a6dd4aa939aebe6326040455e30c454728b59f14dd212530c2a7bfa0b78cd65d544dedb2d042e46b8357c9f02c4b8fa5967817484bcac3835bfb46a46c491cfee01169014c1cecb20d7c03c7ba7cddb1e75b35077d9c7fc9abaf05a5745b470035f2382c95f6d12a1cf21ef18264d4249d8be475cd7f1f8d48aa416ed8670835cfa8b06a2f8f7b5f9515ff9a524495d27610d36097e5ee108dd1812b8ca112a6f0ab9c4daf98099e25e719301d998cddb3d6dff1f19e678adc0bc7897c0532b783fe3cd86ee543085f74a8031ad0aae9849811442e3d7fcb4a6946b6c5955dcaa5cda136dfdc94b3a6c567d26e09e52501db32cf73db07552124b7666c4fc492ea214628cdba983553cc7e59b53eb748daa9ed551ef331c8160aec63039523fd310f5da8fa2a23b78501dedb017dfd1af5ed521037620091ca51948714f5c9ce8178468b91273f958f1711bfbb7cee1c949598ab6edb7c7ac260877bd3e452d337f192dab0b21bc008be39d135115d8b42511bcb66d92bd5fa372d68aa2e11927e699f175522a6ed20de0dcbf1288c82d0e09b0f44841fadf7ee59d8b3cd7babfb80e03c4dfd8330a9652caaca85a8eb41a1fa9cfbea9e657d54a5e296ff56b134333533fe9d14931e779cab4b7b6acf53cd22397cb82e377fc706b7eddcbbcced304fe1d139a22654c80d0e5277d406515a1460d348406bf96b622a7055ee6b1a7845cf86db0e6efbc00ff6c4b8059c96f4b2fff51d1e82749996869e6614f8827e832e4dea10cc82e3757b72811225855fbac2f061d3181ad4e79a1628302799853ab1ef6a81f74a650d6ac95a64c8755d6e23d2d10911dec68b04d6c92926bd81db459010d4fc93db1fd8e034dad98f0ff51632260e74380d79ceb1e147b1c6a7845d13e48871c4b7f15246183bbf340f6d3aaa42077a5950ee6d1b7daa03a1948bcca0b032d5a87fdb455e443117e165179c603268b12d9ae587f5fee91bb0ad0ccc4896adc7aa02282789f1d28cddf314dc1340cc7969613d43fa82341c84ed8fd87d615cbf666539ee2e4f50e082ec7f2af5156cc74bdd35055881ba222acb57890346f6043463e16d87076dafbe68f5f3638e108023304ee0d670b62879c744d76a7b0108eb86200742f648f8f4cc77e85520aaa34bdcd690ef3ea0d6ccb7c1085a82129ec16825d3d99d4e13eb2aefbeabb912172b982da99607efd019e5976724b6d207ebc59f3ec449d66b03377db398fac184f02f5b0ac307978ff08fef616813b66e564e5830f9aa0d05fd2687664525cc34baa5d02217868f3e6ae7ee0fe66fbaf3f49a94b4c57b7a4422d9ddeb0a30594bbfe9ea5b27f1d6786e5e4ebd3f810e367ae63d80b4910b2559ed0da7327f3f5b7d94cbcc4e7c0a2c55e4cc29d3eaa832065926d34e10fcd66c5f25843f5572e62ac870f58f4d9411e35205e4cad0977bfa58a441d2d899de7e4e6d4b93298d60106b5cd1f592711069762f099f179e50fe687dcce522b0ade5f501eca134d519aafe659ea7084194998866abdf4abc4ce9420c9de5de619b1d3cb11e596a2f80d119e25c10de814641dacc3e3d8571ffa6cd294b71c748cd3959c8924b9d3e1e02871d5670a751e3a1d0b83082bd54eab11ec03293b770b687629884b44f065ade4ccad4809bb7df1658eb05074870123a8d1c8e44d307ca5a2208368c6dd80810cede55b46f65907eb5864c9bf2c0471d962a842a2a0fcf280c2d324831732900886acf189eed60ed393e1df5c2dca7fcf23743f491b66e4cf1fd14717ed9b1e7bf42fb01ccc07737fa0fadd1f4e30c90fc676a130434566c738fd5cf5139ab8ac68ffb64b8302b814543d60b36ede3c8317dd9b165b33af0b6467de1dda34652c3d28c0beabca5b42151f332c9a4017f6c4d932f1239b6aa6a289b198d761d3967ff32d616a39c384bf3ede27416ea69bdee8a2e3fec4d970c9c2926ec3880986f1ec8f40cc58ad6a52fb984800f429842791d35750327f852f125cfc2c89e1feebb73fe5afe181046e66c462fac4e6c656f8d2b005448cfc09f67043251bf54413b2d0f6ec0ac533c2d511846ad6fcc24ca3f343179c2a9c3097255ae6fa7085b2592b7a9a330afd5fe0ebb682964664fac1dfa77a7c74589d96cc39037fa74a2f9bc1bc76935f4e27a307074ec50a7c7cd3da0fbe39d40438ed197d98c2a8f7b279b520252912e86a94ae5d1c672d27306a78a5d90f23d17008dc7c2a8991b5df008ab3a2bb1465b00f02bc7040925c417bfc78284961a7fa08cffb2e4ead7a8742284d7c375263067f643a50616bb80cfa0aadb5be6c3ee648eb47e21d691cb68669485fe88866337a2bed35752e0a0b227674a5eabf31997dac102437eb15ad8e5ebb70b8806695c229399708727fa3294f7beca73245f12c3081b4b0de2efabd9cb9c81964c91034c9a9d173c8eab56e4333b63f2a20043d112e34bdbdd4426c2508f3fa776941674c2f9524af72034f700334f8fa34065bcc82584c337635dbc8b050fcdc0ab29c2c66431edff454e7d46497b7a46a08b4cebd92472c4ab390290d14e30a4d566be2f02b78684fb6de036129f2bdb514e1a60b0454d3b02d286546b9a8dc5a0ed2bab38e0e7799a06cc76aedbbbba74b402c7fc9ef35daf3b86e56c9ef86f68bcab400f7120c95c49454af82e75e8d7401989e80e2c68125e6eb1e6d2d43f32b2e76bc9046ffea1ceda6fdca5b8e8ac9887a09bba2125647f5e5bc3b3f96cf5c415232c19916fda877b18081ccf26a4a7e36b53f056eb7b0ae7b20bcc7cef650ba2687f7baa093327742893f426d7f0503220cb729fb09955a8bda662847b7d74fb3816773fcd9c3331c8ca7d75fa815a5eb9ee616a236965da7e3ec38e970bd489e19f5d180133878a9c0f7634c1e2ec29bbf5f9886687a372711a30721a81e276a489fc53affdea3bbbb22d59872301e53ae854b490c34cb238aa9a7e4e00759e91b31d1ecc6eae4ee05c5bde7e76c953880e0b1b54930818839dcd2a9752daf494dd3dcf7d00f570789debd66e10332bb0ca06b246ba55c857a2a4d5c10594a4fe091a8832cd99ba3a5550a64b84803572790476a0b7ad63dbc1cbea0745fd30fec687616b2a6a94e3c5a165b50ee67ed872101f10985e852fcc45b7f0120f1195fadedb4b45c5cb11e2069ba5c5914be7f99b6af02814331239b428f4083b504f4eaf05789eee21263d4fd9f909330391c38403ec0f5b2bba875358446c642dc003b857dcc0ca3c18a18f3f7e1a850c30c5d9bd21478b7c15d18cbe621f7dfd32fcc9ec112280c036dd1bbea342e67ee477a104fac28fc98fc9efa7b1b76e2b3746f5388374fd5890a903efa6c47cadc799036fa692fa23a6d8bfe8d5cc83d6ba5290e86493dd27e32639643a5a1bd489b52fcef522d2a5b3c46c27784a07f1380d2f0afbdbcf0947252f0d8ab5659f7e90cb66f5957c5a6f0b7a363661da14d8ce987312eb4b8409b8c88ed1211a76d214f2f7b3d3f6cb685e34a13b4a68ad183ea2249c6e80fe8c5ea7a7e4a18baa30f4f6631907adfe492a33e2499882018faee693d2a9d2a8ed58378058eccb90eaccb25dc43523c3c685a14c99c2bf816ee5ed10a6fc01e9e5f661d79f56e93672a35cc836c78c2c6f2f03e6171491242721d83c10550abe5fa8ac1a59eb000846fa9c5c72069b2ad091f945adc04f56eadea76f3acd991a4eb396aa9bc69e0218b011aa9fc72dcd466f59b609ccbaf3c301b8dc845eb00d3bc2c41671fc004c7b14579ab664d950ebe727ee7b90aeaff7530cb526806a8a133057cb9899b417029e5d33846adbede3c9df02130f960df7232f6ce6ad7dff1eb9f8d67d8f15c841663d848e80ca2343aeb54cd3ba6c11549880bc15ca0ebee0dc24a55020745a90484940315639a5288e2091bf9507ca7f9d2e58288d7b2aa0c5c8bd040a80e2edffbcffad07f3ff67aa876ea2a9ae9c35778f9bfed53e8217373da36a586bc9d4c7feb4a6ed9124d631f61b575c2d247cba3aeaea0c364a2c503f524b3df296cff70205381f69271c3f3384e7dfda8235c993061fc4e43be6775e750b77def10698f79daa1a1d76f05fc4cd8f4b77d54eda874ef56bda69dadb1fe3438410f8296c4685a4247494e3094ea3775ff14902f585a1f52f6655082d641c4413e42bafd11e112be93324d20a39cb1f2d5a285d470c771a38c808184020c21191341197376701c7b50f1ad1ad4bb75019dde3e6b27673b2770caa86e692c1c678eef1edcff558f687c1af6186883a0ef88a7c738fcbaf3e152fbf58236b6f514652b909038b5399b08fc667c780949b444df211102dd85315ca8927a35f050416fbb16a50e437e034e7926b9c64a065dc515b8fe6b7204ce904e8fe3763b37c589f42df04f366d5c5c7bd2b8e7fce9460f17e965b89a1102e03bd9b167b762108c0e55093060a4a502b94a9c79a9c4a77d667fedf78fd7a56ef726fbc0edfa663fe0c2a02082b895da43d147b7e29a308ce6e4566a7bc2855e0a1a56e72e54d329b881e8145abe46931cea9a0264621f22ff50ab30669ce119a7cb5add54538ad293e44ceac8059b5bc64f4ec4332bd650b524caf8499d9ad87c423b4f861f4b4001bd4fe5a841fe20141f350ea508960adaadf7faed94c3e75610b89d8228e03db5359c5951b6e03dc204cd2cbe07876d2617ac1a975cf1dd0f5e08d2994e31b4cf19d11a504dedfde897cc46ca7066c0aa494b627e2a7b0b677a7ca19af561d9f6c369c15b823f7916d2252f9036fc1f00f81ab85d6da30ad6b483399230cb048e25acf38aabde8ea5f164c7170f45349ff906f347e441c0a4f749d2e51187a463c8b7bc0efde1eb848323ec6fc2fdf9ad26929cea33f8a06e7ac401be0b84c2d8bae82114db184c227f3ac4c089e8bbab249e7b2c605f0e847f05556326eb918216c5aa90c3da353d5beef679c7b2e056a4bd168ba14c1f0df6d7356a841742e715abfc0d0fb6f79e59a6ce862cf9a07e1e6f05c6e2d50ed65268020d86fef983a1b1449bfffcdc7b30933b0a2cf371f986d43127bd726638ae222ed3cd157e1cf1ae73f6c42eff852a148837860dfb81f0402160fc94cbb54f9ead351674b7d86d568e65c36717b8058ed5c16599e363153026abb1e7f9faf9d09127536b0abbd74d0cbf3bc8f7375b5efadeb6069008343e99dcc8b1c6358c4aeee0edeb184cff519d19bf694385dbe0ee69eaf1bdfbb6aa1cdf55585c4aaa9a90a2e626091ddd68b55886e4ab111ce15aea71ce5da1409c240dce5d489bc175064956e4314acb833721041c56218317f6de17ddde7eaa9fdbde223241f78bcc37eca990aead0b3d61bddef03b6956b79ae9c0eff798bf632e247714540af333fd7dcaa1992d0147394b6b24d12a6c3d8e3b47f5cfe1f4d919777f3c0c1c9be657ccd0df9c0bdc878a3118f456eb00a3e32284b5629606993b0cc25c9d9676d7f52d7b024405d267335481740b013fcb09fe76c42f246b406cf2686272b52d92cc1acd86c46c112b85f99e85d75388bdca00b431e61b7d204dddfc4da71645a1a9e0bb778eae9389a23f3b5fbe40888b9c414076bde64b111959f0788f5fb471a99ca2d2edf674a4ac6f7b84723bb7c6e67539f501254fdf3dfe7baed0e19c77f36c66c240a775164d741638a809ef637f51eb0fd8fe142d1f966cff0796a00f2607df30651042e8a9200fe9f523afba1658c2900e5fbe85a1ad6e6ace5763287e191e3393512d5b776fcbf82a9e1259099d722563d1149b1f235cb8a6dff09de6124d45cb30c2fade5be61cdf80f0cadfd685bdb3f024f8b7a7b45234886ea2a6cc817babd868c6eb25570dbfedec5930f4b95b2442bc30e18c36087e8233980d52c8709493c0489a4a5bf8b772b1281f2602131c72322d304ff9f486c65332ac9763b2c93440aa82b8bd31a37a7d4db67dfffffa2f12c6af79060a3b93e19b9dd03b53a2ea14ddc513b02bb3b0e7f72ab702f096373b3c1e1b27fc01c5ad36454b6a8d92206a4b474982c89061704f4d32e649e2a2b96bcc6f0fcf52150b96042ecadb4263d3ce75e6cc5c6d401adf5926c43d9a96ec70425c504f19a806598262ce4c0503ebfe30119f1943a22bb35fb4b2bcc16235e6ee853e2e40057c7006e565a8a7a767ce5af7a810c65bde624798fbebb6d57ff39906e5af54df6b8d7b44309f01b0f23ea1d3fdf29c059f89935787c837ffe7bc1269478d4636ee51654aa3a4af0653aa99fa6ed08cbfc35fbbd39384c46632d7571c4b21f21cdcb934af493277c13bc9513c598cd10ed2c12c73bf92193f21b13d12519ee5965bdd8ff176ef5c6ffea406e983a2acdddfc26376c11a67ad3538a87239b3d87bc6967db3cb02ae893cbc89883ed98cd6ec916613da07b3432a75a3c1cf4f897f5f02e99316298865df90e7ec4b882d580acba8358b26c94abcbb3fa35c2af4c06ee26390a01206b4ad018da8639972f96cac93da9e73876d7bc54967598c64b1674a239658c092c53d86e2940bd8f16046c3997a3b38c597789ca47eae1a8889289edd107a0026a7ef4eaa78e4833f8a106fa02e7274fb33084dc8144266f5ae34591f9c25477f328cf3760a5ac3cd777cefabbdf735ff4caaa27a95e039fea203e9a3120a0b56f6bb17cc14d555d3ceca2dd4090f82a7f573798626a9f32a97587db72823f08d91c3cc9a3d82ae1ebae8e847383f8d21d192eb88a6b9713c696f530b24d48bdbd733b59b2b48c287e98efccef267f17a10ba90e5b14bac3b4a0ca62d03450ff22b0758209a5eccd56ec324e3fec2d43f938d9e15e13294f1235216bff1e99a30e0305880f86b76ef5a64e22899375acf8e1c20e92d26f409a7a93cf845908efb765789b5b0b51924dc9ee28fd887968f80f51655371e98c5a9af2a470badb810656b9e8c844d064e0db1121d920c0eb3c3813be597d8b62608c3dd78bd68398ad6d0f5b51123938eced93e86359f71c41a0c2a89e6728322465245c28f986057bf641f656f07bd8fca233f8b19b084764b66f25565e04d564f9602ebde48c171d3eb04b380a17a274419d3dd969dc493db21de928fdd0909d485ab1a86d143591f4bc1ba06504d6f368bfdba95d6da87c04a7d7b1d5be39667e391d5bea8d926f80a3dda5e3c77afa024fa4035db310bb1a3dbe6e5c665fc43f99b62c518b14211fc5b067c6d134b76749dfc94a726719115355a4ac3ef478b11c9101fbab0ed7b8e61ffe27203d3c28c6c2cbfe68ab8db21a39b773ad9ed6016677b02474206d72d71e0059c20134cff851b08f6c00b9caa72da19e92cf8561076af1a5389b9a93d19c07f7e5f451a8e1ccbf253cc642558b0dda4ba3442b6d90ff0db69f848108414a5ee6b5e79b6af3a01ad2598feb1a830b025f248874f1d29f57c8a9f633aa5c1f404cbd88a678536ac9ac115c4b84b1443e97ca1627bb9ec053635d24d8c9beb2f5a5edf6678e82b73f4ddc3e08570b325d50c4a6d4cadf778467b85c090ff464f7e6c7ec30340743327fef905e9b5372b7cce241fcde7ec204cd3eb5abe7473372108c4af94ca6e80907abe83aec30d98b0c1d0e47bc2fcabd550e34320beda01f332410fc4a18a44c139c896ac9ab7a3b1583b363c0376a083057fae9a1fa39ba566d3f7b49f0643dc6c724622c5f74652aee2abf05f888ce509d6d667c46ce58ceb7a95a8fb291b84d581596850323a9e0d36fd7c99e0bd73b87a2f7ed088195f54b832d677ecedbc38e4b85176f32163d98120974b59b5bf7b9f6393bda5ae52327b6ce3a4ae96ca78f1a4ca323cae11160ad585cb72cb6da82e42ac44348ddec7d897062bc5b86b6a29a38c24940b0b6714f1a11470771ec9ea6638dd7e77d933d4abc8c6b6ddd63fd046ae4df289bbc35d499213763a01be5be4a1989b775c378210fd5d13f1b30d1e56315aac30741e12b9f89547d47eee167f4ebf8a46f9d6e14e14345ce196da35fa32a3467ebd010051d56019ab3fe03842c80aea3e3d78d23cf34c81afa57ae8059ff2a6974caae5233a6f8cba3bddfef8ad3a847627039f38779eb824a79968cf55dfb7b6bc26a5c5c4ed1622b30aaaeee3f6507a98f0e6139a8c32a40194983349b61077aef8aecc8a5ee3274b14f87d53047bf9a3f14fa06275e717d556f3132a1dd6a2a84578f1b20c34347dc69575bd9a457060de7138b21f1d8e108800a5a73d4822e5c4d6af5f15edab694e1ebfcaccf6cd2f7b7ea3e8769c02ce5c2335296eee99ab33bf198dde3ebca71d0cdeba8a485a0d301a79f24c01c9b3c6c2bf9f2c54c663517388bc061a6762c7d641e316bcdb66d21d248fb7248e56b2f6dbe251e83720522ec29cd84445478fb48eb6f6712e3171b80e14da5f82f2dd26ebdedfdb186e9a71fe524a892b5cdaa46dfbc0454b3ef4d90642f3093805b77224ca15e56e9cbf4353aeadf0802f38d88525895655038e2c47023a535bcbdeec5478fe5a796881766aefbf5f9adfb058e8446c460393d195c89f3b2fba928b3a66ebac7affde4428dd651b404e3f7f7ce3fba11847baa908820f93048ecb1d455cddc4c22f0ee42dbd3b39cda29657cc1fda8f662eecd21083ec97a104153eddba1ff38a8446ab285b77e182f8d6063cfecbf0b079ce1b1c6f3aa1bb1073f44cbe6020a8bd8ff6ee902133e48322dc9b5073f17e2cdaa4a7d02625a40009b5d7072341a928847eeca2901a283e1fa031d76dfee3f5fd96860fd786e03b359e40b2968fa93e9e6762326a5b7377fa164366e9ce9eeea8d55eaa80a68b9b09ad8b8a98c065713bb162a977a4bf40d50504ecb2a1d1fabebccaaca814ab5cee53281ee97e3d457b41ceabd87c413893f98a05c3cca1be825c8658c8066dd7161cae93bee9058ab4e42980bf3f4b09effe03606a8e18fa035ce2ed2e9ce01ea125db705b178a9e31310cfedda348aef69528d14dca8a07ef007db90d840fc6d2d9d8ad362a17678109a1db990c434067c3448f983353e9bc981416b33948979059f88f9ff95a8d8c6c3f4cd0566e7a8caed21afd030c32a25be7fc0d4822d56a9ccd6646458086bc2054b389979eea0a055163c5d8bf8e5f3c659b8de387e639421b09c53b148191819bbcee34a3ab83b515a2f0aa04a11d60d07a8106b3703d15095fbddb2ae6b1c4a331281b914c40975c25e7141761ec7126bb256d3981284c108a00a5f6bb7dc6c3e75cbd26fc0ba17e17ae4db53feb8c60f6c9fcb5a566902326c436507304866f581bc547ba2be0abea9e1738e3f61493fd821d12fd8479ba460074b30c578ae6b464d4b6ccebc58d5ad28eab5af815cafe7872ba932d33ca78c7d6d6a4692aab4db7584174e2874bccc519b13d7c7fc0f087739987e8af7a409ee8009d28fa28479e3b0f7b70ba4ef7744bf20e5494163f340df23aa9ba74775e15ab73a7bda57deb8a61864a58eae058360f6eab13a9ee34f9bc9522885c6592474e61376c9682b708a1874cdcd3ca90c9d38a5c2a6029659a99e3aa668102916bba24ecb96f0430c2b36b6d656c7af0556b60b312f1f9b09f74a4c6c58811dc98a77ff24eebfea9dd2734778237008aba790d6f526d9b6cd4e9b7d055ef1c268617ec4f47c6ac54eb3801a9efb1a7424986ccfc3ac05c811e58b491353418140452b9719e4a8970ee6933e9e7582446e56ec7700ebe1d61a40ddc9bd5d326e19dc17a052d6623b9554b05bf624213f4ec007cb2bdc815c1ed4fcc29e511789b18e73e5fec957711ea1b4678d7fdf9e653a5c62d79b07b27fc0bca502a97cc61a91c76f36168b0a9ee6e644f373ab84576f8fb4702383f2199c14529c34be1b2a368249a98d9d97bfede27fa59ab0755c69c29d48ac5f5e2c07041a6e7741a824a87a5586da39e7850379099cfc52c36f1078d24be09e7ca9c8d5bd4d88ae24089927fded4419b0bd4a12e01b8f821000b4c45c7ca6a9cdd8d8417b99236981658148c635d2748bd25e9d2a51696130f61a7dfa2264a0f4e6c3b15bfca280cb656208933170df6f517fff62d136206df933eb04b4cec9f3c72a918e16bdc355d6d43cccb5ca91598e0cd75cc3cf6061c8a810487183e751ffa70e6bba780be0d6b273b9de0f646411e25c7dd143534d37255fcbf60dbcfb29fb6c4274e20b73774a55208022223006a80ec981e5fbc37fdede7e21a25f1f39b813119f2c20488bc8e864a3b0e290077fd4d7095afbbc43a432a2d93dbf1a3f3bf4109d43c2abca845282bf141da7249b60c218a86e517e80302b353726b1157e5869a541f32031d0d2349a8da88ad4c61eb5d94dbe29046304c374cdd9454d17135860278cfe0f269d250b53744d8b198bae1c568a8d6b65679ab2a8505c371550b915a456ada5fddb8735eb2250a4a427be74a476fdda5174ab4aee741574b95379285d7bc5b3a73e1cbe66d37812b69a78bd9e3b9f1637c459803d36a4d181962dc901ccd14aa599c34ae20c49b9733b450cddc9a75bdab0b44df9a4bac1e212aebb29b9bdbad49b6939acfa2038b6836a69ba078b53a75455442af60a7b974d809524306a40819137ffecfa34b910ec5eb6e416c16305c1eee0606bbadcff31a0b118d4e3f0fb79f92d973f814c2d7196f6634869318d7ac88e0a8d37a2716de8a44161b80518e5b4d7141e04ef6031fd0aa3d1d945fddd59e96e658179966bbf6490d70496a792aa159e2cd82218b84b3fe107cf4f4604938be87a539fa2897dfeb00ae48c66072e4dc153dfa8758948d54c7823f3b45212c63d3198d658d8302744388372b0b3251de8ab86bf37b7ffad3e41c8b55ec1073009815cbe82dcb0078bfdc47d20a719e6250fb363689c8eaa153200c81b4bd610b55dc083afcb217ba4df01c89f2c854aa0508550848a440c0e0ecbdba1ac999ee4932bf179f5d306ddd381a9433f77b3bfd92298e4c8e424eea024db493a51d0210686fbd2049f15c2315232656ee025c37fae21603479a08b09924d65dc775fe45a7f5b099f90973ff557642cdef6c9f4ee6a5851acbe19b75353b90f7713c72d72c05025f859540ba7dddefb4a87f5d74421515097357ae3e6acf600a67373bb88fe23ddddc480fa58f38ccc539cd643459e6d0455e5fdad5a986c93d3d28f5e85c59291b35c1442a5882eed18702e25cc64f2df51181ca8144190b404d29fd2e3ae0974722956e66f46cd52a372d9c5a834db74a17765ee19b2f44ab69ca95e59374a24ff2ebfbc8cfbcc6b410f0a9abdc70c9dca5b20bd29b7488a2602448b20213df55973f51304e6491a2213d042c99ebdd873849d54b860be009671696d4993a9f55815a0d95af4a1e9b654ccb663c0fe4adbd77e2992db9081e55cfc69bd49f92970fc7155334a1a5e9a678f604f9c004c9c01399b61a85c477b92448bdc914a659e8443fb20235fd3418fe9c787a740af2fcc3eb2d050f74f2c87ae97e8935272c6d99cad38023129dd4b0502bf206d32b15c82ad260429a503a6c6da7cc59475f224c8ec34f0ca38432be109e767c29d1505ae278d19028906ec3d9b8774274b8f6da149244e6bd68dac7526514eb0da7c64fded658bccad906003f17b3f25e4e7585d9fe55bad977c1bdc3897e614510fd663a53f3b74db6282127ea3554bf8fe599ec2f72c5fa4d1ea61fcfa09d988d8302408842af12a2c1e0fc8dc34b1d11b14affc89f99ba10c643c38baf41123274a4e5978c31d5db1fa5085243b400945862fdb633804ec4aaab7acbcdcb44374606f19547fbb48306b00362b04790d934ffdae135921e84938c129fa5df8ba333b74cc64738e552471420a119d5a9bbb80d7f625426a3bcef3b5ab7356f6b0bc89438c70e19abddda367edc6f261017525890b3753cbd6a11b78fef2f386f47efc3caf9cc747c4044ebcb3be3e6df85d1c9368dd6af9de1bb92929930ffd1014c4d5c87704ec966b637af6fc2db6267b30bf36a51b40437930d74d8d82e733a3f1e9857af0bf249a53f2072153acde057545082bf4bab65c3644611789850a889aebe668949615215387a3a4bb6912b3e61824fce279e71537a1d4d308944f7e5057104291963698ef882662b2c69959997b0fea7a336e1467e249ac82cdf947d8b0f158797f78fb115827676d677ed3355fd67a73a2dbdc1be2b83420680fc4fd7178e0ccc7b57a98623920e9541a9f3d4b3bb211c9101b1e0e43903daa1655832e1c7d0a144edc9f13b58cf460149296b71955e651cd29e35440101e2d3f0a9e577c0c36935ea8f3a870e15050b1eb6a6c832f0d92c2ae1650a7fd28cbed5d7cbc7ca099174cd85ffc6411a290a7d47a3264939eea9cf6fbfc3e25fa2d28a98695805c34271310904c97ba39d8c5526e7f689e31bef2cf48ba82015af5319a2f02ca1924097ce98b0606e5055aeff6593851d7b3d304b1942f0c3872680ccc944f330408510dfb52027f0061f28b3e23d968d5066a8a18c3389824df9ac80093e61fbd7c0f35547fc5e8afb34368bbe9fdb2dee94c6e17c65f11c39920994221ed018f88ed723ae00bb6671ff3beff305f4229d4aa85b48598a740e80b032d5c12bab93990d7b017b924f222a2a0c963405b765b653570b30988521644a8d9c73843cb2774f7243e76f1d74dd16d544e60a19fb42dd6473c4c2efea75fd6df5eb2bf26e81a2967e1ff3be88a105a0efce906f6f24637d1684b7971da7d9e40d47b035288473723e55a4ac6dbeb6efb0269aab907ca910e13c401c669230fd1b0c2498c77d561a287d028e27d8f0ec454f369e274de77afb9e999e051954d027897b1822f8f94b6fd3a8d39b858bcfd6e2d105522e3eeaba1e876254e46334f6c9c1a9771b2b20caa30e242833619da9c73f0d16ebd2405d771babc0840812c2f48867da193c422d29f1c5c791a738f941581f17c528690c2d0b37dd2649f58440f27477ec3e0d769c4f5b8a0ceef933f2af72be908c57785b12da4d65d4c69fa162aacaf9198b4b64d12ea6441057c04b295fbddeeae0429bbb95802f4383ecc665c55e78f9dc49369cb30d0818757136507a57ced9e88275977d10c6c0bbef22569d19f2a770ae339b86e34011e8818eff67fef7ed44984c7d93e8095fb8c09ee58cb202aa2e258d5c39024e433bb4a19e91928f0e99e8366877c9a8d0094913ccb97580c4e670c46430bd48a67caff12e908f1e477b03da06d16f5e5b3bd9d9400f3ec4b4a0b2a140f9f5dd70b5405799de4a5b16c867105097b3fcae85ff261573edacf36102123d61c43bf06ac514c838c451f7acb6927187803361b23ec9979c873789a8760d66fd200a4145137610c74e668ba0b297cf7b1238fcf8e54fba6157d3400f0cb6d80beb4ebd95baa0c1f0cdbb56bd502af9d0f4105b3d882b770bd2bca50e791f0fcd2562c0516e34f3954e1ed08d818adcd9edbc44d9045a6073b378e26ad60cebfebaf21e1c2ccde62f3badbd19aad2ebf02c6de198341c1e593e14209c3a30379b1b18cf2bb0ec9128c367c22c498f6ae484c1899e41a6f7d269a3de0896e61575e30432a23c441bdff7b6e893ca506e5e42aa275340efde4ad404f48860b75a3bad0de507293e4224f8302187e0dc27baf40207357c268a4d26acd959d1e26f6a4bfc95a8e37a869434d72343fe79f099e070ab3bc060b4a80834c6815e71f86cf041a3251f31be80b384ff3655058040040b00bb97fb01346cfcfc7b48df089df64f07f3d5b8976492c599a42a285a1e56111d772609c9ddff8216c180c4d43cb295c7d81bcce2118b60e5572edce658485f13a1eca3df29b6f5a4c974c956a7934e56cb0118785393d8d3a84f8eaf7b4e191ebcf4ad1db80c5135702736b7b52d8d40b5b9fc8eca8f7d8c3a592a84afceb1757bab46cd058bf50ccf276985ee7f68203af2606399784f58aebbf4c0ccf4e9b95d1fb17eb581072d0377436db235fbeb7d5de4df629ce77c164ba1ab99a0312cc3076b49a54bad0262d4ffd7f89f37d788a324cc45ee03e4d2bd2ac59bff698ceedfdb56be4349b7016e23ce05c59693153d414636c93fcd7abab585247073323b31af33c0fcf5864f8a21d6842cec7ef7eeb37b7b8a7e892cd4c2a94ac7d16935b866ebcf8a9093e4f96c2850fa277b207c128374a03f96ceecc2590830c4d43d9213fc3bf97d8dc5395f0d6604345ad8ab2af35812f33c6f86795f2bb8869582641f3a9d8f48cb7f0f9c3f69eab28e212a85e63943c2b4e944ca9f2710a49c341f0619ff23b0c9d1a6266061945f239bcfb436a32e5cad56bee56ef8478030b9df1bb80ae1a6188240814d53e60f33d651536ef6f6068ed2987cfc0f4ddd16c9ec5769c27222f68bbf0c526ddc51b77ef52efc8411cff7b4c7aeaf8efb32751114d631d7915d5d3172c9a5616d3025fbc26d7b6bdd682b09649b3bcf20b1f77dc25b67162f7ba5e43e9d2f5be9d5a3f5ec309dd3cb1106b1a96b48610a2f96209fab9a0094776e8625893b47f533ede1a0865860c0d6b20261ebe2f44c1452c3e952330fce0261b71642519dae69139d898a77bcf5ac7c863d697e8bb022dfe68dc9c1c11890aeff1f15ea6c1c631d98069b5740631cf7ed2e7897a1efbad3f6f9e6d6d84a035f230b13ca02ebc8fae727cc7cfe108e7f232b4a27b6be80a8249eefd692cd0537883da2caa28577af5c56e0e9cbd5fd28b08cdbd2893d8b2b45906f89d84b7c08db7491fc1cd8a5fc7e2af1a6bf479a84b4f4660ad0cd1a95348db34d462fa592ded610557583488460acc1b49dd6f7a9c2def5a7964877a58866ea824b3a64f950f881cb1367fd76952a14d4a65304d0114237867b913972ed910b0869c200d78959a1b03f6c12ab6fe9fbbd1622de1db6254a0eebfa18a79cf7e98541cf8a30c36c744c9d472f6201c3350a80133f0ccb481a456d153f09b7d672e21d9ca8f87de03cdd754081636f571204b6e44ba112a98f5b17728cc097092ce8976b4d9f853ae7ad2d916c900e6092c842d99bb1ababc5dc9ea2ade105f73f42742f07b039e2a0d3d41ef6944f896eee236b447c4b89d9b83624a54cab7843401a69539bf1df94079f8944c30868a9aefbeeac4df9195e7bb1bca495f08c2700dc3588bf8a0c4e60490befb091d79ec1d63b4a5dba1dfe8facac7ea69164d006af4c086811866e1c08f643002d2aa439ae7b38e7f746a56b4c3f9f5dc760bbc650f2876f9c911e3daa228e09114ce077df131f2f2020ec41e55a5e11d4fac9bb52f86905707bea7d9e293866f9ff12e54396531b08cb41867aae20a428425c6ddb9e11b09a3b09d01dc20935d6d6ab0f71f41d274e4acb4d117fd81db9ee7378661c5dd3379868d96e2e3d08286ba8d2593b99caf1e6f9754bfef9a594e895170f40029299630ae04eab382e4b62b3de342677ed0beab2db76e8efa39e8151da43fa8035845da61d56ca69f5b1401cb46daf55f4d82e47df65807fc7df53fe52c4dabe80c9ccfd443fe5d2bcd8aa2c83c46501e58299e9301c694a655f0113eb9d4892598932d759075493c854aa6f9f70ad8f11ce4d7dde7d2f1f79d97422a2ab9c941ee28d66492d0c32c5fedaacc3a85c056b75c6da38c45e063fc57fd9747b9dd7eb1ecb4c03dbeec65fd5bd57c3f78bb184e1a95869c6aa72ebb70ec6cb8513d7c67958340573109bf4cefe4fcc452bde8f97d5e15a7f636e23d4e30e0bc806dda288e445747c5b07d4c2d92335dd3512b55c05668e8339a45050a5fa34838cb968156e9e726773fd397f2b0f968460726624f4ccfeb58396bea417686212b3ab7ecfe9b1d4f25ae8a920bc7491861c5479c3013ffea7ecc30df7151b159f0d89657ddff04ea28d7b3e5a6219afa3d6e8b2da2ec2819b281f11b7d7d12eaa8445b1afbfb2d2621e15b37bd7c85fcced313b21dd78f0ea408f5a7b73d4f8be5e5290dbcc689879b3e16a7e454269eb312f442ea62be8110f693ce4ee8bfc77e363867427efd9dcb3cacd5ef5d2b5fe50194aef61730f3fcc1cc755bfa1f7a9c7a48a59551513c5a6c7130863dee2447de7a7083aa9f8ca66db5a0169028b08e1f8078eeb84eb9cd0dfa7a0ffc1114c56407ab89ec67bfb50a26189633f8f8408298ab090751c3c747c3a39ba6528ac7b19ffc294aa46ca9139582c643be3b13c087c55d85df35b09681c8a15a79ef6c43b59062e206a267a15fca56bc39f2282c4d8d81baa3a084158cb931d1555d0a03761101cdfe217ab42005639c82855e4a876da702a8033b1429bb7141d183008c91fb70cb89cfecb5c40c6c6fb8d96ed3d66e6521812fe5fabf188d74261fa424c66522573289f8b8c37817cc8538655ad33a1d4a0214bdb776f6ad3c4ef0aee8c05e04bffee3bf1ba9b236f2753562754d0f7d84c1923674fa610faef42faa2e0975333439d457da2cf04a8e68273e6fe6d1d11f5801f0c76f13a77bd7e142e1ae464a9c888b6ec9f74194b8929469404384ea3eaab3c2bf71fb72c11e315421dbebd5340329f53327e70db08a5f9ce98bf741d970310b8347e8c16bbbad1f37e11a34dd71d196d523dbac1ba37462af4beb2bf996ec4ee69899c7d78be160e8af62f54e94ac13ec9f2832a5bf2559e56e9c1899e80f3bb5e6fa5817fc1830f7dd6107539d5e666824ef5e0aa4099c0daf3be7400e7ced9aa54febd44ded2a72ffbe5e16e09050136a2e99bca174f1a6da68e4c2d6edd4f43fe7c29283bd2f74709755171a7121b66488a37dfed2f8f462fee33f486c33f2b3f3ef206840c934968bca4ebba2040f484e0e7be96796a7034cf706af4fe5891267522d4cc6ae52918bfab8a83d1bdae001f05b8aed922879812c60408ff292c74cd553e955a23767f6f82abc4bcdbc640752ab58cc1f125d30bc819f5f0a6ac9cc568e2e0b4dbf68a1ab15547d085f5fcbe0be3230144a343c0795cdc8cd56a2d2db597e3e8bcebc9695715c9b4242b9e30424ef88243a74a8666e3b374c162df15bb9cdf5e07f4a79fc9446e19d55e0796dc9d634079a52d9b9d01bd6e4ecd98bc3d87d827248676f0c4fd50939291192ba6db1e42276115a13930994eaa366c025c3458f9f0d49e866b7415580cfb4fa238ab88855b0fa1084bb4b34c4dc728317813166e44f088e5f13e3e098c5e68345e5f4170c1445b99707320860ca2d5456a669c3697a402c4867e97214dd26c0c69c619553c1e49333ee45ceb6bef25848f46e65c88d533de8201d854fe5d9d9bdd9437df85f78d2af251a9b4947ab91db02eb03428c1e4140413ada82670a0556e0757f23c4623c706b89163c3dd719b42f7aa61389882569f991f306c8983071b1db46efd73165c98030fefabca062ee7ed664c1027248f6eecc70f7db19824cccef98a58afaf375d5d013900ccb1bec46eacee35dcf1318410c3ae759f4ebcc4b5021a0a40dce61f42b113f65b8df2c275c371d283cbf968ca928a5a1d5bc04957fde8d8a18a261a62a8afadc526df5000c2f517b3ddeac255f51b2e88ad3f9dafbdb8adf8b54d4d04394d94c01ab551df8994092ae263f27a9ce1fa0390ca7395aba41353094723d3c15c3d10c48adb1236a43536811559c0a1414f440caae8b59ec998717874a44858f18b1b462b7fbdaada8dafb27c5f79f8203ea8f6ac70ba08c91d310bfbeefc3a4cf0f7552ae8cad3495a2251a37a314a76a0c1e1748c9e1013e0478c571eb772b1585c00034c837864c236039171b8f86eed59cc2d6d7b822293634783dd079169a9772d605d231e25374d7b986a408431055c2140cddf388e325ed810ef09ec5fa78c3d16772394dcb5ecafc518de32f98bb444378f2c6d0f2c0b115b976c2c539034b69954fd66affc90f4d2e736c62b392c7c71a39ad83f3596bbd7aa9d52a02f8e92d5f3b10a269e571da8295685d0de48b3b1f7b182a7ba2a334d3d7c82faa219e441c85ae80ed32fa16c09d17c45c959c61823304a28fb67336d9b36779b72e4988e3a494dccf71253c525fe0070a461b50d9eff4f82dcd44c61d1689fe77987c6d4f0f45f4623c1723e7a403ed413ee7341194c895a31da9d376eabfc0b700e6b678af94e9ec5f2ec5bf8c852020dce970ad8c7148c9581198d9a5a5e8dbf9ac4286f863b615870ba22a1d5f0315c7e27c9901929db0aa2c35f044b2cc0566d6eace3f165fd570d40720ca211c8353305feec74b4972f39a841d351e87d828c7a0d0c19c6b7f2b19fa5c785dec38bb657770471feba68dd4c4f2848d3fe342ff53560fb3bc2814df6ab526f4a5da7a179842480bccab76257cb761d9d667fb7277465b5c3b1bcb8ff7f1145422dd31d9f580add760f7cf42a3430374c1bd580d44d278b4850adeae881f8519ff511fd2f5ba66b883f815fac166ca5337ee6a0e23f74d80383e9987d887f6e66b4028f3c96bc9afb090bc30e0f26dcd4a894545b3d51c9d8b16308cd979167ebaa492758add0b4b49dd9272c1e48a0084af51b7c58758d3f228a46d7459348aea4ceca31db0ed4d9d5dec4c7772b29ef1b545849210359b195c0cf006d08a5b31e703acd4dd5e3e482a5ceed340866ea148375c62901f680a94cb98e471de2f0028f3d0b850aad201082f204162a83fcaf5ba830b2ffccdec436bc23564a77eee96216070130175dc055cf5c235d6c48bb1d86eab24e7aed5082b82b662261e74810b4825ab0c0315d268eae3091eef6a02cea74200862eff0918c9fb16540627d3ba0ce4905a5a3ea90aa37e6f6710764f5832fea80639af3ce5f9f786f48fe4cb0d87d09246d3e9604d44b3b0fdf93f8373afa912b1dda086bebb7d03e7e95ed04719f3410cec816650c68b0f65dff8e14d5687c4b42207d6ab1311f48861e9e834f37e42688f880668a344e6bb98119be2114d6d7f7b9fcc6891f71a1b08ad0a18bbb73c0b48c24b69f750c586a196aada6208b9d36836b0d12ce90de20a7650989a77a9d87d62f60fd33859931c1568f7f7d41f5a919d700898bcc7b640072875dd5caebe43459b413b39a6bbedff58eb57133d7e904e3063d3af0acc7070a5bceeb614567b51f16d00f65fe03b632c2a59da52c5479c73d2969e94ff9631fa301545b95fa5364ff96da87eae4f15e883d6e3241cdce9743471647a93c1518d15f9284d6de74f7cd6ca5352d07d29093c1dc947c4ac729fb2e038065556160303af26cd36a47dc0d11f602fec3c0a3c036d1bfec1795ebf2580b5d50acd92625a770df83f3b7b807129069ed58c3d693768838e947f17db7f6a3610dbb4dcf7b4e7c40086044a8d5541bc66abc8c59eb8a042e30ef504b8ffff3dddcae7a3707aab70f69219e9644ef73170ae934c83b4012593073bfdc60bfb86d71d6bcbedaa5b342a04e28e228b1e638172218129f750b59d1c862ff1d0be35fbeea8e3528d6d0621ea104839bdf0d758604d5fb4a251a65a35221469788156fabeb752807dfc3ae6e35ab62868ab81c32e06e8a7eef8c19de55524cc468f6a83e6751fffbfafb359e8e8b59686e533c05de7f3dbeb143c15cadf5c54bbcbb3ca1acbab45ac3cefb7b45bf95dd5ec744b40c0a72b265aad9e4372e355761d34847e426549a13a2eea4ab24fa5742b981c4225827df240b35f1b227408a334373ecb8a0d1ca5d214f2bb85eef1790de6407973a2bbe92cb33450f731e5821cac64173a3479e3390cbe47778844e90385f8eed2ff3494a585439248144a03689f1e5d0b506bd688a74370de9c7339a0165270f9baa57ec8842f91079147f47bc19303d1e69b18b2f3a49b55f064f16d04409a9d32765d568c3a0c710691cab7d3633b3e6bb72b6c01b1f61ccb53d7980b8e7661e95107615e7488f26f1ea20c03d854213b91feea2167c61f604af22ba9b1b526355517b55e9431cd9f7f841a436376ef33e3f1cd3577257a7c43d825bcd943f4e8b79e64ba252f256233ce61cb1fa825996d91c2e1e0c17b0559a78c33b68b6664626ea619d7b46c84375b12ac841e84b0222c5b030488ac6e33f13d176557424da17e4797c211da954bff40b999fd935fd7fb3c879885441c87010a47f98f9335e522cf415025334a71d75888ab23547d40e3998931e17ddb843a0a99202b34ca025c25334b0a4558fa2c1e19d3f32ddb53f4e656518c9acc5692e5ea0f125800d1a5f3465c1f0cfce467da837078a2f5451c25aad3c0c4afd1b6e3b219affeb8f8260acc3fdba0feaea3f9d3f340fa053d9884fbec2c306a7a9c4754918a6d95300144eede83b5a4feee6f1ab7a47d0a20acb93917d06f829e9ccc6de7e89b11056b491cb8735ccb837f7c4809ec94dad3d8059d83521396bf7937a20f1479e87455ae22739c006f10885b25d4ddd6ba7dadf46d7f16565c5aef32c6d09d92414bd2aaeed3271162c1f0809e3dc5833b5abf79f89e0f122cf13986a9154daf23ee0872e15ae6a86be1f8cfa507a16fbbeeb90ceb7a5eba6c84c322d081f1fbd9f28e4f14ac7ee2c871cd28497b1e46f0646edf499e247077b3025ef24e52423b6b0c9fc18a53a20e5b454df0e9fe69c3541e355810305c49e926edb47ce74a670751fc8a53561678026de3e3b1fe063d2ccab633498cb16cea21acada9aaf813ada09427ebb36b90a0e5d906537eaf75673f60f3a96822a06b6fc171a2f01dd66688c6d9fbfc3d9d8937dfcb90456c244b704e9ee5b43757fe061960530f54913dffced1ac70b9f8d3a6aee6974f597a72ed6f57fe537c9b9873cfbabf7ba9c4cca8e2d7b2f411fb332a0fbf39a8d6b135a16df22a3985a6425eea6f8e35c8d5c879962e5095572e05b87c9a68ed4420ead1f8a57f3bbac824a5cdfed9f49f2a9e48bd238400713aa8c2f687399213b88c7f0ed364a04fa939587dcb21a1ecf2bc522b9f1d73a030a070e2a38daf21c8cc4c7c5f888ef5255cd501520dc197c63a67878f6624f6135bc0cb68ceeb36a5b689c6cd336289bf08bb1fb296edc5ea518ea8db23e87ea2621b0018fd225185fcd355e8358c157694b2ea779196f12216911aa5a6ea406e20676f29f9b2f5dbb45f501652f4f9f55af259bafbc3a4da65badcd3bbf7ccfa70ee323b9e78346230d43ddf01c4b03014fe2687533d07fd22361b899559757e6359b3549a36fc4177689127556fc58f05bd77555340c947ca71d88d24b9b59f5c3460c746716bbced261cb0dae6c5fae100b0ef0f95aa2a90e660ee6d2d485a62797b9731a7d59b8e16851e30cc5c779e2113d3f672b559d7c151564eaac6e4021272b6c6fa8813a8a59ebd99eabfe33588d0cc1bfa6f3cc64495e6f16fcf3245cbd14525ebd381ab55f275b95c40aa4b80894f78d1abf8929f6453cfa2e62b9349d8fd685cce7351fe6cc26779db528a4eac883c1aaadf91ef1653404f6bd8dc0151f709420609c0c5247c124d3c2a85ad4d1544d202ea7e4f3f39a5ba2fb8c3e1d7d82de248ad6b105f02cc6b39c79b3d496d152797bb696d10a14ef660e5c4735bf049922665e642eed6be82fe23014de35362490b9b436ad1288ced5dbf9532666f2d6aa79ff4da2ae2064872185f6fbecf208009fba4f8e46d1e7908602020d17f8cfe35a18010eb3ac48a6aed4a34b03ba53db911f21f98fd3ad66a7ad09cf02fd7dafdf100758164ad1ad7a76ab5b401c8efa2504e168f699d71551561ef5dcba2c15bb26117dff590b45ca5edcac303d7ae4c0931d42d0e252e14fc178426ebfe47dfe655b03d3dbcfd2448d5e28071000ea12d2a84440e56e2d34a1bf286788b9d0aef9c1fc3a7fe01b1b0724bf21e98a51b808adc48cc2156df405c56ee29f54ee6f0c5dc5d13dacccae7d12595e54841942043091eb24fe46c67887f40a9a8330204b429d3f2adb2d3ce4b4a9468686400a5a5e00026062a8a475c68de1e3c5e1ecc738066358d00d40ad7b4e74cd1ea4cb8dd4fac1098a89f5041add0453317205c08d3a3668a923348b7e6e6ef76583f6e7ddeb52368990bc4d2385385c85e86872ad484ade1a3d90cc25f82475e45c47885503a8ddb4f4072785d31b2c8dd38f9766eccd32b54b838935757b99d69dc5c7b49b59631b5b27d2f6ad5387cace681382c7a4df8249487766865446740922989aa62e93b28312824614b05ed1be7ace8130c11149b51740d9486d3d2ce5ecaa07e520d5124ace3bc72bc1a4d2b7a293309ff0dca6125f7fa97ce133c11153e3a9bff88ef33d6c19457319e3e94325de609a61446f197053c3812fbbf8a67db30caf426f4edd50a2c053656f3766d4f9617c587dc2cf517141623c1b523c77c3404b609101d20c55bae63709e8d91b6fac270df0e4b5b686907d2947d3437093d50ced0384684718fc5ab649ceaf727d03a23df096e8a36d4fac0ba1f07dd8689ebe0465e4dd440316697263b05f37b3aaa01d9c051a69b3278514a8218f3008bcfd9656ffd5148b9b2b7f625abd1dade3b09db9c113705da8cdeb7ab76404b2a3ffa4aabd77f67569d142daf0fd9e0ab0897480a0920349429c6a08ac03478699c9bd45a40d1a04268efe9265a0601835a68861d00b489baca6568ae742c390dc2c579af034047774252bdc1a81c3274716ce17a84763673e31bfa4d6d32730d354bcbe14cd006fe921629315e161dffa3b3628af0cca986cb7215e620066866eea8801099b5cf162e5b68d0939eebb60836c40391292935f289cf2c616c5c0da0b3adfdabb6b1c917ab623fdb58d5a81d7d2b0e85c42776396a35b87f1996593b9261620c2f053eca554202e8477878d606f996b9f58b36277873f8160bc0902ef96106c4bb56f21290d08ea02e110436be0785c43176e360b005164019d98f68013d8d39b3992fff9efcc97860cc33510e8fa9d04b3b8e02a84a3162b5b41398265ff8bb93c61c8a75aae35f0464211617e259c831785feccdc41f48eaf9b325bf9cfe32c8ba3eb609676e47831abe3188c5de54449d0f97e9422cfa93e1b8616dca44ff39228efc93cf67e47fd464cee1b498bd94f683d80875b5f70d5f024172475a8d5c28340c4c9059655e5a7c6ea4d641d0b19d65d573343ec9d6a68a21c17b9927c49dc76616cf6d3e338ef5fc76f66f4d696545d3717d19bc2f94b83ed2cd1377198d8c151996bd3fb1fa398e053576fd62a14b859e046cd41d75a3c9b86268b068cfaac59017c0247019f991ec8630033f40e2a88b4824cb2bbd0ef3b4beae874191a02d8ef015a9a10e24a81f0deadd27dce81a10c2a86bf9a440f24f169922c76a567692300c143ccfa650943cb53f3eae1f92316b23c11aae1abed3aa0c34dcf50748a833a5525b9e64cedf06742a95c6655e38f2576d35dac584a766be6f9ddddcd9402a7dc6b6b1f62f9a36ae5d8254ecb74d27b38aa2e866694ab58301f7b499005712b49ecb8804a302a2359e60a7908704ba0945a842c5969e32a895fc75d4fef8e55972cb21da1f45ff4bc4d5957a47262a9c6aeb1c8d2d17413f3db8ecdcd5b4d0a431c73a72a3d9e7a005691e29c624bbd54b30c8688cbfc59f1d20a221a3652a57c5ca3f6e088bfbf0e3b14bb37623e999dbc623f9161fa104b18dc2b4376245330338303bfaee7b5b9a93b61c92ed23c600aaac5a904bac4c171e17fe70fe4316a3353d9802e8c0acde59d2e5ee147991353331cd4d59847a68e0390